Bella the survivor dog arrives at Best Friends
Heroes stepped in to save her from a traumatic situation and now she begins a new chapter in Utah.
By Kelli Harmon
Bella is a survivor. That's why a 34-hour road trip from Michigan to Best Friends Animal Sanctuary in Utah is a breeze compared to what the sweet dog lived through during the first year of her life. At breaks during the trip, Bella got around easily on three legs before being lifted into the car again to snuggle up in her blankets or look out the window.
Desiree Sage was one of the drivers to escort the young dog on the nearly 1,900-mile trip from Saginaw County Animal Care and Control in Michigan to Dogtown at Best Friends. She wanted to do it because she will never forget the day she arrived at the nightmarish scene where Bella was rescued.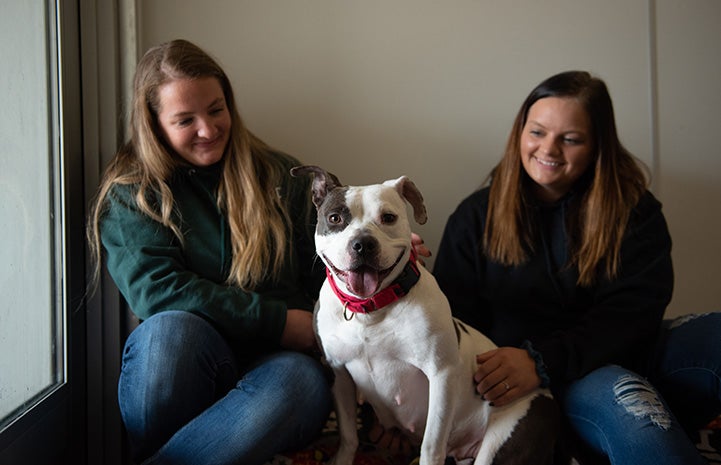 Bella's rescue
Bella's one year of life had barely begun when it was nearly taken from her. Her guardian had left her behind at a home in Saginaw, and she ended up tied outdoors by two steel cables. Left on her own with no shelter, eventually the water ran out and her food was out of reach. Her legs became hopelessly tangled in the cables. Days turned into weeks and Bella endured, tied up and forgotten.
Eventually, a concerned person heard Bella's barks and cries and looked into the yard where she languished. Not only was she skinny and dehydrated, but she had chewed off her own back leg in an attempt to free herself from the cables tangled around her legs.
The person alerted a postal carrier who was also in the neighborhood and together they reported the situation to authorities. Within minutes, Desiree, a Saginaw County Animal Care and Control officer, arrived on the scene. "Walking into the backyard and seeing Bella in such distress that day was unimaginably gut-wrenching," says Desiree. The dog's other back leg was still trapped in the cable, and Desiree had to carefully free her from the tethers.
Desiree brought Bella back to the shelter, where the staff veterinarian treated her leg. Even after all she'd been through, Bella still wagged her tail. Her whole body showed relief. She was going to be OK. Soon she was tucked in with food and water, finally safe.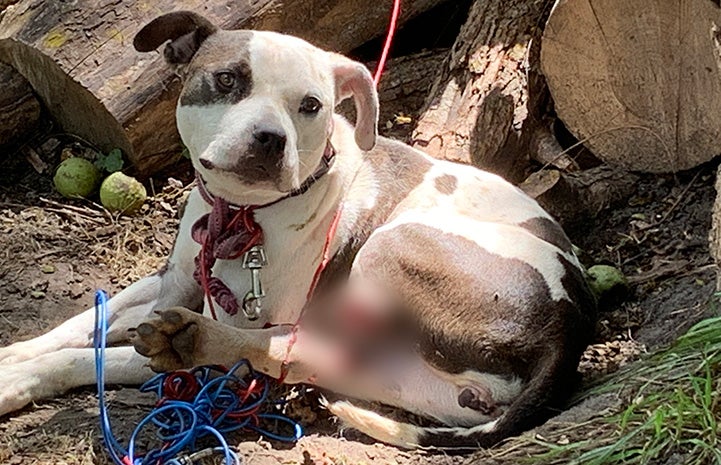 Bella needs a place to go
Bonnie Kanicki, director of Saginaw County Animal Care and Control, made it her first priority to get Bella treated medically before starting the investigation on the case. Tracked down in another city, Bella's owner signed over custody to the shelter. Eventually, charges were pressed against the person who tied Bella up and left her.
Meanwhile, Bella settled into her temporary space at the shelter and the staff got to know her. While the dog is friendly and loving, Bonnie was concerned about the trauma that Bella endured and wanted to place her somewhere where she could get help from people who specialize in cases like hers. The shelter shared Bella's story, and there was an outpouring of support for the dog who, despite all she'd been through, still loves people. Her leg began to heal, and she adjusted well to getting around on three feet instead of four. Photos of her grinning face, with one ear that stands up and one that flops down, went viral when her story came out online.
It was around that time that the request for Bella to come to Best Friends Animal Sanctuary was made. Soon Bonnie and her shelter staff shared Bella's behavioral assessments with the team at Best Friends' Dogtown, and director Ali Waszmer determined that yes, Best Friends could help Bella. With experienced trainers and caregivers on staff, Bella could get the care she needs, as well as all the time she needs to recover.
Bella was one step closer to moving on from a terrible chapter in her life. Now all she needed was to make the trip from Michigan to southern Utah, and as it turned out, she had an outpouring of support to help her get there.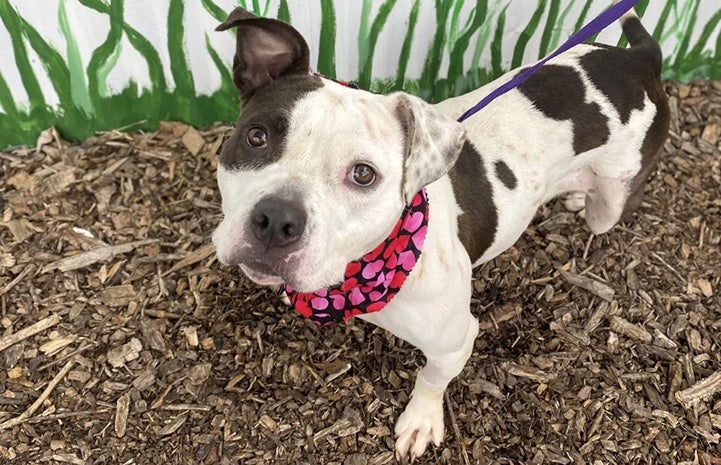 Community rallies around Bella's journey
Bella's resilience in the face of adversity and the hope of a bright future inspired the community to rally around her, not only by supporting her at the shelter, but also by helping her make the trip to Best Friends.
Desiree wanted to be one of the people to make the trip with Bella, and she and her colleague, Abbe Balderstone, committed to the drive. Many more people following Bella's story wanted to help.
When Saginaw residents Bob and Pat Schust (also longtime Best Friends volunteers and supporters) heard Bella would be going to Best Friends, they were elated. "We know that Best Friends cannot take in every case, but it reaffirms our thoughts about Best Friends and its mission to Save Them All," the Schusts say. They were so happy that Bella would be going to the Sanctuary that they offered to fund the trip, which takes about three days of driving each way. They also went to the Saginaw shelter to meet Bella and offer road trip advice to Desiree and Abbe, since they had made many trips to the Sanctuary and the long drive can be especially challenging in winter.
Thelen Subaru, a local dealership, offered to loan an Outback Limited for the trip and to cover the cost of gas. With that, everything was set for Bella's trip. After several delays due to COVID-19, the Saginaw shelter gave Bella an official sendoff on January 15th.
Safe and sound at Best Friends Animal Sanctuary
On a bright, sunny winter morning a few days later, Desiree and Abbe drove the last few miles through red sandstone canyons to meet a small welcoming committee at Dogtown headquarters. Bella was all smiles and wags, while the humans shed a few happy tears.
It was hard for Desiree and Abbe to say goodbye to Bella after the three had bonded together on the drive from Michigan to Utah. Desiree will never forget walking into the yard where Bella was rescued, but now she has many more happy memories to outweigh the sad part of Bella's story.
"She was the best travel companion," Desiree says. Bella loved snuggling up on her own dog bed each night of the trip, as well as being pampered and doted on. She has more of that to look forward to.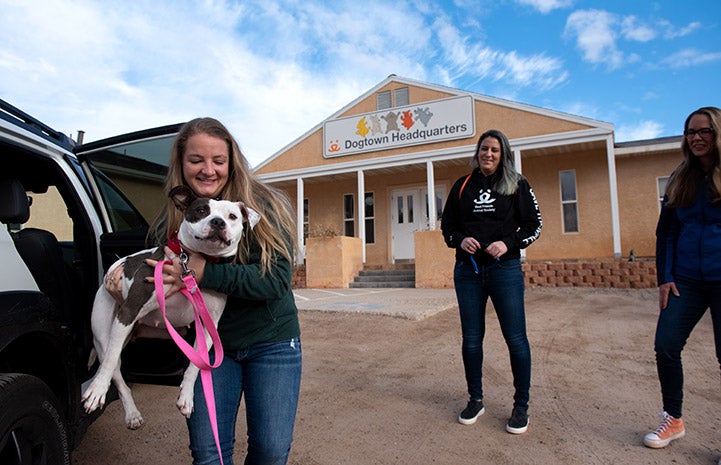 Ali's plan for Bella is to give her time to settle into her new surroundings while the Dogtown team gets to know her better. She certainly makes a good first impression and seems to love everyone she meets. Ali says, "After everything Bella's been through, for her to be so comfortable, she really embodies the resiliency of dogs."
Saving Bella was a true group effort. From the first person who heard Bella's cries and did something about it, to each person who had a hand in caring for her, donated to support her, and went the extra mile to find her a soft landing, the smile on Bella's face is the ultimate reward.
"This is really the embodiment of animal welfare ― everyone working together," says Julie Castle, CEO of Best Friends Animal Society. "We are grateful we could help and play a part in Bella's life journey. This is why we do what we do. These are the moments that make the tough times all worth it."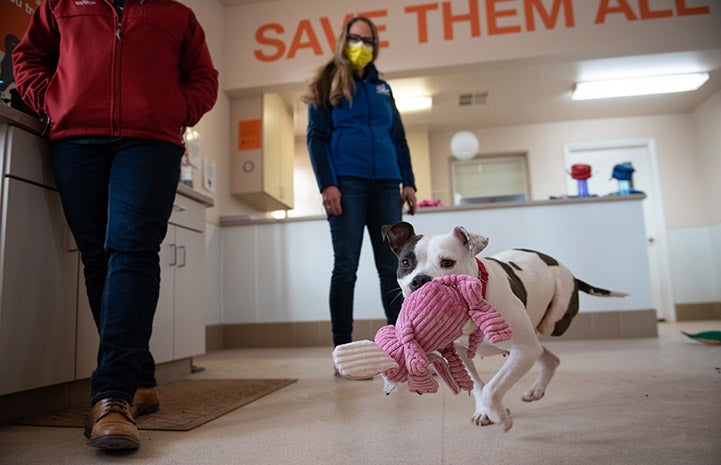 You can help animals like Bella
On any given day, up to 1,600 animals call Best Friends Animal Sanctuary a home-between-homes. Dogs, cats, bunnies, birds, horses, pigs and other animals come here from all over the country, thanks to generous donors who love animals.
Join the Best Friends family with a gift today
Read more
Paralyzed cat is "paws-itively perfect" and now he's home
Adopter saw nothing but love when she met Beefy the dog
New homes for 21 abandoned beagles
Photos by Molly Wald and courtesy of Saginaw County Animal Care and Control