Adopter saw nothing but love when she met Beefy the dog
Beefy is a big pit bull terrier mix who had trouble finding a home, mostly because of the way he looks, until he met an adopter who saw nothing but love.
By Nicole Hamilton
Beefy has a knack for turning strangers into friends. He gets along great with other dogs and loves car rides, too. In fact, it makes no difference to him if he's cruising around the parking lot or down the highway. To him, it's the company that counts, but that wasn't always the case.
When Beefy was at Best Friends in Los Angeles, he'd bark too excitedly when people would stop by to meet him. All this made him appear to be as much of a handful as he is handsome. And while he gained plenty of admirers when he was at Best Friends, he just wasn't getting adopted.
It only takes one person to change the life of a homeless pet forever, though. And for Beefy, that person was Khrisna Alejo, who melted when she first saw the pit bull terrier mix online and just had to meet him.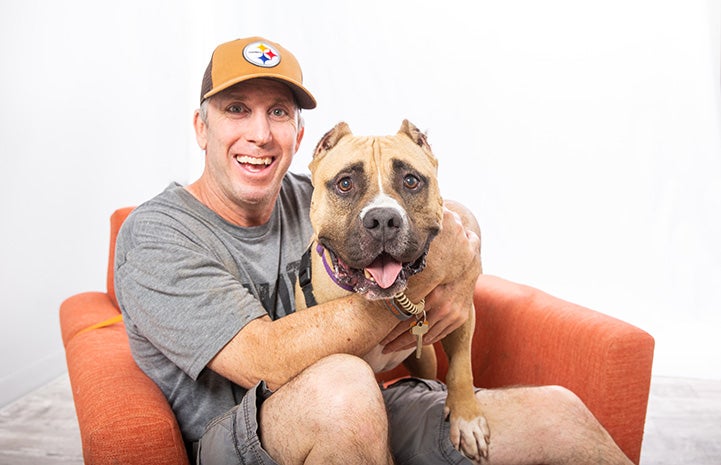 Looks are deceiving
"He had an amazing personality at Best Friends and was always friendly with new people," says Best Friends supervisor Amanda Yocom about Beefy, who came to Best Friends in Los Angeles from a Los Angeles Animal Services shelter. "Out in the yard, he enjoyed sitting by your legs to be petted."
Beefy also loved going on car rides with Best Friends volunteer Danny Bress, who took him out twice on the days he volunteered at the lifesaving center. Danny's goal was to help Beefy not get so excited when he met potential adopters. That way, they could see what an all-around great guy Beefy truly is.
[Along came Dolly: Mama dog goes from shelter to home]
Danny made some epic TikTok videos with Beefy, too. "He was a natural star with that adorable, sweet face," says Danny. "He loved looking around at everything that passed by. He was always very curious about everything, and was an awesome hiking partner too, because he could just go and go." But nobody's perfect. Sometime on walks, Beefy would get distracted. And soft, squeaky toys didn't stand a chance around him.
"They would never last long," says Amanda, "but he was always happy when he found the squeaker." Beefy also has a sensitive belly and requires a special diet, and the fact that he likes eating off the floor doesn't work in his favor. All this, along with his "tough-guy look," caused potential adopters to pass him up.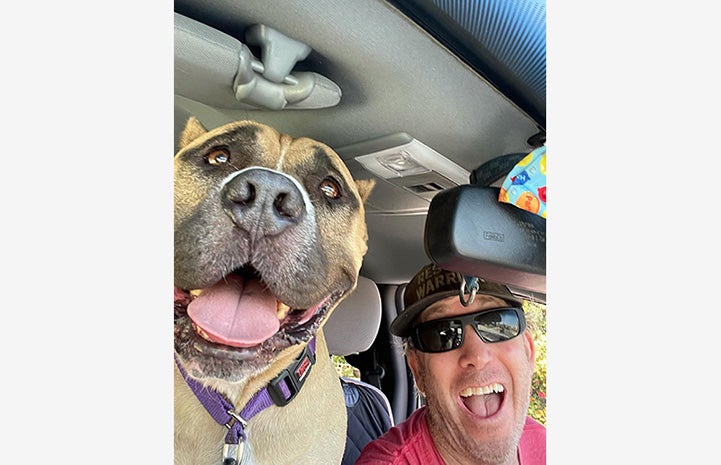 Seeing beyond a dog's tough exterior
It was during an online search of adoptable dogs that Khrisna first saw Beefy. But even though she found him ridiculously handsome and was compelled by his story, she couldn't quite envision a life with him ― that is, until she visited Best Friends and met the dog of the hour himself.
[Loving a shy dog just the way he is]
A fitness enthusiast, she could tell that Beefy would be able to keep up with her on long walks and hikes. But it was what she saw beyond his exterior that made her want to adopt him. "When I saw Beefy in person fell in love with him and his gentle personality, I knew we needed each other emotionally," she says.
Khrisna talked it over with her roommates, who gave adopting Beefy their seal of approval, and then she returned to Best Friends ― this time with a present for Beefy. It was a collar, complete with a name tag to wear on walks around his new neighborhood.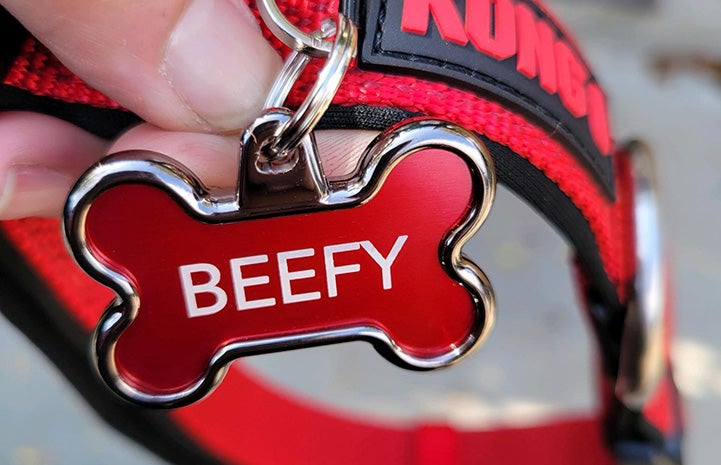 Such a good dog
Today, Khrisna often shares stories about Beefy on her Instagram page. She's captured him admiring himself in the mirror, sleeping soundly in the middle of a king-size bed and strolling through the neighborhood in a baby shark costume. Says Khrisna: "I'm still in the process of getting his attention when we are on walks; however, it is not a big deal. I feel like all dogs are curious and excited on walks."
Back at Best Friends, the team, which includes his former best guy, Danny, is over the moon with the news that Beefy is thriving. "Words cannot completely describe how happy I am for my buddy, Beefy," say Danny. "Khrisna is amazing and loves him so much. Beefy has made so much progress with her."
Khrisna, however, will tell you that she's the lucky one. "He gets so many compliments on how handsome he is when we're out," she says. "I have been blessed with such a good dog."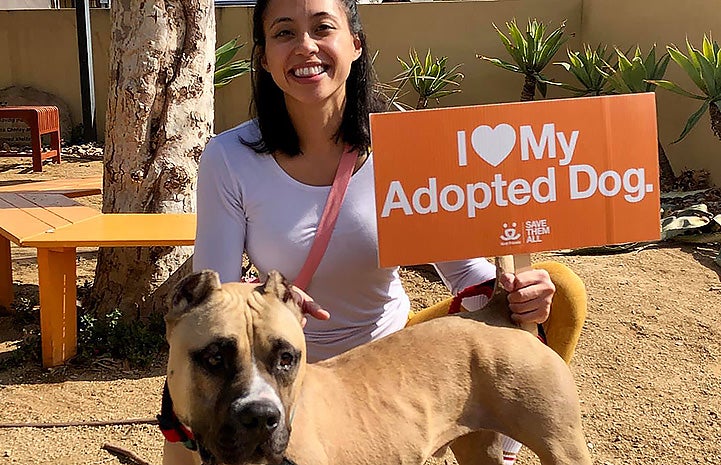 Adopt a pet, help save lives
Adopt a dog from your local shelter and make a huge difference in his life — and your life, too.
Read more
A most extraordinary mama cat's love known no bounds
Advocacy and action make 2021 a banner year for lifesaving
New ZIP code, brand new life for pit bull terrier
Photos by Lori Fusaro, Danny Bress, Khrisna Alejo and Todd Roisman