Along came Dolly: Mama dog goes from shelter to home
Image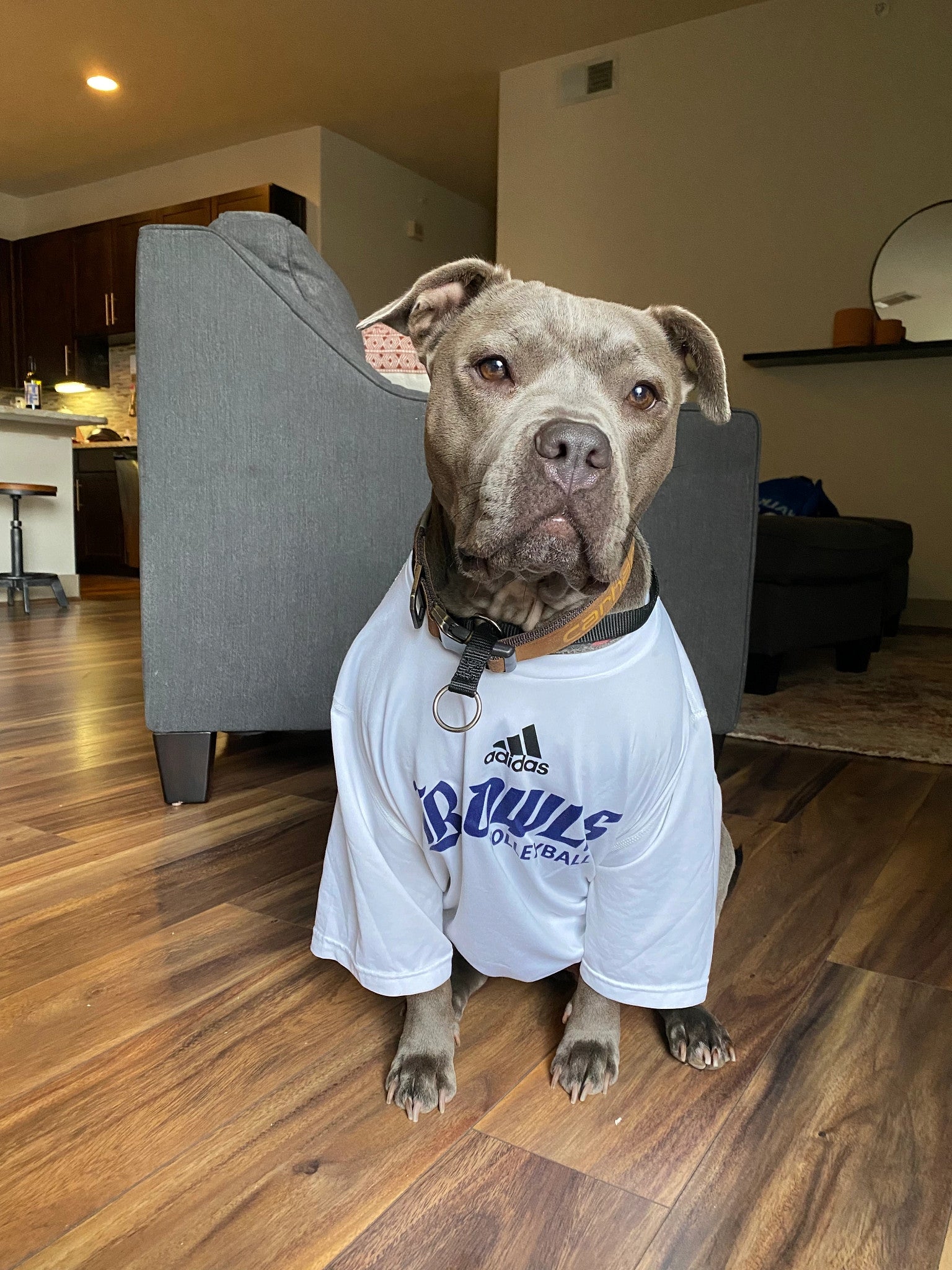 Pit bull terrier lost her home and landed in a shelter, but now life is better than ever.
By Tara McKenney Photos by John and Carly Klanac
It's hard to resist the sweetness of puppies. (Who doesn't love puppy breath?) But it can be a harrowing experience for a mama dog to lose her home and end up in a shelter with her puppies. While adopters usually snap up those irresistible pups quickly, oftentimes the mama of a litter is overlooked — but not Dolly.
When Best Friends in Houston received a request from Galveston County Animal Resource Center to take in seven 10-week old puppies, they saw in the record that their mama had come into the shelter as well. Sure, we could take the puppies, but we wouldn't be leaving her behind.
Dolly's first stop was to see the vet, because it was clear that the two-year-old Staffordshire terrier needed some TLC. She had heartworm disease, autoimmune arthritis, flea-related skin issues and she was underweight. Then as the team got to know her, they saw that she was reactive to other dogs.
It was clear she needed some dedicated care and attention, which is exactly what she received. Vet care, good food and weaning her puppies helped Dolly begin to feel much better.
All of Dolly's puppies went into foster homes and were adopted quickly. Now it was mama's turn. She settled into a wonderful foster home where she continued to blossom. With support from staff and the Houston Dog Ranch, a partner organization, Dolly's foster family worked on her comfort level and interactions with other dogs.
Dolly's new life
During this time, John and Carly Klanac were following Best Friends on Instagram, looking for a rescued dog to add to their family. When they spotted Dolly with her now shiny and beautiful dark gray-bluish coat, it was love at first sight. "We had our checklist of everything we wanted in a dog, and Dolly checked all those boxes," John says.
[First-time foster volunteers team up for a mama dog and her 14 puppies]
After a Zoom meeting with Dolly's foster family and the Best Friends adoption staff, John and Carly felt certain that Dolly was the one. He and Carly were undeterred by Dolly's autoimmune arthritis (which would require lifelong treatment) or her reactivity to other dogs.
"Any animal that has been homeless with medical or behavior issues deserves a second chance," says John. "It is incredibly rewarding for us to be able to take Dolly in and give her a new life."
Dolly took a few days to adjust to her new home and learn the routines of her new family, but John and Carly allowed her to adjust at her own pace and did their best to make her comfortable. "The first night she was home she didn't eat, and when we took her outside, she didn't take more than a step outside the door," says John. But once she felt safe and began to relax, her personality shone through. "Now when she sees us pull our shoes out to go outside, she runs right to the door," says John. "She loves going on walks."
Dolly's reactivity to other dogs seems to have dissipated altogether. Perhaps it was the stress of being a new mom or the shifting of environments, but today Dolly just remains curious about other dogs. John and Carly slowly introduce her to new dogs in controlled situations to ensure her comfort and everyone's safety, but they haven't encountered any issues. She's sweet with both dogs and people alike.
Going from being a mama to being babied
A social butterfly at heart, Dolly likes to be included in every activity. From her bed she enjoys observing the goings-on of the home, especially what's happening in the kitchen, or people watching from beneath the table of a favorite outdoor restaurant. In the afternoons, this treat-motivated girl is eager to learn new cues during training sessions. And her arthritis isn't slowing her down much because she is always up for another walk. By the end of the day, Dolly winds down for bed by spreading out on a blanket across the couch, leaving just enough room for her family to cozy up next to her.
[Dog's soul outshines her physical challenges]
"We don't know what happened in her first two years of life, but we know it was tough," says John. "Being able to provide her a life that is happy and exciting means everything — not only to her, but to us as well." And when John and Carly travel, Dolly's foster home has already volunteered to care for her in their absence.
Dolly's transition from homeless mama to beloved family member is one John wishes for every rescued dog. "Dolly has turned into the most amazing dog," he says, "and we know that there are so many who are in the same situation that she used to be in. Seeing how happy she is now means the world to us."
Adopt a pet, save a life
Meet your new best friend at a shelter or rescue group near you. Can't adopt right now? Fostering pets saves lives without a long time commitment.
Read more
Foster volunteer's dedication helps puppies beat parvovirus and thrive
Reactive dog just needed understanding
Housing the homeless: Partnership benefits both pets and people