Housing the homeless: Partnership benefits both pets and people
A three-way partnership involving Catholic Charities Eastern Washington, SpokAnimal and Best Friends pools resources and expertise to save the lives of both people and pets.
By John Polis
People experiencing homelessness is a big topic of conversation all across the United States. COVID-19, lack of affordable housing and availability of medical care are but a few of the many challenges facing those experiencing homelessness in 2021.
For years, animal welfare has been dealing with overcrowded shelters, many of which are forced to take drastic measures to make room for even more abandoned, forgotten, or otherwise unwanted pets. Indeed, the goal at Best Friends Animal Society is for every animal shelter to reach no-kill by the end of 2025.
Three nonprofit organizations — one serving people and the other two helping animals — have discovered that the areas of homelessness they deal with not only intersect but are intertwined to the point that one affects the other. Best Friends, Catholic Charities Eastern Washington and SpokAnimal (a Best Friends Network partner) are working together on a pilot program focused on keeping pets out of shelters. How? By connecting Catholic Charities care coordinators to services for their clients' pets.
"Last year during the pandemic, there were a lot of unknowns about how COVID-19 would impact people and the pets they love," says Elizabeth Oreck, national manager of housing initiatives for Best Friends. "Would people have to give up their pets to illness? What about job loss, evictions, changes of housing? We were looking for ways to collaborate with human service providers to do more for pets and their families."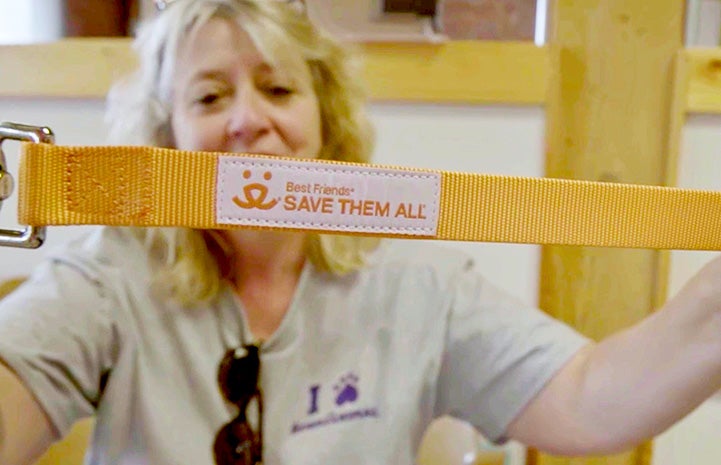 Housing issues lead to people giving up pets
In late 2020, Best Friends brought together Catholic Charities Eastern Washington (Catholic Charities) and SpokAnimal, both located in Spokane, Washington, to launch the pilot project promoting healthy housing for people and pets to prevent pets from being unnecessarily surrendered to shelters.
Housing-related issues are the No. 1 reason people surrender their dogs to shelters," says Elizabeth, "and it's the No. 2 reason people surrender their cats. The more we can encourage housing providers to make allowances for pets, the better it will be for so many people whose pets are their only connection to the outside world."
[The Grey Muzzle Organization steps up for senior pets]
Catholic Charities operates more than 1,400 units in Spokane and throughout eastern Washington (including two emergency shelters). The buildings house 2,500+ residents, roughly 30 percent of them living with pets to whom they are extremely devoted.
"When you are in the housing piece of it, it's obvious how big a part of someone's day-to-day happiness comes from a relationship with a pet," says David Sackmann, director of the integrated case management program at Catholic Charities. "We sometimes have issues with people who might be in a mental health crisis or who might need emergency surgery but refuse to get the treatment they need if they can't take their pets with them."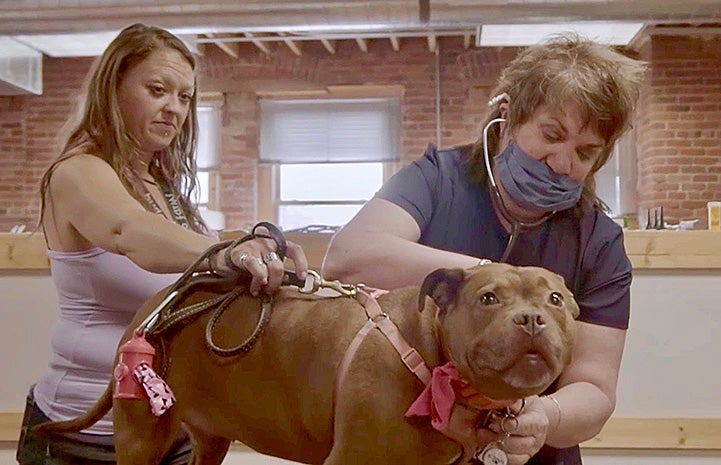 Human and animal missions align
During a conference call late last fall with Catholic Charities USA, David was told about Best Friends' work, which led to a meeting with Best Friends. It didn't take long to conclude: The two organizations' goals intersect distinctively, and collaboration would make perfect sense.
"It was a great fit because both of our organizations have a national reach with local partners and resources," says Elizabeth. "And we were offering similar services to our respective clients. Wouldn't it make sense to come together and serve the population as a whole? It was a good chance for us to serve both ends of the leash."
The final piece of the project was to bring in SpokAnimal, an animal welfare organization established in 1983 and located just two miles away from Catholic Charities. SpokAnimal's Guardian Angel program serves the local community by ensuring that pets will be cared for if their people are left homeless or if they die or become incapacitated.
"We heard from Elizabeth and she introduced us to Catholic Charities," says Dori Peck, SpokAnimal's executive director. "Our job is to serve both the two- and four-legged. We normally get deeply tied down with the animal aspect because there's so much need. But this (partnership) gives us a chance to get out and see how pets are impacting their people."
A partnership to help people and pets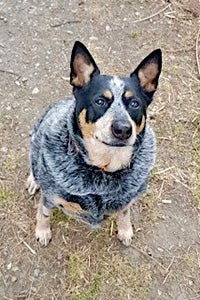 The need was clear: Residents of Catholic Charities housing, when confronted with a personal emergency, needed a place to leave their pets while they went to the hospital or were away for treatment of any kind. And SpokAnimal has the capability of providing short-term housing for animals whose people temporarily cannot take care of them.
The program, which isn't yet a year old, has already had significant impact on Spokane-area pet lovers faced with illness or hospitalization. The ultimate beneficiaries, of course, are the animals. For example, a 10-year-old blue heeler's person was dealing with a mental health issue but didn't want to leave the dog alone while she was away for treatment.
[Where welfare and social services meet]
"When someone is struggling with stabilizing, a big fear is an increase in paranoia and trauma from the past, and the pet is the only comfort they have," says Lynn Marquez, assistant director of integrated case management for Catholic Charities. "We were able to get the dog to (SpokAnimal), and it turns out that her person would be in the hospital for eight weeks. During that time, we also discovered that the dog needed emergency surgery for bladder stones. We took her in and took care of the surgery."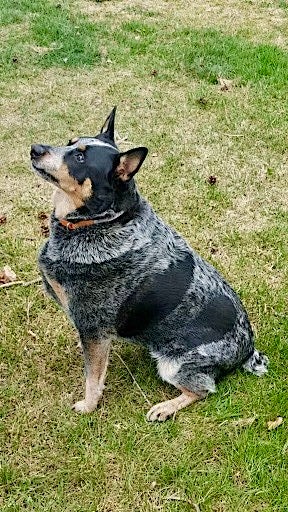 Then there was a black-and-brown, medium-size dog whose person was slated for brain surgery and was having a lot of anxiety, not just about the procedure but about not knowing who would take care of the dog while he was away. Distraught, he finally came to a difficult and troubling decision: He would have to give up his dog and place him in a new home.
Enter Lynn and Catholic Charities: "What if I could help you with that?" she asked the man one day when they were together. That set in motion a series of events that eventually kept dog and person together. "I had Dori come meet with him," Lynn says, "and after a conversation, the dog went to the Guardian Angel program. The man had his surgery and the minute he got home, he went to pick up his dog. A few days later, he returned to the hospital and we took in the dog again. I remember the man was so excited that we were able to pick up his pet and take him to SpokAnimal."
Tracking down a lost best friend
Sometimes person and pet become separated, and it takes a bit of detective work to get them back together. In this case, it was Catholic Charities coming to the aid of a little Chihuahua who had accompanied her person to the hospital. Still, the hospital released the dog to a shelter. "We were able to locate her, pick her up, and we were able to reunite them," says Lynn.
The program also helps dogs and persons with issues other than separation. One particular dog's behavior was jeopardizing her person's housing situation. "We had to do something," Lynn says. "After having conversations with Dori and with Best Friends, we were able to get some special training for the dog, who's gone from charging everyone and barking nonstop to being one of the best dogs I've ever seen."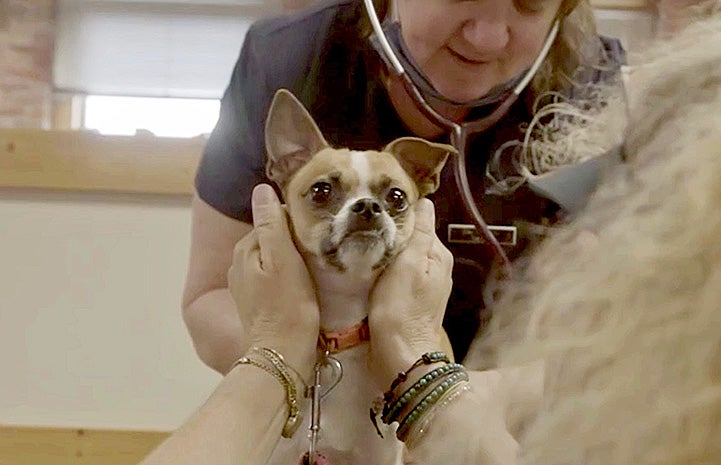 A comfortable working relationship
What's developed among the organizations is a comfortable three-way collaboration operating seamlessly right from the start. "I think we just all click together," says Dori. "Usually with a program like this, there's a "we-can't-do-that" period of adjustment. But in our case, we all said, yes, we can do that. Let's figure it out. It's a special group of people who found each other, and we all get along perfectly."
[Volunteer's tech-savvy skills help animals during pandemic]
Catholic Charities, SpokAnimal and Best Friends have managed the program by meeting every other week on Zoom calls. "It's amazing, says Lynn. "Everyone has been completely open to whatever, literally. We had some questions about the wording in the SpokAnimal foster paperwork, but working with Dori, we could easily make those changes. Everything is like that with our group. One person has a suggestion, everyone listens, and then we talk about it and get it done."
A food bank where everyone has a key
A big part of the program is a food bank managed by SpokAnimal, which has been expanded to serve pet owners in Catholic Charities residential buildings. "They (Catholic Charities) have their own key and can come and get what they need," says Dori.
Feeding buckets are located in each Catholic Charities' building, so the residents have access to food for their animals. The food bank also includes various pet supplies such as leashes, muzzles, toys, treats and additional items. Best Friends has provided funding and supplies (more than 800 collars and leashes).
Dori says the generosity of local businesses, specifically Costco and Walmart, enabled SpokAnimal to start the food bank. "But we were blowing through it," she recalls, "so we got ahold of our local distributor URM (United Restaurant Management), which was providing us with open bins of dry dog and cat food. Now we routinely pick up 700-800 pounds of food, and Catholic Charities goes through 400-450 pounds of dry dog food per month.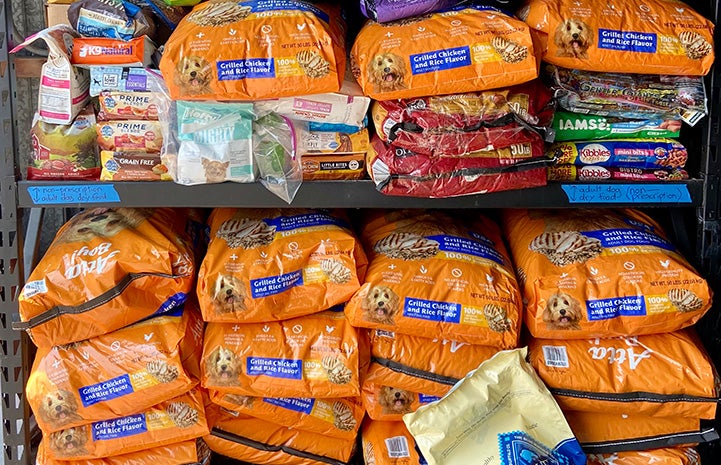 Accommodating pandemic change
The COVID-19 pandemic has changed the way many Americans do business and it's no different at SpokAnimal, which closed its shelter last March and has not reopened to the public. Instead, dogs and cats are available for adoption at local PetSmart and Petco stores, with SpokAnimal staff embedded in both stores to manage the adoption process.
[Serving pets and people in Kansas City]
Meanwhile at Catholic Charities residences, Lynn says that working on the new project during the pandemic has created a heightened awareness about some things their residents were lacking, such as available resources for pet food, supplies and services. "Such things as pets not eating or pets never being on a leash because they didn't have one," says Lynn. "(The program) gives us the ability to offer a longer-term housing solution. Our people are stabilizing sooner and for a bit longer, and they can engage more widely in mental health services. We definitely see a change."
The Best Friends-Catholic Charities-SpokAnimal "alliance" not only has solved many a problem for concerned pet owners living in affordable housing, but it fits in well with the overall goals at Catholic Charities Eastern Washington.
"We know that service animals and comfort animals are a huge piece of our work in enabling people to stabilize," David says. "For us, it's so important to affirm the dignity of the people for whom we are providing a service. Instead of persons wanting to put off or cancel a much-needed surgery for fear of losing a companion animal, our client's first thought can be 'Yes, I'll get this treatment,' without having to be worried about what happens to their pet."
Perhaps the most significant benefit from the program so far, says David, is that the partnership has helped affirm the self-respect of pet lovers living in Catholic Charities residential buildings. "And a big part of that affirmation is just letting them know that their animals will be OK."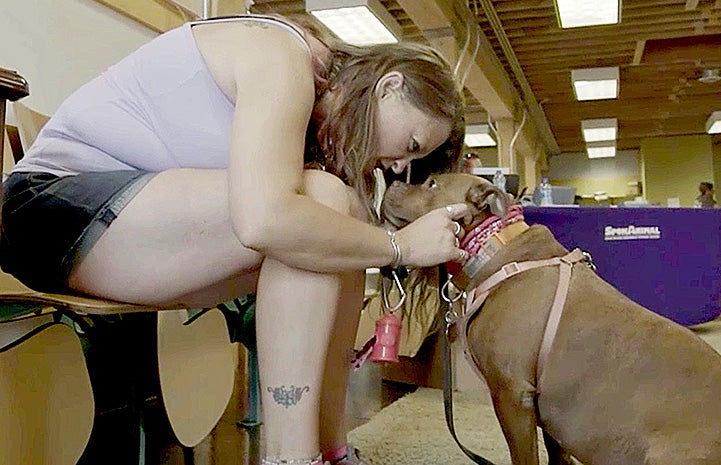 You can help keep pets and their people together
Contact your local city council representatives and ask them to ensure that government-sponsored housing providers are pet-friendly.
Learn more about pet-inclusive housing
Read more
Best Friends grants help bring vet care to Navajo Nation
Dog learns how to trust people with a little help from a friend
The story behind the famous high-flying, almond-loving cat
Photos courtesy of Catholic Charities and SpokAnimal