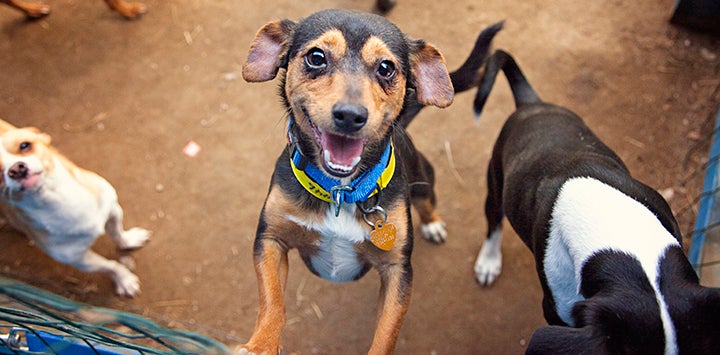 Best Friends in Los Angeles
Who we are
Best Friends in Los Angeles brings together animal rescue groups, city shelters and passionate individuals dedicated to making Los Angeles a no-kill city by 2018. As part of this mission, Best Friends hosts adoption and fundraising events, including Strut Your Mutt, and runs two pet adoption centers in L.A.
Best Friends Animal Society has maintained a strong presence in Los Angeles since 1991. It began with providing support to local animal rescue groups and shelters and creating innovative model programs, such as a public animal help resource line, the Best Friends Brigades, pet super adoptions (now known as NKLA Super Adoptions) and celebrity-driven national pet adoption PSAs.
Our work in L.A.
In 2011, Best Friends entered into a groundbreaking public-private partnership with the city of Los Angeles to operate one of the L.A. Animal Services city shelters as the Best Friends Lifesaving Center. Located in Mission Hills, the center includes a pet adoption center with more than 400 adoptable dogs and cats from L.A. city shelters, a spay/neuter clinic and a kitten nursery.
Then in 2012, Best Friends made its biggest commitment to date in Los Angeles, vowing to make it the largest no-kill city in the nation. That year, Best Friends launched NKLA (No-Kill Los Angeles) in partnership with Los Angeles Animal Services and key local stakeholders. A comprehensive initiative to end shelter killing, NKLA focuses on public awareness, high-volume pet adoptions and spay/neuter services for those most in need - pets of families in the city's lowest-income communities. The NKLA Coalition, led by Best Friends, comprises more than 90 animal welfare organizations throughout Los Angeles that are devoted to saving the lives of dogs and cats in L.A.
To further increase adoptions in the city, Best Friends opened a second adoption venue, called the NKLA Pet Adoption Center, in August 2013. Located in West Los Angeles, it features a boutique-style pet adoption experience with more than 100 adoptable dogs, cats, puppies and kittens from NKLA Coalition rescue partners.
By working together in Los Angeles, we can Save Them All.
Best Friends Lifesaving Center
15321 Brand Boulevard
Mission Hills, CA 91345
bestfriendsla.org
818-643-3989
NKLA Pet Adoption Center
1845 Pontius Avenue
Los Angeles, CA 90025
nkla.org/petadoptioncenter
424-208-8840