Pets adopted from Best Friends: Where are they now?
Updates and stories from the homes of four beloved, adopted pets.
By Best Friends staff
The very best part about working at Best Friends is finding out about adoptions. Every single pet who goes home makes us smile (or cry or both). If you've ever fostered an animal, you know that feeling well. It's the outcome we all want for every homeless pet out there. Just about the only thing that comes close to that warm feeling is hearing updates as the years go by. Join us in smiling, and maybe wiping away a few tears.
Timon, adopted in 2015 by Joan Topham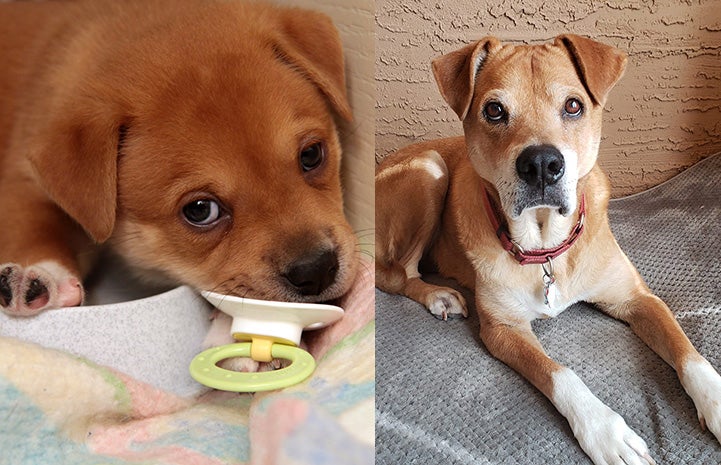 I adopted Timon while doing my annual volunteer trip to Best Friends. Two weeks prior to my visit, my 14-year-old kelpie mix had passed away and I knew it was inevitable that I would find a new forever friend.
When I met Timon, he had recently been returned by his previous owner. He seemed reserved and quiet, and I decided to take him on a sleepover. I wasn't sure if he was the dog for me, but he was so well behaved that I decided to have him stay for a second night. After that, I kept getting the nagging feeling that he needed to come home with me.
We did some training to get over his reactivity to other dogs, and he past his Canine Good Citizen test on the first try! He returns with me every year to Best Friends and waits patiently in the cottages while I do my volunteer shifts. He has quite the fan club: I always seem to find someone who knows him or who cared for him.
He is 12 years old now and other than some arthritis and early-stage renal disease, he is a happy, healthy boy. We'll be at Best Friends in November for his six-year "adoptiversary."
Buck Rogers, adopted in 2007 by Christina Zimmer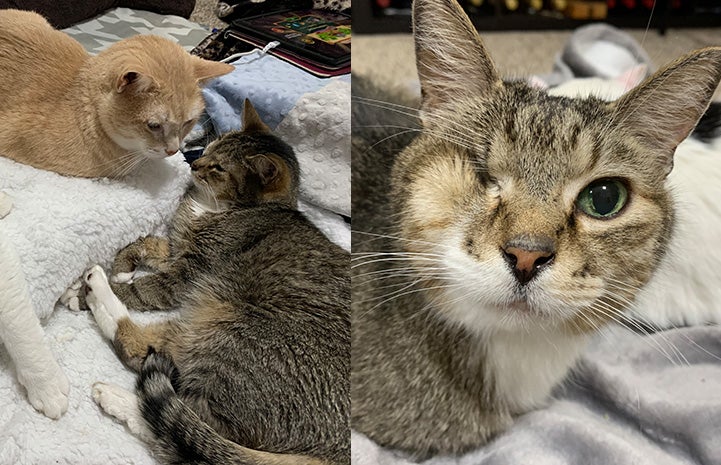 When I adopted Buck, I had no idea how lucky I was. He might be a little guy, but with Buck, our family has had big fun. He has charmed many friends, both young and slightly less young. In Austin, we had a house of cat lovers and Buck was Mr. Congeniality, with six ladies eating out of his paw. Our building manager describes him as "so cute and friendly." She even asked if she could eat lunch in our apartment sometimes just so she could visit Buck.
These days, after 14 years together, he is the senior guy in the house. He is a wonderful older brother to Dakota and Campbell (also adopted from Best Friends). He helps Dakota keep his ears clean, as he doesn't have enough limbs to do it. He is also chief caregiver of Campbell if he has seizures.
Buck sleeps on my pillow every night, and he's with me for every couch nap. He has a world-class purr and he's always the first to greet me when I get home because that's when his shift as "mom's shadow" starts. He couldn't care less that he only has one eye and no teeth. (His other eye was removed because he had an ocular tumor.) I love this silly little cat with the round apple head and bunny-soft fur. Every day with him is a gift.
Maria, adopted in 2010 by Linda and Chris Sotirake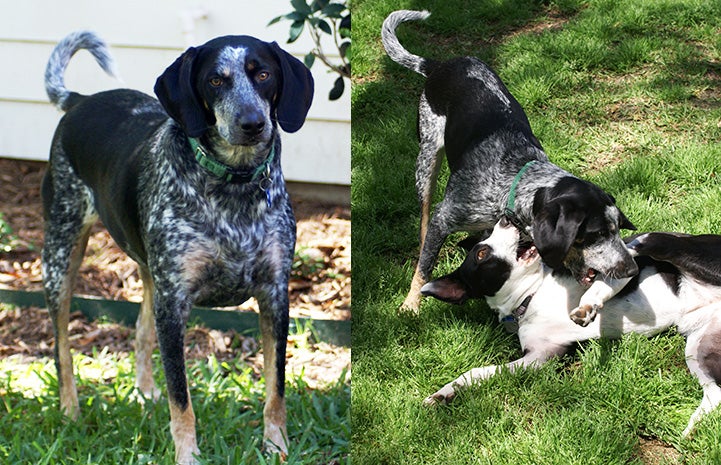 We remember picking Maria up at the airport 11 years ago. We looked in the kennel and there she was — this little girl with the dark eyes and adorable face. She was so happy to get out of the kennel that she looked out of the car window the whole way home. At home, it was time to meet Addilyn, our other adoptee from Best Friends. They became fast friends, jumping up on our bed and starting to play.
Maria and the gang have been on thousands of walks and runs in the parks here in Texas, as well as in the Blue Ridge Mountains in North Carolina. When Maria barks in North Carolina, her bark reverberates in the mountains. When Maria was younger, some people recognized her from her Best Friends magazine cover photo. She thought she was a star.
Maria's life has not been without challenges, and she is a very strong-willed and independent girl. She once got out of an exam room at the vet's office and found her way to the front door before staff caught up with her. She was going home!
Maria turned 12 in August and we cannot imagine our lives without her. She has been such a loving member of our family. Without Best Friends, we would not have had the opportunity to adopt her and love her all these years.
Prisscilla, adopted in 2015 by Carole Seiibel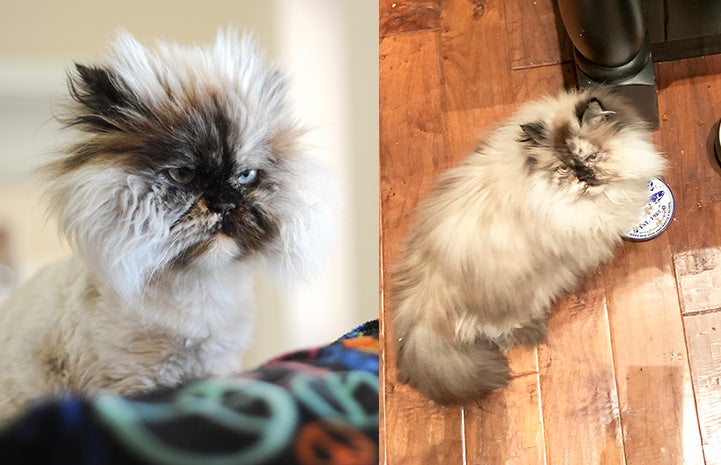 Prisscilla (called Francesca during her short time at Best Friends) was found as a stray, living outside and having a rough go of it. Her long fur became terribly matted. Once she arrived at the Sanctuary, she got a whole new look — a lion cut so cute that she landed on the cover of the May/June 2015 magazine. Carole says this about Prisscilla:
Priscilla has been quite the traveler. She spends her winters in Park City, Utah, and summers in Dewey Beach, Delaware. She is quite the character — full of tortitude! She enjoys getting a bath and blow-dry every two months, her favorite toy is a catnip banana, and she eats like a horse. She's very classy, like her name and her breed.
This article originally appeared in Best Friends magazine. You can subscribe to the magazine by becoming a Best Friends member.  
Read more:
8 warm and fuzzy pet adoption updates
8 reasons to adopt a senior pet
Unicorns wanted: Foster families change lives of dogs with challenges