10 things to know for Adopt a Rescued Rabbit Month
Image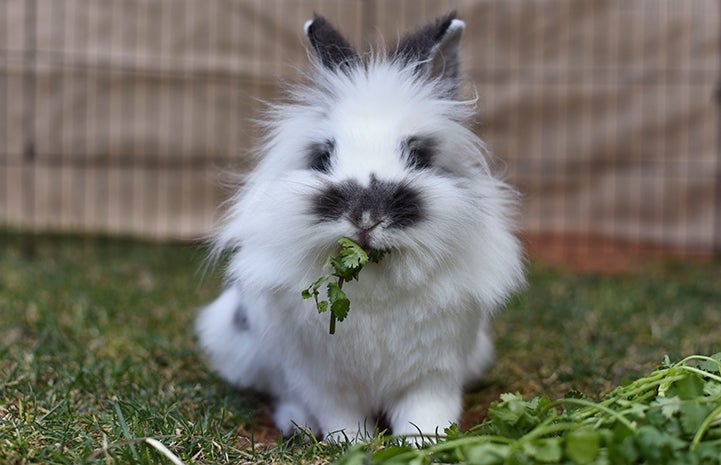 February is Adopt a Rescued Rabbit Month. Read 10 fun, interesting and insightful facts about bunnies. Adopt, don't buy, a rabbit.
By Christelle L. Del Prete
Roman the bunny has a real-life rags-to-riches story. Rescued from a hoarding situation, he was brought to Best Friends Animal Society and lived at the Bunny House until Natalie, his adopter, fell in love with him during her animal care internship at the Sanctuary. Natalie wasn't a bunny expert, but she did her homework and learned all she could before adopting a bunny. Now, Roman's living in pet bunny paradise.
February is Adopt a Rescued Rabbit Month. If you're wondering how to get a pet bunny, you can skip the pet store. There are plenty of adorable, adoptable bunnies at Best Friends, and at shelters and rescue groups near you. And if you're thinking of adopting a rabbit as a pet, or you just want to learn more about gentle, sweet and cute rabbits, here are 10 facts about pet bunnies to help you get started.
Rabbits generally live for eight to 12 years. Spaying or neutering pet rabbits will help them live the longest life possible, since they'll be less susceptible to certain types of cancer.
Although people sometimes think of them as backyard pets, it's best to keep bunnies indoors. Not only is it easier to enjoy a bunny's companionship that way, but rabbits make great house pets. Plus, it's relatively easy to bunny-proof your home and to litter-train a rabbit.

Rabbits have three layers of fur and can't regulate their internal temperature. They also like it colder than you might think: Temperatures of 40-50 degrees Fahrenheit are ideal for rabbits. On the flip side, temperatures greater than 80 degrees Fahrenheit can be dangerous because bunnies are prone to heat stroke.
Bunnies are prey animals and are very good at sensing the energy and emotions of people.
Hay makes up 80-90 percent of a balanced rabbit diet. Each day, bunnies should also get some high-quality rabbit pellets, along with greens such as romaine lettuce or cilantro. Treats, such as bananas, carrots and strawberries should be given in very small amounts and limited to once or twice a week.

To satisfy their instinct to dig and to keep their teeth in tip top shape, bunnies need plenty of enrichment and toys. Rabbits' teeth are constantly growing and can grow up to five inches per year. Giving them plenty of chew toys can prevent painful overgrown teeth and costly trips to a bunny-savvy veterinarian.
Most bunnies are social creatures who are more content living with a bunny companion. But Roman is an exception: He's happiest as a bachelor. Because rabbits are very willing to fight if they don't get along at first, bunnies must be introduced in a carefully-supervised process.

Bunnies are fun to watch, especially when they're happy. They'll do "binkies" (leaping and twisting in the air), bunny flops onto their backs or sides, or just stretch out for a short nap.
The character Thumper from Bambi was known for his habit of thumping his hind foot on the ground. Although Thumper exaggerates this behavior, it is based on real bunny body language. In the wild, bunnies thump their back feet to warn other bunnies that a threat may be coming their way.

Bunnies are smart and can (through clicker training) learn to do tricks like "sit pretty" or to touch their nose to a target, such as a hand. A bunny named Bodie, who lived at the Bunny House, even learned to give his caregivers kisses. How adorable is that?
Like Natalie, you don't have to be a bunny expert to adopt a rabbit. Learning as much as you can about rabbits as pets is a great start to giving a perfect forever home to an adorable, adoptable bunny like Roman.
Photos by Sarah Ause Kichas, Molly Wald and Kurt Budde