17 rescued poodles get a fresh start in life
Poodles from a hoarding case come to Best Friends in Atlanta for love, much-needed medical care and new homes.
By Nicole Hamilton
Onna and Olivia are feeling good and looking fine these days, but when the eight-year-old miniature poodles first arrived at the Best Friends Lifesaving Center in Atlanta with 15 others, they were some of the most adorable hot messes the team had seen.
The poodles were brought to the center by way of Two by Two Rescue, a Best Friends Network partner organization in Helena, Alabama, which removed them from a hoarding situation. Four of the dogs, including three Cavalier King Charles spaniels, went to foster homes in Alabama, two poodles went to Georgia Poodle Rescue, and the rest came to Best Friends in Atlanta.
When they arrived, the dogs had hair so long and so matted that you couldn't tell what they looked like underneath their locks. They were also flea-ridden and dirty, they had some sores and hot spots on their bodies from their matted fur, and they all needed to be spayed or neutered. But what these dogs needed ― first and foremost — was a professional spa day.
The staff rang up groomer Jamal Harrison at Perfect Paws Mobile Grooming & Spa. Jamal cleared his books for several hours and showed up ready to work some magic. A few hours (and a few mountains of fur) later, the dogs looked as good as new. Then they were ready for foster homes.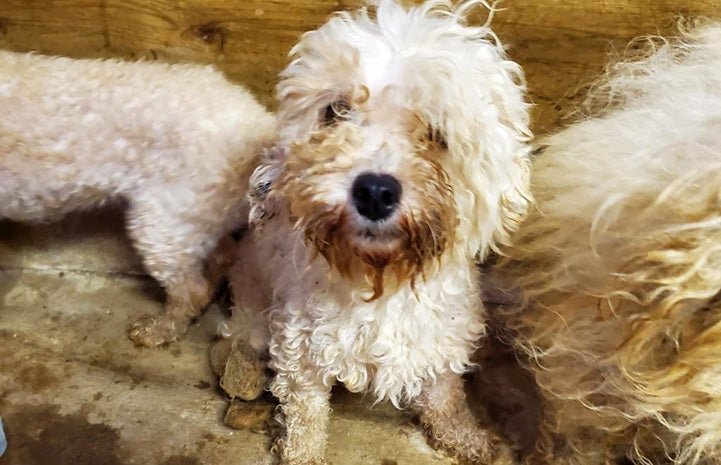 Odessa before

Odessa after. Photo by Maggie Flynn
Word got out fast (as it tends to when you're talking about poodles). And as soon as their photos, videos and updates hit social media, people immediately stepped up to foster and adopt. In a matter of days, all the poodles had been placed.
"Working with Two by Two Rescue to give these pets a second chance at life was such a rewarding experience," says Lisa Barrett, Southeast regional manager for Best Friends. "Even though they've had a rough past, each and every one of them is a loving, affectionate dog. We're blessed to be a part of their happily-ever-after."
Fostering saves lives
You can make a difference in the lives of homeless pets by opening your home to them, even if it's for just a few days.
Read more:
10 creative ways to promote your foster pet
Entrepreneur and volunteer extraordinaire
Best Friends in Atlanta works collaboratively with area shelters, animal welfare organizations and individuals to save the lives of pets in shelters in the region. The Best Friends Lifesaving Center is a hub for animals and a base for local programming and coalition-building to help the metro-Atlanta area in its final push to achieve no-kill, while strengthening the movement in the Southeast. Together, we will Save Them All.
Photos by Best Friends staff and Maggie Flynn