Actress Jacqueline Piñol uses her talents to advocate for dogs
Get to know the producer of The Canine Condition documentary series and podcast, who joined Best Friends to promote pet adoption to Spanish-language audiences.
By Best Friends staff
Actress and animal advocate Jacqueline Piñol is helping spread the word about adopting pets to new audiences ― in both English and Spanish. She followed her passion for pets by creating a documentary series and podcast, both called The Canine Condition. Recently, she starred in a new Best Friends public service announcement with her own rescued dog, Huckleberry.
We sat down with Jacqueline to learn more about how she came to love animals, what made her want to work on her own projects to help them, and what's next for her.
Tell us about your family and your relationship with pets growing up.
I grew up with my parents who are Latin American, and my two younger sisters. My mom is Colombian and my dad is Guatemalan. I was born in New York where they met but chilly winters drove them to sunny California, and we settled in Hollywood.
We only had goldfish and a couple of turtles when we were kids. When I was five years old, I was bit by my grandmother's dog. I was jumping around really close to him and I accidentally landed on his tail. He got startled and nipped at my leg. I remember that so vividly.
That was the one incident that made me fear dogs for many years to come. My parents were not fans of dogs back then, so they were fine with us (kids) not wanting a dog. They felt it was less responsibility for them. I didn't really know back then what we were missing out on. I didn't get my first dog until after I graduated college.
How did you get started in animal welfare?
My advocacy began without me knowing I was advocating. It all started when my husband and I adopted our first dog together. I recall picking her up at the shelter and walking past all the kennels full of dogs. The thought of leaving them behind without knowing if they would get adopted haunted me.
I took to social media to advocate for them only to encounter a plethora of posts from people doing the same thing for other dogs all across the country. I didn't know back then that we had a national problem. I couldn't sleep thinking about these innocent beings, by the thousands, being left alone hoping not to get euthanized or hoping to survive life on the streets. I had to do more than just adopt my dog.
How did you first get involved with Best Friends?
The first time I heard about Best Friends Animal Society was when I found a dog on a busy street and I picked her up. She had no microchip and no tags. Her hair was pretty matted. I couldn't keep her because we had two dogs by that time and we could not afford a third dog.
A friend of mine gave me the phone number to the Best Friends Lifesaving Center in L.A. and I called to see how we could work together to help this dog. After following some protocols to try and locate her people, if she had people looking for her, we fostered her for a few weeks until she was vetted and adopted out through Best Friends.
Her name was Luna. She was such a sweet, friendly girl and I was so happy that there was a way to help save dogs that find themselves homeless. We just have to care enough and take action to see change. Best Friends is an example of that.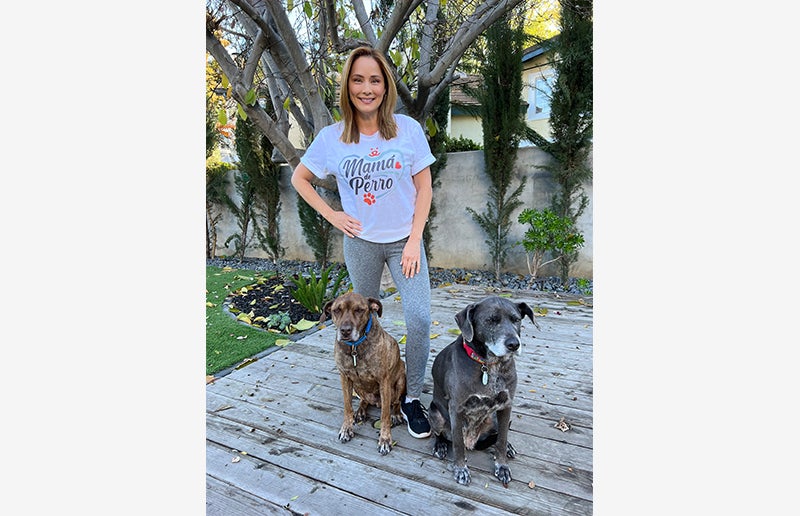 How many pets do you have now and where are they from?
We have six dogs. They range in ages from four years old to 15 1/2 half years old. The senior is a pug named Zeus and the other five are pittie mixes adopted from shelters or rescue organizations. Four of my pitties are from Georgia.
During my travels with the documentary series, I met so many incredible, lovable dogs. For one reason or another the ones I adopted came to me in ways I did not expect. It was not planned. They needed me and I was there. I was not going to turn my back on them. It took a village to save each one, and I feel lucky to have them. They teach me to be a more loving and compassionate human being that is for sure.
What do you hope to achieve through your podcast?
Because I am a Latina and Spanish was my first language, it is not just important but personal to me to bring this message to more people of Latin American background. Maybe some people have stories that resemble mine and they want the information so they can help the cause, too.
Like I mentioned, I felt like I needed to take action in some way to help solve this problem, so I decided to travel around the country to see for myself if it was indeed a national crisis and who was doing something about it. I did find that it is indeed a huge problem and there are so many solutions. The secret is, more people need to be informed and more people need to take action.
Tell us about your new documentary series
My docu-series highlights dog rescue organizations that are addressing this problem in their own communities. Each episode is dedicated to one 501(c)(3) dog rescue organization and their journey to safely re-home the dogs they save.
I was unaware of how and where to ask for help at one point in my life so I want to offer people in this country information and resources. This is a self-funded project and since I can't do an episode on every amazing organization that is doing things right for dogs and for people, I started the podcast. The podcast allows me to speak to more dedicated animal rescue and advocacy organizations so I can then give the public more options.
In today's world there is no excuse not to help. We don't have to adopt a dog or donate money in order to help make a difference for this cause. We need to start being a more responsible, informed and compassionate society.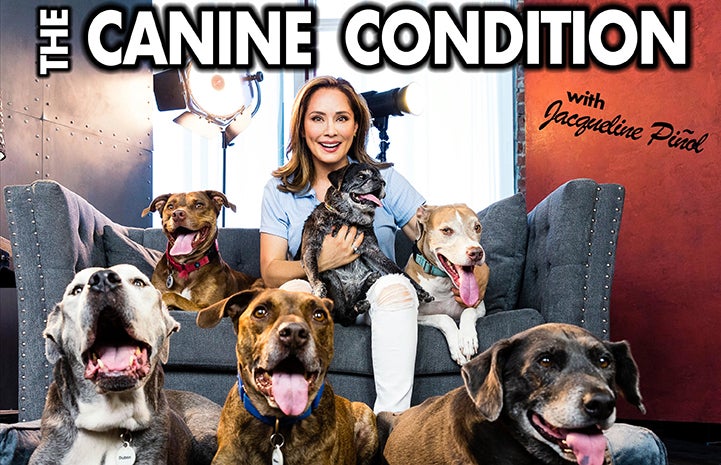 What's in store for the future? Is your son, Atlas, already a rescuer in training?
My day job is working as an actress on various productions at any one time. I love my job and I plan to use my free time and my platform to advocate for this very important cause.
And as for my son, yes, he is definitely already a dog lover and protector of humans' best friend. He has only known life with dogs around him and I know he will always speak up for them when and if he has to.
My docu-series just got distribution for season one, which is six episodes. The Canine Condition series officially aired on Dec 3. 2021. It is now available for streaming on PREMO Network through Comcast Xfinity to more than 90 million homes in the U.S. and it is also available for free online at Premo.tv and the Apple+ app worldwide.
This has given me hope and motivated me to prepare season two and hopefully season three and so on.
More from Best Friends in Spanish
Did you know there's a website for our Spanish-speaking animal lovers?
Lee esta historia en español »
Read more
Volunteer teaches foster cats to "talk"
Bella the survivor dog arrives at Best Friends
Sweet lullabies help puppy heal and find a home
Interviewed by Mia Navedo-Williams