Sweet lullabies help puppy heal and find a home
Blu was shy and had a painful skin condition, but a foster volunteer helped the puppy grow confidence (plus hair) and he's thriving in a new home.
By Jenny Agnew
When Best Friends vet tech Ashley Goddard first met Blu, a scared pit bull terrier mix puppy with a terrible skin condition, she knew she had to foster him. Best Friends Dog Rescue (which sounds like it's part of Best Friends Animal Society but is a separate group) had taken in Blu and saw right away that he would need extensive medical help.
Clearly in pain from his skin disorder, Blu was brought to Best Friends in Atlanta so he could heal and eventually be adopted. A trip to the vet revealed that he had bacterial, yeast and fungal infections, and that it would take a lot of care to help him feel better. Ashley was willing give Blu what he needed: time, patience, lots of medicated baths ― and maybe even some nightly serenades.
Still, she knew it wouldn't be easy. When Ashley first brought him home and gave him his prescribed medicated baths, he often cried out in pain. But then she got creative. During bath time, she began improvising lyrics to nursery rhymes that she was accustomed to singing to her daughter every night. Blu's favorite tune was "You Are My Sunshine." Once Ashley began singing, he became peaceful and quiet.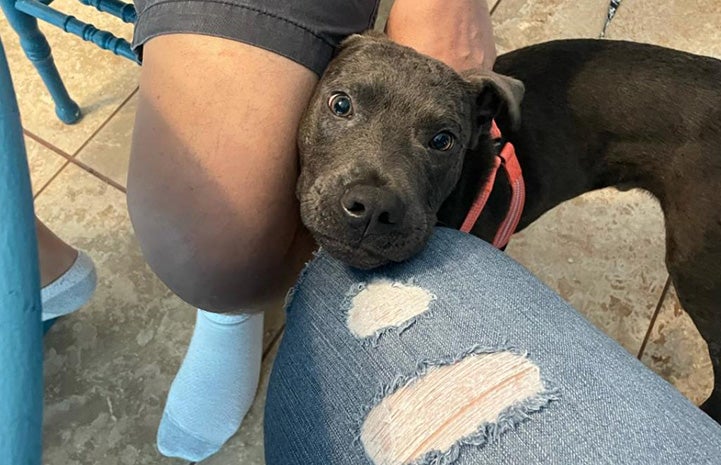 Dog's foster family makes a difficult decision
Once Blu's skin condition began to heal, he was introduced to Ashley's resident dogs. A whole different Blu emerged around her dogs: He was transformed from needing to be carried outside to eagerly joining his new canine friends for a romp in the yard. Blu integrated so well into the family that Ashley and Gottlieb, her husband, began to consider adopting him.
[No-kill could be the new normal in Grady County]
Those who have fostered dogs needing physical and emotional healing know that it can be particularly difficult to let them go. Still, they knew that letting go is part of fostering, and that there was someone special out there for Blu.
Megan Matchett, lifesaving outcomes supervisor, accepted Ashley's challenge of finding Blu a great home and she immediately had someone in mind: Taya Famularo, an adopter she had talked to a month prior, who was looking for a companion for Sookie, her middle-aged pit bull terrier mix.
While Taya did not initially have a puppy in her sights, she agreed to meet Blu. Ashley recalls their meet-and-greet as a sign that Blu was meant for Taya. Usually shy when meeting new people, he went right up to Taya with tail wagging and instantly hit it off with Sookie.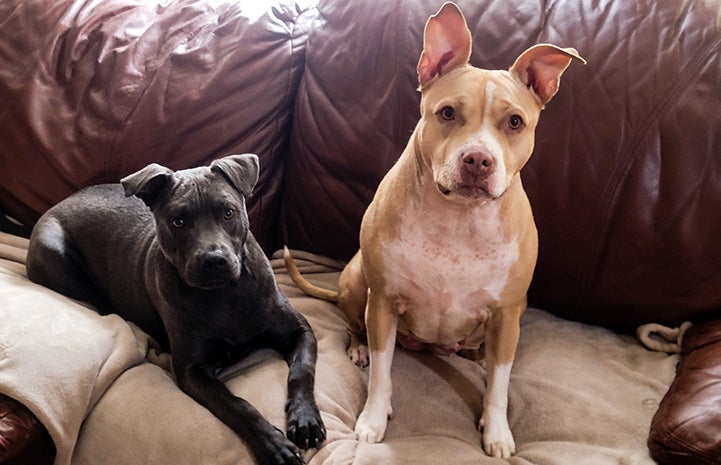 Puppy makes adopter's world shine
Today, Taya says that she is Blu's world and vice versa. Not only has he caught onto the routine in his new home, but he has added a couple of his own musts, such as getting up early to eat breakfast and eliminating the need for an alarm. Regarding Blu's zest for meals, Taya says with a laugh, "He acts like he's never eaten in his life."
Although Taya was prepared to help Blu learn how to meet new people (knowing that he might have some fear of them), she said he's never met a stranger. He's become friends with the UPS driver and Taya's adult son.
Another thing Taya was prepared for was potential lingering skin issues — something she already had experienced with Sookie, who has allergies that require her to be on a raw diet and medication. So far, Blu's skin looks good, but if he needs further medical treatment, Taya is ready to do what it takes.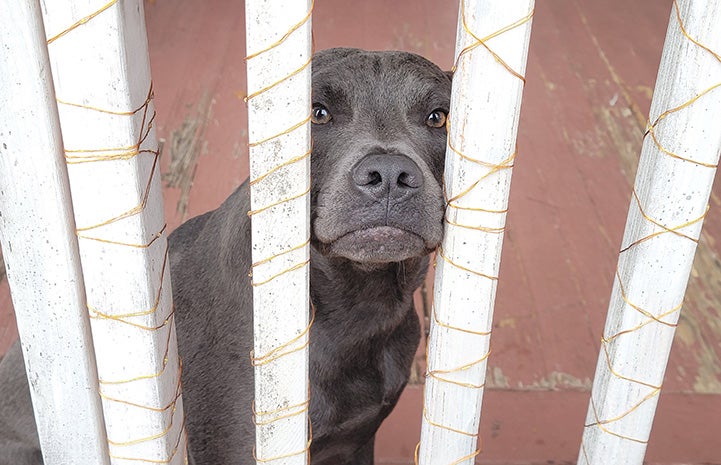 [Adopter saw nothing but love when she met Beefy the dog]
Taya says she's still getting used to is having a young dog. "He wears me out," she says with a smile, but adds, "The dogs are best friends which is really what I wanted." Blu and Sookie chase each other around the yard and play constantly. Inside, Blu likes to settle in with Taya and watch TV. She said that he pays attention to everything, from what's on the tube to a fly that may be buzzing by.
An observant guy, he's also cuddly and likes to lay his head in Taya's lap, getting as close to her as possible, even nibbling on her earlobes. One thing Blu doesn't like is going outside when it's wet. In fact, he's figured out how to do his business off the deck without having to step onto the wet grass.
Taya believes that Blu still has some weight to gain. And she's considering changing his name to Bill after the vampire in the True Blood series who's paired up with Sookie Stackhouse, the character that gave Sookie (the dog) her name.
Regardless of his name and true to the song Ashley sang to him to help him heal, Blu is now Taya's "sunshine." As for Ashley, she's already brought more pets in need into her home, allowing the wheel of lifesaving to keep on turning.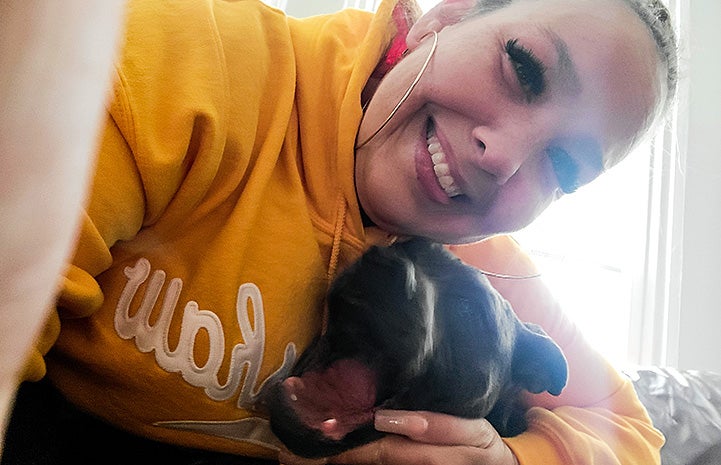 Fostering one pet helps many
Fostering a pet from your local shelter, opens up space to help even more pets in need.
Read more
The right place and time for a tiny Persian cat
North Dakota shelter steps up to help others