The right place and time for a tiny Persian cat
When duVergne saw Maisie's face online she fell in love, and even a few hundred miles couldn't keep her apart from the small, fluffy feline.
By Sarah Thornton
With her scrunched little face, patchy thick fur and three legs, Maisie was quite the sight to behold when she first arrived at Best Friends Animal Sanctuary from an Arizona shelter. She was a tiny purebred Persian, who had lost one of her front legs to injury and caught a case of ringworm before being surrendered to the shelter. It could have been a rough time for the five-pound, five-year-old feline, but her spirit never faltered. Maisie was happy, snuggly and up for playtime ― all the time.
Her unwavering kitty positivity must have shone through in her photos. Because despite an expression that made her look a bit like she was trying out to be the next "grumpy cat," she soon caught the attention of someone who instantly fell in love.
After saying goodbye to a beloved four-legged family member, duVergne Gaines had stumbled upon the Best Friends website in her search for a cat needing a home. And Maisie was exactly who she was looking for. It seemed like a case of "right place, right time," and it was, mostly. Maisie just happened to be more than 700 miles away.
The right time for cat and person
Maisie had spent her first few weeks at the Sanctuary being treated for ringworm, a harmless, common fungal infection not so different from athlete's foot in people. It gets its name from causing circular patches of missing fur and crusty skin (not from an actual worm), and though highly contagious, ringworm is easily treatable and often cures itself over time.
[There's a fungus among us and it's OK]
The twice-weekly medicated lime-sulfur dips might not have been Maisie's favorite thing, since they left her and the other cats in treatment yellow and smelly. But they worked. In combination with antifungal pills and plenty of sunlight on the shared catio (a natural and pleasant ringworm curative), Maisie's thick fur grew back quickly.
As soon as she tested negative, she was moved out of the ringworm quarantine area to another room where she immediately started making new friends, both feline and human alike. And that's about when duVergne spotted her online.
Several weeks earlier, she had to say a painful goodbye to one of her beloved cats, a Persian mix whose little face had brought a smile to her own every time she looked at him. She knew that she wanted to adopt another cat in need and provide a warm, loving home, and so her search began.
Though duVergne had never heard of Best Friends, she came across the website and saw there was a location near her in Los Angeles County. Thinking of her recently passed feline family member, she entered "Persian" in her query and hit "search." Two cats came up and one of them was Maisie. "I read that she had been injured somehow," duVergne says, "but her little face shining out through (the internet) just completely took hold of me."
Without wasting another moment, duVergne sent in an adoption application. But she hadn't yet noticed something: Maisie wasn't at the nearby Best Friends in Los Angeles location but was more than 700 miles away at Best Friends Animal Sanctuary, near Kanab, Utah.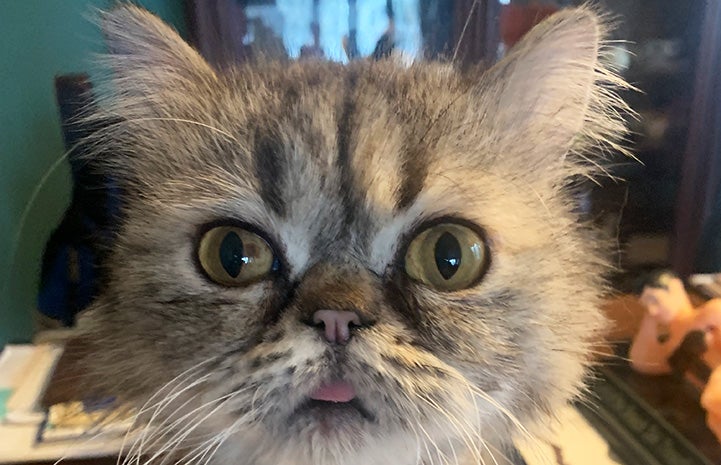 Going to the right place for kitty love
That made things a bit more complicated and now duVergne wasn't sure what she was going to do. "I felt as though my spirit had already been seized by this animal," she says.
She couldn't make the trip right away. It was a long trek, after all, and she was in the middle of traveling to visit different family members. She worried Maisie might be adopted before she was able to do it herself. But finally, she says, the stars aligned and she booked a flight to Las Vegas, plus a rental car to get her the rest of the way. No distance would keep her apart from the cat who already had a place in her heart and home.
[Timing is everything for two cats with feline leukemia]
"It was a spiritual odyssey," duVergne says of her trip to pick up Maisie. "It was like the fates had preordained it. It's a beautiful place and learning more about Best Friends Animal Sanctuary is so deeply moving. It is not only spectacularly beautiful ― what they've helped preserve in terms of nature ― but also (to have) created this Sanctuary for so many animals … and for her."
Stepping into a room full of cats made it difficult to leave without taking home 15 new feline friends, duVergne says with a laugh. But Maisie had her heart completely and there was no shaking her.
They had to quickly turn around and head back to Las Vegas for their flight home, but the pair started bonding on the three-hour drive back to the airport. Maisie wasn't happy with the traveling carrier, but as soon as she had the chance to cuddle up onto duVergne's lap, she fell fast asleep. That was her "right place." Though duVergne initially worried about how Maisie would handle the trip, the small cat took it all in stride (or in lap, as the case may be). And when they finally reached home, Maisie made herself comfortable.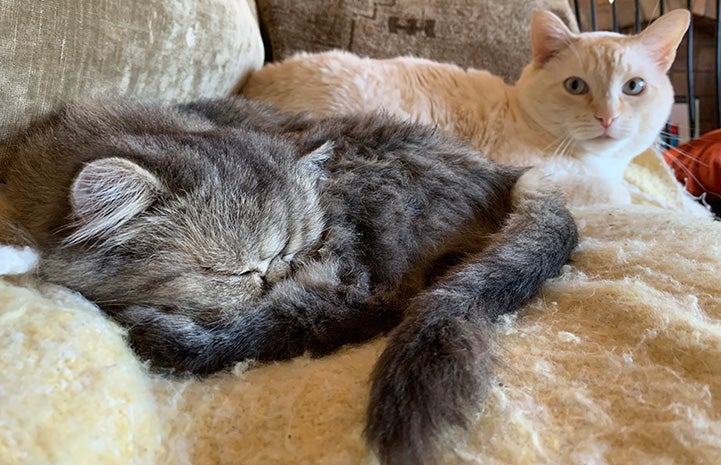 A tiny cat larger than life
Although Maisie weighs only five pounds, she soon became the boss of duVergne's other cat, who was nearly three times her size. "She's a tiny, tiny little thing," says duVergne, "and she may only have three paws, but she's larger than life."
Maisie is a benevolent ruler, however, and other than occasionally baffling her new brother by stealing his food and bossing him around, the two have fallen into a comfortable kinship. They sleep together, then wrestle, then groom one another ― keeping the peace and growing closer each day.
With amusement, duVergne remembers buying Maisie a fittingly tiny, covered cat bed, only to have the larger cat move into it while Maisie stretched out all of her five pounds on the older, bigger bed. "She likes major real estate," duVergne says with a smile. "She's not interested in some small, little spot."
When it comes to Maisie's new person, she's a complete cuddle bug. "She's a love muffin," says duVergne. "She loves being held. She nuzzles in and she just loves to be carried around. She'll sleep on me. She's really gotten so comfortable."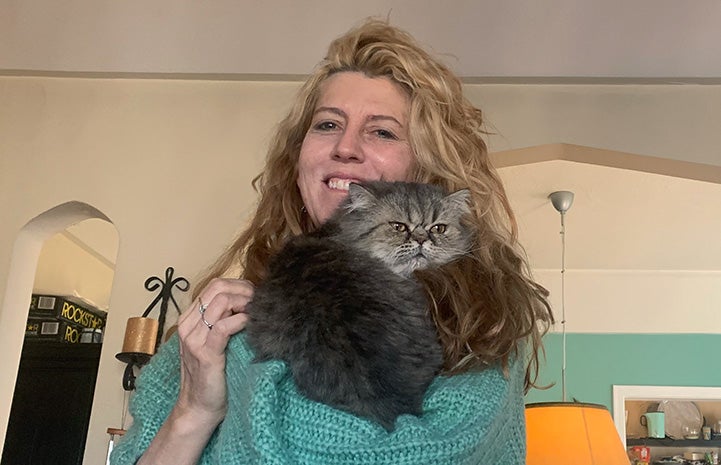 Maisie enjoys being toted around so much, in fact, that duVergne's been thinking about getting her a bouncing baby carrier, just so Maisie can always be snuggled right up against her chest, exactly where she wants to be.
[From two legs to four, a kitten's journey]
When she's not being carried around, Maisie plays as hard as she snuggles. She charges down the long hallways of the apartment, chasing after strings and balls with a hopping gait described by duVergne as a mix between that of a ferret and a rabbit. And the whole time, she's purring up a storm.
"She's brought so much joy to us," duVergne says, emotion welling up in her voice over the mere thought of Maisie. "I don't want to get all teary, but she's, you know, just a special spirit. She's such a survivor. And she's still full of love, despite everything she's been through."
Maisie and duVergne may have started hundreds of miles apart, but for them it was just the right place and absolutely the right time.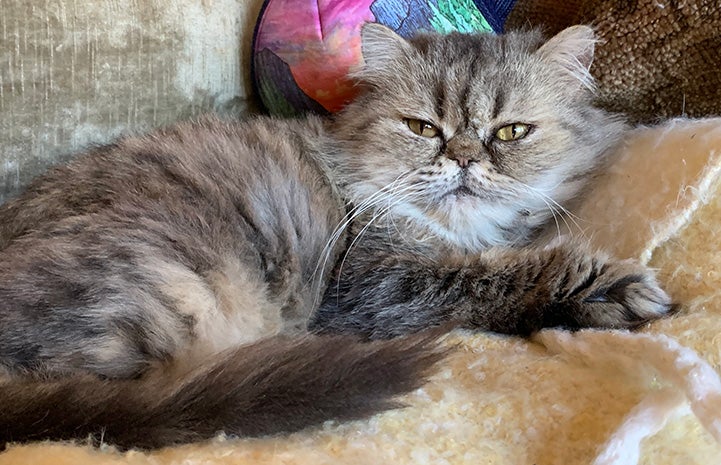 Is it the right time for you?
There are pets across the country looking for homes right now. At least one of them might just be in the right place for you.
Read more:
Pets adopted from Best Friends: Where are they now?
The 20-pound cat with 1,000 nicknames