Volunteer teaches foster cats to 'talk'
Recordable buttons ignite training passion for foster volunteer and help kitties get adopted.
By Natalie Wordtmann
Monesia Greene, who describes herself as "a cat lover, through and through," enjoys helping cats thrive. After moving to Georgia in 2019 with her husband, Monesia leapt at the opportunity to foster cats through Best Friends in Atlanta. But she has done so much more than simply care for cats until they are adopted. She's teaching them to communicate with people ― like they never have before. Not only is it fun (for Monesia and the cats), but it also helps the cats get adopted. Monesia also volunteers at adoption events by helping to match up cats with adopters.
According to Megan Matchett, a supervisor at Best Friends in Atlanta: "Monesia is a real cat whisperer. She has taken home several shy cats (and all of them) have made great improvements in a very short time."
Her foster cats get the best-of-the-best care. She may do reiki to help them feel more comfortable or give them supplements to keep their coats shiny and healthy. She even gave one of her foster cats a bath before an adoption event. "I don't know about you," says Megan, "but I don't know too many people who can easily bathe and groom a cat. Monesia made it sound like it was nothing!"
When it comes to cats, it seems that there's nothing Monesia can't do. Her newest adventure began with Ripley, a shy tabby cat who she helped by teaching her to "talk." Of course, Ripley was only the first of several she helped, because Monesia is unstoppable.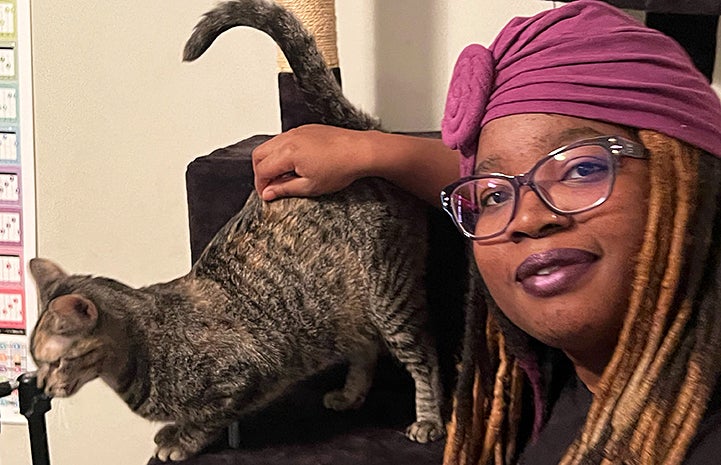 Shy kitty loves attention and cuddles
Ripley, a beautiful two-year-old, came to Best Friends in Atlanta by way of the Humane Society Valdosta/Lowndes County. Ripley was overwhelmed and afraid when she first arrived at Monesia's house, and Monesia could see that the cat would need help and understanding to feel better. She was right. While her first foster kitten was adopted within a week or so, Ripley spent about six months with Monesia and her husband, slowly coming out of her shell and learning to get along with other cats.
After they got to know one another, Monesia discovered that Ripley loved attention and cuddles, which Monesia happily provided. Ripley was afraid and lacked confidence only in new situations, but once she felt safe, she could relax.
It was around this time that Monesia first saw online videos of dogs being trained to use buttons to "talk" with people. For example, dogs press a button that says "outside" to ask to go outside. The videos inspired Monesia to try the same training technique with Ripley, with the goal of getting her adopted.
Foster volunteer and kitties learn together
After investing in some recordable buttons that allowed Monesia to customize the action associated with each button, she and Ripley set to work. While online resources suggested starting with one button, she wanted to start Ripley with two, so that the cat would understand that different buttons produced different outcomes. According to Monesia, "Food is the way to a cat's soul." So, naturally one of the buttons had to be "treat." Since Ripley is also such a fan of attention and cuddles, "pets" became the other button.
Starting with the "treat" button, Monesia placed a treat on top of the button to encourage Ripley to reach for it. Once Ripley's paw touched the button, Monesia would push down on it so that "treat" would sound and Ripley would get her treat. A similar process followed with the "pets" button and Ripley would be rewarded with pets and cuddles.
[New foster volunteer discovers purring, love of cats]
It did not take Ripley long to understand the button technique, and it was a fun puzzle for her to solve. In addition to "treats" and "pets," Monesia then added to the mix two additional buttons ― "play" and "pick up" ― for when Ripley wanted to be held. Monesia's effort and attention paid off.
Ripley's newfound confidence helped her get adopted. She went home this past October and she's thriving with her new family.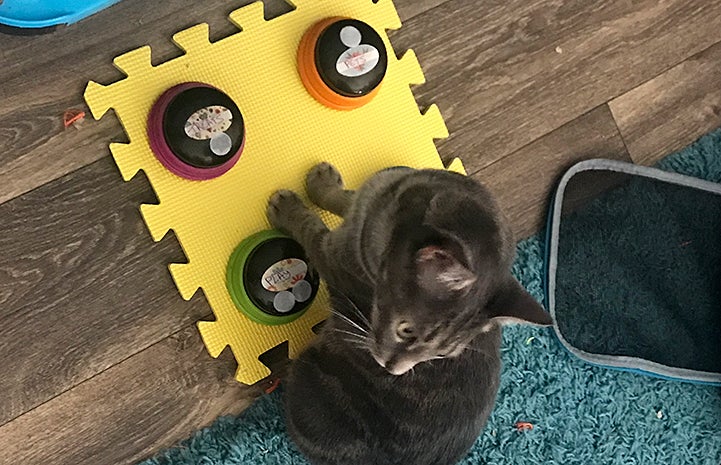 Continuing kitty training success
Eager to continue her new training method, Monesia started the button technique with Momma Cat, another recent foster kitty. "A great feature of the recordable buttons is that you can personalize them to suit each cat's unique personality," says Monesia. Ripley thoroughly enjoyed "play," but Momma Cat did not. So, one of her buttons was "brush."
[From two legs to four, a kitten's journey]
The recordable buttons are technically designed for dogs and can therefore be difficult for a cat to push down hard enough to get the action to sound. But Momma Cat has successfully been able to get the buttons to react (at any time of day or night, much to the chagrin of Monesia and her husband).
To help further distinguish between the buttons, Monesia added textured, patterned padding to the top of each button so that Momma Cat could also feel the difference. Once Momma Cat mastered the first two buttons, Monesia added two more. Then Momma Cat got adopted, thanks in part to the cool skills that Monesia taught her. "Her adopters were so excited and had purchased buttons for her before they even took Momma Cat home," Megan says.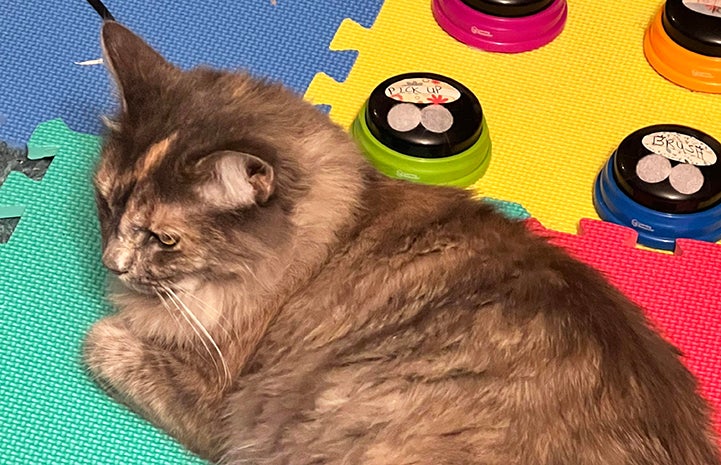 For Monesia, the button technique may have started with Ripley but, she says, "It really sparked a passion for me." Now she's unstoppable.
Autumn, a current foster cat along with Momma Cat, is up next to train with the buttons. Monesia says anyone can train animal companions using this technique and there are lots of great resources available online.
Monesia, who has grown from foster volunteer to cat coach, has no plans of slowing down anytime soon.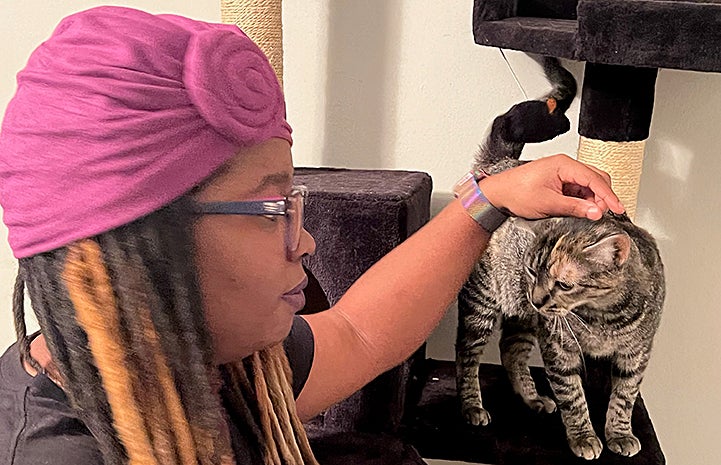 Interested in helping a furry friend?
Fostering can help people and pets alike. If you would like information on how to get involved, please contact your local shelter.
Find a Best Friends Network Partner near you
Read more
Shy cat finds her perfect match after months of medical ups and downs
14-year-old cat with hyperthyroidism gets treatment and a family to call her own