Adoption PSA helps 1,500 Houston pets go home
How Houston-area shelters, Best Friends and a local news station got creative and worked together to help pets get adopted like never before.
By Liz Finch
When animal shelters across the country were forced to close their doors to the public because of the pandemic, they had to get creative about finding homes for the pets still in their care. Technology paved the way for virtual meet-and-greets for prospective adopters or fosters, while clever use of social distancing made it possible for shelters to offer curbside pet pickup and delivery options.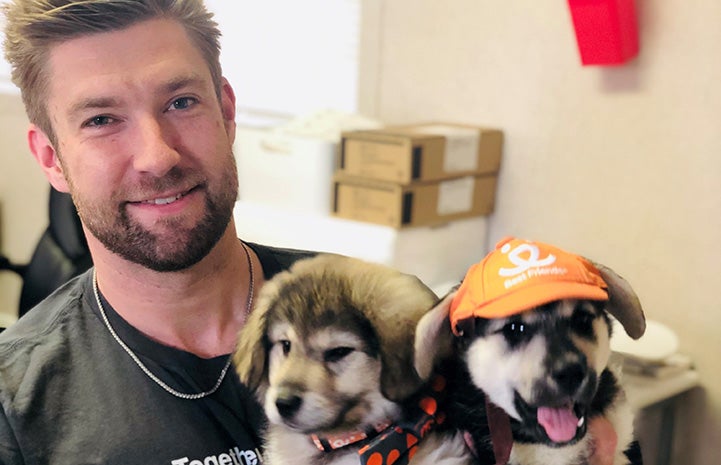 Getting the word out
All of these cool new processes would be useless, however, without the public being aware that so many animals still needed help. In Houston, the Best Friends team solved that problem by putting out a press release designed to galvanize the community by clearly communicating the urgency of the shelter situation.
The announcement first caught the attention of some citizens who let their friends, families and neighbors know that hundreds of pets in the Houston area needed them. It also caught the attention of the KPRC-TV, a local NBC affiliate, which created and ran a free public service announcement from March 28 to April 24.
People interested in adopting or fostering could visit the KPRC website to see animals in need at the Harris County Animal Shelter, BARC, City of Baytown Animal Services and Adoption Center, Fort Bend Animal Services and Adoption Center, Montgomery County Animal Shelter and Best Friends in Houston. And the public stepped up — big time!
Reaping the rewards
"In the first weekend, 135 pets went to foster or adoptive homes," says Kerry McKeel, senior program manager for Best Friends in Houston. "By the end of the campaign, 1,458 animals ended up in homes. There were 806 direct adoptions and 652 pets went into foster homes, but 81% of those ended up being adopted by their foster families. And the number of animals in the participating shelters dropped by 90%."
Inspired by the overwhelming success, Kerry went back to the station and asked if they would host a virtual adoption event for National Adopt a Shelter Pet day on April 30. They agreed and the ensuing 30-minute Zoom event featured animals from each participating shelter and resulted in new homes for an additional 73 cats and dogs.
"The pandemic is the biggest crisis of our lifetime, but it has also inspired an incredible amount of cooperation among corporations, government agencies and the community," Kerry says. "By inviting the public to be part of the solution, across the country tens of thousands of pets are in homes today instead of cages. That's definitely a silver lining."
Save a life near you. Adopt a pet
Best Friends in Houston works collaboratively with city shelters, local animal welfare organizations and passionate individuals to save the lives of pets in shelters in Houston and the surrounding areas. To help Houston become a no-kill city for cats and dogs, Best Friends launched the Coalition to Save Houston's Pets in April of 2018 followed by a community cat program, foster programs for dogs and cats, local adoption programs and an out of state transport program. Currently, Best Friends has fulltime staff embedded at the Harris County Animal Shelter, one of Houston's largest shelters. Together, we will Save Them All.
Photos by Best Friends staff