Behind the scenes: holiday festivities at Best Friends
There's no place like home for the holidays, but we make sure pets at Best Friends Animal Sanctuary still have fun celebrating at their home-between-homes.
By Sarah Thornton
The holiday season is upon us ― a time full of celebrations and well-deserved cheer after a long year. People all have their own holiday traditions: a special favorite meal or treat, familiar decorations and activities or just snuggling up on the couch with a furry friend to watch an old holiday classic film.
The same is true here at Best Friends Animal Sanctuary. We don't want any pets to miss out on the joy of the holidays, so we've come up with a few different ways to celebrate with them. (Plus, it's fun for us humans, too). Here's a peek behind the scenes at what we and the animals are doing this year.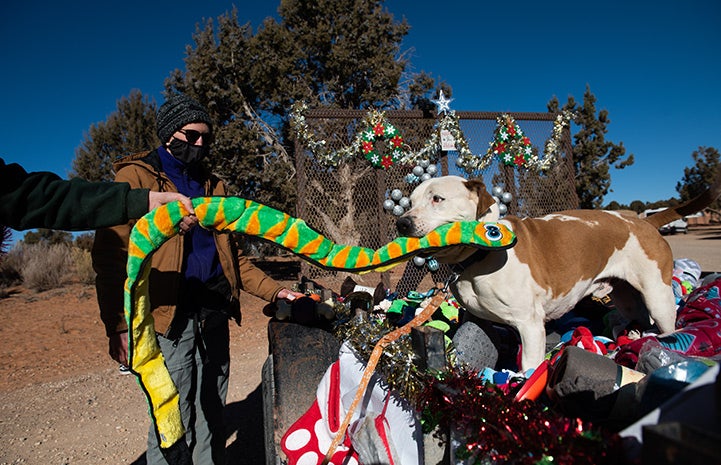 Doggy delights, delivered
One of the most well-known Sanctuary traditions is Santa's sleigh at Dogtown. Caregivers and volunteers fill up a decorated "sleigh" (really a flatbed truck, but don't tell the dogs that) with donated toys, blankets, treats and any other sort of goodies they might enjoy. Then, with everything securely stacked, they drive around to the different areas of Dogtown, and the fun really gets started.
"The caregivers choose a dog or two to hop in the 'sleigh' and pick out some toys," says Erin Schmitz, Dogtown operations manager.
The dogs have an absolute blast, diving into piles of stuffed animals and squeaky toys and testing one after another until they've picked out their favorites from the bunch. When they're done, caregivers help carry in and hand out the haul (plus some hand-picked treasures) to them and the other dogs in the area. And then it's on to the next area and the next dog, grabbing gifts for themselves and their friends, until every pooch has a present.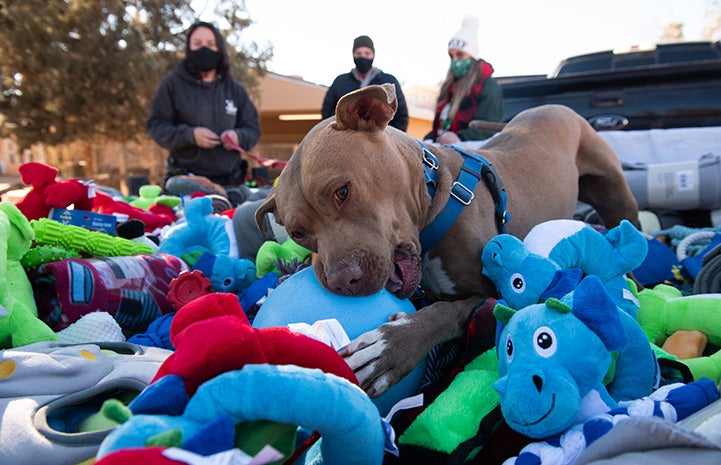 Purrs, presents and photoshoots
Cats may be a little less inclined to pick through piles of presents, plus, getting them out to a truck would be quite a bit trickier. But that doesn't mean they don't appreciate new toys to chase and towers to climb. So, they get a little help from their human friends.
This year, cats are posing for pictures against creative backdrops put together by caregiver Bee McCarroll, while volunteer coordinator Joyce Moyer helps them write their letters to Santa and post them ― along with the Cat World wishlist ― on social media.
Then, as gifts (sent by kindhearted people all over the country) arrive, the staff starts putting them together in bundles for all the cats. All the cats will get treats, blankets, toys, catnip, yummy food and new beds. There are also stacks set up for the white elephant exchange, where caregivers pick, grab and swap gifts around until everyone has something extra to bring back to the kitties they care for. It's fun for them and extra fun for the cats, who go wild over the hauls.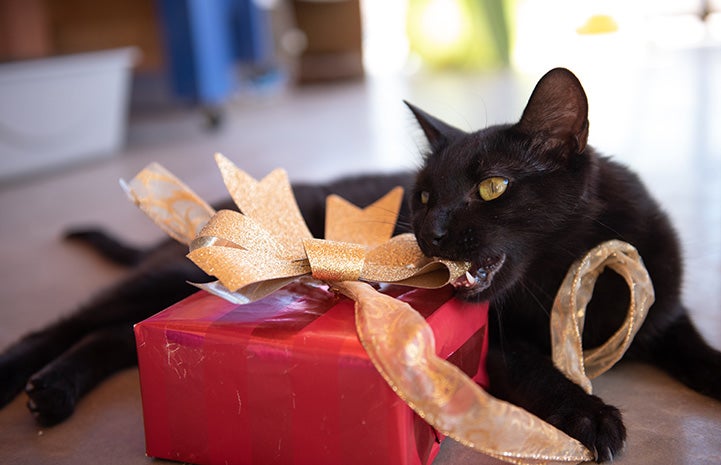 Bountiful bunny bags
Our long-eared bunny buddies have a lot to look forward to this year, starting with some specially stuffed foraging bags. Caregivers worked together to fill dozens of paper bags (perfect for chewing through) with toys, hay, apple sticks, carrots, strawberry pieces and other yummy treats, all secured with a loofah for extra nibbling. Half the fun for the bunnies will be opening their presents, and we can't wait to see their faces when they find out that was just the beginning. 
They'll also be treated to a holiday feast with all sorts of tasty veggies that aren't on their regular daily menus. It will even include desert. "I'm going to make 'carrot cake' for every bun," says Keala Hepworth, Bunny House supervisor, who's excited to try out the bunny-safe recipe.
Once they're all happily full of their holiday treats, the bunnies will be able to relax in brand-new play castles, a more permanent present for them to enjoy in the coming year.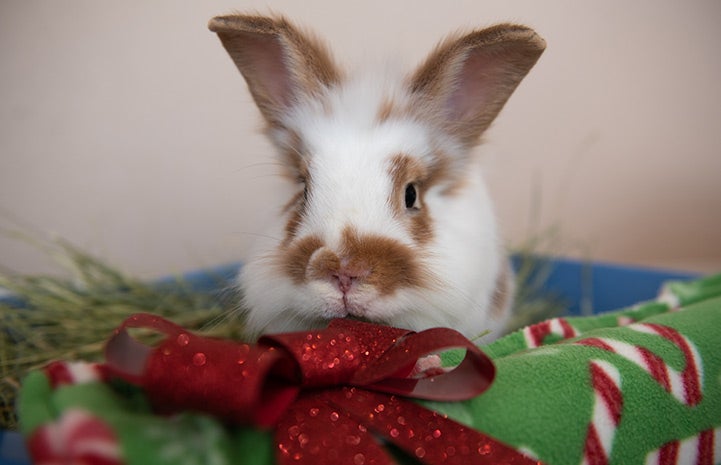 A green gift for goats
What do you do with a Christmas tree once the holiday is over? Well, if you're at the Sanctuary, you pass it along as a gift to some very grateful goats. Every year, the goats look forward to recycling some extra seasonal cheer out of those evergreens. The pine flavor is a favorite, and they'll nibble on the needles and chew on the bark to get every last bit of it. Plus, the trunks and branches are perfect for scratching itchy horns, and there's something to be said about the fun of having something new to climb on and jump over. So, keep an eye out and maybe you'll catch the goats playing king-of-the-tree all the way through New Year's.
Having a happy holiday
Those are just some of the Sanctuary celebrations this year. Parrots enjoyed "birdie bread" for Thanksgiving. The ducks are expecting a small, costumed visitor to bring them delicious treats. The pigs of Piggy Paradise will be getting extra goodies in their food bowls. And some of our equine friends have been horsing around dressed as reindeer.
There's no place like home for the holidays, but until our furry and feathery friends have families of their own to celebrate with, we'll make sure no one misses out on the love, fun and magic of the holidays.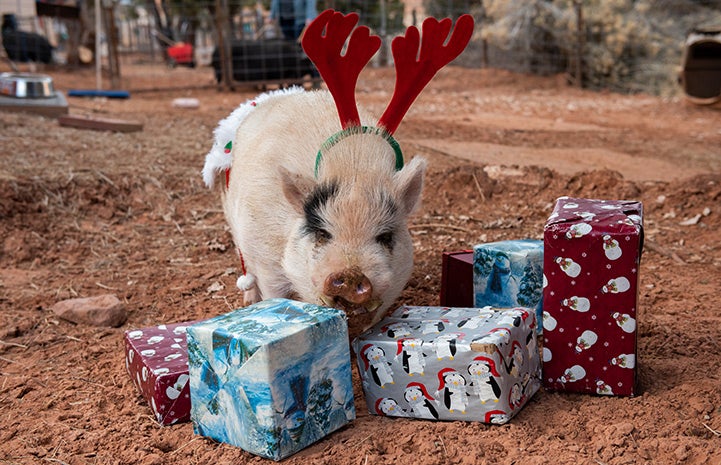 Home for the Holidays
Of course, the best gift for homeless pets this season would be to give them families of their very own.
Adopt or foster a pet near you
Read more:
Treat your dog to a "barkuterie board" this holiday season
10 (out of a million) reasons to be grateful for pets