10 (out of a million) reasons to be grateful for pets
This holiday season, take a moment to appreciate the many ways that pets make a difference in our lives.
By Best Friends staff
When you gather this year with the special people in your life, don't forget to celebrate the pets who have made a difference in your life, too. They're adventure buddies, couch companions and teachers. They show us how to be brave, help us to see the beauty that surrounds us and inspire us to look beyond ourselves to give back in ways we never thought we could.
In the spirit of the season, here are 10 stories about once-homeless cats and dogs, who are now making a big impact on their families' lives.
1. Ari the panther reminds us to not take life so seriously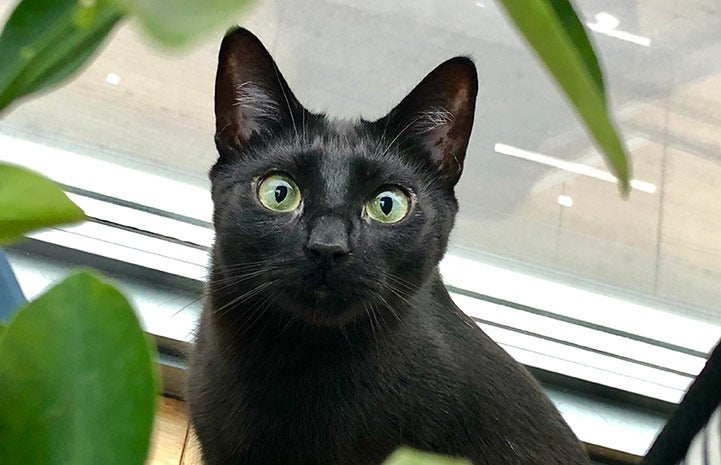 You can't help but chuckle watching Ari the Panther leap into the air, just because she has the time of her life doing it. Over the years, Ari, adopted from Best Friends in New York, has garnered a faithful following on Instagram, and her high-flying, hair-raising antics were recently captured in a hilarious video featured on The Dodo.com. But what is Ari like behind-the-scenes? Here's the scoop.
When Ari isn't playing with her BFF (which happens to be an almond), she's extremely cuddly and loves napping with her adopter, Liz DeSousa, who says Ari also loves to be the center of attention. But Ari can also sense when she's making people happy and will do whatever she can to keep them smiling. Says Liz: "Ari is happiest when her people are happy."
2. Senior dog brings people together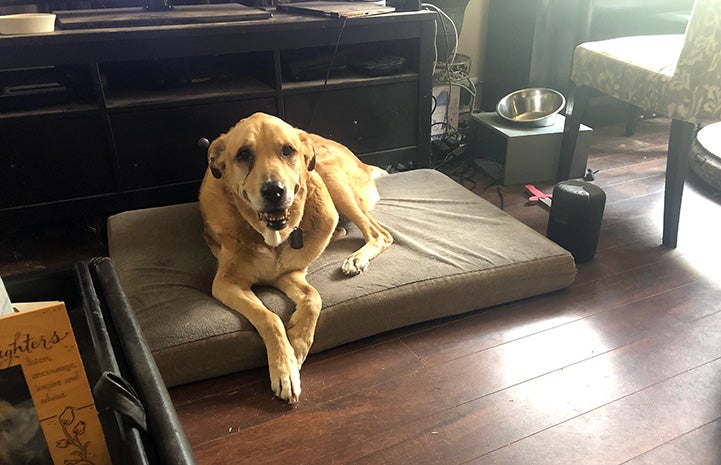 Sometimes life throws us curve balls. After a divorce, Lance looked everywhere for a home suitable for him and his dog, Ralph. But when his search proved unsuccessful, he made the difficult decision to take Ralph to his local shelter. There, the team did everything they could to help him out, including transporting him to Best Friends Animal Sanctuary.
That's where Ralph met Tina Taft, who came to the Sanctuary looking for a dog to join her family. When she met Ralph, it was so easy to imagine life with him that she adopted him, confident she could give him a good life.
Soon after Ralph settled in at his new home, Tina got an email from an adoption specialist at Best Friends. Lance was seeking news about Ralph and was interested in connecting with his new family. And just like that, Ralph's two families were connected.
3. Dogs show us we're capable of doing amazing things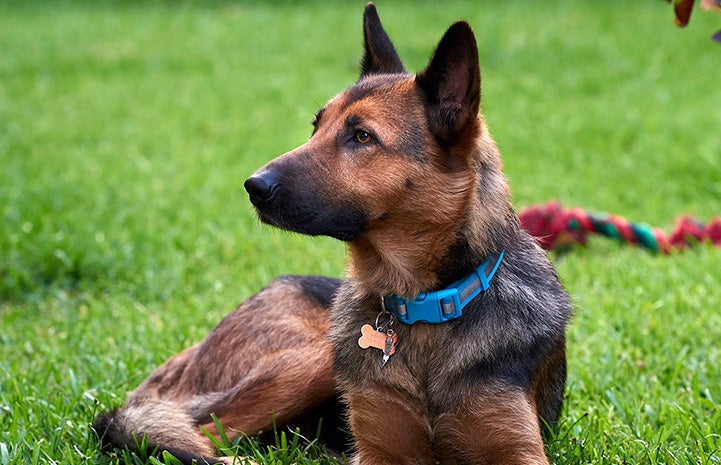 As soon as Sonali Mitra learned that Best Friends in Houston was seeking a foster home for a German shepherd named Mama Fratelli and her 14 puppies, she called Shelbi Armstrong, her friend and fellow Best Friends volunteer, to ask, "Can we do this?" To which Shelbi replied yes. Yes, they could.
Neither Sonali nor Shelbi had fostered dogs before, let alone a mama dog and 14 puppies, but they had a good idea of what they were getting themselves into. It was going to be fun and filled with adorable moments. It would be messy. And it would most definitely be an incredibly rewarding experience.
For about a week they kept a watchful eye on Mama as she weened her puppies and they began eating on their own. Even with the support of their dedicated Mama, it was no easy feat keeping up with the demands of so many rambunctious puppies. But you know what they say: You get by with a little help from your friends.
It took just under a week to get all the puppies in foster-to-adopt homes and in some cases, the foster families already have decided to adopt their new pups. And now Mama is in a foster home where she is resting and relaxing during heartworm treatment. Soon, she will be ready to be adopted. As for Sonali and Shelbi, they say they're more than ready to foster pups again.
4. Shy dog helps adopter appreciate the little things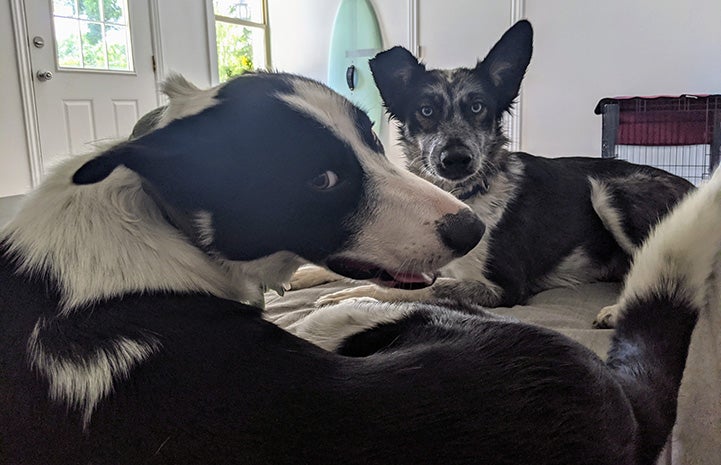 Life wasn't easy for Azzurra when she was a puppy. Before coming to the Sanctuary, she lived outside in a small pen with several other dogs and very little human interaction. She never learned how to walk on a leash and was terrified of the unfamiliar smells and sounds surrounding her.
While at the Sanctuary learning the skills necessary to be successful in a home, Azzurra met Ashley Hedges, who came from Salt Lake City just to meet her. Confident that she could take the lead in helping Azzurra come out of her shell, Ashley adopted her.
Knowing that Azzurra felt less timid and learned quickly with another dog by her side, Ashley contacted Herding Haven and adopted an energetic, good-natured dog named Petey.
Today, Azzurra is taking big steps to build her confidence and is finding joy in simple things, such as spending time with Ashley, playing in the yard with Petey and going for walks where she can take in all the beauty that surrounds her.
5. Adopted cat is a great skoolie adventure buddy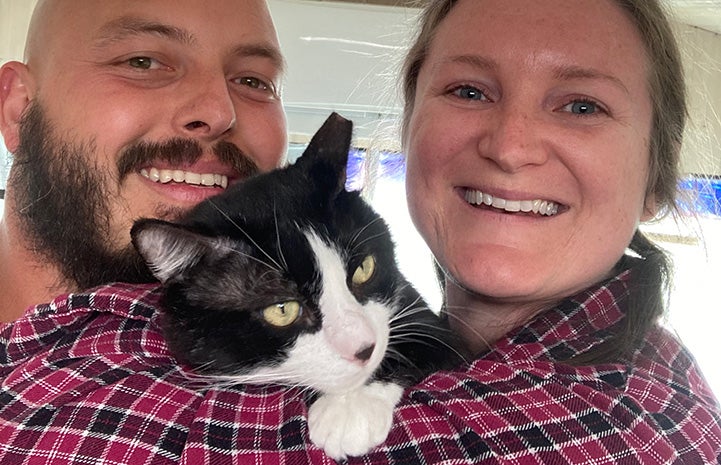 Monroe might never have been to school (at least as far as we know), but this tuxedo cat is making himself right at home in his new family's converted school bus. From a life on the streets of Houston (where he was rescued during the winter ice storms that shut off power to much of the Southern states), he's now enjoying a cozy life on four wheels.
Audrey and Paul Chernoch spent two years building their tiny home out of a converted school bus (aka "skoolie"), and all that was missing was a fluffy family member to join them. So, they came to the Sanctuary and started meeting cats, but none of them felt like "the one" — not until they found Monroe. He was relaxed and confident, and after spending some time thinking about it, they decided what they already knew: He was the cat for them.
It took Monroe no time at all to get familiar with his new home, and soon he was zooming back and forth after meals or stretching out on his back for a comfortable midday nap. And while he's still not quite used to having his home move around underneath him (they've only gone on one trip so far), as long as he's got his people and a nice blanket to cuddle up under, he's sure to be an old pro in no time.
6. Kitten brings comfort when it's needed the most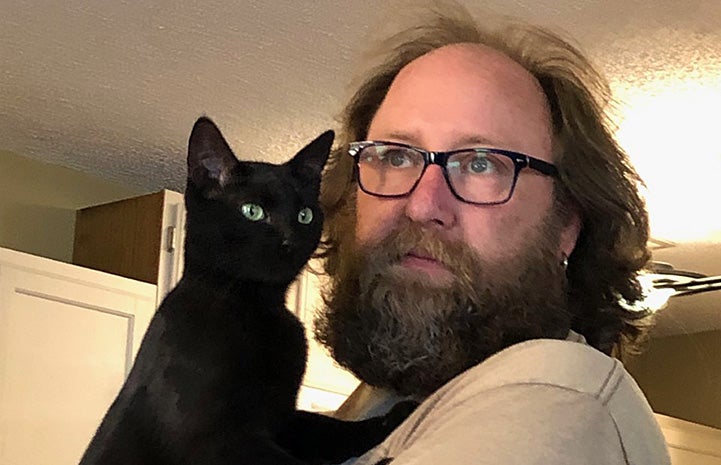 Not long after Daniel and Kimberly adopted two gorgeous black cats named Felix and Jordan, Daniel's heart began to race and he grew short of breath. He knew right away what was happening: He was having another panic attack. One of the cats, Jordan, sensed in an instant that Daniel was in distress and immediately came over, sat on his chest and began pawing at his beard.
Now, whenever Daniel has a panic attack, he has just the remedy. And it's not medication, special breathing techniques or aromatherapy. All he has to do is find his cat and hold him close to his chest to feel much better.
That's pretty amazing, especially when you consider that there was a time not long ago that Jordan and Felix needed comfort and compassion, too. That was back when they were at an Alabama shelter devastated by tornados.
Upon learning that the shelter needed help, Best Friends arranged a transport of 17 cats from shelters in the area to the Best Friends in Northwest Arkansas. That's where Daniel and Kimberly first met Felix and Jordan, and decided to give them a loving home. Little did they know then how much they'd end up changing their lives for the better, too.
7. Sick kitten inspires vets to try new treatments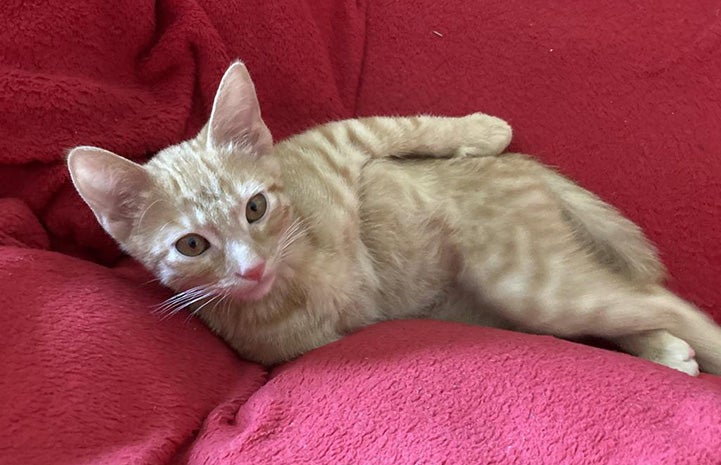 The Beatles said it best: "All you need is love." In the case of a young kitten named Sunny, love certainly played a part in helping him beat the belly blues. But then, so did Best Friends veterinarian Dr. Megan McCarthy, who used an innovative procedure that allowed Sunny to overcome his stomach troubles once and for all.
Sunny, his mom and siblings came to Best Friends in Salt Lake City from a local shelter. While his littermates had zero problem polishing off copious amounts of milk, Sunny just couldn't keep anything down. And when tests for everything from parasites to panleukopenia came back negative, everyone was stumped.
Sunny soon responded well to medication, though, and was adopted. But when his upset stomach (and all that goes with it) came back, he was returned. Was Dr. Megan deterred? Nope. Instead, she decided to try bacteriotherapy, a procedure that replaces unhealthy gut fauna with healthy fauna from a cat donor.
It took two tries, but it worked. Today, Sunny lives with a fellow kitten, Graham, and is having the time of his life. His adopters say he has no belly troubles whatsoever, a credit to Dr. Megan's determination, a healthy diet and, of course, a ton of love.
8. Fourteen-year-old dog proves that age is just a number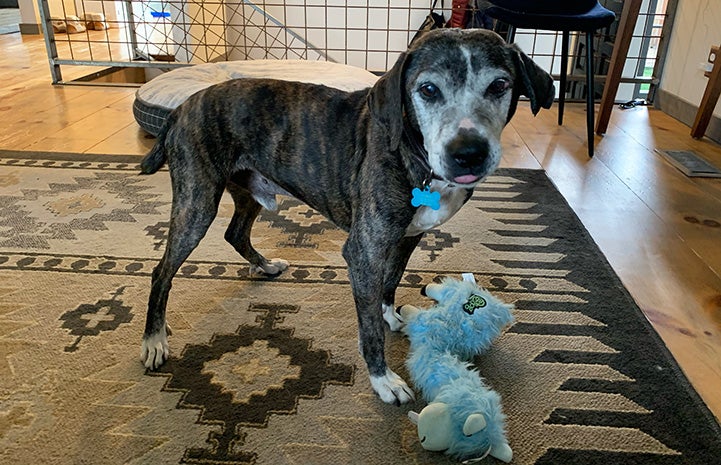 At 14 years young, sweet Hubie arrived at the shelter sporting an adorable frost of white fur on his face. But he was struggling with terribly itchy skin which, combined with his age, was probably why he ended up on the shelter's euthanasia list.
With the clock ticking, the shelter put out a plea to the rescue community to help Hubie. When Megan McCloud, lifesaving support lead for Best Friends in Utah read the plea and saw a photo of him on Facebook, she got him to Salt Lake City and immediately started fostering him. The Hubie she saw looked rough, but she had a plan.
Step one of Megan's plan: Get a medication routine in place to help the senior dog quit itching. Step two: Find the right adopter. Enter veterinarian Zoe Braun, who took one look at Hubie's snowy white face and the steep price of his medical plan, and knew he was her dog. Today, Hubie has transformed into an active, quirky, cuddly dog — proving that older dogs can indeed be young again.
9. Once-terrified kitten teaches us to be brave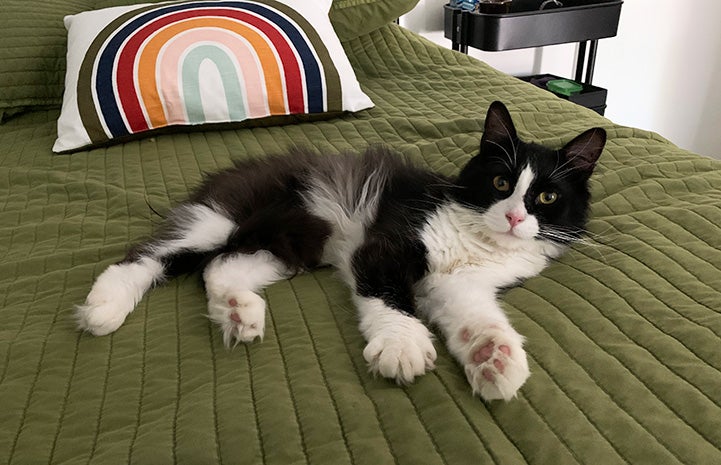 When Itty Bitty came to Best Friends in Utah, the team could tell by the way he flattened himself to the back of his kennel that they had some big challenges to tackle. In order for the young cat to find a home, he'd have to let go of his fear and learn to trust humans.
To get the ball rolling, Itty Bitty went to stay with Christina and Alex Quinn, who had heard about the shy guy and wanted to help by fostering him. They set up an area in their office for him and left him alone, only popping in every so often to check on him. But after a few weeks, he was as shy as the day he first arrived.
That's when Christina and Alex called in some backup — namely their cat, Bagheera. They figured that if Itty Bitty saw how much she trusted them, maybe he would, too. And the plan worked!
Little by little (and with Bagheera's help), Itty Bitty started to build confidence, and soon he was adopted by the Knight family. Today, he has transformed into a feline social butterfly who even remains patient when the Knights' young son spontaneously reaches out to hug him. The two even sleep together at night.
10. Puppy abandoned with a broken leg reminds us to never give up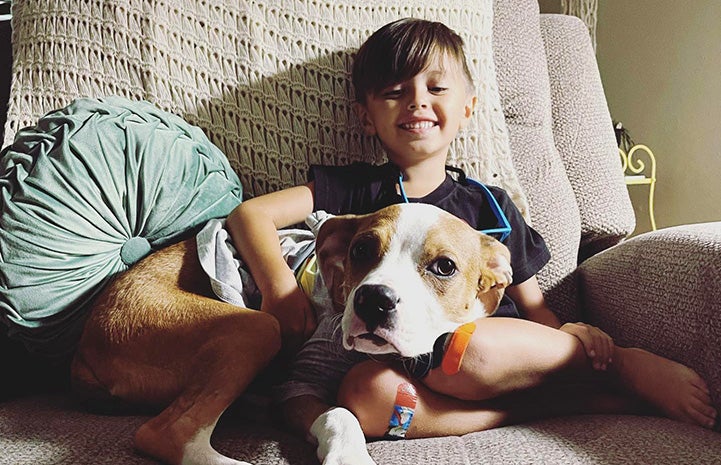 Honey Bee was found alone in an empty apartment with a broken leg, but when she was brought to the local shelter it was apparent to everyone that even though life had let her down, nothing was going to stop her from finding joy in every single moment.
Her unbreakable, indominable spirit followed her to Best Friends in Northwest Arkansas, where she received swift medical care for her injured leg (though it later had to be amputated). But even while she healed in her foster home, all she wanted to do was kiss and cuddle with her foster mom, Christelle, and play with Christelle's dog, Mira.
Today Honey Bee is living the good life with her new family, which includes two young boys. She's happy and healthy, and is such a wonderful reminder that no matter how tough life gets, everything will be OK.
Show gratitude by giving back
Celebrate pets this season by volunteering, fostering or adopting a cat or dog from your local shelter.
Read more
Fifth grader becomes foster dog phenomenon
Adopted dogs are veteran's new best friend
No-kill could be the new normal in Grady County
Photos courtesy of Stacey Axelrod, Liz DeSousa, Tina Taft, Shoji Photography, Ashley Hedges, Audrey Chernoch, Kimberly Miller, Zoe Braun, Christina Quinn and Christelle Del Prete