Best Friends responds to Hurricane Ida
Hundreds of pets find safety after the storm, and more help is on the way
By Nicole Hamilton and Kelli Harmon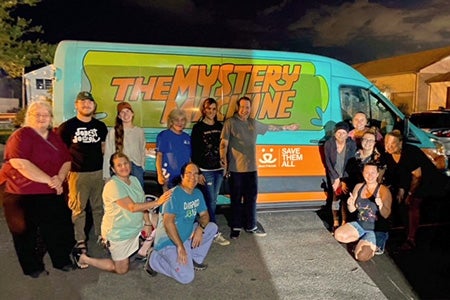 Hundreds of dogs and cats who survived Hurricane Ida are now safe and sound, and help is on the way for many more. The storm's outer bands hit land sooner than many anticipated, throwing a wrench into plans to move Louisiana's pets out of shelters and out of harm's way. Even so, Best Friends and our partners worked hard and pulled together to get as many pets as possible out of shelters in the path of the ferocious storm to receiving shelters across the country. By the time the first drops of rain fell in New Orleans, nearly 250 pets were on their way to safety.
But that was only the beginning. Since the storm, even more shelters nationwide have opened their doors to take in pets displaced by the hurricane. Best Friends staff and volunteers from coast to coast are coordinating with organizations that need help and those that can offer help, all with a singular goal: to save lives.
That's how Pepper Potts, a seven-month-old kitten, ended up in a foster home in upstate New York. And why Abbigail, a scared dog from Louisiana, is now safe in San Antonio, Texas.
"It has been amazing to see how many organizations are trying to make room for the animals in need from Louisiana," says Sharon Hawa, Best Friends emergency services senior strategist. "Best Friends staff and volunteers from across the country have been working continuously, even before the storm, to help get the animals who were most at risk out of harm's way. It's truly an all-in type of situation."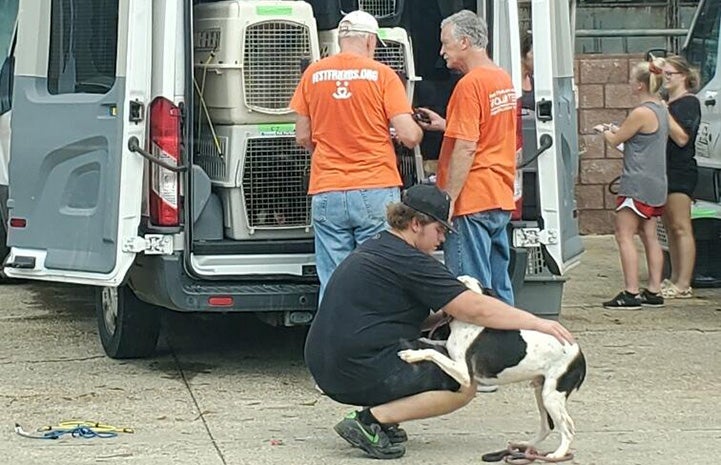 East Coast groups come together for Louisiana's pets
The Humane Society of Louisiana organized a transport of nearly 200 pets out of the area ahead of the storm and multiple organizations, including Best Friends, came together to drive legs of the transport, take in animals, help with supplies and otherwise make the trip possible. That's how Audrey Lodato, Best Friends senior strategist in the Northeast, came to foster Pepper Potts.
The seven-month-old kitten's life had barely begun when she lost her home and ended up in a shelter in Louisiana. Then Hurricane Ida threatened her safety once again. Despite the stress of so much turmoil in her young life, she's an active, friendly kitty who's settling into Audrey's home, ready for what comes next.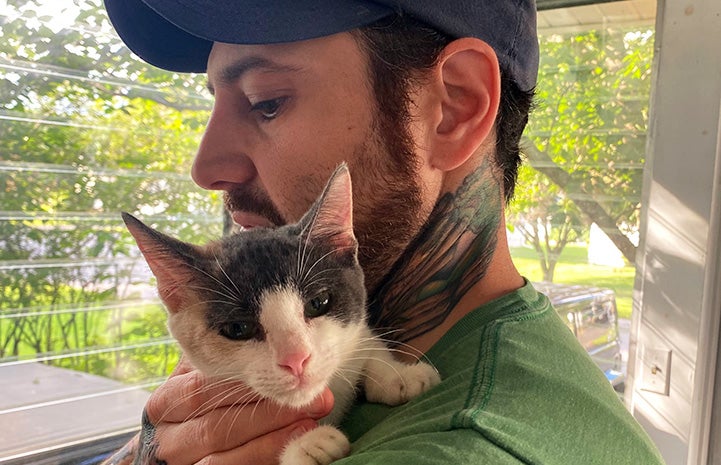 Tina Chaudhry, a Best Friends staff person who lives in Buffalo, New York, was there when the Best Friends van arrived with 36 kittens, one adult cat, and three dogs from Louisiana. It had been such a long journey, but the excitement was infectious. Staff and volunteers from local shelters unloaded the pets in the dark. "They took every additional step and were so thoughtful with each little life," says Tina. "The level of care and the turnaround was incredible. It was really magic."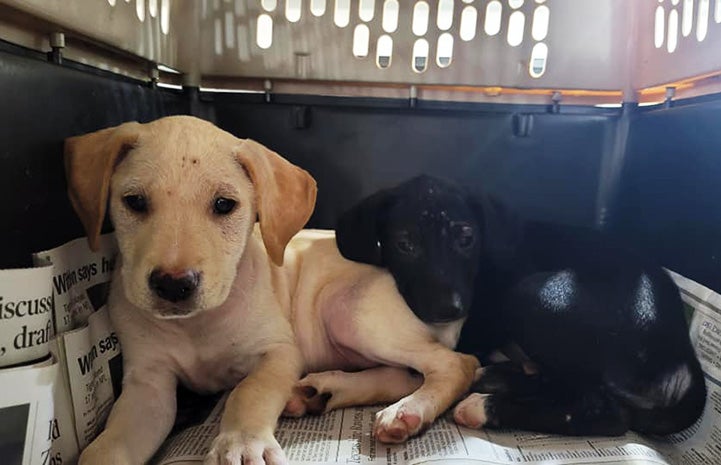 Texas volunteers step up to help their neighbors
Ahead of the storm, CARA'S House-Ascension Parish Animal Shelter which is based in Sorrento, Louisiana, had moved all the animals in the shelter to the Lamar-Dixon Expo Center in nearby Gonzales. The animals weathered the storm there, but it's not set up to keep dogs and cats out of the heat and elements. So, the Best Friends team in Houston began preparing to go get them and move them to safety.
Carrie Lalonde, Best Friends national senior strategist in Houston, and her team worked quickly to rent vans, gather up crates and supplies needed for the trip, and recruit volunteers. Carrie says the outpouring of help from volunteers in Houston was nothing short of incredible.
"We learned Monday afternoon that we needed a transport with five vans. By the next day, we had 10 people, including two staff who flew in from Atlanta," says Carrie. "We had no idea what to expect. There might not be fuel or cell service, and we didn't have a list of animals they'd be driving. People still raised their hands to help."
Soon the five vans were on the road, all headed to pick up more than 130 animals from CARA's House. Abbigail was one of those dogs.
The pretty tan dog was shy and overwhelmed, especially when the vans pulled up at the final destination, San Antonio Humane Society, in the middle of the night. Dozens of eager people were awaiting the pets' arrival. It took some coaxing, but Abbigail allowed herself to be leashed up and led to a clean kennel.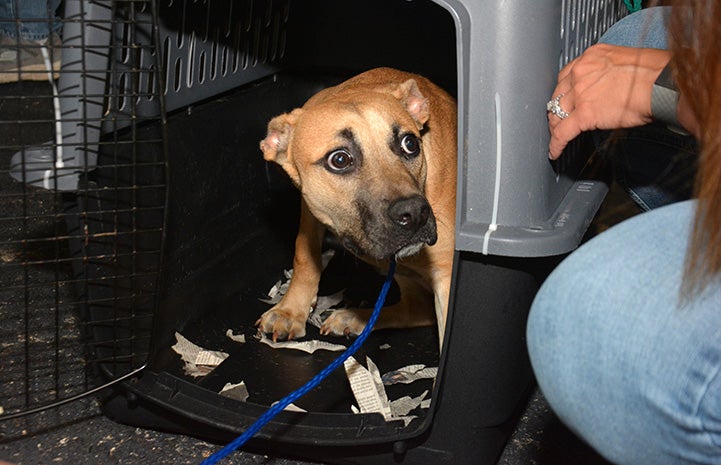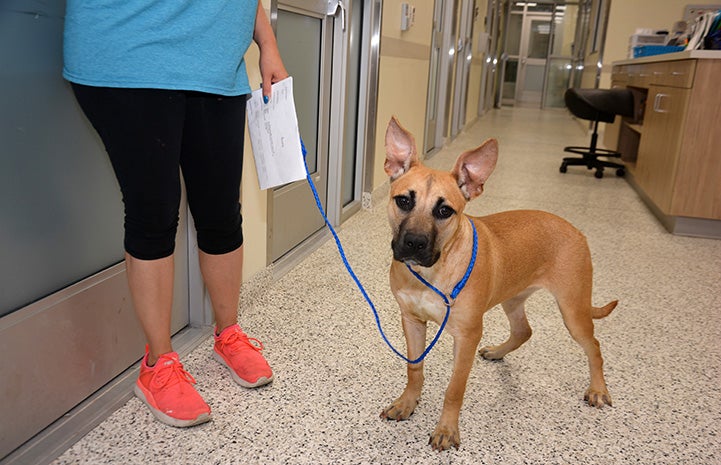 The trip to San Antonio was still underway when a new need emerged. The Louisiana SPCA's generators went out, which meant the shelter had no water or electricity. Their animals needed to get out. Carrie says that in less than three hours, a volunteer and a staff person were lined up to drive, they had secured another rented van, and two local organizations supplied crates. With that, the two drivers set out to pick up the animals and take them to a receiving shelter in Dallas.
Hope for a shelter in St. Bernard Parish
Hurricane Ida hit St. Bernard Parish Animal Control hard, leaving the shelter inoperable. The shelter doesn't have a generator, so there was no power, water or working sewer system.
The Best Friends team helped the staff get an inventory of their animals and found placement for 45 cats and nine dogs, accounting for every pet in the shelter. Then the shelter staff loaded up and drove all the pets from the shelter to two receiving groups, Lafayette Animal Shelter Care & Control and Acadiana Animal Aid.
Louiza Chan, Best Friends strategist for the South Central region, works with Louisiana shelters on a daily basis. She was both happy and relieved as she helped pets off the transport van and into the hands of staff at the receiving shelters. "Some of these pets are already in their foster homes, some will be adopted locally, and some will be going out on flights to partnering shelters," says Louiza. "I was happy that we managed to get them out of harm's way."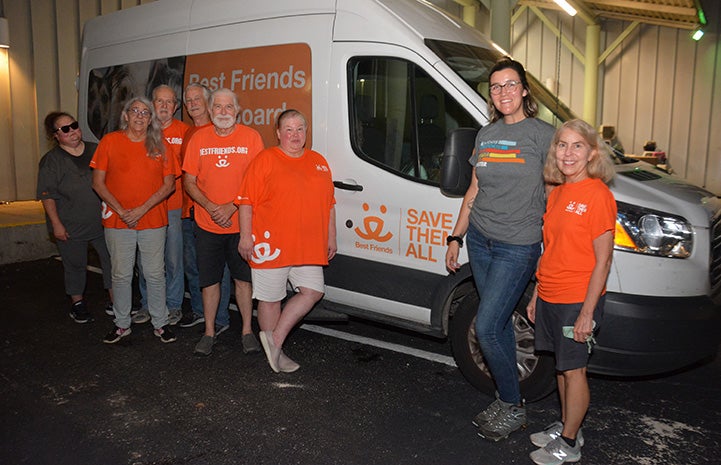 The storm is over, but the work is just beginning
Sharon says everyone who helped pets in need after Hurricane Ida is a hero. But she stresses that the lifesaving efforts aren't over. In fact, in many ways, the lifesaving has only just begun.
"The shelters we have been hearing from have had spotty reception and it has been really difficult to get a full picture of their needs," explains Sharon, who says that the focus is now on the areas hit hardest by the hurricane, including New Orleans, Jefferson Parish, St. Tammany and LaPlace. "With every day that passes, the power outages only exacerbate the stress on the animals."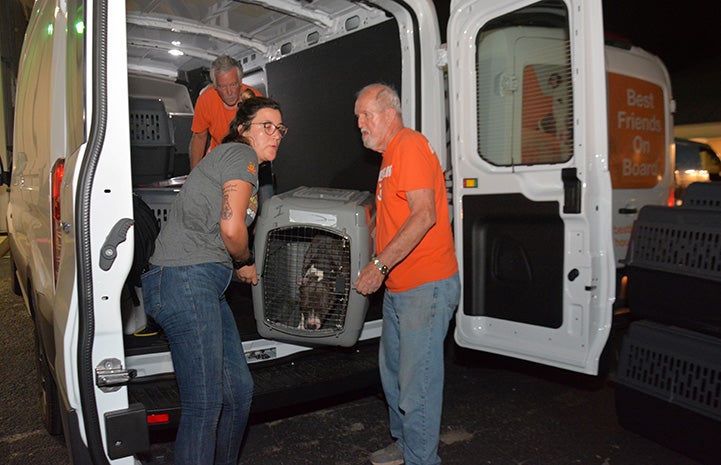 Now, in addition to ongoing transports, Best Friends is busy getting supplies like pet food, crates and leashes to shelters, although it's currently hard to find these and other essential pet supplies in stores in the area. In the coming days, Best Friends will be working closely with nearby partner organizations to help get struggling shelters what they need.
Best Friends has also given medical stipends to receiving partners so they can take in animals with medical needs to get treatment for them. And grants are being planned to help shelters that sustained damage in the storm.
"It's important to remember that, even though the news cameras are gone, there are still heroes on the ground doing lifesaving work, pushing the limits of their own capabilities to move animals," says Sharon. "They are moving heaven and earth to help save pets."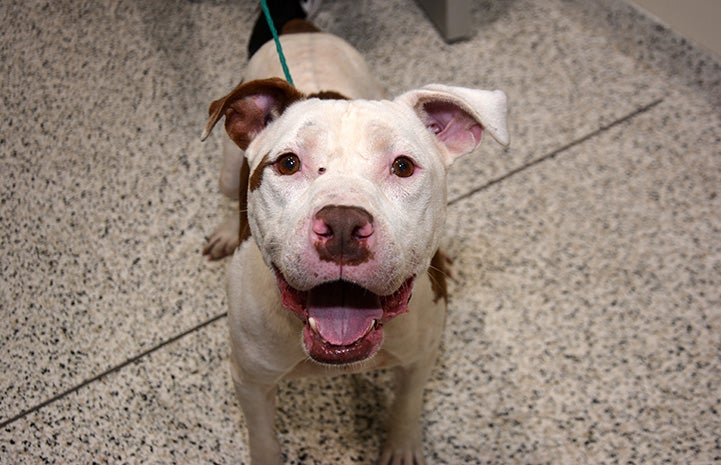 You can help pets impacted by Hurricane Ida
Support animals being cared for by shelters and rescue groups by donating items from this Hurricane Ida Amazon wish list. Items will be shipped to our teams in Texas and distributed to the affected areas.
Amazon wish list for hurricane-affected pets
Keep up with news from Best Friends' response to Hurricane Ida here.
Photos by Jennifer Hayes, Audrey Lodato, Tina Chaudhry and Best Friends staff