County shelter pays it forward to others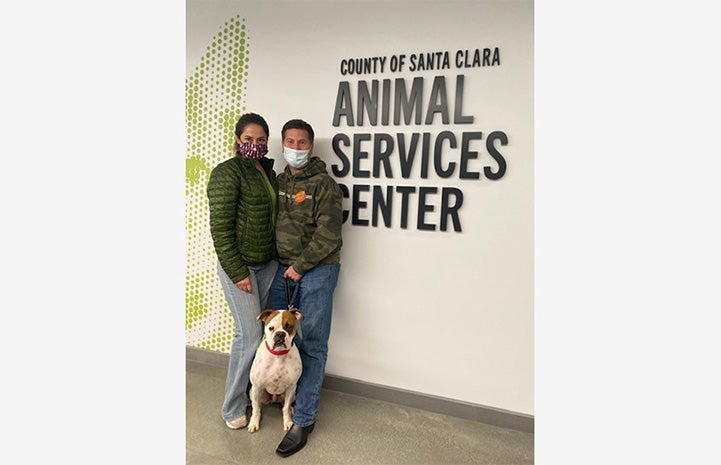 County of Santa Clara Animal Services receives Rachael Ray No-Excellence Grant.
By Michelle Sathe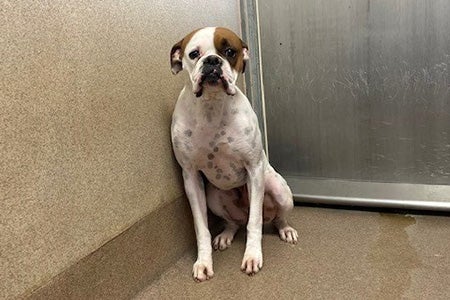 Jimmy wasn't doing well at the shelter. The handsome brown-and-white boxer huddled in the corner of his kennel — not an appealing sight to the small stream of potential adopters who came through the doors.
Jimmy's good looks were the first thing noticed by Cynthia Meidinger of County of Santa Clara Animal Services (CSCAS). She was there to choose dogs for transfer to the County of Santa Clara Animal Services Center, where adoptions were booming. But Jimmy was so shut down that even dog biscuits wouldn't lure him to the front door.
The next time was different. Responsive to a more tempting treat, Jimmy was finally coaxed out of his kennel and transported to CSCAS. Once he arrived and went for a walk, he perked right up.
Renamed Roscoe, he was selected the very next day by potential adopters as a foster-to-adopt dog. He's just one example of the work done by CSCAS as a result of receiving a $40,000 Rachael Ray No-Kill Excellence Grant from Best Friends Animal Society.
More positive outcomes for California pets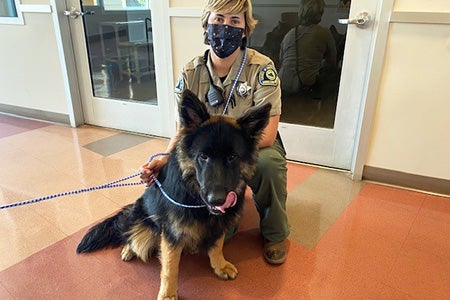 Funded in January 2021, the grant was awarded to create more positive outcomes for pets in California's central valley. "Santa Clara Animal Services has done wonderful things at its own shelter, so we believed they had the capacity to make a huge difference for surrounding shelters," says Sheila McLalin, Best Friends senior strategist in the Pacific region. "This grant will allow CSCAS to find homes for 400 or more pets — dogs and cats that might otherwise not have an opportunity for a second chance."
[5 sweet updates from Best Friends Network partners]
CSCAS director Lisa Jenkins was thrilled that her organization was chosen for the grant. "It's really exciting for us, especially as a county shelter," she says. "We're already making great strides toward the goal of helping 400 pets."
Working with data, Lisa and Sheila were able to strategically target those shelters in need of the most help with both dogs and cats. "Some shelters were a little unresponsive or defensive at first, but once we started making connections, the relationships have started rolling," Lisa says. "We've been able to help all six shelters on our list, which has been really rewarding."
Paying it forward to others
Since CSCAS opened a brand-new, state-of-the-art facility with large capacity in February, the organization is able to focus on taking in dogs who aren't thriving at under-resourced shelters. The dogs are put in play groups where they can get exercise before being transferred to foster homes.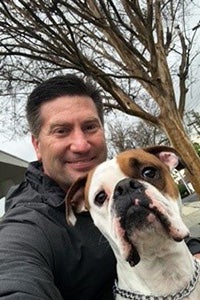 Many, like Roscoe, are adopted within a week of arriving at CSCAS. "There is a high demand for dogs here and it's nice to have a variety from other shelters," Lisa says. "We also take in cats and kittens, which is ideal for our three indoor-outdoor free-roam rooms where people can meet them in a relaxed environment."
[Change of scenery does a dog with bad habits a world of good]
Additional improvements include providing resources to shelters on everything from starting a volunteer program to helping with transports to kennel enrichment, exercise and play groups. Information on how to create effective adoption and foster policies and promotions are also shared. CSCAS also provides spay/neuter surgeries to cats through other shelters' trap-neuter-return programs to help them get their own programs off the ground.
All factions of the CSCAS team are participating with the work, including the animal care staff that pairs with the field services team to select pets for transfer, and veterinary employees who assist with evaluation of animals with medical needs.
"It's been such a morale boost for our team to be able to provide assistance," Lisa says. "Some of the shelters didn't know there were people to call for help, or (they) didn't have connections. We're happy to be their support system."
Read more
Florida sheriff steps up as "professional cat wrangler"
Visiting pooches a big hit at navy base
Catching up with NKLA poster dog Jewel
Photos courtesy Santa Clara County