Even though the sign read "Everybody looks, but nobody stops," a 70-pound heartworm-positive Lab mix finally goes home
Even though it didn't seem like a great fit initially, yellow Lab mix, who is 70 pounds and heartworm-positive, is adopted into the perfect home.
By Lindsay Hutton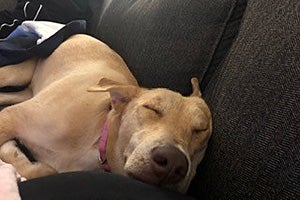 The sign on the kennel at the Best Friends Super Adoption read "Everybody looks, but nobody stops." Inside waited Harley, a two-year old, 70-pound yellow Lab with heartworm disease and adorable white-tipped toes. Like all the dogs and cats at the event that day, she had a story.
Less than a year before, she ended up at Harris County Animal Shelter (HCAS), a Best Friends Network partner organization that is one of the Houston area's largest shelters. And due to the pressures of overcrowding, along with Harley's size and heartworm-positive condition, she was also on the euthanasia list.
Luckily, it was possible for her to go to a Best Friends foster home where she could get started on heartworm treatment. Later she was placed in an adoptive home with a family who loved her, and it all seemed like another happy ending. But two weeks before the super adoption in Houston, Harley was returned to Best Friends when her new family moved and couldn't take her with them. They were heartbroken, and Harley was back in foster care waiting for a new family.
Shelter dog stands out in a crowd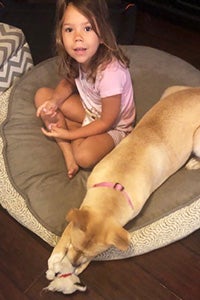 Despite all the moving around, Harley hadn't changed. She would still do well at any event, according to Deyra Galvan, event coordinator for Best Friends. "She is so sweet, loves attention from kids and people of all ages and is just such a happy dog," she says.
These were the qualities (along with the unfortunate loss of her first adopted family) that would make Harley stand out. The Houston super adoption was a big event with more than 2,500 people on hand to see 300 adoptable cats and dogs from 15 Best Friends Network partner groups. In short, there was a big crowd there, and lots of animals to see.
Turns out it was both Harley and the sign that caught the attention of Justin and Stacey Mullins and their four-year old daughter, Pearl. They stopped. Harley was bigger than the 40 to 50-pound dog the Mullins had in mind, but Justin dropped down on one knee for a closer look.
The family had recently lost their two pugs, Ralph and Loula, who they had loved for 13 years. Their three kids were all used to having dogs in the house and Pearl, who had been asking for another dog, now seemed taken with this large Lab. Even though Harley didn't fit the description of the dog that they were looking for, they all took a closer look.
From a home with kids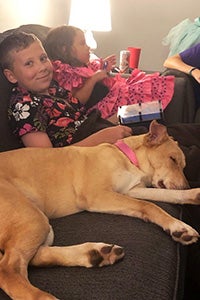 They learned that Harley's previous family included three kids between the ages of 3 and 11. "Which (was) perfect for us because our own kids are 13, 11, and 4," says Justin. Though the family was encouraged, they were still reluctant because of Harley's size.
After joining Harley in a meet-and-greet area for more of an introduction, they noticed that even though she was a bit unsettled with the activity around her, she was still sweet, gentle and calm. After visiting for a while, Harley was returned to her kennel while the family continued touring the event to look at other dogs.
"But we came back to her, based on that profile of who her family was before," says Justin." Harley seemed like she might be a fit, but the Mullinses were still hesitant. She was so much larger than what they were used to, and they were concerned about what the heartworm treatment would entail.
Deyra let the family know that a decision didn't need to be made that day. Harley's foster family was going to be out of town for a few weeks and, if they wanted, they could foster Harley for a week to see how it would go. They agreed.
Foster to adopt a dog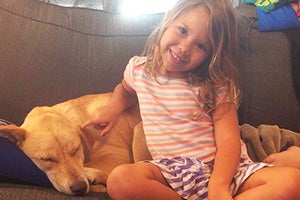 "Days (later) they were sending me photos of their kids reading books with Harley, tucking her into bed," says Deyra. And after a week of fostering, Justin and Stacey asked the kids what they thought. Should they keep Harley? The answer was a resounding: "We love her. She's awesome!'"
Harley the yellow Lab was a perfect fit with the Mullins family. As for the heartworm diagnosis, which can sound frightening, the Mullinses say they barely notice it with Harley. "It hasn't affected her life," says Stacey. "She has all the energy. It's not terminal. It's totally treatable."
The Mullins family continued to coordinate with Best Friends on Harley's heartworm treatment, and she just recently tested negative for the condition. Harley went from being the unnoticed dog in the kennel with the back story, to getting a new life with a new family. She even has a new name — Lucy.
Lucy's life is so full of love that four-year-old Pearl lays all over her and Lucy revels in the attention. The kids play a number of games with her: rope-pull, hide-and-seek and a version of fetch. (They throw a fuzzy squirrel toy named Squeaky Pete out into the back yard for her to retrieve.) And every morning, Stacey takes her outside and watches as Lucy gleefully hunts lizards.
At first blush, Lucy may not have looked like the right dog for the Mullins family. But because they stopped to see her, they found just the new family member they'd been looking for.
Best Friends in Houston is working collaboratively with city shelters, local animal welfare organizations and passionate individuals to save the lives of pets in shelters in Houston and the surrounding areas. To help Houston become a no-kill city for cats and dogs, Best Friends launched the Coalition to Save Houston's Pets in April of 2018 followed by a community cat program, foster programs for dogs and cats, local adoption programs and an out of state transport program. Currently, Best Friends has fulltime staff embedded at the Harris County Animal Shelter, one of Houston's largest shelters. Together, we will Save Them All.
Photos courtesy of Justin and Stacey Mullins