Florida shelter takes a leap of faith, finds jobs for cats in need
Program finds "jobs" for Osceola County cats - some from overcrowded conditions - in places where they can work in exchange for food, shelter and safety.
By Lisa Goldstein
It was a hot Florida day in late August of 2019 when the call came into the code enforcement office of the City of St. Cloud, the second largest city in Osceola County, Florida. A local resident had a lot of cats that the neighbors could both hear and smell. Clearly, something had to be done.
According to Osceola County Animal Services, the initial estimate was more than 60 cats, but over the course of nine months and 23 additional trips to the home, the final total came to 118. While the homeowner, Patrick, loved his cats, there were more of them than he could care for, so he agreed to surrender them to the county for placement into new homes. Since the county's shelter can house approximately 58 cats, removing all of them at once could have put most of them in immediate danger, not to mention limiting the shelter's ability to care for other cats in need.
In an effort to avoid overwhelming county resources and to maximize the number of lives saved, an agreement was reached to stagger the removal and transfer of cats in regular intervals, taking five to 10 cats at a time. "This was truly a collaboration that included St. Cloud code enforcement, the community, immediate neighbors of the person who had the cats and our department," says Kim Staton, animal services director.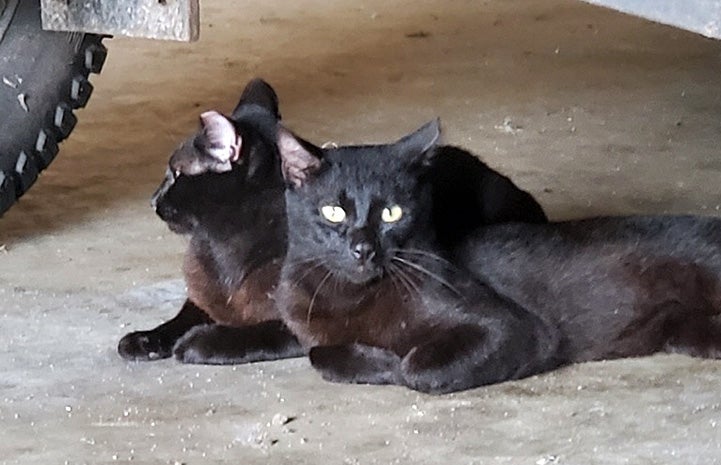 Working cat programs save lives
The first few groups of cats picked up were the friendliest, but as time went on the officers had to go deeper into the home to retrieve those that were hiding because they were wary of people. Finding homes for these scared cats was getting increasingly challenging.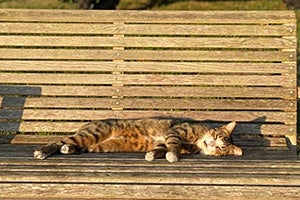 Meanwhile, the Best Friends community cat program (CCP), which works with Osceola County, had been receiving numerous requests from organizations seeking barn or working cats. These kitties, after being spayed or neutered and vaccinated, work as rodent deterrents in barns, warehouses and other places in need of such help. In exchange, they receive the comfort of guaranteed food, water and comfortable shelter.
[Work-life purrspective from a barn cat]
Best Friends staff in Florida met with shelter management to propose a solution ― one that included filling the requests for working cats and dealing with the overcrowding case. Placing these cats in working cat environments just seemed logical.
"Most of the cats had no interest in people," says Walter Class, animal control officer. "This (working cat environment) would give them the freedom to roam, but be alone in a low-pressure situation."
Unlike most homes with cats, adopters of working cats don't expect them to be cuddly, snuggly lap cats. In fact, some specifically request cats who prefer to avoid people and therefore wouldn't be a distraction to their human coworkers.
[Raise your glass: Recued cat scores sweet job at a Salt Lake City Distillery]
Getting the OK on outdoor cats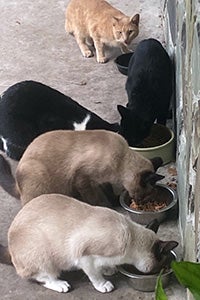 By the spring of 2020, a few cats from the overcrowding case still remained and the idea of placing them as working cats seemed a possibility. Allison Agnello, Best Friends community cat program coordinator, says the remaining hurdle was getting the shelter onboard with placing previously indoor-only cats into indoor-outdoor or potentially outdoor-only situations.
The shelter's preference was to find indoor-only homes, or at the very least indoor/outdoor homes for its adoptable cats. "There were also concerns of where they'd be placed for safety reasons," says Carie Sparkes, field officer supervisor for Osceola County Animal Services.
After sharing with the shelter some of the many success stories from other Best Friends community cat programs, CCP coordinators began working with shelter management to write an addendum to Osceola County Animal Services adoption documents ― one that specifically dealt with working cats. Once that was accomplished, the shelter agreed to give the working cat option a try.
The CCP team began calling the people and businesses on the waiting list for working cats and the response was immediate. By July, all 14 remaining cats were placed in working roles. "We reviewed the acclimation process to each business to ensure successful transitions for the cats and the human staff they'd be working with," says Allison.
So far, the results have all been positive. Some have become traditional barn cats, one lucky group guards an orchid farm's stock and another trio has been put in charge of a local ministry's donation warehouse.
Through out-of-the box thinking and a collaborative effort to save lives, these cats have paved the way for future cats in similar predicaments. "(It) demonstrates how well it can work when there is open communication, a willingness to deviate from the norm and the appropriate parties are involved," says Kim.
In the wake of the career cat placement success, 10 other cats have been placed in working cat homes and are presently going through their acclimation period.
Brighter future for cat lover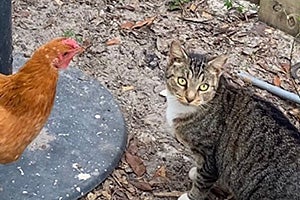 Looking back at the beginning of the project, Walter says that of the many trips to Patrick's home over many months, two involved massive cleaning days. Patrick did most of the scrubbing while Walter, Dianna Durbin and Alexandra Miller, code enforcement officers, and Sgt. Mark Durbin of the St. Cloud Police Department helped empty the house and bring in gently used donated furniture.
Under the stipulation agreement, Patrick was permitted to keep three cats, the maximum allowed under city code. The arrangement also includes scheduled visits by animal control officers, plus annual vaccinations for the remaining cats. Walter says he's pleased with how everything has turned out. "(Patrick) is really enjoying his home now and can give more attention to the cats, and the cats seem to be happier, too."
Got cats, as in community cats?
If you've noticed feral cats on the prowl where you live, consider working with your local shelter to trap, spay or neuter, and then return them to their original location. That way, they can live out their lives without the risk of having kittens.
Find a cat TNR program near you
Read more
Strut Your Mutt 2020 raises more than $1.5 million for homeless pets
Prison program betters the lives of dogs, inmates and veterans with PTSD
Kitten with lymphoma lives life to the fullest
Photos courtesy of Osceola County Animal Services and Best Friends staff