Four generations of animal lovers
Image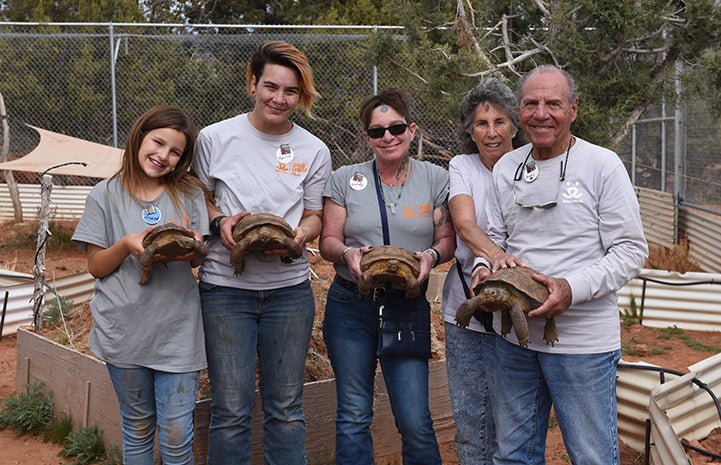 Four generations of animal lovers take a family trip to Best Friends Animal Sanctuary to volunteer and celebrate milestones in their lives.
By Christelle L. Del Prete
Though Marty and Brenda Winnick live in the popular vacation spot of Florida, four generations of their family recently came together at a destination vacation of their own. With endless family vacation ideas to choose from, they chose Best Friends Animal Sanctuary in Kanab, Utah.
For the Winnicks, a trip to the Sanctuary meant more than just a week of family fun in Utah. To them, the Sanctuary is a very special place. They were excited to introduce their family to the place they love, to celebrate some milestones and to volunteer with the animals. As Marty and Brenda suspected, as soon as their family members saw the Sanctuary for themselves and had their own volunteer experiences, they also fell in love with Best Friends.
Plan your trip to the Sanctuary
Volunteering with a Best Friends Network partner
Marty and Brenda originally learned about Best Friends through Spay the Strays, a Best Friends Network partner organization based in Florida. The couple has been volunteering for the rescue organization for eight years. Brenda has done both bookkeeping and grant writing, and Marty repairs humane traps and works on trap-neuter-return (TNR) for community cats.
A few years ago, the couple learned about an injured orange tabby cat named Papaya, who was rescued by Spay the Strays. Though Best Friends generally doesn't recommend putting community cats into shelters, Papaya eventually was brought to the Sanctuary to receive help with a serious head wound that wasn't healing.
Marty and Brenda decided to travel to Best Friends to visit Papaya, and that's when they fell in love with the Sanctuary. Since then, they've made several other visits, as well as a generous donation to fund a new headquarters building for Wild Friends.
Animal volunteer opportunities at the Sanctuary
One might be attempted to call Marty and Brenda cat people, since they have a treasured adopted cat at home and they spend most of their Sanctuary time volunteering in Cat World. But they love all animals and have volunteered at Parrot Garden, the Bunny House, Marshall's Piggy Paradise and Dogtown. Brenda thoroughly enjoyed helping caregivers on the feed run at Horse Haven, and at Wild Friends, Marty helped feed a mink, scrubbed out duck ponds and cleaned animal enclosures.
Not only have Brenda and Marty volunteered in every animal area at the Sanctuary, but they're also always willing to jump in and do whatever needs to be done. "That's why we're here," Marty says.
Marty's daughter, Wendy, volunteered in Parrot Garden and Cat World with Millie, her granddaughter. The highlight for them was working at Quincy House, home for many of the special-needs cats at Cat World. They fed cats, cleaned rooms and took a few lucky kitties with mobility challenges (including Hermes and Duke), outdoors to stroll around and relax in the sun.
Millie, an animal lover with three rescued pets at home, says that helping animals was her favorite part of the trip. During her visit, the fourth-grader also gathered up enough copies of the Best Friends magazine to take home and distribute to her classmates. "I'll tell them it is amazing (at Best Friends), and that I got to help all the animals," she says proudly.
The rest of the family was also hard at work. Monica (mother to Millie and daughter to Wendy) volunteered at Cat World and Horse Haven, where she fell in love with a horse named Curly Sue. Monica's husband, Kevin, joined her and Millie in Cat World, and Wendy's wife, Michele, folded clothes, stocked shelves in the gift store and helped with the animals in Wild Friends. "​I've met so many nice people and it's been an awesome experience," Michele says.
Two other friends from Florida, Ron and Carol Faul, also joined the Winnick family on the trip and loved their experiences volunteering in Parrot Garden and Dogtown.
Family activities in Utah: Memories and milestones
During this trip to the Sanctuary (the fourth for Marty and Brenda), they took some time to relax and to celebrate three milestones: their 28th wedding anniversary, Marty's 75th birthday and great-granddaughter Millie's 10th birthday.
In addition to making treasured family memories on these important occasions, it's likely that Marty and Brenda have inspired a new family tradition, because their relatives mentioned how much they enjoyed the trip and how they planned to return.
"This has been the most rejuvenating vacation. I feel so grounded," Monica says. "Volunteering doesn't feel like work here. It feels like fun. I loved what I did here."
Wendy agrees: "​It has been an honor to have the opportunity to give back to an organization that gives so much. The mindfulness and caring I've seen here is amazing."
"We are fortunate to be in a position where we can give back," Brenda says. "You can't imagine how much joy we get out of it."
Photos by Molly Wald