Home for the Pawlidayz saves thousands of pets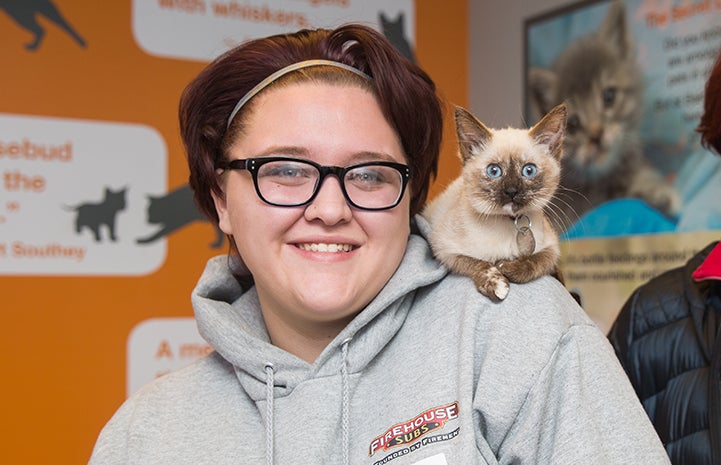 During the Home for the Pawlidayz event, Zappos paid adoption fees for dogs and cats from Best Friends and our participating partners.
By Kelli Harmon
Right now, a blind shih tzu named Magoo is settling into his new home in Ohio. Seven cats who'd been waiting in a Michigan shelter for months all got adopted in one day. A puppy who'd been born and raised in a shelter in Nevada, and who never knew the concept of "home," is realizing what it means to have one of his own.
Each one of them is now basking in the magic of Home for the Pawlidayz, which made their happiness — and homes — possible. For the second year in a row, Zappos sponsored Home for the Pawlidayz, a national event in which Zappos paid adoption fees for every pet adopted from Best Friends and our participating No More Homeless Pets Network partners across the country.
Beginning on Black Friday and wrapping up at the end of Cyber Monday, people could adopt pets from shelters, rescue groups and Best Friends for free, thanks to Zappos. And folks came out in droves, even lining up in some locations, eager to pick out a new pet to bring home and love.
Black Friday pet adoptions more popular than ever
Julie Castle, Best Friends' chief development, marketing and communications officer, says, "The event was such a success last year — with more than 6,000 pets getting adopted — that this year we dared to set a goal of 9,000 adoptions. We wanted it to be bigger this year because approximately 9,000 pets are dying every day in shelters, and that is a tragedy."
Well, the event didn't exactly meet its goal. It blew past the goal. By the end of the day on Monday, nearly 11,000 pets had been adopted.
"Our hearts are full"
Stories poured in, with staff and volunteers barely able to contain their excitement at the public's response to the adoption promotion. Pets who'd been waiting for months got adopted. Special-needs pets got adopted. Entire kennels that once had a dog in every space are now empty.
Here are just a few success stories from our partners:
From Special Pals, Inc., in Texas
"The results from our incredible Home for the Pawlidayz weekend are in! We had 41 dogs and cats find homes during the event. Big thanks to Zappos.com and for making it another wonderful year, and congratulations to all the families that were touched this weekend. Our hearts are full!"
From SICSA Pet Adoption Center in Ohio
"Magoo is an eight-year-old shih tzu mix who has a few issues, including blindness and possible central nervous system damage that causes him to often circle around in the same direction. Despite these issues, he is a happy little guy! We worried about whether we could find the right adopter, but it turns out we didn't need to worry at all! Not only did Magoo get adopted during Home for the Pawlidayz, he was one of the first to go home on Friday."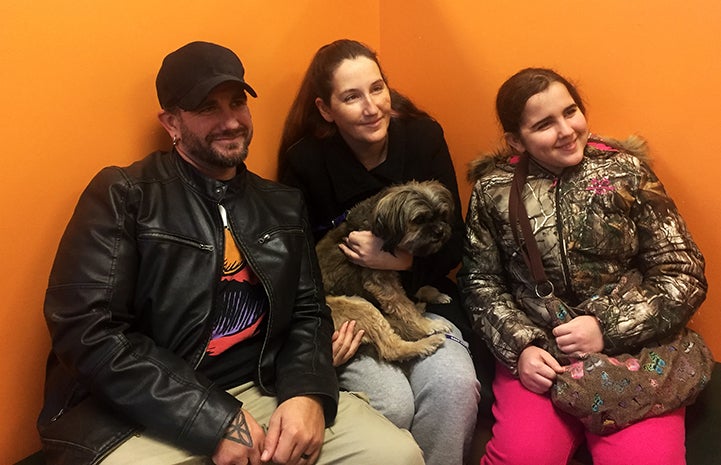 From the Humane Society of Indianapolis in Indiana
"It makes my heart so proud and full to see the amount of passion from every shelter employee and volunteers and even our patrons! Everyone enjoyed themselves so much and we knew the impact that it was having for our shelter animals. It is all thanks to you that we could make this impact for the animals, and there are no words to say thank you enough for what you have provided."
From Second Chance Las Vegas in Nevada
"This weekend was amazing! We adopted out ALL of our dogs. We also got one of our 'special' dogs placed this weekend. Conrad is a pit bull mix we rescued several months ago. He was born and raised in a shelter, so he received limited human interaction and suffered from extreme anxiety around new people.
"We had never taken him to adoption events because of how stressful they would be for him, and since he is one of thousands of pit bull mixes in Las Vegas, we thought it would take a while to get him adopted from our website alone.
"Then came Home for the Pawlidayz, and we received multiple emails with people interested. We found a family that understood Conrad because they had gone through the same experience with their dog, Rocky. We set up a meet-and-greet, and as soon as Conrad saw Rocky, he perked up and went from hiding under the table to exploring the house and backyard with his new friend. His family knows they have to move slowly with him, but he is making great strides in their home, and he never leaves Rocky's side."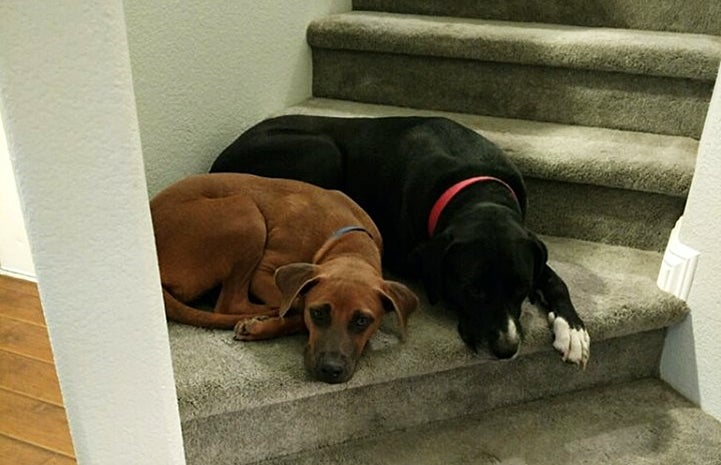 From El Paso Animal Services in Texas
"During a normal weekend, we have less than 75 adoptions and during the promotion, we had 209 adoptions. Our community was very supportive. Thank you for giving us the opportunity to join in this promotion."
From Fearless Kitty Rescue in Arizona
"Laverne was having a bit of a hard time getting adopted because she is not a cat that runs out and struts her stuff for potential adopters. She was having difficulties generating interest, even though she is a stunning polydactyl. But when some previous adopters called and said what they were looking for in another kitty, we knew this might be her lucky day. The family was not completely sure they were ready to make a move, and then we told them about the Zappos promotion. That seemed to be the impetus in getting them to come for a visit and make their consideration a reality."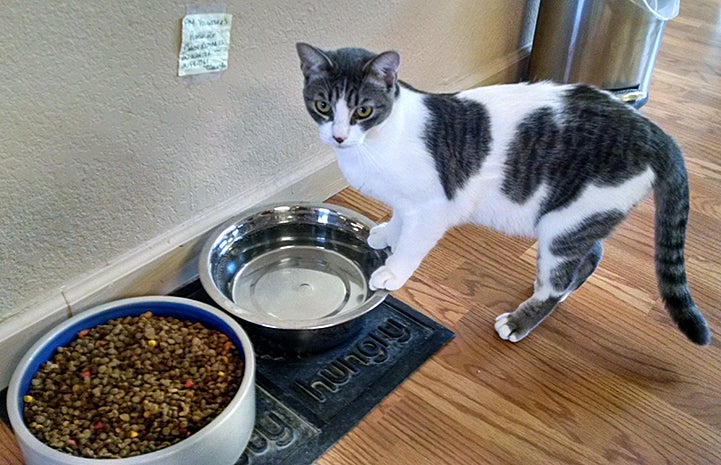 From UPAWS in Michigan
"The event was GREAT!!! We had 37 adoptions during the Home for the Pawlidayz adoption event. And we are especially grateful for the long-timers and special-needs pets that found homes. Cole, a 17-year-old cat with cancer who has been with us for a year and a half, now has a loving retirement home. Plus, we were able to take seven cats from another shelter that needed help. We transferred them to UPAWS and they were adopted during the event. They had been at the other shelter for months!"
Austin Animal Center in Texas
"The event was incredible! It really brought out some terrific families that would have probably been fine with paying the normal fee but came because they saw all the publicity and sharing it drew in. We got lots of attention from media, too, which brought us so much foot traffic! People were loving it."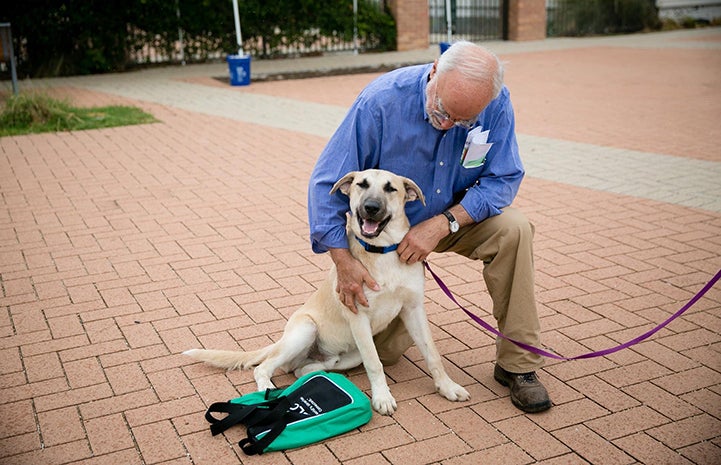 Special thanks to Zappos for making it possible to save thousands of pets through Home for the Pawlidayz.
Photos by Sarah Ause Kichas and courtesy of SICSA Pet Adoption Center, Second Chance Las Vegas, Fearless Kitty Rescue and Austin Animal Center