My story: Ashley Elvidge
Image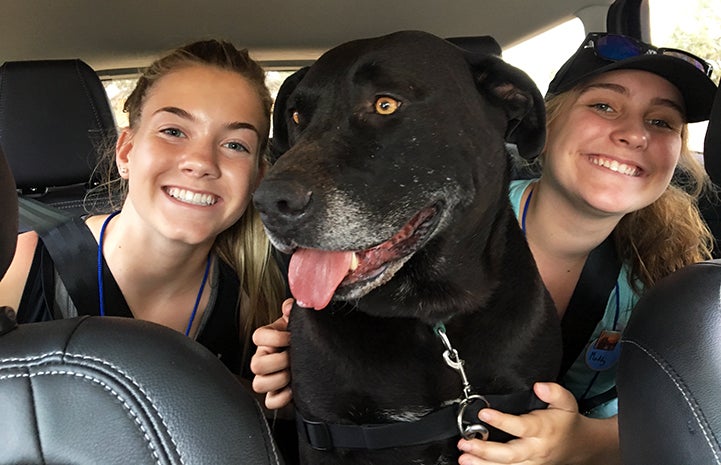 Interview with teenager from Collegeville, Pennsylvania, who visited the animals at Best Friends Animal Sanctuary on a family volunteer vacation.
By Christelle L. Del Prete
For the people who've experienced Best Friends Animal Sanctuary, it's much more than a place where animal lovers go to work and play. There's a certain magic in the air, especially in those unforgettable moments when someone makes a heartfelt connection with a rescued dog, cat, bird, bunny or barnyard animal.
Located in Kanab, Utah, the Sanctuary is nestled between the sprawling red rocks of Grand Canyon, Bryce Canyon and Zion national parks. But above all, it is an animal lover's paradise. People come from all over the country and the world to volunteer with the animals at Best Friends, and we've caught up with a few of them for a chance to share their stories and experiences from the heart.
Ashley Elvidge is from Collegeville, Pennsylvania, which is about 45 minutes outside of Philadelphia. She recently traveled to the Sanctuary with her aunt, Jen Reeder, uncle, Bryan Fryklund and one of her cousins, Maddy Rose. Jen and Bryan have offered each of their six nephews and nieces a special trip just before or during high school. This year, it was Ashley and Maddy's turn, and they chose Best Friends as their destination. In the following interview, Ashley tells us what she loved most about the time she spent with her family at the Sanctuary.
Where did you volunteer?
I helped with dogs, bunnies, pigs, and birds. Most of my time was spent with dogs.
What made you want to volunteer with Best Friends?
This was my first time volunteering. This opportunity came up because my Aunt Jen had volunteered at the Sanctuary before and loved it. She knew Maddy and I loved animals, so when she asked us if we wanted to come to Kanab, Utah, for our trip, we both said yes!
When you volunteered with Best Friends, what was your job?
We did all sorts of different jobs. We first worked at Dogtown with puppies and cleaned their rooms, which included scooping poop and washing, scrubbing and drying the floors. Then we walked the puppies and got to play with them for the last part of the shift. With most of the adult dogs, our jobs were to walk them or clean their rooms. Along with this also came socializing with the animals.
At the Bunny House, we cleaned rabbit rooms for mostly the whole shift. After that came feeding them and socializing with them. At Marshall's Piggy Paradise, we fed the pigs, scooped poop and filled their water baths. While we did these things, we could socialize with the pigs, which was very entertaining. Lastly, we worked at Parrot Garden, where most of our job was giving the birds showers, which some of them seemed to love. It was a very hot day, so they needed to be kept cool with the help of a fine spray mist from the hose. We also cleaned the parakeet aviary and got to take some the birds from their outdoor enclosures to their indoor rooms at the end of the shift.
Which volunteer job is your favorite?
I really liked working with the pigs. I learned that they are very smart animals and have a lot of personality, which made socializing with them very fun! It was a new experience, and it was very interesting and entertaining. I also really liked working with the dogs because I have a soft spot for dogs, and once you see them you really can't stop loving them. Socializing with them was very fun, especially with Kit and Caboodle, who have a neurological condition but love to be loved.
What does volunteering mean to you and why do you do it?
What volunteering means to me is that you are giving your love to others who may not always get the love they need. While volunteering at the Sanctuary, it was easy to see that these animals need a lot of love. Volunteers (along with all the caregivers who put their hearts into helping these animals) help them get the love that they need. Volunteering is a very special thing that many people should try throughout their life.
Was there a favorite animal you met or worked with while volunteering?
A lot of animals had my heart at Best Friends, but two special dogs got a little extra love from me. Their names were Kit and Caboodle. These dogs are siblings and have a neurological condition that makes them have a hard time walking and doing things independently throughout the day. For these two dogs, Maddy and I put them in their "buggies" and give them a stroll. They loved it and loved looking at each other while being pushed. It was one of the cutest things I've ever seen in my life. I really loved these two because although they have limitations, they truly appreciate love from volunteers. That made working with them a very memorable moment for me.
Along with Kit and Caboodle, I loved a pig named Wally. When I was socializing with him, he let me pet him and slowly he fell asleep while I brushed him. It was also very interesting to find out you need to put sunscreen on his ears, because they get burned easily in the sun. His caregivers put sunscreen on his ears while he fell asleep with me brushing him.
What's the most rewarding part of volunteering?
The most rewarding part of volunteering is at the end of the day, when you walk away from a day with these animals and realize how much they appreciate the love. It's an amazing feeling knowing they appreciate what you do for them.
What's the most difficult part?
There really wasn't a difficult part for me. Volunteering was easy for me, because it felt like the right thing to do the whole time.
Is there anything else you'd like to share about your visit to Best Friends or your volunteer experience?
I had a great time, and I would like to give my appreciation to the people at the Sanctuary who give so much time and effort to the animals. I believe that people should give volunteering at Best Friends a try. I know it will stick with me throughout my life, and when I'm older and I have the opportunity, I will definitely come back.
Photos courtesy of Jen Reeder