Page, Arizona, is small, isolated and also a no-kill community
Northern Arizona town animal shelter in Page, Arizona, celebrates a full year of not killing any healthy, adoptable animals (dogs and cats).
By Christina Green
How does a small, remote desert town surrounded by expansive public lands and the equally expansive Navajo Nation manage to not only achieve no-kill status, but also to maintain it steadily for a full year (and counting)?
The key is networking, says Natalie Ferrando, the town's leading animal welfare advocate. One person can't save all homeless dogs and cats. You need friends. And Natalie has made plenty of them, much to the benefit of Page's homeless dogs and cats.
Typical obstacles to becoming a no-kill community
Lack of funding, not enough manpower, no access to affordable spay/neuter services, the need to educate the community on the issues — it's the same list of obstacles just about every community faces in becoming no-kill. Page was no different.
And Page faced another challenge found in some other communities. A few key people in the animal control department had no real energy for change, and that only compounded the problem.
But that all was transformed with one key leadership change — a new police chief who happened to be an animal lover. He cleaned house. That's when Natalie, who had been heading up the Page Animal Adoption Agency (which pulled dogs and cats from the shelter to find them homes), added animal control and head of the city shelter to her list of duties.
Things started turning around for Page's adoptable dogs and cats after that.
No-kill rescues unite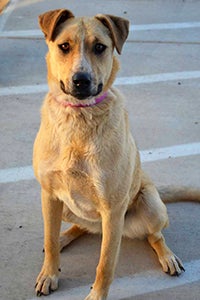 If there was an opportunity to make friends within the close-knit community of no-kill rescue groups, Natalie was on it. And no one offers as many of those opportunities as Best Friends. That's the idea behind the Best Friends No More Homeless Pets Network, which the Page Animal Adoption Agency was already a part of.
Learn about the Best Friends No More Homeless Pets Network
Animal welfare groups around the country committed to ending the killing of dogs and cats in shelters work together and with Best Friends to help animals in their communities. Each partner has access to Best Friends' staff members, who can help initiate contact with fellow rescue groups, conduct broader searches for more adoptive homes, provide grants, and more.
"Natalie is great about joining in with as many of Best Friends' promotions as possible, going to the super adoption events and taking advantage of our resources," says Diane Young, the Best Friends network specialist assigned Natalie's region. "She has amazing energy and enthusiasm, loves animals, and will go and get them from difficult situations, as in a mom with new pups at the city landfill. She will transport animals to places outside of Page, if needed, to help them find homes, and she brings pets all the way to super adoption events we have in St. George, Utah."
Opportunity leads to success
These opportunities to branch out of the immediate area proved vital to Natalie being able to lead Page to becoming a no-kill city.
"We had great success at the St. George super adoption event," she says. "I love this type of event because it gets our animals out of the facility and exposed to a whole new world. It gets more eyes on the animals and makes people more aware of us."
But it's not just potential adopters who Natalie is befriending. Making friends with fellow colleagues in the rescue world has also proven to be invaluable — especially to one little beagle brought to Natalie's shelter after she was found wandering around in the desert. It turned out that tips Natalie took away from Best Friends helped her find just the right place for the stray beagle.
Working together to save a beagle
Networking with rescue groups was the subject of a one of the sessions Natalie attended the last time she went to the Best Friends National Conference, and it really left an impression. The presenter talked about how important it is to research rescue groups and get to know the people before contacting them for help with a hard-to-place animal.
Well, that little beagle stayed with the Page city shelter for a couple of months. Then Natalie decided to research beagle rescue groups and found one in Las Vegas, Nevada. After getting to know the director some, Natalie took the beagle to try her odds in Vegas. Within just a couple of weeks, she hit the jackpot with a new home.
"I've also found that creating personal relationships can lead to even more help," Natalie says. "One director of a rescue group might not be able to help at one time, but they might introduce you to the director of another group who can."
Taking advantage of every perk
Page may have enjoyed its no-kill achievement for the past year, but that doesn't mean it's time to slow down.
Natalie says in the coming year, she plans on sending three people to the next Best Friends National Conference, this July in Salt Lake City, Utah.  And some volunteers will even attend some of the workshops offered at Best Friends Animal Sanctuary.
Workshops offered at Best Friends Animal Sanctuary
"It's good to invest in volunteers because everyone has such great opinions, idea and energy — and if we can expand on that, we can grow more," she says. "The more knowledge you have, the more you can do to help more animals."
She also hopes to further expand her network by taking some dogs and cats to the Best Friends Super Adoption event in Salt Lake City.
It might not be in your immediate community, but as Natalie says: "I do believe there is a home for every animal." And she intends to find it for the dogs and cats counting on her.
Here's how you can get involved:
Photos courtesy of the Page Animal Adoption Agency