Pet promotions save lives
Image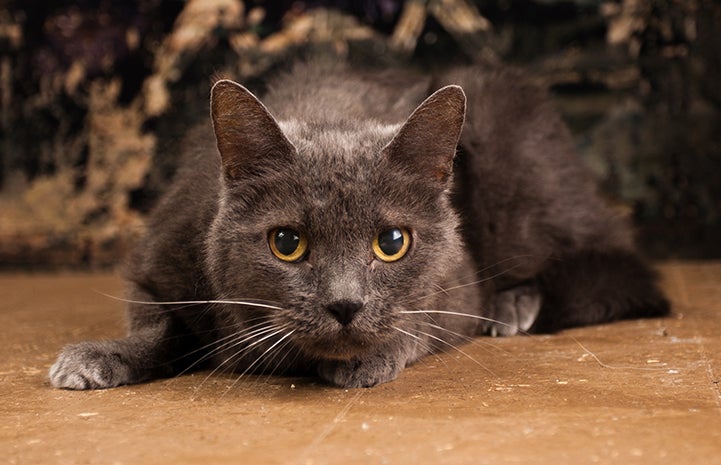 Bring Joy national pet adoption promotion exceeds expectations, with over 11,000 cats and dogs finding homes.
By Nicole Hamilton
If Prairie Paws Animal Shelter, a Best Friends No More Homeless Pets Network partner in Ottawa, Kansas, had not taken part in Best Friends' Bring Joy adoption promotion, Bastian Wade and Luke Gast might not have met and welcomed a new cat into their home. And had the two not met Blue on the day they visited the shelter, they might have never learned that senior cats can be just as much fun as kittens.
About the No More Homeless Pets Network
Best Friends' No More Homeless Pets Network comprises more than 1,700 animal welfare groups from every single state, all working to save the lives of pets in their own communities. Ranging from animal shelters and rescue groups to spay/neuter and trap-neuter-return (TNR) organizations, they collaborate with Best Friends to save even more lives in every corner of the country. Best Friends provides marketing help, fundraising events, information and webinars, guidance, grants and more so that, together, we can Save Them All.
As for Blue, had the shelter not taken part in the adoption promotion, she might not have gotten the chance to fall asleep each night feeling safe and secure in a home where she is loved — something she desperately needed. That's because shelter life was so stressful for Blue that she sometimes pulled out her fur, just to cope.
Find a network partner where you live
A promotion for pets who need it the most
During the Bring Joy adoption promotion, thousands of pets' adoption fees were reduced or waived during the month of December.
The promotion was a perfect way to sweeten the deal for potential adopters and give pets like Blue, who may be overlooked at the shelter, the chance they need to find the home they deserve. And it worked. By taking part in the Bring Joy adoption promotion, Prairie Paws was able to find homes for 43 cats — the most the organization has ever had adopted in December.
In fact, the Bring Joy promotion was Best Friends' most successful ever. "More than 170 network partners participated in the promotion," says Tami Simon, Best Friends national programs engagement specialist. "As a result, 11,309 pets found homes during the promotion, which is just amazing."
A big month for Best Friends network partners
December is usually a challenging month at the Humane Society of Treasure Coast (HSTC) in southeast Florida. It's a time when the shelter sees an influx of pets coming in, and a decrease in the number of adoptions. To solve this problem and to make sure pets from HSTC got a chance to start their new year in new homes, the shelter decided to take part in the Bring Joy adoption promotion.
The results were nothing short of astounding. By the end of December, HSTC had found homes for 140 cats and 75 dogs. The promotion coincided with the shelter's "home for the holidays" foster program that placed pets in foster homes short term, so they wouldn't have to stay in the shelter over Christmas. The timing was perfect.
"The Best Friends promotion helped some of our foster families make the decision to adopt the pets they brought home for the holidays," says Deidre Huffman, adoptions manager at HSTC.
From shelter life to basking in the sun
One of those pets was Roscoe, a seven-year-old dog at HSTC who, like Blue, found shelter life way too stressful. Outside the shelter, Roscoe is a big playful and happy dog, but at HSTC, he didn't appreciate the noise, which made him nervous and restless. And this wasn't helping Roscoe get adopted.
When Allesha Steinhurst came into HSTC one day to choose a dog for the holiday foster program, she had her choice between a puppy and a couple of older dogs, one of which was Roscoe. She liked that she and Roscoe shared the same birthday, and she was worried that Roscoe might get passed up by other foster parents in favor of the cute puppy. So, she took Roscoe home.
A week later, Allesha decided to adopt him. And with the significantly reduced adoption fee, she could buy Roscoe a lot more toys.
"Seeing pets like Roscoe finally go home is so elating," says Deidre. "There's really no other feeling like it. It makes every tough day at the shelter worth it."
By the end of the promotion, HSTC had just seven dogs left, which meant that they had enough room to take in pets from a shelter in a neighboring county, which, in turn, opened up space at that shelter.
See adoptable pets who took part in the Bring Joy photo feature
Bringing joy to the pets who need it most
In just a few weeks, Blue, now named Baloo, has already come a long way. Baloo is gaining confidence and showing Luke and Bastian that she is much less shy and nervous than when she was at the shelter. While she is warming up slowly to Missy, their other cat, she's enjoying the company of their dog, too.
More than one thousand miles away in Florida, Roscoe is also enjoying his new home. He begins each day with a visit to the backyard, where he rolls in dirt for a few minutes before resting quietly in his favorite spot to soak up some Florida rays.
"There was no way Roscoe was going back to the shelter," says Allesha, as she and Roscoe celebrated their birthday. "He's a big love bug."
By the end of the promotion, more than 11,300 pets in shelters across the country had been adopted, making it a joyful time indeed.
Support all our partners.
Become a member of Best Friends.
Photos by Tim Yeaglin and Ronnie Rennur