Planned PEThood of Georgia innovates to help rural shelters
Rachael Ray Save Them All grant served as a catalyst so Planned PEThood of Georgia could offer more services to rural shelters to help save more lives.
By Nicole Hamilton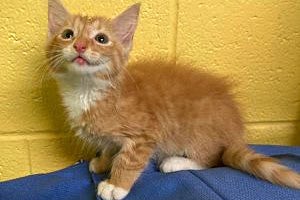 When Pennywise arrived at Planned PEThood of Georgia, he'd already experienced quite an extraordinary day. Somehow, he'd gotten himself good and stuck inside a storm drain on a Dairy Queen parking lot in Baldwin, Georgia. A passerby who heard him crying peered down and saw the little kitten sitting on a ledge just above the dirty water.
It took a few officers and a little time to get Pennywise out of the drain. In order to reach him, they had to improvise with a long leash and a basket. Then they cleaned him up and brought him straight to Planned PEThood of Georgia.
Pretty great story, right? But here's the thing: It gets even better, because Pennywise became the 1,000th pet to be neutered as part of Go Fix Georgia, the newest program of Planned PEThood of Georgia. Funded in part by a Rachael Ray Save Them All Grant, Go Fix Georgia is designed to provide access to affordable spay/neuter services to rural and remote areas of the state.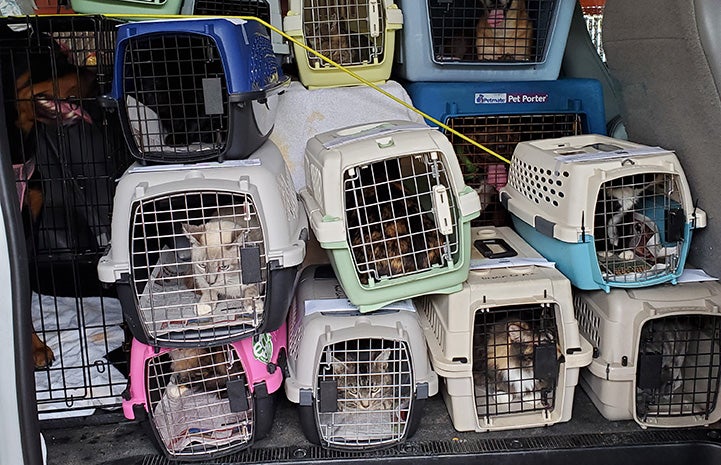 Help for Georgia's rural shelters
Planned PEThood of Georgia got the ball rolling in May of 2019 with the help of a Maddie's Fund® innovation grant that made spay/neuter services possible for 75 pets at Newton County Animal Services, located outside of metropolitan Atlanta.
Back then, the Newton County shelter didn't have air conditioning, let alone access to veterinary care. Space was limited, too. Lauren Frost, development coordinator for Planned PEThood of Georgia, estimates that only about 45% of the animals entering the facility had positive outcomes. "They were struggling," she says.
At that time, cats were housed in the same area as dogs, which meant that most surrendered cats remained so scared and unapproachable that they weren't getting adopted.
When Planned PEThood of Georgia stepped in to help, prospects for Newton County pets took a quick, sharp turn for the better. And when the save rate began to climb, county commissioners decided to allocate funds to expand the shelter (which now has air conditioning) and require that all pets entering the facility must be spayed or neutered. Today, Newton County's euthanasia rate is at a record low. But Planned PEThood of Georgia was just getting started. The success in Newton County was the catalyst for Go Fix Georgia, a program created to provide the same spay/neuter resources to areas outside of Atlanta as those within the city limits.
[Three cheers for three outstanding animal shelters]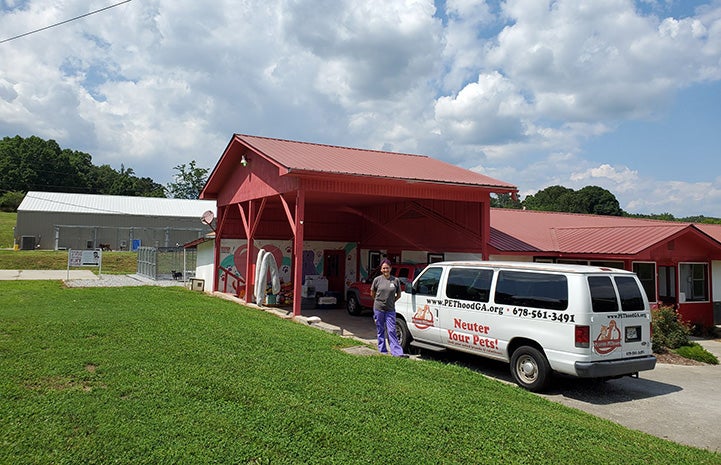 Rachael Ray Save Them All Grant puts plan in high gear
In the Atlanta metropolitan area, there are options for finding affordable spay/neuter services, but those options dwindle as you travel for an hour or two outside the city. For many shelters, Planned PEThood of Georgia's Duluth clinic is the closest option for affordable spay/neuter.
Using its work in Newton County as a blueprint, Planned PEThood of Georgia applied for and received a Best Friends Rachael Ray Save Them All Grant, which made it possible to help more rural shelters through its Go Fix Georgia initiative. "The Maddie's Fund grant was the catalyst," says Lauren. "With the Rachael Ray Save Them All Grant, we have been able to do so much more. It's been just amazing."
Each week, people from Go Fix Georgia pick up and drive pets from rural shelters to the clinic for spay/neuter and vaccinations. Best of all, it's been agreed that pets receiving services at Planned PEThood of Georgia cannot be killed for lack of space if they return to the shelter.
Since most of the shelters don't have a veterinarian on staff, vets from Planned PEThood of Georgia fill an important role by routinely performing minor surgeries. For example, Go Fix Georgia was able to help two kittens from Habersham County Animal Control who needed specialized eye surgery that normally costs thousands of dollars. Planned PEThood of Georgia vets were able to perform the surgeries at an affordable rate.
[From tiny to mighty: Two by Two Rescue helps pets across Alabama]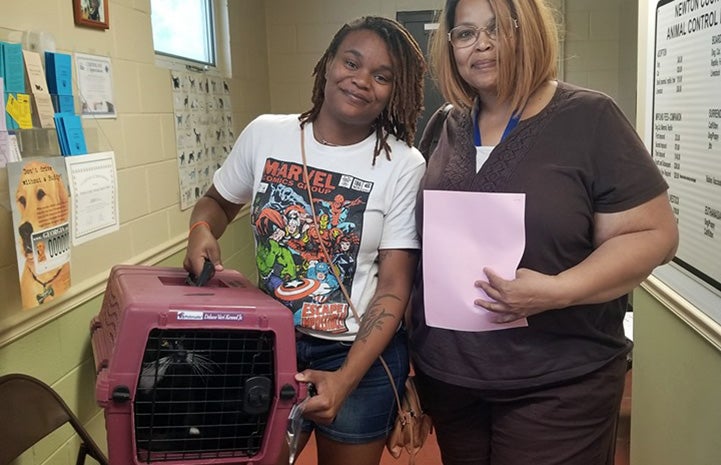 Planned PEThood of Georgia is on a roll
Spaying and neutering pets to reduce the number of cats and dogs entering Georgia shelters is the core mission of Planned PEThood of Georgia, but recently, the organization has begun playing an even larger, multifaceted role in helping Georgia reach no-kill by providing transportation services. For example, when the Newton County shelter recently didn't have enough kittens to offer for adoption, Planned PEThood of Georgia arranged to transport kittens from the Habersham County shelter. That's a far cry from a little over a year ago, when the Newton County shelter was full kittens, as well as cats and dogs.
"It's heart-warming to see that a shelter where the staff had given up hope transforms into one where almost 90% of the animals leave alive and healthy," says Tanya Weaver, program coordinator for Go Fix Georgia. "It proves anything is possible when you think outside the box to solve a systemic problem."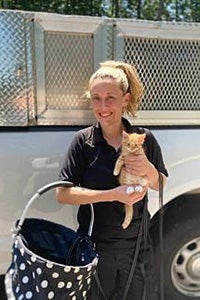 So, whatever happened to young Pennywise? After his rescue from the storm drain, he was eventually adopted from Habersham County, and his family reports that he's doing well, enjoying life and staying out of trouble.
"Best Friends is incredibly proud of the lifesaving work Go Fix Georgia is undertaking to help the many rural and underserved areas in Georgia," says Makena Yarbrough, Best Friends senior director of regional programs. "We are excited that the Rachel Ray Save Them All Grant has contributed to their ability to save the lives of countless cats and dogs in Georgia."
Meanwhile, Planned PEThood of Georgia is counting the days before it neuters its 2,000th pet through the Go Fix Georgia program. "We look forward to expanding this program across Georgia to help rural counties all over," says Lauren. "And we hope other rescues can take our model and save lives in their own communities."
Help pets where you live
Whether you foster, adopt or volunteer, there are many ways to help homeless pets in your community.
Read more
[Puppy beats distemper with the help of two determined foster moms.]
[Despite his special needs, this kitten was born to be happy.]
[Cushy retirement for a working cat]
Photos courtesy of Lauren Frost