Shelters across the country step up to help pet transports, provide critical overnight stays
Moving animals from one shelter to another where they are more likely to get adopted, pet transports get an overnight rest at shelters around country.
By Nicole Hamilton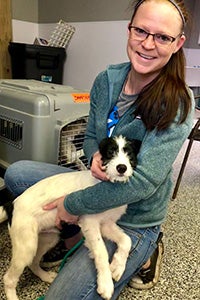 Imagine you're on a two-day road trip with a few dozen dogs in a van. Your job is to drive them from a shelter struggling to place all the pets in its care to a different shelter several states away. The destination shelter is eager to take them in because their chances at finding a home will increase tenfold as soon as they arrive.
If you're thinking a journey like this would be inspiring, you'd be right. It really is.
Driving animal shelter transports is, at times, hard work. The journey can get long and smelly — not to mention noisy when barking passengers erupt in a chorus of song without notice. And besides, one can only drink so many cups of gas station coffee, no matter how "gourmet" it is. But it's all worth it, especially when you have help along the way.
How transports help shelter pets
Moving pets from shelters with low save rates to shelters with high save rates is a key component to communities reaching no-kill. Something as simple as moving an at-risk pet out of a shelter has immediate impact: It saves that pet. Pet transports allow shelters to save lives right away while they work on long-term solutions that prevent pets from entering shelters in the first place, and then help them get adopted when they do. Because those solutions tend to take longer to put in place (and every single day is critical to lives at risk), transportation is the key for pets needing a safe and immediate way out of a shelter.
That's why Best Friends operates transports in several of our regional programs and awards grants to support them. On any day of the week, if you happen to be on a north-south stretch of highway, you might spot a Best Friends van traveling with precious cargo.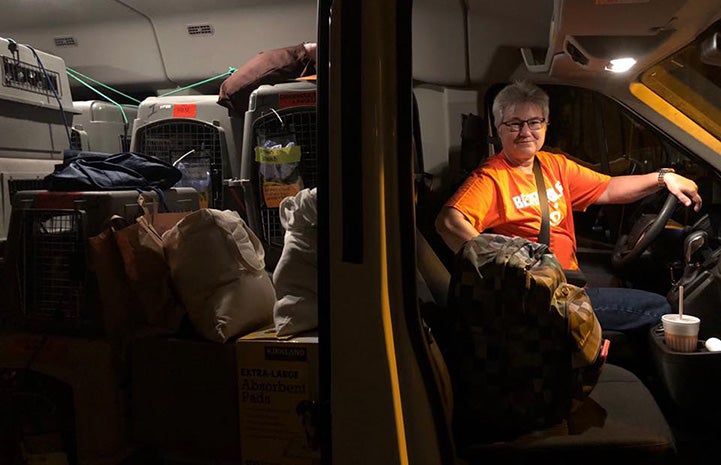 A welcome stop in the middle of a long drive
Most of Best Friends' long-distance transports take two days. And since a full two days in a van is too long for pets and humans to safely and comfortably travel, it's necessary to stop overnight around the halfway point. By that time, the pets are more than ready for a little fresh air, a good meal and some shut-eye. The drivers (who are often volunteers) are also ready to call it a night so they can get an early start the next day. But stopping for the night is a lot of work, and you don't just check into a hotel with 30 dogs and just two people, tired all day from driving, to care for them.
This is where Best Friends Network partner shelters come in. These organizations, along with many others from New Mexico to New Jersey, open their facilities as welcoming spaces for pets on their way to receiving shelters. For the drivers, it's always a relief to see a team of eager staff and volunteers on hand to help get the dogs out for potty breaks, provide them with food and water, and tuck them in for the night.
About the Best Friends Network
Brittany Niemeyer, a transport lead for Best Friends in Atlanta, says that without stopover shelters and their dedicated staffs, longer transports simply wouldn't be possible. "They play such an important role," says Brittany, who regularly arranges stopovers for pets en route from the Best Friends Lifesaving Center in Atlanta to receiving shelters in the Northeast.
One of those key stopover shelters is Lynchburg Humane Society in Lynchburg, Virginia, which not only helps out during transports but is always one of the first shelters to step up during hurricanes and other natural disasters. "They never hesitate to open their doors to us to house pets overnight," says Brittany. "Their staff and volunteers are always there to help us, regardless of the weather outside or what time of night it is. And they work tirelessly alongside us."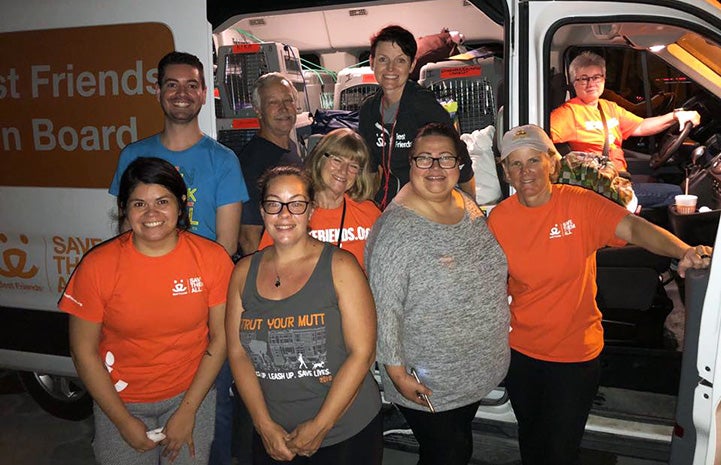 Transporting pets from Texas
Best Friends in Houston has been driving dogs from Houston shelters to Ruff Start Rescue in Minnesota once a month. And since that's too far to drive in one day (about 1,180 miles or 18 hours), the transport van makes a stopover each month at Kansas City Pet Project (KCPP).
So far, KCPP has been an overnight stay for around 200 dogs from Best Friends in Houston and network partner shelters such as Harris County Animal Shelter and BARC Animal Shelter and Adoptions. "Without their help, we simply would not have been able to send as many dogs to Minnesota as we did this past year," says Whitney Bliton, operations manager for Best Friends in Houston.
Once the volunteer drivers arrive at KCPP with dogs in tow, KCPP staff and volunteers help transfer them from the van into the facility for the night. Then, they return bright and early the next morning to feed and walk the dogs again, and help settle them into their carriers for the rest of the trip.
Shelter dog transports to Minnesota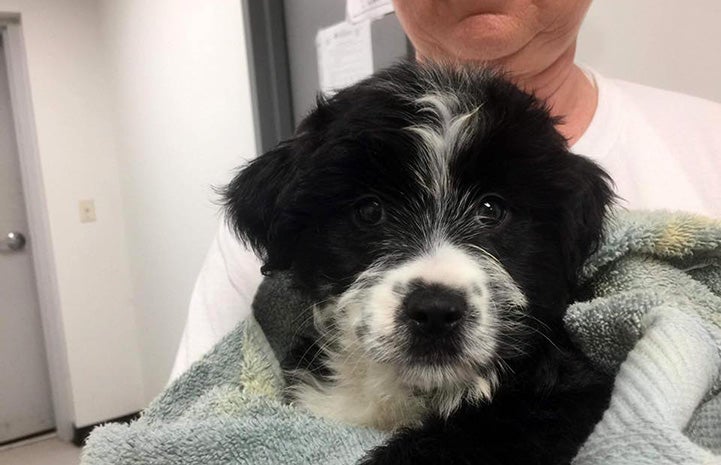 Lifesaving gets rolling
Teresa Johnson, KCPP president, CEO and chief lifesaving officer, says that when her organization learned that Best Friends needed a shelter to serve as a stopover for dogs on their way to Ruff Start, it just made sense to help out — and for good reason (that is, quite a few good reasons).
KCPP, an open admission shelter that takes in about 10,000 pets each year, has worked hard to reach and maintain a 95% save rate, and is in a position to help other shelters (like those in Texas) do the same. Utilizing KCPP as a transport stopover point also makes logistical sense because Kansas City is a little more than halfway between Houston and Minnesota. For example, a transport van departing Houston by 7 a.m. can make it to KCPP by around 7 p.m. That leaves plenty of time for pets and volunteer drivers to rest before starting out for the Twin Cities early the next morning.
Thanks to KCPP's Canine Resource and Rehabilitation Center, an innovative 4,000-square-foot facility complete with kennels and a large backyard for training activities, all stopover dogs can easily be accommodated.
"Now we've got it down to a science," says Teresa. "We already know what each of the dogs' needs are and we have them assigned to kennels before they even get here. So when they arrive, we can get rolling."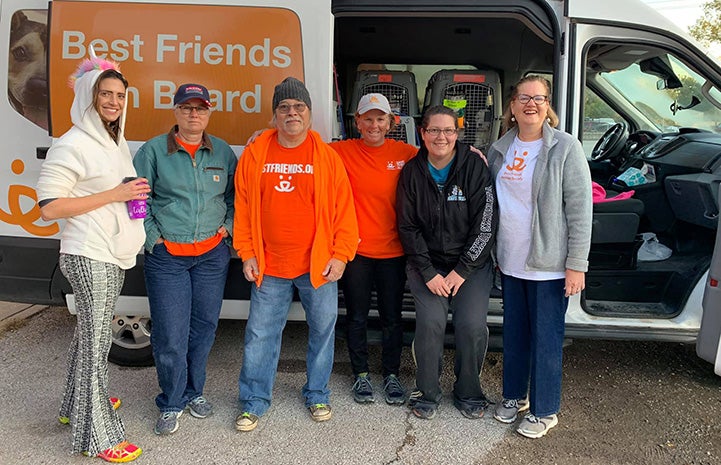 Volunteers to the rescue
Transport stopovers have become a highly anticipated volunteer event at KCPP. In fact, many volunteers mark their calendars to make sure they are available to help on the designated night (usually a Friday) when the transport van rolls into the KCPP parking lot. "It's a great family event and sometimes volunteers bring friends," says Teresa.
There's always a certified dog trainer on hand to help, along with the KCPP veterinary staff (in case a dog needs medical attention). "These are dogs who have been in a van all day and have just left their foster homes," says Teresa. "Our volunteers give them plenty of space, and we follow good protocols when handling."
At the end of the night, when the dogs (all tuckered out after the 12-hour journey from Houston) are safe and snug in their kennels, the volunteers gather for a big group photo. Many KCPP volunteers and staff will share the photo and then continue to follow the dogs' journey to Ruff Start and on to their new foster homes.
"It's amazingly rewarding to know that even though we're in Kansas City, we can still help save the lives of pets in Texas," says Teresa. "Our motto is 'Solutions — not excuses' when it comes to saving more lives. We're proud we can be a lifesaving partner for Texas shelters and make a difference for these dogs."
Volunteer and help pets where you live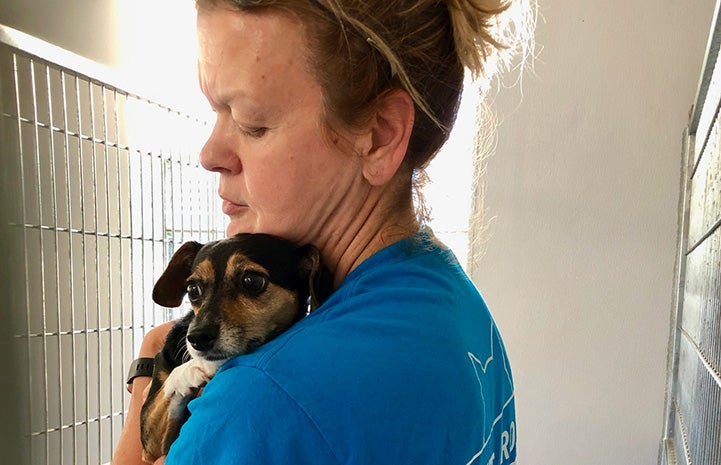 Photos courtesy of Teresa Johnson and Best Friends in Houston