Shy kitty finds her happy place in a new home
How a sweet, introverted cat who found a home learned that people aren't so scary after all.
By Ana Merkulova
If you tried looking at Mila last July when she was at Best Friends in Los Angeles, you'd probably be greeted with a pair of terrified giant green eyes and maybe a soft hiss — a common occurrence in those early days. "There was a lot of hissing and growling and paw-swatting going on," recalls Krystal Vera, Best Friends cat team member.
Cats like Mila often have a hard time getting out of shelters and into loving homes. At Best Friends, unsocialized cats too scared to share a home with people are sometimes placed into a working cat program. Adopted working cats are placed where they have plenty of space to freely roam on a new guardian's property (such as a barn, a winery or a warehouse) and can live their lives without having to interact much with humans.
[Cushy retirement for a working cat]
Sometimes unsocial cats are simply shy cats struggling to trust the people around them. That turned out to be the case with Mila, though in the beginning only an ardent cat lover would believe it. Luckily, Krystal is one of those cat lovers. "She just gave me this feeling that she just wasn't sure who to trust," says Krystal.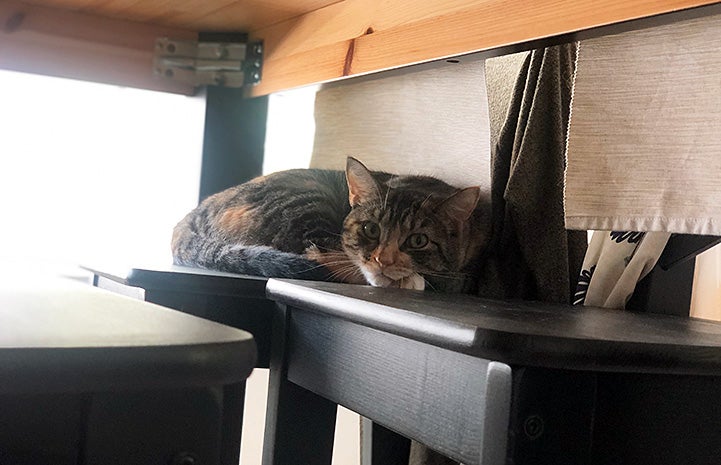 Patience pays off with shy cat
Soon after Mila arrived at Best Friends from Los Angeles Animal Services, Krystal zeroed in on her as a special project kitty. No matter how long it took, Krystal was determined to help Mila build confidence and learn to believe that humans are good.
What Mila really needed, says Krystal, was consistency, predictably positive interactions with people and some (OK, maybe a lot) of patience. Mainly, that meant spending tons of time in Mila's room talking to her and giving her treats ― lots and lots of treats. Once Krystal discovered that Mila was fond of shredded chicken strips, things really got moving.
Eventually, Mila graduated to allowing people to briefly pet her with a back scratcher and then with a gloved hand. Then one day Krystal decided to test the waters by taking off the glove and offering Mila a treat. She took it and licked Krystal's hand. Even months later, Krystal still remembers that moment. "I completely melted with goose bumps and had happy tears in my eyes," she says.
Over the next few weeks, Mila continued to make slow but steady progress. When it became clear that she had come as far as she could in a shelter environment, the team worked to find her a foster family. Adjusting to life in a home would be her next challenge.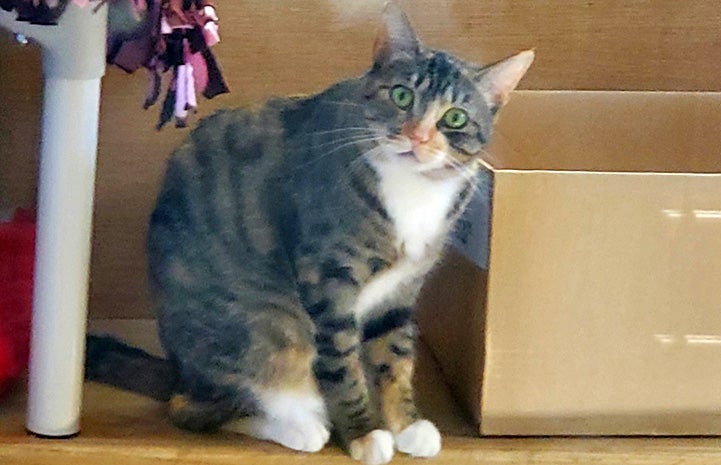 Shy cat can be herself in new home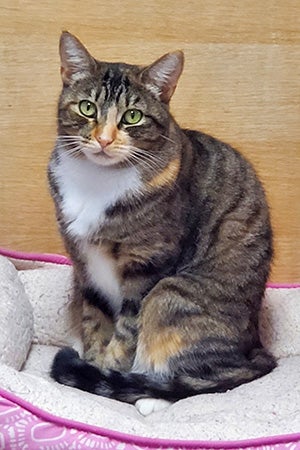 Mila needed a cat-savvy foster parent ― someone not easily fazed by an independent kitty. That's where Laura Tarchini comes in. After three years of fostering kitties with special challenges, Laura is a bit of a feline therapist. She's caring, but stays detached enough that she has never adopted one of her fosters ― that is, until she met Mila.
[Best Friends volunteer turns fostering into art]
There was something about those big green eyes, plus Laura worried that Mila would backtrack on her progress if she returned to a shelter environment. While Mila was settling in, things were challenging. She hid in her bed most of the day and shied away from Laura. But because Laura is used to shy cats, she didn't want to give up on Mila.
Laura decided to start the new year by adopting one of her foster pets for the first time. "I got attached," she says with a laugh. "She's so sweet, though she's still scared of me. I love her so much."
Laura says that Mila is still shy; however, lots of playtime and yes, treats, are helping her build confidence around people. Instead of hiding in her bed, she comes out to play with Laura and hangs out with her at a safe distance. "You need to have a lot of patience, obviously, to be calm and understand that it's going to take time," says Laura. "But it's definitely getting better. The more you do, the more you get. The more time you spend with her, the more comfortable she gets."
Mila may never be a lap cat, but she has found a home where she's valued, loved and accepted ― just the way she is.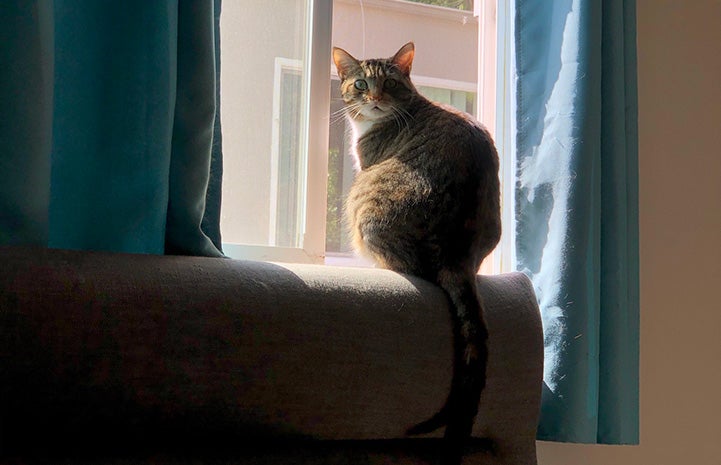 Ready to meet a new four-pawed friend?
Whether you're ready for a shy cat or one who loves being the life of the party, you'll find your ideal feline at your local shelter.
Read more
Horse named Peanut finally comes out of his shell
Scared, shy dog just needed a chance or two
Love brings cat back from the brink
Photos courtesy of Laura Tarchini, Krystal Vera and Best Friends staff