Snow day photos with dogs and horses at Best Friends
You've heard of snow bunnies, but check out what the other fun Sanctuary animals are up to on a winter day.
By Molly Wald
Editor's note: Best Friends photographer Molly Wald spent time with the animals after a snowstorm and captured the joy that comes with fresh powder after a long dry spell.
It's been a dry couple of years at the high desert home of Best Friends Animal Sanctuary, but we recently had a sorely needed snowstorm. You can almost hear the ground, the trees and the wild animals groan with relief as they drink in the moisture that's so desperately needed.
Aspen hears it too ― the soft whispers of thank you from the earth.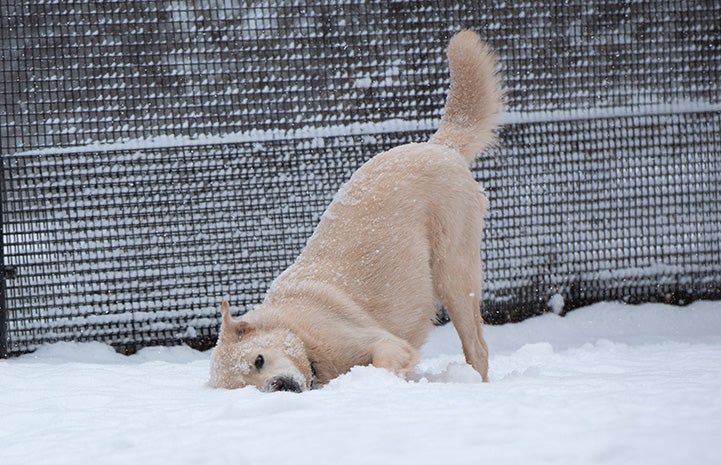 Some of our residents ― this photographer included ― prefer to snuggle under blankets when the weather turns foul, but not all.
Dogtown is always fun in the snow, and our caregivers saw quite a few residents taking advantage.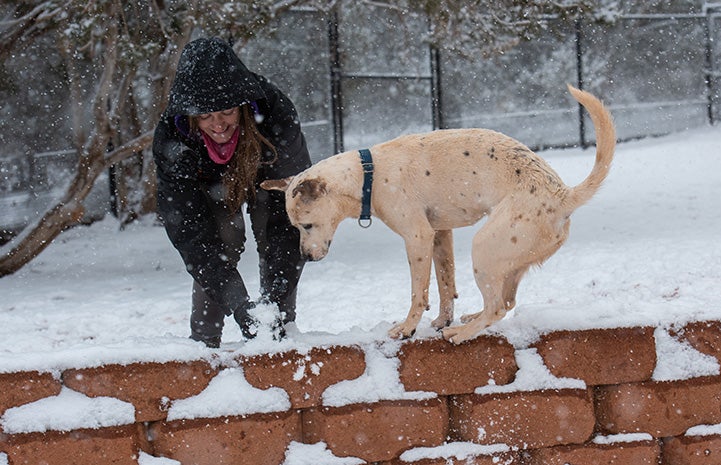 Step 1: Find a wet patch of snow and pack it down into a nice ball.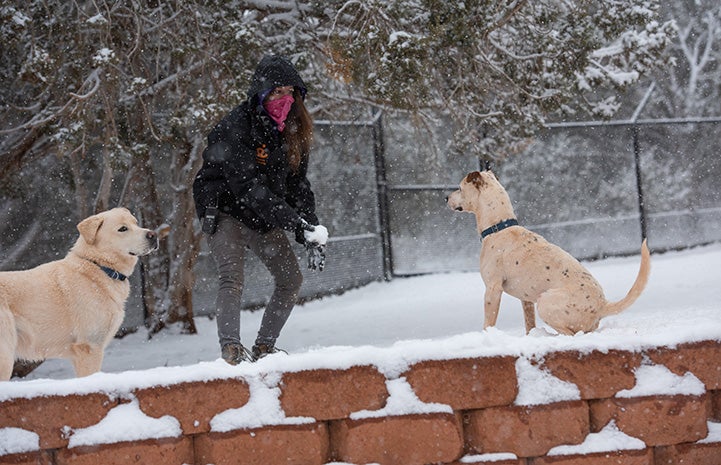 Step 2: Throw …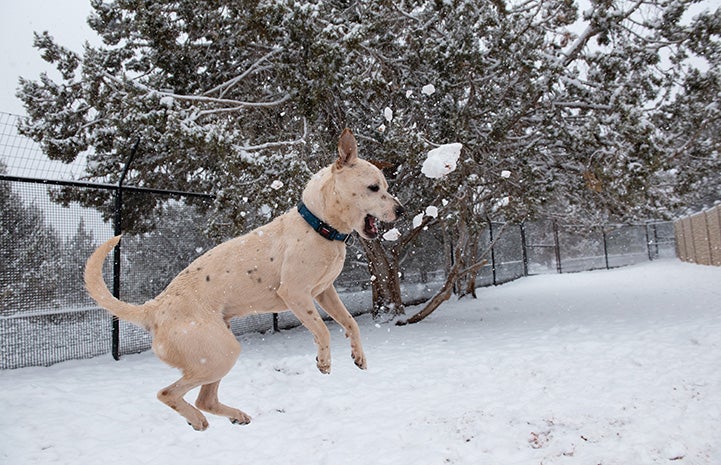 and catch …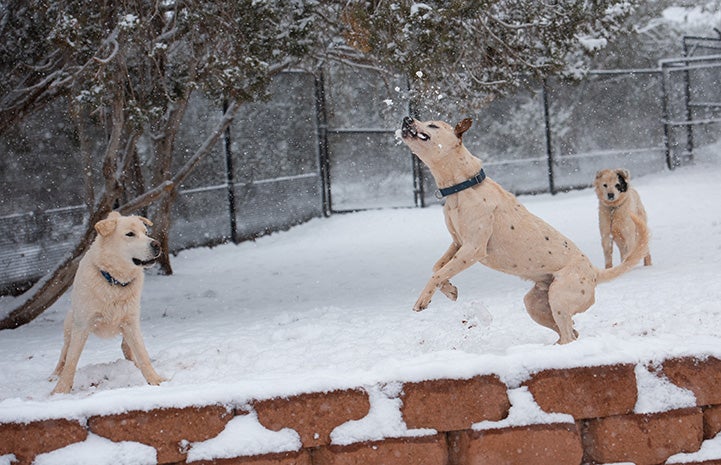 and catch …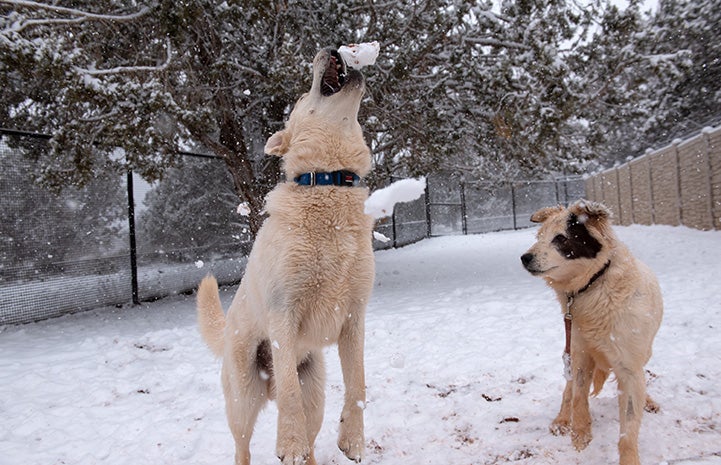 and catch!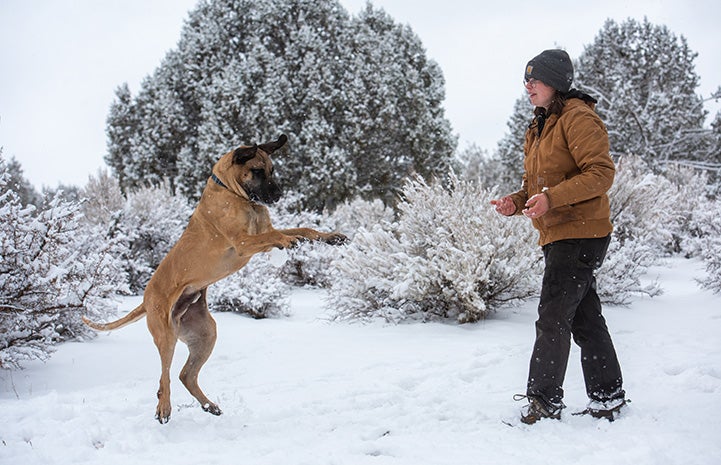 And miss?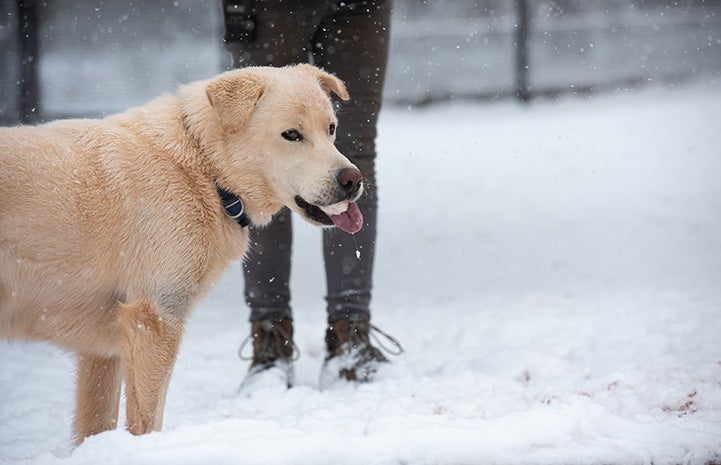 And yum.
If you're two white dogs in the snow, you can also practice extreme polar bear wrestling, aptly demonstrated by Aspen and Nimbus.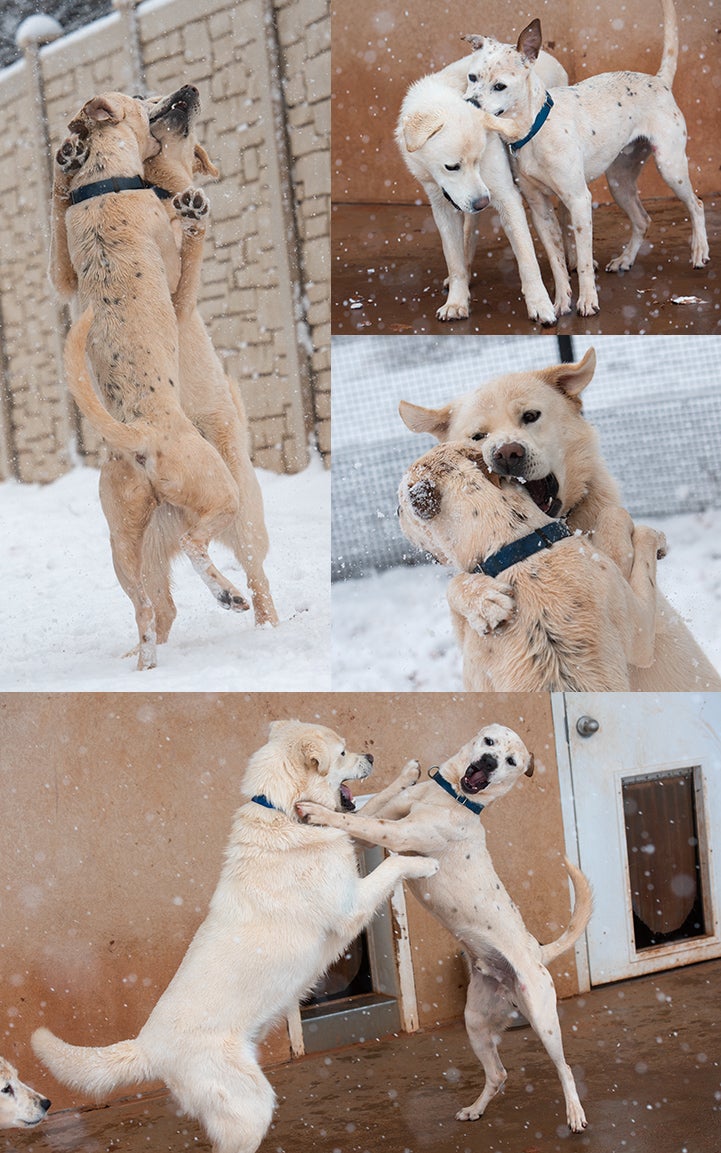 Meanwhile at Horse Haven, it was business as usual with residents gleefully eschewing their shelters for some snowflake time.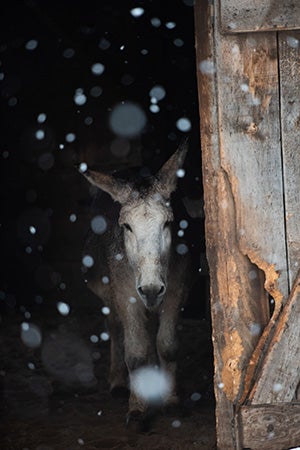 In fact, I had to ask Speedy to go inside the barn so I could get the cool white-on-black snowflake effect.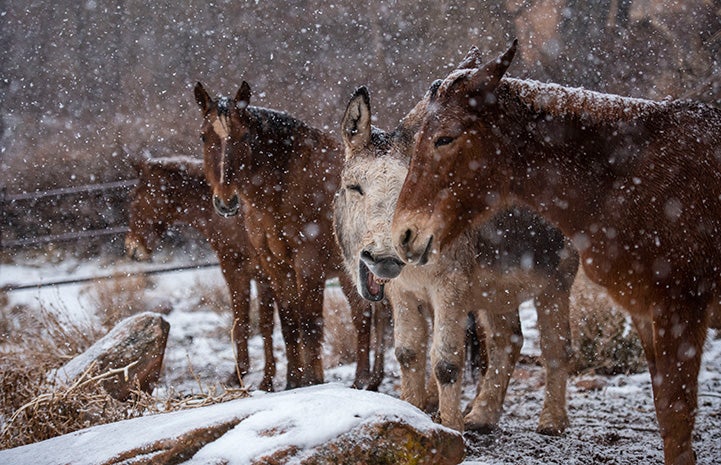 He strongly prefers to be out in the elements ― apparently cracking jokes that only he finds funny.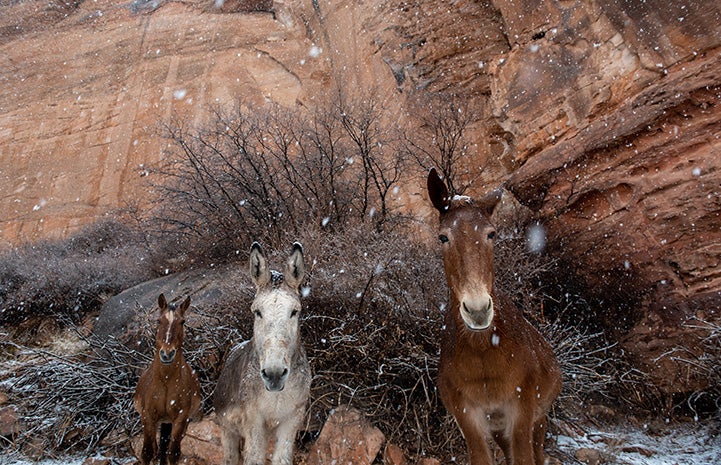 A horse, a burro and a mule walked into a canyon …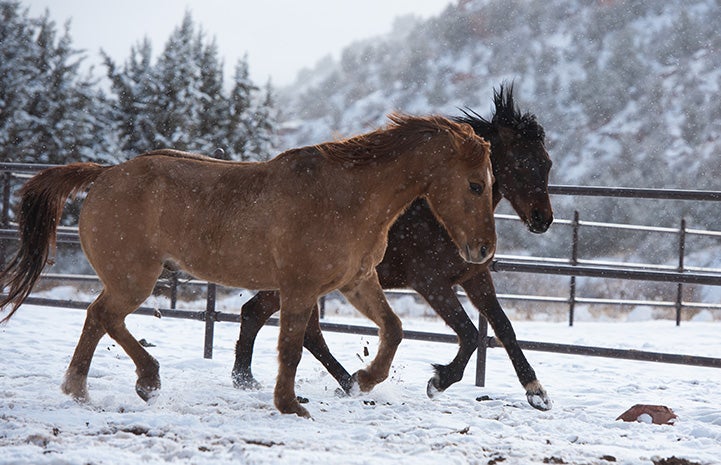 Horse Haven has a batch of youngsters who play all the time, completely oblivious to the weather. But they look quite majestic in the snow!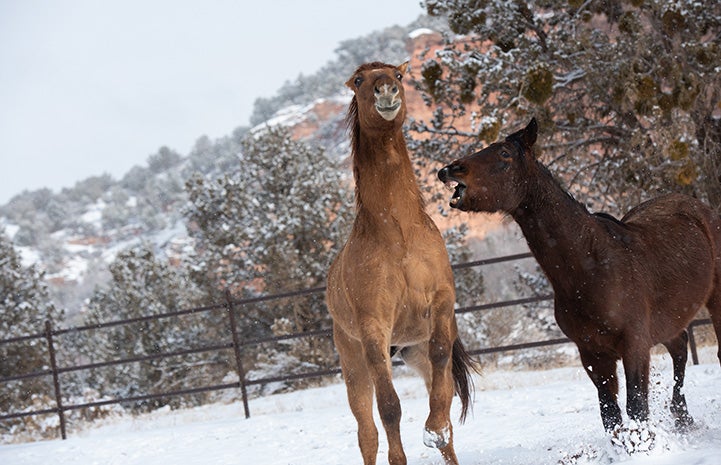 No, I said majestic.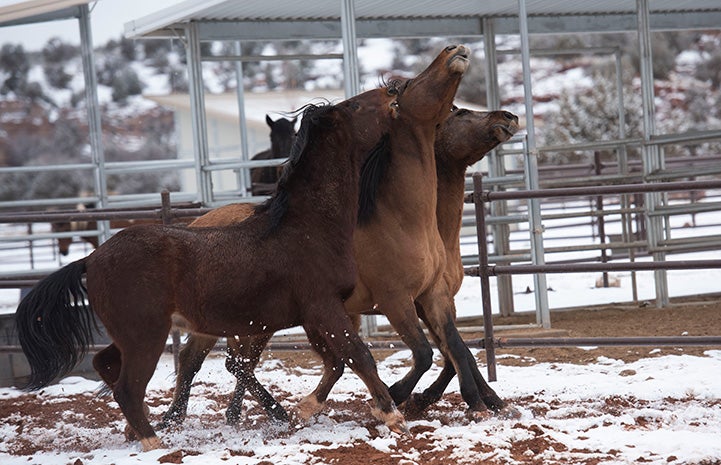 No, I said …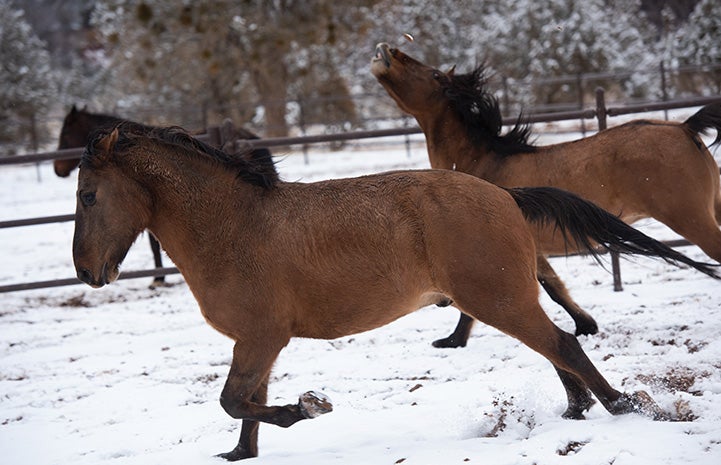 Never mind.
Happy winter, everyone! Before you know it, it'll be warm again and we'll look back fondly on these days. Enjoy the weather, and we hope to see you soon at the Sanctuary. 
Explore Best Friends Animal Sanctuary
Check out all the animals at Best Friends ― from dogs and cats to bunnies, birds, barnyard animals and wildlife. Looking for a new companion? Look no further. Pets from the Sanctuary are adoptable and looking for love.
More about the Animals at Best Friends
Photos by Molly Wald