Spicy cat's 'instruction manual' helps her get adopted
Best Friends foster volunteers wrote tips for making friends with Pumba, a cat with larger-than-average tortitude, to help her thrive in her new home.
By Nicole Hamilton
Pumba is a cat who knows what she wants. She prefers play sessions with a string, ideally around nine or 10 at night. She doesn't like to be alone when she eats and she adores chin scratches. She's affectionate on her own time, which is usually in the afternoon. And when it storms outside, she feels best when she's wrapped tight in a blanket, like a burrito.
Pumba can be just as salty as she is sweet. You see, she's a bit of an enigma. She has her own style, and that's what her foster family loved most about her. But what makes her special was also apt to baffle potential adopters. To make things easier for them (and for Pumba, too), her foster family had a brilliant idea to create a new adopter's guide to all things Pumba.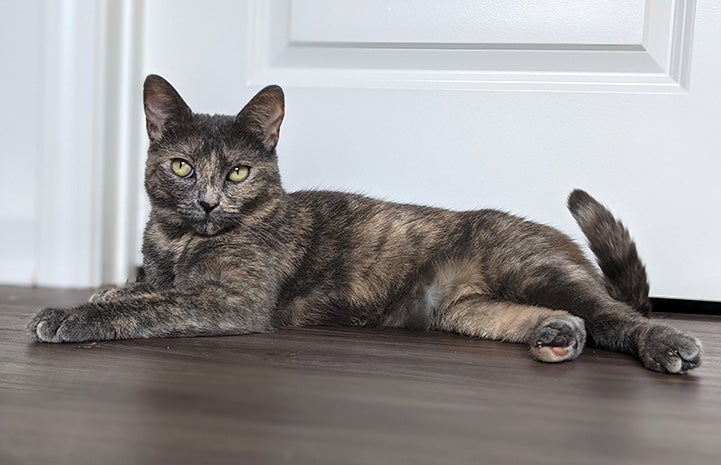 Tortitude in full effect
Scared and a little sassy: That was Best Friends supervisor Megan Matchett's first impression of Pumba when she arrived at Best Friends in Atlanta on a transport of cats from a shelter in Polk County, Florida. Says Megan: "True to her coat-coloring, she has that tortitude. She likes to be petted when she wants, for as long as she wants it. And then she's done."
[Dog with disclaimers lands her just-right home]
To help Pumba feel more at ease, the team placed her in a foster home where she'd get plenty of love, support and time to feel better in her new surroundings. At first, she spent most of her time hiding. When she was out and about, she'd often hiss or swat when she was startled by loud noises or if someone approached her too fast.
Pumba, however, isn't all salt and sass. She loves to be scratched under her chin and for that she'll reward the scratcher with purrs and nudges with her head. And Pumba does love being in the company of people. It just has to be on her terms.
When the schedule of Pumba's first foster family changed and they needed someone to take over the reins, the team at Best Friends set out to find a new foster home for her. They were hoping to find someone with previous experience fostering cats, given Pumba's tendencies.
They didn't have to look long. Foster volunteers Sharvari Desai and Logan Terheggen, who began fostering cats from Best Friends last year at the start of the pandemic (and adopted Smokey, the very first cat they fostered), had just moved into a bigger house. They were in the perfect place to foster a cat.
Sharvari and Logan were undaunted by the thought of fostering a cat who can get overstimulated and needs most things on her terms. It helped that Sharvari volunteers at another Atlanta-area shelter, where she regularly interacts with cats with all kinds of personalities. Now she would get to apply what she learned as a volunteer to help Pumba; although what Pumba really needed, Sharvari and Logan had learned, was simply to be accepted for who she already was.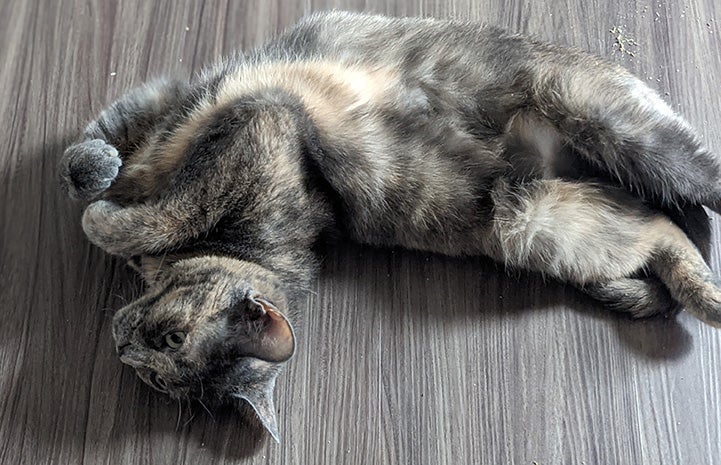 A place where catitude is welcomed and encouraged
"At first, she was clearly scared, but very sweet," says Sharvari. To help Pumba feel better, they made their guest bedroom her safe place and kept her away from Smokey and their other cat, Bojack. Then, after a little time to adjust, Pumba let it be known that she was ready to explore.
That's when Sharvari and Logan got to see the many colors of Pumba's personality up close and personal. "She's definitely spicy. We made sure to approach her only when she showed us she wanted love," says Sharvari.
Pumba, on the other hand, doesn't exactly follow the same boundaries when it comes to people she loves. For example, she would often climb on Logan's shoulders and groom him by licking and pulling his hair, whether he wanted to be groomed or not.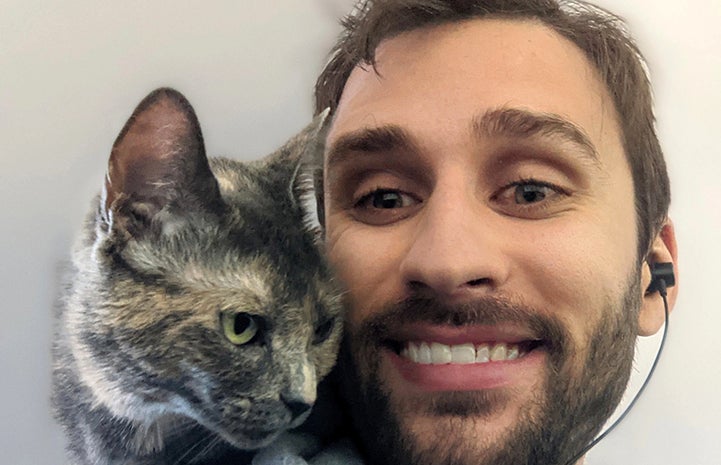 If only every cat came with an instruction manual
Sharvari and Logan fostered Pumba for about a month and a half. Within that time, Pumba had two video meet-and-greets with potential adopters. The first didn't result in a match, but the second meet-and-greet with Breonna Barnes couldn't have gone better.
[Most extraordinary mama cat's love knows no bounds]
"Pumba was putting on a full show for Breonna," says Sharvari. "She was showing off, playing with her toy, but then she started hissing and swatting. Thankfully, it didn't scare away Breonna."
Actually, it was quite the opposite. Breanna loved Pumba's strong, independent personality. The Best Friends staff person on the virtual meet-and-greet call talked through everything else, but the most helpful resource was a guide to befriending Pumba. It included the details about what puts her on edge, and that she would probably be scared in a new place at first, but eventually she'd come around. They also wrote down all the things she likes, to give Breonna a head start in making friends with her new kitty.
"People are willing to adopt animals that are quirky. They just want to know what they are getting into first," says Megan. Breonna was all in. She adopted Pumba and brought her home.
Today Pumba is still her sassy self, living life on her terms like only a cat can. But now she's doing it in her adopted home with Breonna and her family. "She settled in very well," says Breonna. "She was terrified for the first four days but then she opened up. Now she's very affectionate. And the list from the foster family was amazing. Everything was accurate."
It just goes to show that sometimes all you need are people around you who understand and support you, so you can land where you belong.
"Having a foster family that was willing to just let Pumba be her best self, while clearly setting expectations for her new adopter, was the key to getting Pumba adopted," says Megan. "Sharvari and Logan advocated and educated at the same time. And that's the real recipe for saving lives."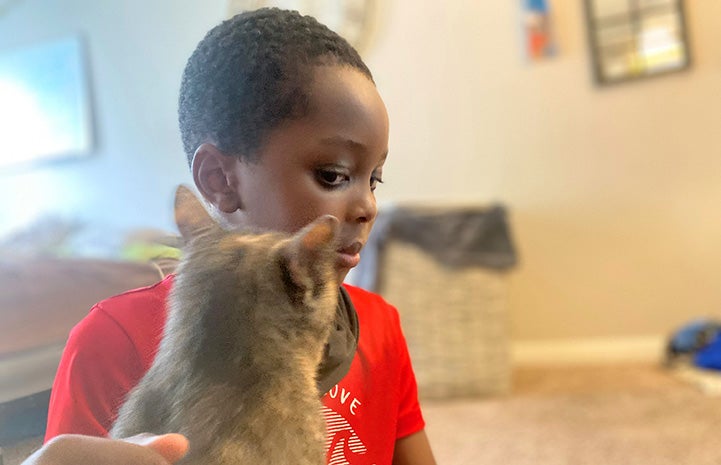 Fostering is a recipe for success
Help save lives by becoming a foster volunteer for cats at your local shelter. No writing required.
Read more
Advocacy and action make 2021 a banner year for lifesaving
New ZIP code, brand new life for pit bull terrier