Terrified dog, presumed pregnant, survives a life-threatening condition
More than just being scared, Tulip needed emergency surgery and time to recover in a loving foster home.
By Emily Gambone and Kelli Harmon
The chestnut-colored pit bull mix arrived at Best Friends in Salt Lake City frozen in fear. Someone from the previous shelter had taped a label with a heart above the door that read, "Preggo Mama." Inside the crate, the dog gazed out with a furrowed brow and worried eyes.
Danielle Barnhart, lifesaving and care supervisor at Best Friends in Utah, had noticed a plea on Facebook from Roosevelt Animal Shelter about a pregnant dog needing to be rescued. She contacted Lori Orton, an experienced maternity foster volunteer, to see if she could provide a soft landing spot for a dog to have her puppies. Despite being a working mom caring for six kids, two dogs, a cat and two guinea pigs, Lori didn't hesitate to say yes.
First stop for Tulip, as she was named, was Best Friends for a brief exam. Tulip didn't yet understand she was surrounded by people who cared about her. She was too afraid to come out of her crate, and the Best Friends team had to remove the top of the kennel to examine her instead of forcing the fearful dog out of her safe space. They scheduled an appointment for radiographs to check her pregnancy and see how many puppies she was having. (There's no X-ray machine at the Best Friends clinic in Salt Lake City).
Then Lori arrived to pick her up. "This girl didn't have an aggressive bone in her body," she said. Nevertheless, because Tulip was too frightened to leave her kennel, she had to be wheeled out and loaded into the car. 
At home, Lori and her family managed to coax Tulip out of her kennel and carry her to a dog bed, where she stayed for the next 24 hours, even wetting herself rather than move from her spot. It took a day for her to start eating and two days to stand and step off the bed. Even then she had to be carried outside to go to the bathroom.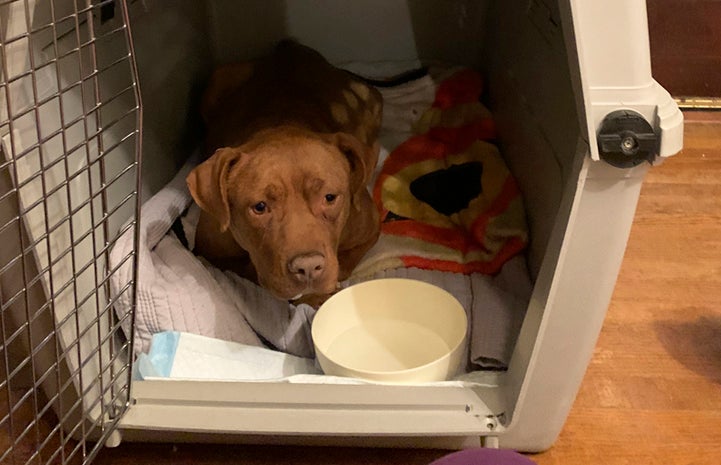 A turn of events and emergency surgery
Tulip made slow but steady progress the first few days with her foster family as she began to trust that she was safe. But after a short time, Lori contacted Danielle because she was concerned that as she handled Tulip, she couldn't feel or see any puppies moving as she usually did with other mamas.
Danielle asked Lori to take Tulip to the vet right away, so Lori rushed home from work, scooped up the dog and drove through a snowstorm to reach the veterinary hospital. An ultrasound showed that Tulip was not, in fact, pregnant, but was suffering from an infection in her uterus called pyometra. It is a life-threatening condition that occurs in many unspayed dogs (and cats). Tulip's belly was swollen with infected fluid from her abscessed uterus, which put her at serious risk for sepsis as her body tried to fight off the infection.
[Why it's important to spay or neuter pets]
Tulip needed an emergency spay surgery to remove her uterus. Even though surgery was the best course of action, she was still at risk of dying from sepsis, especially in the first critical week after surgery. 
Pyometra surgery to remove the uterus and ovaries is much riskier and more complicated than a routine spay surgery, which would have prevented Tulip from developing pyometra. When performed early enough, surgery can save most dogs, although there's still danger of the infection spreading or the uterus rupturing. Lori, Danielle and the others at Best Friends who had met scared but sweet Tulip just had to wait for news. 
"It was hard because she had just started to come out of her shell, and I felt I was abandoning her," Lori says.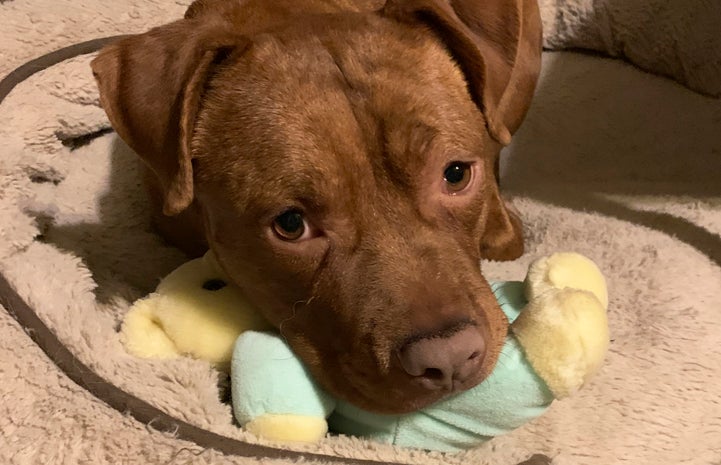 Recovering after pyometra surgery
Tulip survived the operation and after two nights of supportive care and monitoring in the clinic, she was able to return to Lori's home, where she could recover physically and emotionally. 
Lori kept Danielle informed about Tulip through texts, and Danielle was grateful Tulip was in such a patient and loving foster home. There would be no puppies, but Lori was just as dedicated to helping the sweet dog. It was four days from the time Lori sent her first text until she saw Tulip wag her tail for the first time.
[Dog learns how to trust people with a little help from a friend]
Lori remembers the moment well, "She wagged her tail outside and it was just the tip somehow and then it was the whole tail. This is when we realized this beautiful girl just needed time. She did have a personality and seeing it come out was delightful." 
Three days later Tulip accepted her first dog biscuit from Lori. But it wasn't until her second week at Lori's that she began to follow Lori's dogs outside rather than be carried. 
Despite whatever Tulip had endured before arriving at Roosevelt Animal Shelter, she blossomed in Lori's home, learning what a guinea pig is and snuggling not only with Lori, but also with her cat and kids. As Tulip's trust grew, she began to dole out kisses to everyone, licking their arms, legs and faces, her tail in constant motion.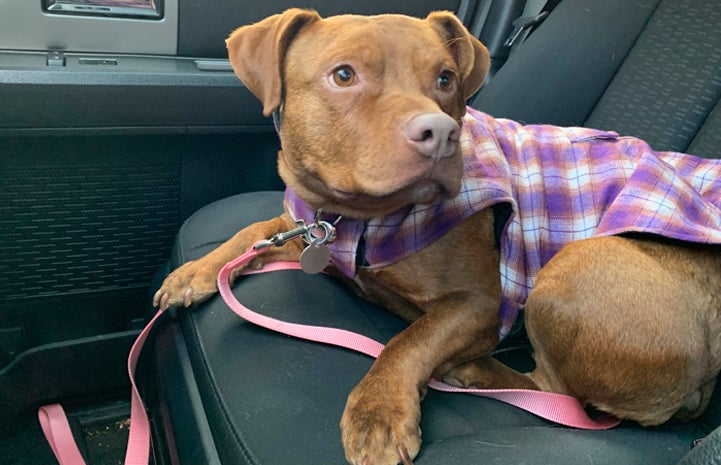 Going home for good
Tulip showed nothing but gentleness to the people and other animals around her, despite all she'd been through. Once she was feeling better and given a clean bill of health, the sweet dog was ready for her own home and family. It wasn't going to be easy for Lori and her family to say goodbye after all they'd been through together, but Tulip was ready to start the next phase of her life.
Shortly after Tulip's photos and bio went up on the Best Friends website, people inquired about her. On a Zoom call with a prospective family (with Tulip sleeping by her side as she answered the family's questions), Lori could tell this family was the one. "They fell in love with her the moment they laid eyes on her," she says.
Tulip went to her new home and she's doing great. While Lori felt a little empty after Tulip first left, she doesn't regret any part of the experience. Tulip's life will be filled with comfort and love from now on, and that's in part because Lori said yes to fostering her.
Tulip's ordeal reminded her of the difference she can make in the lives of animals. "There is always room in your life somehow to help out," says Lori. "Even if it's just your voice. I like to say: They need you and you need them. It's a win, win."
You can save a life, too
Show pets like Tulip that there is love in the world for them. Sign up to foster an animal near you.
Read more
'First responder program' saves newborn kittens
Shy cat finds her perfect match after months of medical ups and downs