Volunteer Spotlight: Daniel Pruitt
Image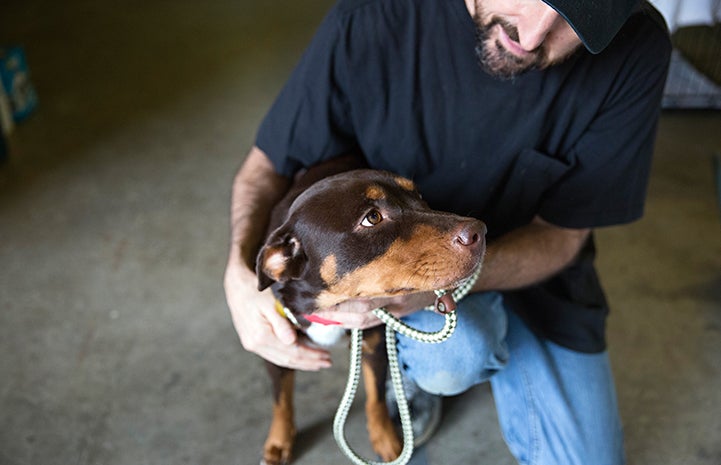 Former contractor volunteers to help renovate the area for the new animal transport program at the Best Friends Pet Adoption Center in Atlanta.
By Nicole Hamilton
Best Friends in Atlanta works collaboratively with area shelters, animal welfare organizations and individuals to save the lives of pets in shelters in the region. The Best Friends Pet Adoption Center is a lifesaving hub for animals and a base for local programming and coalition-building to help the metro-Atlanta area in its final push to achieve no-kill, while strengthening the movement in the Southeast. Together, we will Save Them All.
It's nearly impossible to visit the recently renovated warehouse area that houses the new animal transport program at the Best Friends Pet Adoption Center in Atlanta without thinking of the volunteers who helped make it happen — especially volunteer Daniel Pruitt.
The former contractor played a pivotal role in making sure the project had the right people for the job and keeping the project running smoothly. "Daniel coordinated everything — from adding insulation and finishing the floors, to building out an office," says Amanda Blair, support services manager for Best Friends in Atlanta. "He even did a lot of the work, especially on the office addition."
Daniel's dedication to helping Atlanta's homeless pets didn't stop there. After a hard day's work, he'd usually trade the tools for a dog leash and spend time walking dogs at the center. "He was never too tired or busy to give his attention to the animals," says Amanda.
In the following interview, Daniel reveals how a visit to an animal shelter changed his life, what he tells people who are thinking about becoming volunteers, and how a day spent with a shy dog named Helen became his favorite volunteer moment.
Why did you decide to volunteer?
Volunteering was something I felt like I should (and needed) to do for a long time, but I kept finding reasons to put it off.
I have always had a soft spot for animals and know that many of them have it very rough in life. I think deep down I was just worried that seeing this reality on a regular basis was going to be too depressing. Once I got over that and made myself take the first step a few years ago, I was glad I did.
After seeing what all the good organizations like Best Friends do and how I could contribute to the cause by giving just a little bit of my time, all of the reasons I used to come up with why I couldn't volunteer went out the window.
What motivates you to continue to help the animals?
Several months ago, I had a life-changing experience that motivates me to continue. Kathleen Delaney, intake coordinator at the pet adoption center, needed help at the Fulton County Animal Services shelter (managed by LifeLine Animal Project, a Best Friends Network partner) one day and I volunteered. Up to that point, I had only an abstract sense of how big the problem was. Once I saw it with my own eyes, I haven't been the same since.
Just the sheer number of dogs and cats that continue to be brought to these places is overwhelming. Knowing many of them will be put down because of lack of space without the efforts of places like Best Friends is very motivating.
The staff at Fulton are amazing people and they do the best they can, but the problem is just staggering. It was very upsetting and I was forever changed and inspired to not only continue volunteering, but to step up my efforts and help anyway I can.
Kathleen is a total rock star, by the way. She has a very tough job to do on a regular basis and she is amazing at it. I have only helped with intake a handful of times and leave emotionally wrecked every time. After that experience, volunteering was no longer a choice.
Be a hero to animals: Volunteer

What inspires you the most in your volunteer work?
Seeing how hard the staff works at the adoption center motivates me. Everybody there has made this their life's work and they do an amazing job. Knowing how overwhelming it can be, I know that volunteering is the least I can do to help out.
What would you tell others thinking of volunteering at Best Friends?
Just do it. You can always find reasons to put it off. If you need any more motivation, go visit a large public shelter to see the magnitude of the problem. It is an overwhelming task, and they can never have enough help at the adoption center.
It is not always easy and can be emotionally taxing, but it's worth it. They depend on volunteers to help the cause, and you will be glad you did. You will be doing a great thing.
Since becoming a Best Friends volunteer, what have you learned and do you see anything differently now?
I have learned to try and focus on the small victories you see each day. The number of animals who come to the adoption center never ends. Sometimes it's hard to see some dogs who have been at the center for a long time, but when a good home finally comes through, it makes it all worth it.
You have to keep your eye on the big picture, which is to make Atlanta and the surrounding areas no-kill by 2025. We still have a long way to go, but each day gets us one step closer.
In terms of your volunteer work with Best Friends, what are you most proud of?
I was grateful to be able to help Amanda Blair, Amy McIlwain (Atlanta transport program lead) and the rest of the staff get the adoption center ready for the transport program. The warehouse needed a lot of work and my previous experience as a contractor helped.
Amanda did a great job leading that effort and I was happy to help her. After the experience I had at the shelter, this effort became personal for me. Now we have more space to take animals overflowing from local shelters to be transported to other places for adoption. That's huge.
More about dog transports from Atlanta
What does volunteering mean to you and why do you do it?
I hope it means I am making a difference for a cause that's very important to me. I do it because I know how much organizations like Best Friends depend on volunteers. I can't unsee what I saw at Fulton, and Best Friends is a big part of the solution. For me, it is no longer a choice.
Please tell us about your pets.
I have two dogs who rule my world. Of course, they came from troubled backgrounds. Apparently, I am destined to take the dogs nobody else wants. They were a challenge at first but became the greatest companions ever. They have been with me for over nine years now.
For a while, I also had only one cat, but that has changed. Apparently two different neighbors abandoned their cats when they moved. They started hanging around my cat and they were all getting along, so I took them to the vet, tried to find them homes but couldn't, and the next thing you know they sort of became mine.
I think I have a "big sucker" sign on my house that has spread throughout the animal underground community. If I had a huge piece of land, I would probably have more animals, especially dogs. But for now, my little mini animal sanctuary has no more vacancies.
Tell us about your favorite volunteer moment.
It was one day when we were bringing dogs out for play groups in the play yard. We brought in two very playful dogs and one very shy and fearful dog named Helen.
Helen wanted no part of it at first, but with the perseverance of the other two dogs to include her, she slowly began to come out of her shell and by the end she was having the time of her life. For a brief moment, we actually saw her healing process begin by just letting her be a dog with other dogs.
You never know the situation that many of these animals come from, especially the ones who are particularly fearful. When you see them beginning to break out of that, there is nothing better.
Photos by Leesia Teh, Daniel Pruitt, Rachel Pomberg and Kristin Gorski