Wallflower cat finally blooms
Everest used to seem shy since she didn't want to compete for attention, but now that she has her own room, she's coming out of her shell.
By Sarah Thornton
People tend to have a lot of questions when they see Everest for the first time. Does she have eyes? Can she see? Do her eyes hurt? Does she have any trouble getting around? The truth is, this tortie with a teddy bear face isn't so different from any other cat. She was just born without third eyelids (the tiny bit in the corner of cats' eyes closest to the nose). She gets ointment applied twice a day to help keep her eyes from getting too dry, and sometimes her eyelashes are groomed so they aren't in the way.
"She doesn't mind it at all," says Bee McCarroll, one of Everest's caregivers at Best Friends Animal Sanctuary. She takes the treatment in stride. It makes her feel better and she's getting attention, so what's there to complain about?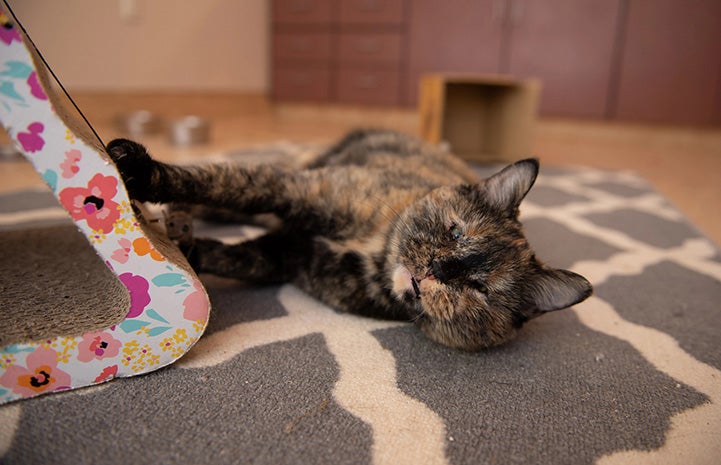 [How to bring out the sparkle in an introverted cat]
"Everest is a bit more cautious with new places and noises since her vision is slightly affected," Bee says, which is why some people might think she's shy. But it only takes Everest a little extra time to check out a potential new friend before she's ready for pats and playtime.
The main factor in her wallflower status, it turned out, was her feline roommates.
Room for a wallflower to blossom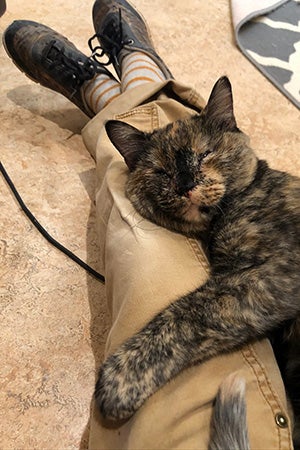 "She loves people," explains Bee, "but doesn't want to be in a competition for attention with multiple cats." Instead, Everest used to watch from the sidelines as other cats piled into people's laps and crowded around for treats. She would patiently wait her turn.
So, when Everest was moved to a room of her own and didn't have to worry about getting in the way of her roommates, there was nothing holding her back. She could be the center of attention and have people's laps, hands, treats and toys all to herself. With fewer distractions, she even became more confident meeting new people.
[Scared cat who lost everything just needed time]
"Day by day she grows braver," Bee says. "Now, she will come out and see volunteers when they come to check in. She follows me when I hand out food and explores the building."
Everest even has access to a computer now (she's in a staff break room), where she likes watching nature shows and other types of "cat TV." The purrs don't stop, and when she's making biscuits, it looks like she's doing a happy little march. There's no mistaking Everest for a shy cat now. Or even a wallflower. All she needed was a change of scenery and her own space, so she could feel comfortable asking for what she wanted: all of your attention, please.
"I wanted her to have a powerful name," says Bee, "so I named her after the mountain." And Everest is certainly living up to her name these days.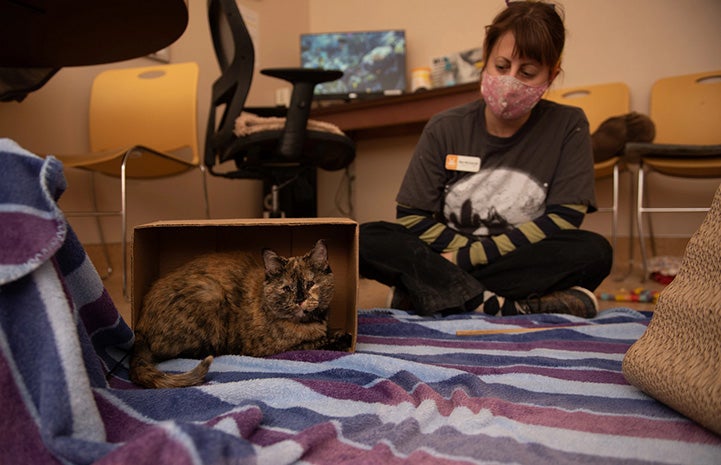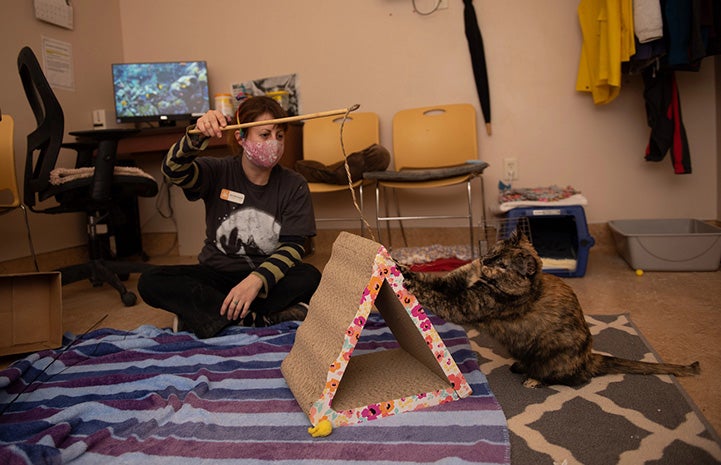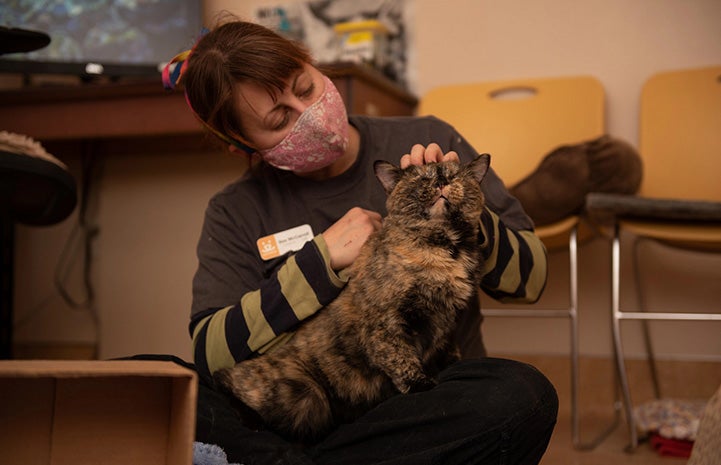 Together, we can Save Them All
Help homeless pets like Everest today by becoming a Best Friends member.
Read more:
How a single cat became boss of the Best Friends mailroom
Tortoiseshell cat finds that old familiar shoulder
Sleepovers with adoptable pets
Photos by Molly Wald and courtesy of Bee McCrroll