Critically injured kitten gets help when she needed it most
When a vet tech saw a kitten get hit by a car, she pulled over to help and contacted Best Friends, which provided medical care to survive and a home where she could thrive.
By Andrea Pitts
One early August morning, Faleshia Pyles was driving with her service dog, Theo, in Eagle Mountain, just outside of Salt Lake City, Utah. Suddenly, she saw the car in front of her run over a little black ball of fur. Without hesitation, she pulled over, got out of her car and ran toward oncoming traffic. Scooping up the dazed kitten, she rushed back to the car. A trained veterinary technician, she noticed signs of possible head injury, but it didn't take any medical training to see that the kitten's limp right front leg needed attention.
As she drove away, Faleshia turned back to see the kitten lying motionless in her back seat. She called multiple veterinary facilities, but they were all full. She contacted the local shelter, too, but they also wouldn't be able to take the injured kitten. What little optimism she had was fading fast. Theo was doing his best to comfort her, but his nudges for attention were, at the moment, more of a nuisance than a help.
Faleshia turned back to reassure him she had the situation under control. To her surprise, the dog was trying to alert her that the kitten had lifted her head. As she stared back in shock, the kitten let out a faint "meow." Those small signs of life were proof this kitten wasn't ready to give up. With a renewed sense of hope, Faleshia dubbed her new friend, Athena.
Faleshia's persistence paid off when the last clinic she called had an open appointment that same evening. There, the vet confirmed that the kitten had extensive nerve damage to her right front leg and recommended amputation. Since Athena's mental state was slowly improving, Faleshia agreed to monitor her overnight and then find a rescue organization in the morning to help her.
Generations of caregivers give Athena a fighting chance
Faleshia's desire to help animals in need has been present since childhood. She is also passing on that sense of purpose to her three young sons. When foster pets enter the Pyles home, everyone willingly takes part in their care.
"All three of my boys are neonatal-trained," Faleshia says. "When we have (kittens) in the home, I take the morning and evening feedings, but when they come home from school, they do the afternoon feedings."
Once Faleshia introduced Athena to her sons, all hands were on deck to give the young cat a fighting chance. She and her oldest son, Zack, took turns feeding Athena liquids through a syringe and giving her warm strokes of affection. Then they placed her in a calm and comfortable space so she could rest and begin to heal.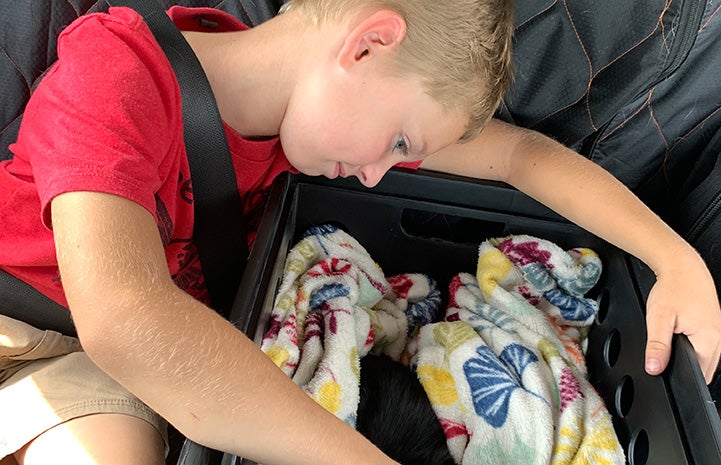 Where there's a will, there's a way
Faleshia awoke the next morning to find Athena's spirits lifted. The dazed look she displayed just 24 hours earlier was replaced by a desire to groom herself and explore her surroundings. Recognizing the cat's craving to move, Faleshia got to work helping her iron-willed feline friend learn how to get her groove back with towel exercises that she learned in vet tech school.
[No-kill could be the new normal in Grady County, GA]
After three 10-minute practice sessions, Athena learned to ignore her limp leg and drag herself to the litterbox. Seeing her confidence grow by the minute, Faleshia started contacting animal welfare organizations (including Best Friends), hoping that one would be able to provide Athena with the medical care she needed and help her find a home. She was overjoyed when Cathy Overfield, shelter partnerships coordinator for Best Friends, called to assure her that Best Friends could help.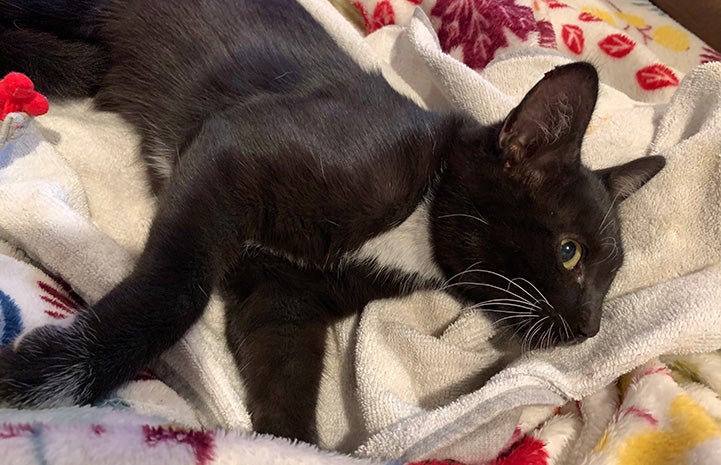 Long wait forms an unbreakable connection
Traci Sheinberg began volunteering at the Best Friends Lifesaving Center in Salt Lake City, simply because being around animals brings her joy. When she was asked to transport a kitten to a local partnering veterinary clinic and wait with her during the examination, she was happy to help.
While waiting for the doctor, Traci took Athena out of the cat carrier and placed her on her lap — something she never had the opportunity to do with other animals she transported for Best Friends. It didn't take long for Athena's charm to take over Traci's heart. "We bonded while she lay on my lap for an hour," says Traci. And before the examination had even begun, Traci knew she needed to foster Athena.
That day, the vet team examined Athena and after performing nerve tests and X-rays, they determined that removing her front leg was the best course of action.
[Tips for 3-legged pet adopters]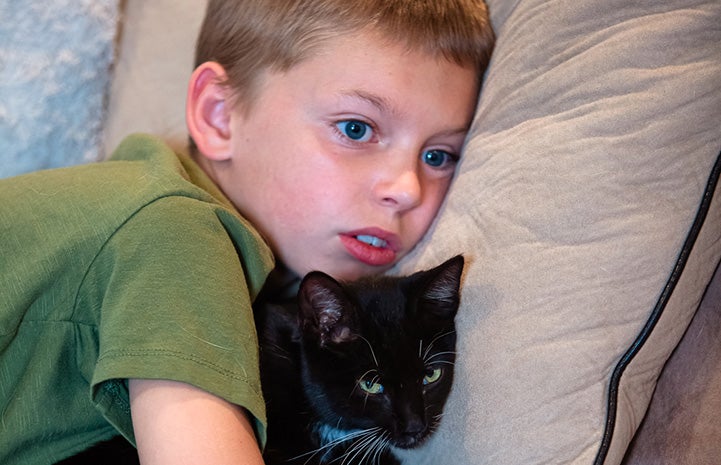 From houseguest to forever family
In the days leading up to Athena's surgery, the Sheinberg family witnessed her unwavering perseverance and endless desire to give and receive affection. Traci and her teenage children were slowly falling in love with their furry houseguest. Once the surgery was complete, Athena returned to the Sheinberg home. As the Sheinbergs cared for the tiny kitten, their love for her grew.
"While we were taking care of her, giving her pain medication and putting medicine on the wound, we knew we couldn't give her back," says Traci. "That was the end of that story."
[Big tabby with FIV lands just the right home]
Today, the tuxedo-colored kitten who had to fight for her life fills her days with mischief and adventure. Renamed Salem by her new family, she uses her three legs as if the fourth limb had never existed. She pals around with her three cat siblings and loves to follow Traci everywhere she goes.
Nicknamed "Squeaky," she knows what she wants and isn't afraid to be the squeaky wheel until she gets it. Salem has her new family wrapped tightly around each of her three paws, and they wouldn't have it any other way.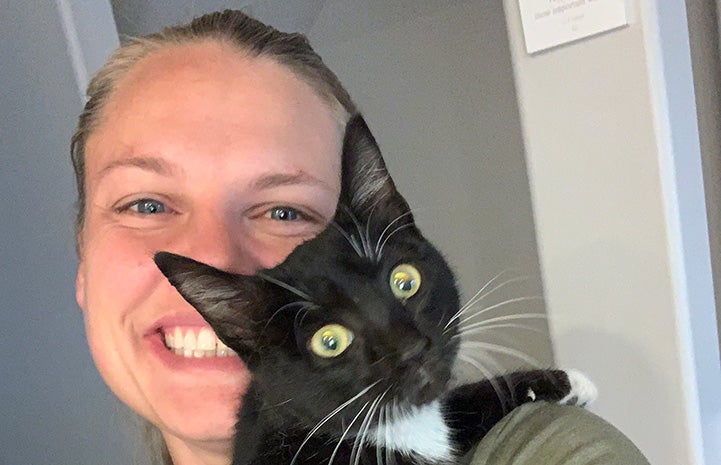 Be a hero for pets
Volunteer, foster or adopt a pet from your local shelter to make a difference and help save lives.
Read more
Big tabby kitty with FIV lands just-right home
New foster volunteer discovers purring, love for cats