Kitten who once needed extra TLC becomes resident kitten ambassador
Squeegee was only days old and struggling to survive when he arrived at Best Friends, but in a foster home he flourished and formed a lifelong connection.
By Jenny Agnew
If you've heard the term "foster fail," you probably know it means that a foster caregiver has adopted his or her foster pet. But you could also consider it a "foster win." Often, these stories end with the adoption, but when it comes to Squeegee the kitten, his adoption was just the beginning.
In September of 2020, a four-day-old, charcoal-and-white kitten was brought in to Best Friends in Salt Lake City from West Valley Animal Services. Danielle Barnhart, lifesaving and care supervisor for Best Friends, says she knew the team had to quickly move the tiny, fluffy kitten (whose umbilical cord was still attached) into a foster home where he could get round-the-clock care in order to survive.
Enter Paula Roy, who had foster experience with neonatal kittens, including bottle, syringe and tube feeding. Danielle named the kitten Squeegee and Paula took him home, unaware that this wouldn't be her typical foster volunteer experience.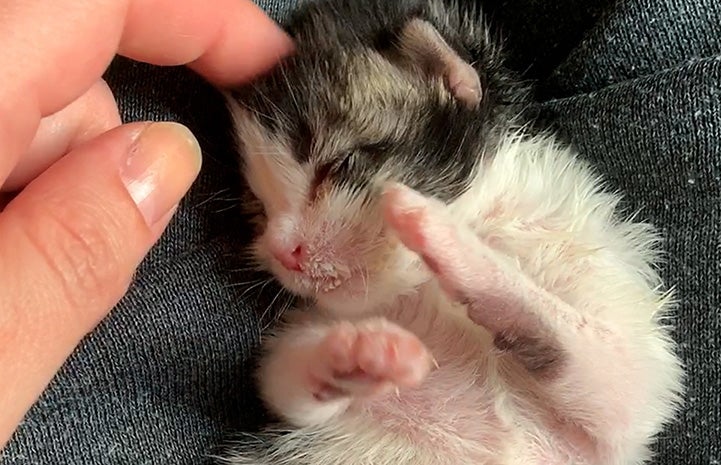 A kitten caregiver who never gives up
Two days before Paula received the call to foster Squeegee, one of her three cats died from a brain tumor. With two other adult cats in the home and a commitment to foster as many kittens as she could, Paula had no plans to adopt. Along came Squeegee and then, of course, she fell in love as she helped him survive those difficult early weeks.
[4 volunteers helping in unique ways]
In the beginning, Squeegee wouldn't latch onto the bottle nipples. Armed with bottles, syringes and plenty of probiotics, Paula faithfully fed Squeegee every two hours, even taking him to work in her lab where she's a neuroscientist. She pulled out her blender and mixed up "protein shakes" of formula and medications that helped him gain weight.
Little kittens connect big time in a home
Squeegee thrived in Paula's care — so much so that once he accepted the bottle, he was difficult to wean. He was "very set in his ways and demanding," says Paula, describing her efforts transitioning Squeegee to solid food. While her resident cats helped Squeegee learn how to socialize, it was Shamwow, another singleton kitten brought home by Paula who became his best friend.
Shamwow helped Squeegee learn how to play with other young cats. The two kittens formed a close connection, and because Paula's close friend adopted Shamwow, the cats still get to visit each other.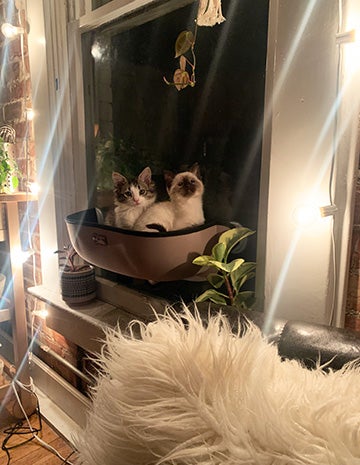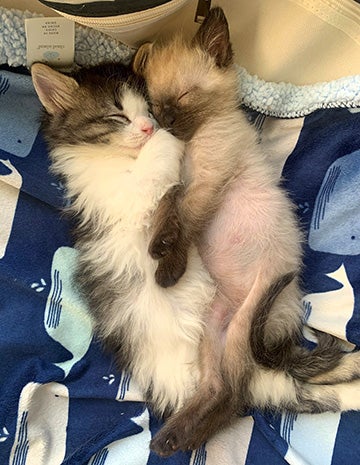 Kitten loves everyone, demands daily hugs
When Paula realized she couldn't love Squeegee more, she decided to adopt him. "When you know, you know," she says. When friends come over, it's the Squeegee show," says Paula, describing how he not-so-subtly greets everyone by putting his face in theirs.
After long days at work, Paula has to hug Squeegee for at least 10 minutes before she's allowed to carry on with her nightly routine. Their close connection is also evident in bed, where Squeegee snuggles all the way under the covers and acts as the little spoon. If Paula rolls over and turns her back on him, he gets up, walks around to face her and waits to be invited back under the covers. It's a routine Paula's become so accustomed to that she lifts up the covers in her sleep.
Squeegee also enjoys hiking with Paula and gets on so well with the resident cats that Paula refers to them as "the total cat gang." Today as an adult, Squeegee is still a petite guy at only seven pounds. Paula calls him a "permanent kitten" due to his size and friendly, playful personality. Indeed, he seems larger than life, like a celebrity, even though he's on the smaller size.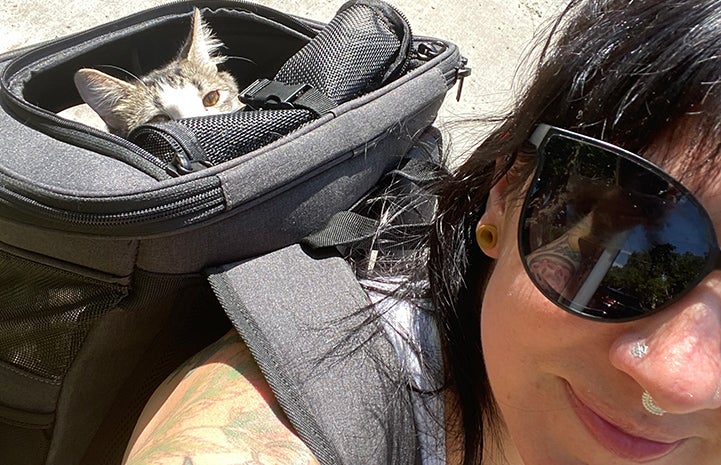 A seven-pound kitten ambassador
As the resident cat ambassador, Squeegee excitedly welcomes new kitten fosters. Not only does he chirp at them until they play, but he also accompanies Paula on feeding shifts every two hours, including throughout the night.
"He's helped me push through some tough cases," she says. Squeegee stays next to her while she helps little ones who need extra care to thrive. And he keeps her grounded when she's tired and worried about a foster kitten in the middle of the night.
An ambassador, a big brother, a talisman, a calming presence, a soul mate: Squeegee wears many hats — each one as important as the next.
Spring is generally the beginning of kitten season, which runs well throughout the summer. And of the upcoming months, Paula says, "I'm ready and waiting." Undoubtedly, so is Squeegee.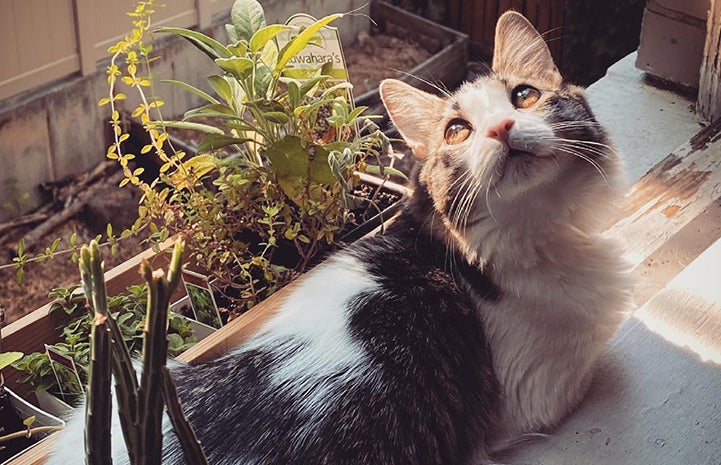 Kittens need your help
Sign up with your local shelter to foster kittens and help save lives during kitten season.
Read more
This adopter's home is for the birds – literally
Dynamic doggy duo find balance, blossom in new home
Foster volunteer prepares to welcome 100th kitten
Photos courtesy of Paula Roy