Dynamic doggy duo find balance, blossom in new home
After shy Fenway got help from Stax to feel more comfortable, he helped her get adopted.
By Sarah Thornton
It took a while for Gretchen Hughes to be ready for another canine companion after saying a last goodbye to her 16-and-a-half-year-old dog. She'd adopted him from Best Friends Animal Sanctuary when he was just three, and they had spent such a long time together that she needed time to heal. But, she says, one day several years later she woke up and realized: It was time. 
Wanting to find a pooch who could get along with her cat, she started searching through local shelters in Washington state, where she lives. Gretchen also found herself thinking about where she had met her late dog, so she contacted Best Friends. Soon, she received a link to a bio on Stax — a friendly, outgoing hound dog who had not only passed his cat test but he previously lived with one.
She was completely sold on the floppy-eared fellow. And while she'd only intended to adopt one dog, as she read his bio over and over again, she found herself wondering about the shy female roommate mentioned within it. She didn't want to leave the other dog behind, so she decided she'd just have to adopt them both.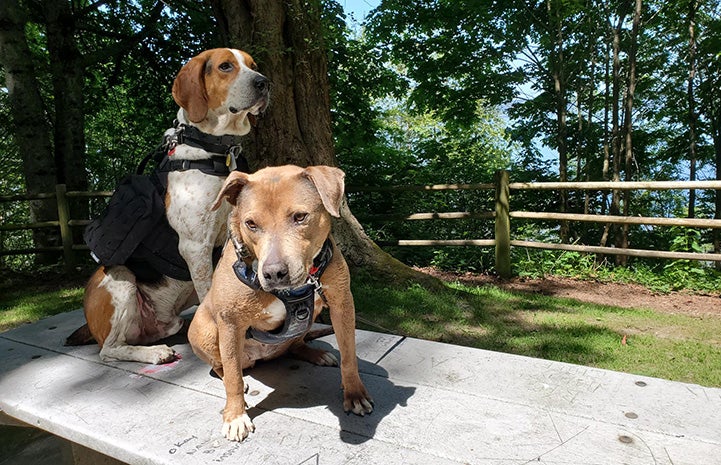 A double dog adoption
Stax and Fenway were introduced to each other at the Sanctuary. Fenway wasn't used to being around people, was very shy and didn't want to walk on a leash. If anyone tried to take her out of her room or yard for a walk, she'd lean back and refuse to move. And, since the best helper for a shy dog is most often another dog, caregivers brought in confident, adventure-loving Stax.
[Inspired by one extraordinary senior dog to adopt another]
The two dogs immediately hit it off, and the hound made it clear he wanted to be with Fenway just as much as she wanted to be with him. Stax helped Fenway open up to people, and Fenway became a source of comfort when Stax's own anxieties acted up. He got her out on walks and riding in cars and golf carts. And she distracted him when he fixated on barking at (or running along the fence with) neighboring dogs.
Fenway's confidence was growing, and Stax was able to relax. Their friendship was clear to anyone who saw them, including Gretchen when she came to pick them up.
"They are so sweet together," she recalls from her first time meeting the pair. "And they are incredibly intelligent (and appropriately mischievous). But more than anything, they have this amazing synergy." Gretchen knew that she'd made the right choice by adopting them both, even if she'd originally planned for just one new family member.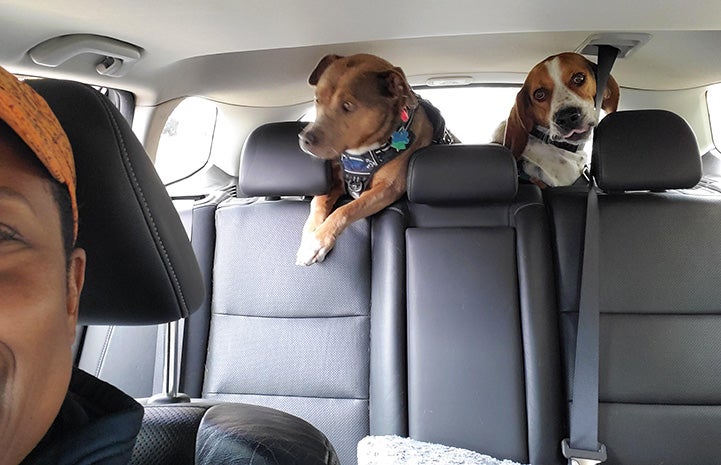 Discovering new lives in Washington state
Stax and Fenway settled in quickly once they'd reached their new home. Stax stuck to Gretchen like Velcro, following her throughout the house. And soon Fenway did the same.
"It's the funniest thing trying to be in the bedroom and get dressed because they're right up on you," explains Gretchen with a laugh. "And it's like, hey, I need some space. Back up a little bit. I can't even change my clothes." But, she says, they've both learned cues for backing up and sitting down, which helps smooth the process.
[Dog learns how to trust people with a little help from a friend]
They have chosen a favorite dog bed from their many options — nice and warm, right by the fireside. And even though Stax previously had trouble with anxious chewing to the point that caregivers gave him a metal-framed bed with straw (that he was less likely to eat), he didn't lay a single tooth on the new bedding or anything else in the house.
Because of social distancing and quarantining, at first there weren't many chances for Fenway to practice her people skills. But as time went on, the world really opened up for the once-shy pup. She was comfortable and confident with her family by her side and, as they all started meeting more people, it became one of her favorite things to do.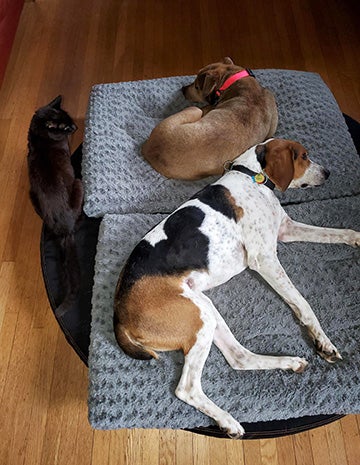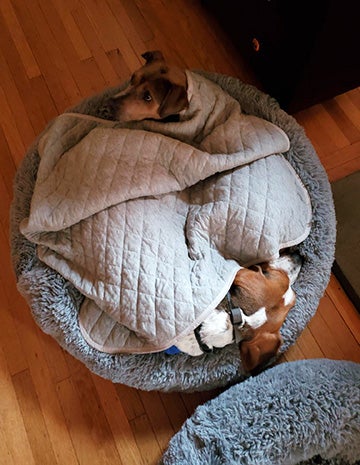 Two social butterflies
On Gretchen's weekends, she makes sure the three of them go on some sort of adventure. They might visit the state park near Gretchen's mother's home, the beach or even the city park with its winding trails. On weekdays, they go out for walks around the neighborhood. And everywhere they go, there are old friends and new people to meet. And both dogs (especially Fenway) are always excited to do so.
"(Fenway) has neighborhood human friends that she really, really adores," Gretchen says, "but she is amazing any time we go somewhere. She'll just walk up to people wagging her tail. They learned that when I (taught them to) run up and say hello to people. And sometimes she's more on the ball than Stax is."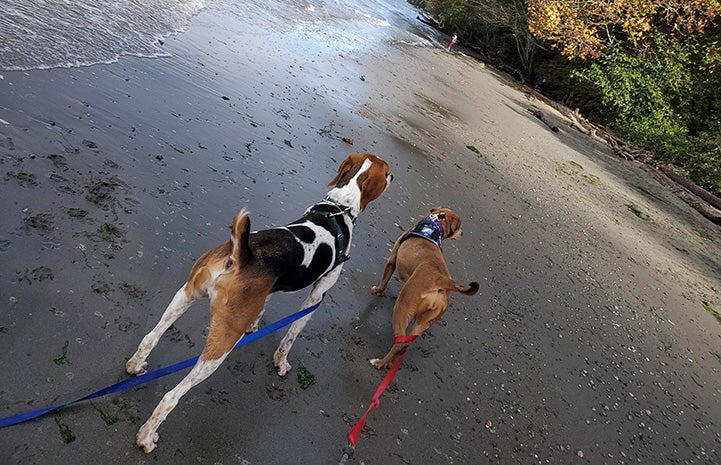 [Loving a shy dog just the way he is]
The only things that make Fenway nervous are loud noises and fast-moving objects — cars, for example. But she has Gretchen and Stax to fall back on when she needs them.
"I'm kind of feeling choked up," Gretchen says (and you can hear it in her voice). "But it's perfect. It's perfect. When I talk about the synergy: Sometimes when (Stax) is a little scared and doesn't know what to do, (she) is very boisterous, so he just goes for it and she'll follow him. But ... there are times where he'll get very worked up. If he starts going nuts about a squirrel, she just runs up and (starts) barking and licking his face and grooming him like he's a puppy. Like, 'It's OK, calm down, we got this, we got this.' It's very interesting to watch in person. They really support each other on all fronts."
Gretchen says both dogs seem happy every day. Fenway starts her mornings with wiggling and happy tail-wagging, and eventually the slower-to-wake Stax joins in. They're excited to play, go on car rides and adventures and even just hang out together in their very own home with their very own person, completely at ease without a worry in the world.
It might not be exactly what Gretchen imagined when she woke up that day, ready once again for a dog in her life. But with balanced besties Stax and Fenway, it may be even better. And the shy dog and the hound have certainly found their happily-ever-after.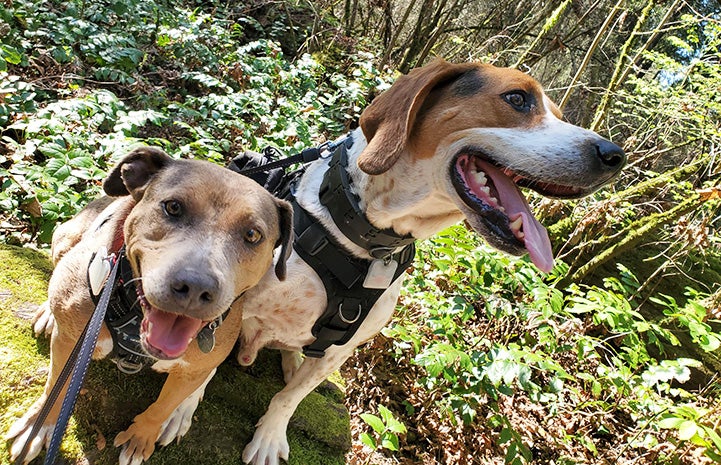 Looking for a pet to provide balance in your life?
Adventure buddy or couch companion: There are pets all across the country looking for places to call home.
Read more:
Matted, scared Pekingese mix gets a makeover and then a home
Dog had more energy than people could handle, until she met her new family