Matted, scared Pekingese mix gets a makeover and then a home
Scared dog learns to love life with a change of scenery and loving adopter.
By Ashley Maish
When Gouda arrived at Best Friends in Salt Lake City from South Utah Valley Animal Shelter, the staff could see that the adorable Pekingese mix had the potential to someday do great in a home, despite his nervous temperament. What Gouda really needed was a place to decompress. And since he arrived at Best Friends with matted, tangled fur, a bath and a haircut were in order, too.
Jenny Davila, a coordinator at Best Friends, remembers taking Gouda to a room of his own and slowly getting acquainted with him throughout the day. Gouda gradually began to trust her, and Jenny decided to take him home with her for a night to give him a change of scenery and some much-needed pampering.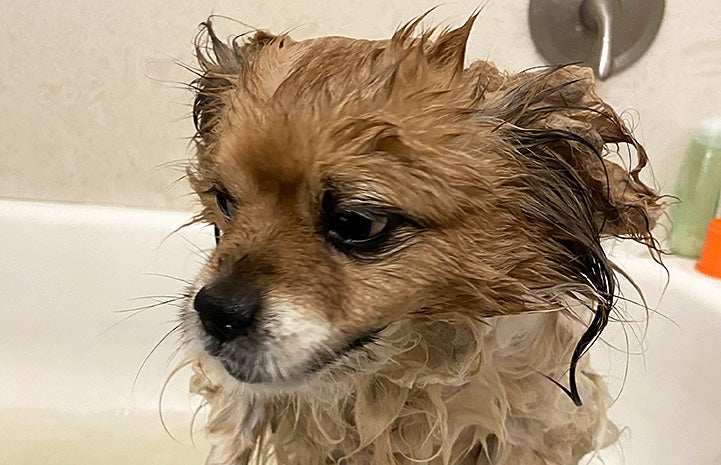 The dog spa night that changed everything
When Gouda arrived at Jenny's home, he walked around her backyard and got acquainted with his new surroundings. As he began to get more comfortable, he let her take him inside for a spa night. Jenny bathed him, trimmed his nails and cut the mats out of his fur.
[Slow-to-trust dog finds kindred spirit in patient adopter]
"Gouda was so good the whole time," Jenny recalls. "I could tell he was thankful for the spa session." Once Gouda was all clean, he was excited to cuddle with Jenny. He also got along great with Jenny's cat, three Chihuahuas and her wife, not to mention their three-year-old son.
The next morning after a good meal and cozy night's sleep, Gouda was a completely new dog. The sweet but extremely fearful pup who left Best Friends the day before, returned to the lifesaving center as a smiley, friendly boy. Jenny posted Gouda's photo and bio in the front lobby for potential adopters to view and then took him back to her office to spend the day with her. A short time later, Cherie Jensen arrived at Best Friends hoping to adopt a new pal for her Labrador-husky mix named Bear.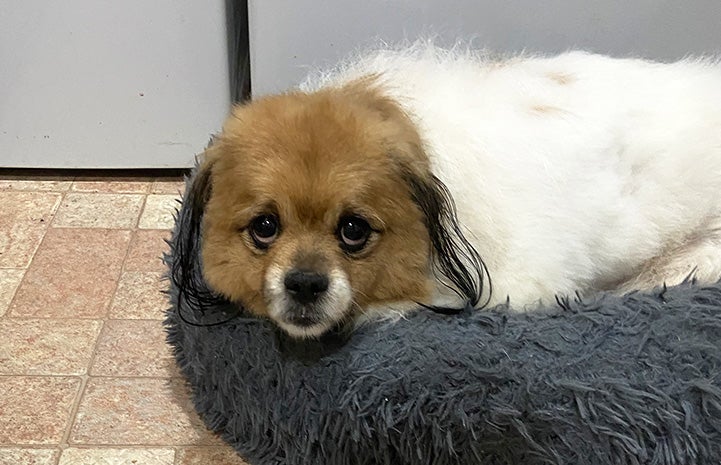 Love at first sight for adopter
Earlier that year, Cherie's Chihuahua, Rizzo, passed away ― an event that was really hard on her and Bear. When a friend's mom recommended that she visit Best Friends, Cherie decided it was a good idea and that she was ready to adopt another dog.
In fact, she was hoping to adopt a Chihuahua that day; however, there were no Chihuahuas in sight. But not to worry. The team had a very good feeling that Cherie would like Gouda, who was hanging out in a back room with Jenny.
[Scruffy dog has trouble walking, lands his perfect home]
"When I first went back to meet Gouda, it was clear that he was scared. So, I went slow and got down on his level waiting for him to come to me," says Cherie. "Eventually, he rolled over and just wanted belly rubs. I fell in love. Looking back, I swear Rizzo had a paw in helping me find Goudy."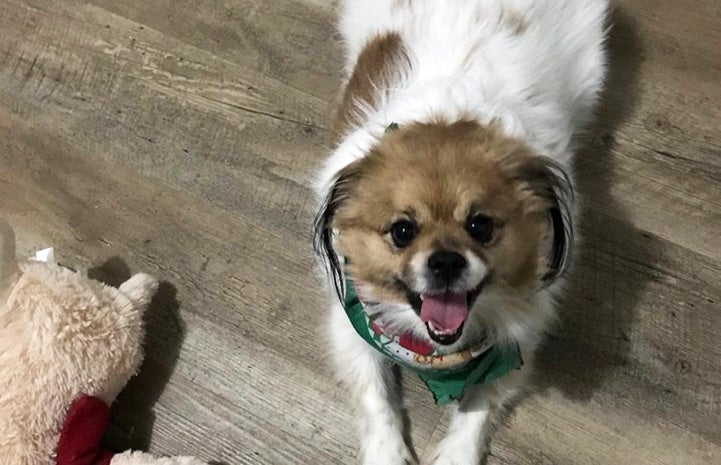 Once-scared pup loves smiling for the camera
Now that Gouda is home with Cherie and Bear, he's living his best life chasing birds and leaves, running around, eating snow and giving Cherie more kisses than she can handle. "He's hilarious," she says. "He's always like 'Mom, Mom! Here I am, give me some kisses!' He's so affectionate and always smiling. And he's a ham, too. He loves to have his picture taken."
Back at Best Friends, Jenny is thrilled that Gouda is so happy. "Cherie was such a great fit because she was dog-savvy and knew how to handle a dog like Gouda, who just needed patience and lots of love."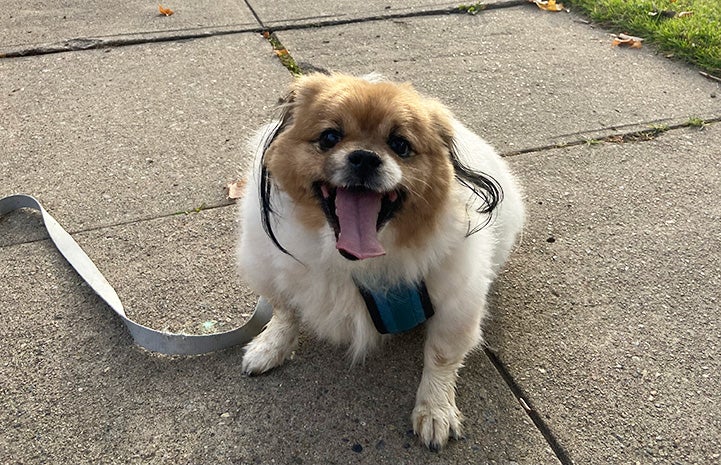 Got a little time to spare?
Fostering pets can make an incredible difference in their lives, whether you have a few weeks or a day to spare.
Read more
Two chance meetings lead to a new life for a sweet puppy
New ZIP code, brand new life for pit bull terrier
Fostering dogs is a family affair
Photos by Cherie Jensen