Slow-to-trust dog finds kindred spirit in patient adopter
Slow to warm up to new people, Skelly isn't a fan of pats or snuggles but to her new family she is precious.
By Sarah Thornton
Skelly was used to a life on her own. Growing up as a stray dog in Arizona, she became accustomed to taking care of herself and keeping herself safe ― which meant she didn't spend much time, if any, around people. So, when she was caught and brought in off the streets, heavily pregnant, she didn't know what to do. She was wary of the strange humans all around her and after giving birth she was very protective of her tiny pups.
To give Skelly the space and time she needed to feel safe with people, she and her puppies were brought to Best Friends Animal Sanctuary. And, after all of her pups had been adopted and Skelly had come around to her new human friends, she found her person ― someone ready to spend many months getting to know her and earn her trust before she finally went home.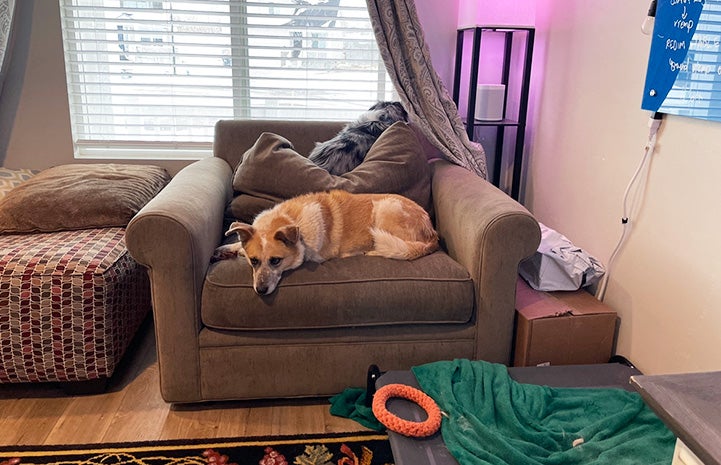 Sweet but shy dog catches attention of adopters
Even after Skelly had settled in at the Sanctuary and been helped through the worst of her fearful behavior (consisting of barking at anyone getting too close and guarding her pups, dog friends and belongings), she still needed a long time to warm up to new faces. The process included hand-feeding her meals, plenty of treats and lots of quiet time in close proximity to caregivers so she could build up a relationship with them.
She didn't like being touched or petted, but once she figured out the purpose of a leash, walks (with so much to sniff and explore along the canyon trails)  became her favorite thing. She got excited when her caregivers came to get her ready. And when she wasn't out investigating all the new smells, she was content to doze on a bed near her human friends.
[Once abandoned mama dog gets new, fun, fabulous life on a farm]
To those who knew and understood her, Skelly was a calm, sweet and loyal companion. It took so long to get to that point, though, that most adopters looked past her when searching for a new furry family member. But then along came Kynsie Kiggins and her husband, Jacob Stewart ― a couple looking for a dog-savvy pooch to join the two they already had at home.
It was Kynsie who suggested checking Best Friends during their search, and she says she was quickly drawn to Skelly's profile photo: "She had a cute smile."
It was a nearly four-hour drive between their home and the Sanctuary, and it would soon be a trip that they would become very, very familiar with.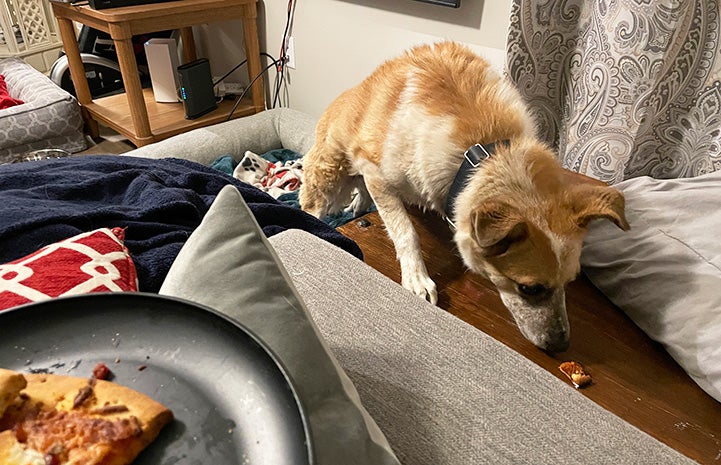 A long bonding period for dog and family
The couple and their doggy siblings, Gracie and Scout, all piled in the car and headed to the Sanctuary to meet Skelly for the first time. To avoid overwhelming their potential new pup-to-be with introductions, Kynsie went in ahead of the rest of the family. A caregiver gave Kynsie a handful of treats before letting her into Skelly's room, where she sat on the ground and got settled in for their first meeting. There was every chance Skelly would keep her distance from this unfamiliar new face, but she quite happily took treat after treat.
"I was giving Skelly (one) treat at a time and I guess I wasn't moving fast enough, so she put her paws on my leg and then just put her nose in (my hand) and ate the snacks all at once," says Kynsie.
No trepidation, no being shy or scared ― right off the bat: Skelly was comfortable enough to hoist herself half onto this new person for some tasty snacks. "And I was a goner," Kynsie says. "This was our new dog."
[Dog learns how to trust people with a little help from a friend]
The introduction to Scout and Gracie didn't go quite as smoothly. Skelly had always been very good about meeting new dogs, but Scout was reactive. "We realized that he needed more time and more training," says Kynsie.
Both dogs needed more time, but the adopters were not about to give up. While they worked with a behaviorist back home on Scout's reactivity, Kynsie continued her bonding trips to be with Skelly at the Sanctuary. Over the next several months, she visited Skelly over and over, spending time in her room, giving her treats, taking her on walks and building up a relationship with the shy dog.
"I put a lot of miles on my car," she says with a laugh. "One time, my sister went down with me and Gracie to meet Skelly. We were in the little dog park and Skelly just kept walking away, and Gracie would try to play and Skelly would walk away ... And my sister looked at me and said: 'Oh, no wonder you like her. She's like you ― a loner!'"
Health problems kept Kynsie from visiting for a few months, but her love for Skelly never wavered. She'd found a kindred spirit in the shy, floppy-eared dog, and they simply belonged together.
For the next visit, the whole family returned to the Sanctuary. Scout had come a long way with the behaviorist, Skelly trusted Kynsie, and everything went much smoother. And after the following trip (eight months after they first met Skelly), it was finally time to bring her home.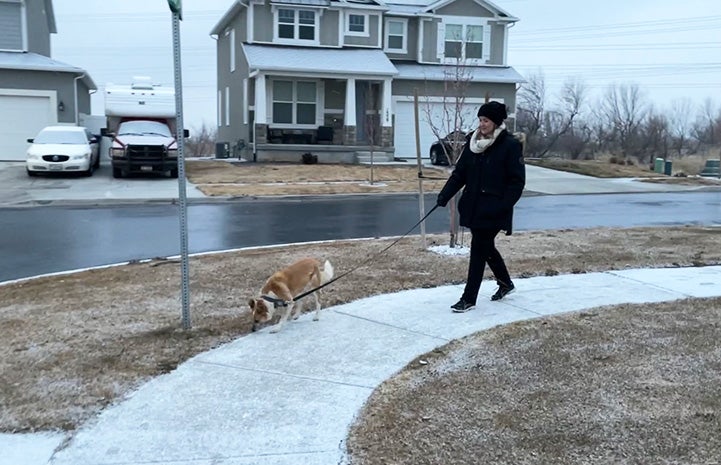 A safe, comfortable home for a once-scared dog
Kynsie says Skelly has been a calming presence in the house. She's whisper-quiet when walking around (compared to the thundering paws of her new canine family running down the stairs). And though she keeps her distance, she always wants to be together with everyone in the same room.
Despite apparently never having lived in a home and having initially been so scared when surrounded by new people, Skelly is absolutely fearless in the face of common doggy phobias. Vacuums, hair dryers, the dishwasher: None of it fazes her.
Jacob explains: "We've got a big, 82-inch TV and her bed is right underneath it in the living room. We subscribe to Dog TV and Gracie will watch it, just mesmerized by it. And Skelly has looked back up at it, and it looks like she's got these monsters towering over her." But even in the face of giant dogs romping around in canine-friendly colors, Skelly just sniffs curiously and goes back to resting comfortably in her bed.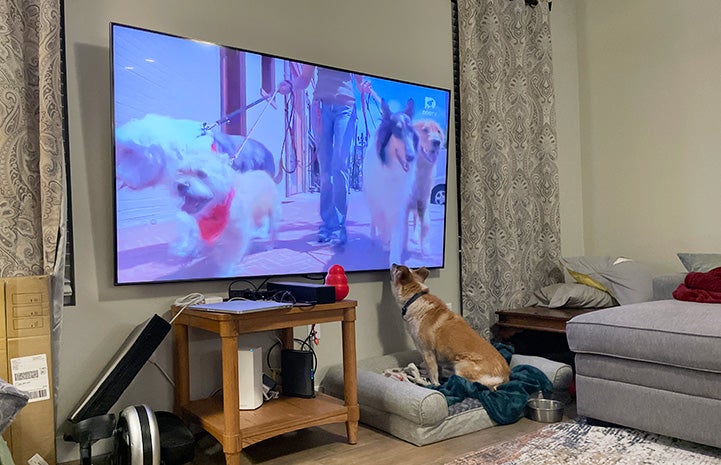 [Loving a shy dog just the way he is]
Skelly is warming up to Scout and Gracie, too, and they seem to be quite interested in making friends with her. She's not a huge fan of Scout trying to herd her, but she's polite about her corrections. And after initially not being super comfortable with the idea, Skelly let Gracie thoroughly groom her ears and eyes, just like Gracie regularly does to her equally begrudging brother.
As Skelly has become more comfortable with them, she's even offered up a play-bow on a walk, although Scout wasn't sure what to make of it. Although they aren't playing yet, Kynsie and Jacob are looking forward to seeing how the relationship between the three dogs continues to grow.
Skelly has found her place and made herself at home. She feels comfortable and safe enough to lie in the open while her people walk around her. And she joins Scout and Gracie for a door greeting when Kynsie comes home from work ― just a little more quietly.
She may never be the affectionate,  snuggly buddy so many others passed her up for, but the family loves Skelly exactly how she is: a dog with a sweet soul and serene presence who can finally relax with her very own family.
Looking back on one of her last visits to the Sanctuary, Kynsie recalls a conversation with a caregiver who wondered aloud why no one was showing interest in Skelly. Says Kynsie: "I thought ― but didn't say ― (that) she was waiting for me. It just took me a while to find her."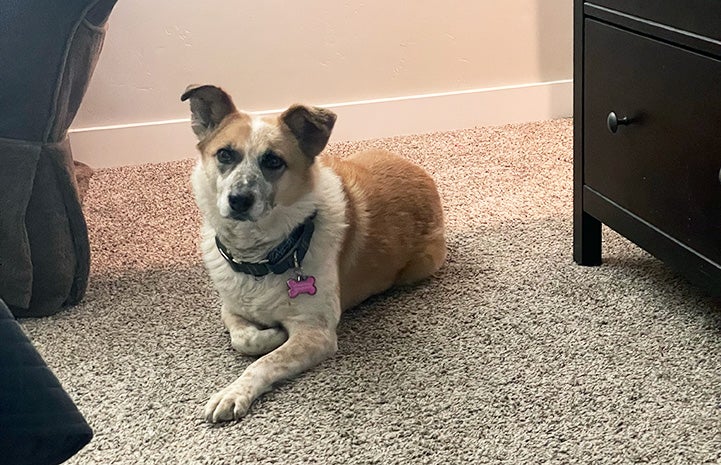 A little extra time for a whole lot of love
Some pets may be shy, but just give them a chance and they will bring a whole lot of joy to your life, too.
Read more:
Senior Chihuahua finds love and harmony with musician-adopter
Dog with disclaimers lands her just-right home
Adopter saw nothing but love when she met Beefy the dog
Photos courtesy of Kynsie Kiggins