Two chance meetings lead to a new life for a sweet puppy
Amid the bustling New York City streets, a curious puppy makes a connection with an adopter following not just one, but two chance meetings.
By Tracy Blowers
Jay and her husband, Rudy, were 10-year residents of New York City before Rudy's career brought them to Illinois four years ago. During their years in New York, they often talked about adopting a dog but the timing didn't feel right. Jay always wanted to adopt a German shepherd because of fond memories of her childhood dog.
Fast forward to the summer of 2021: Jay had started a new remote job from Illinois, and when her New York-based company asked here to return to the corporate offices for training, she was excited, especially because she'd be able to visit her mom. But she and Rudy had no idea what fate had in store. About that same time, an adorable puppy named Pickle was traveling from Montgomery Humane Society in Alabama to Best Friends in New York.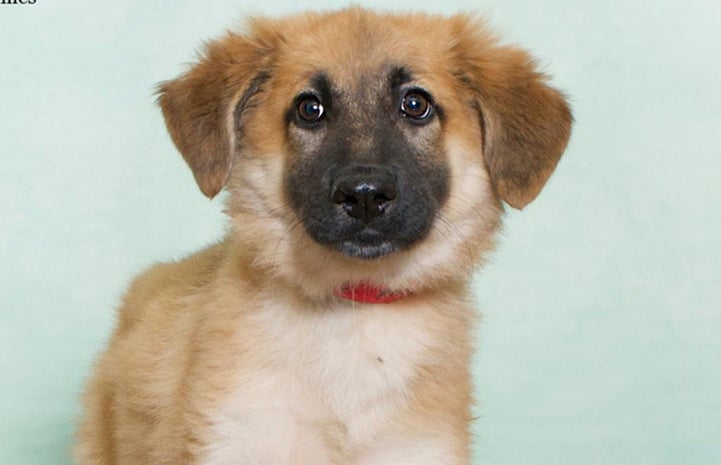 An unforgettable first meeting
One evening, as the couple was dining alfresco in Manhattan, Pickle was out on a walk with her Best Friends foster person. Jay noticed her from a distance, and when the dog finally spotted the couple, she pranced right over to say hello. Pickle, a five-month-old stunner who's very well-behaved, loves meeting new people.
"We instantly fell in love with her," says Jay, describing the full-circle moment. Back in New York City after all the years of talking about adopting a German shepherd, here comes Pickle (a shepherd mix) when Jay least expected it.
[Bella the survivor dog arrives at Best Friends]
Jay took a picture to capture the moment, and while it sparked adoption thoughts, the couple didn't move forward because they were so far away from home. But fate (and Pickle) had something else in mind.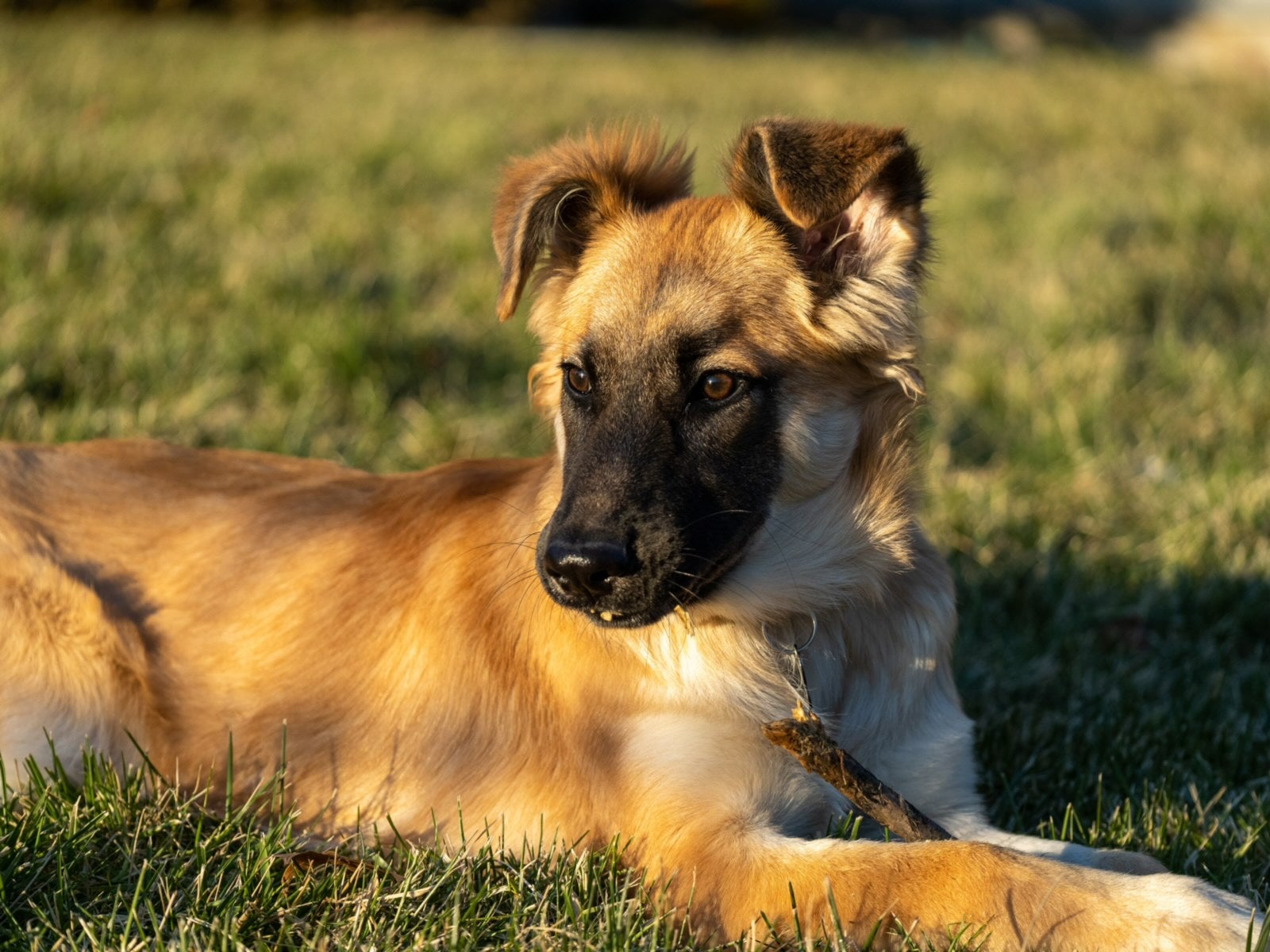 Dog gets one in a million chance
What happened next came out of the blue: The following day, as they were standing on a very crowded street, they recognized Pickle, out walking again. This time she was with a different Best Friends volunteer in a location more than two miles from the night before. Jay kneeled and Pickle again pranced right up to her and slathered her with kisses. "I immediately recognized Pickle, and Pickle recognized me as well," she says. "What are the chances?"
Figuring this was fate, they contacted Best Friends in New York, where supervisor Diane Mancher got the adoption ball rolling. They had to work out logistics, as well as ask Jay's mom to help arrange for Pickle to fly on short notice.
[Blind puppy learns how to navigate his world]
One meet-and-greet with Pickle was all it took for Jay's mom to understand why they wanted to adopt her. Together, they put together a plan to get the dog back to Illinois.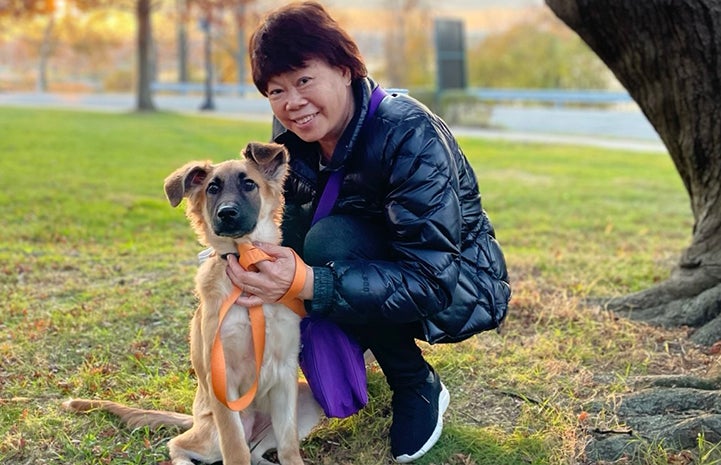 Thanksgiving with a dog named Pickle
All of these magical moments happened just a few weeks before the holidays. Jay and Rudy flew back to Illinois while Pickle stayed with Jay's mom in NYC. A week later, the couple drove back to the Big Apple to pick up their new family member, and they all got to spend more time together. Soon, Pickle was on her way with her excited new family to a permanent home in Illinois.
Now, Jay and Rudy are helping Pickle live her best life. She is getting to know her two cat siblings. She plays with her squeaky toys and tennis balls in her huge backyard. She visits the dog park every weekend. And while Pickle has a larger-than-life personality, she is all about the little things.
"She finds the tiniest, tiniest sticks in the backyard to play with and loves the little cat toys," says Jay. "It's adorable." And to think: Pickle could have chosen to stop by any table that evening in New York, but she chose Jay and Rudy's. "I couldn't ask for more," says Jay. "She is the perfect dog."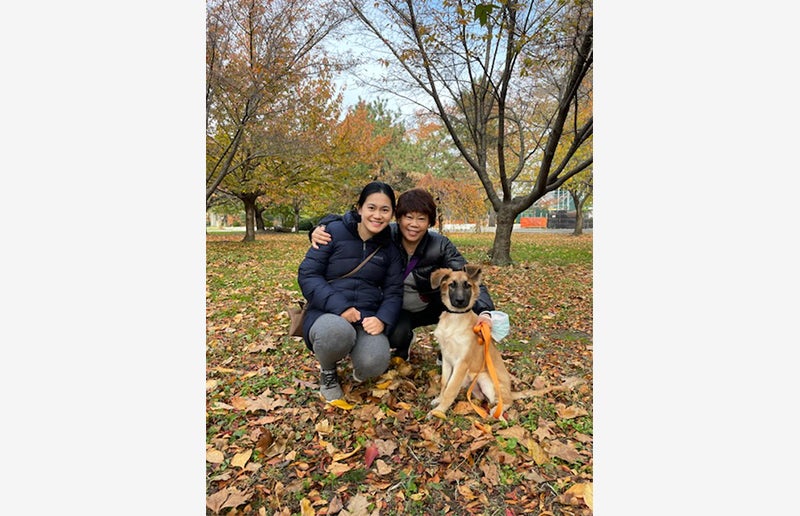 Find your next four-legged family member
Visit your local shelter to meet dogs ready for a home. Could that home be yours?
Read more
Bunny helps a family heal from loss
Great Dane-Mastiff mix is large, in charge, and now basking in love