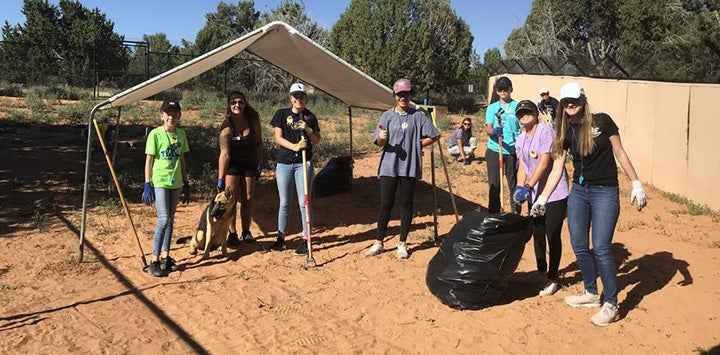 Group Volunteering Frequently Asked Questions
Thank you for your interest in volunteering at Best Friends Animal Sanctuary. The wonderful work you do is very important, and there are many ways to lend hand and heart to make a difference in the animals' lives. Together we can Save Them All.
How does Best Friends define a group?
Group sizes range from six people (smallest) to 12 people (largest). At least two adults are required per group, and one adult can supervise up to five minors. For safety considerations, 14 is the minimum age to participate in a group experience.
The types of groups best suited for our program are:
Corporate or nonprofit groups
Professional organizations
High school and university service groups and clubs
What group volunteer activities are available?
Group volunteer activities at the Sanctuary revolve around service projects: trail work, light landscaping, painting and cleaning of animal area buildings.
Depending on your length of stay and available opportunities, your experience likely will include a blend of service projects, educational talks and presentations, tours in animal areas and some hands-on activities with the animals.
What are the daily group volunteer shifts?
Two group volunteer shifts are available every day except Thanksgiving Day and Christmas Day. Shift times are from 9 to 11:30 a.m., and 1:15 to 3:30 p.m. The Sanctuary is on Mountain time. Your group can volunteer for up to five days, with a shift or day off to explore the surrounding national parks and the area.
​How do we schedule group volunteer time?
Email groups@bestfriends.org for information on how to request a group experience. Please note that a minimum of 21 days advance notice is needed in order to schedule a group experience.
What happens when we arrive at the Sanctuary?
Your group coordinator(s) will meet you at the Best Friends Volunteer Center at 9 a.m. for an orientation that will provide your group with important safety information.
Can we take an animal on an outing or sleepover?
Approved Sanctuary dogs, cats and bunnies may be eligible to accompany groups on outings and sleepovers. Prior to taking an animal on a sleepover or outing, you must first volunteer at least one shift in that specific animal area. Reservations are not required for outings or sleepovers, and arrangements can be made on-site while volunteering. One animal is allowed per group, per sleepover.
Please note that if you're traveling with your own pets, you won't be able to take Sanctuary animals on a sleepover. And for all sleepovers, any children in your group must meet the minimum volunteer age requirements for that species.
What should we wear and bring?
For your protection, volunteers are required to wear closed-toe, closed-heel shoes in all animal areas. Long pants are also strongly recommended for volunteers working with horse or pigs. (In fact, it's a good idea to wear long pants in all areas of the Sanctuary.) We recommend that volunteers dress in layers during the spring, fall and winter months, because the mornings can be chilly and the afternoons warm. Wearing a hat is also a good idea, since the sun is bright year-round. Also, please bring plenty of water and sunscreen. We are at an elevation of 5,000 feet and temperatures reach 90-100 degrees during the summer.
What about transportation?
Transportation is not provided at the Sanctuary, which is spread over approximately 3,000 acres. Plan to supply your own vehicle for transportation to and from the Volunteer Center, animal areas and other locations, many of which are several miles apart. Walking between areas usually is not a viable option, and bicycles are not allowed on most Sanctuary roads.
Other than the RV lot located at the Best Friends Welcome Center, the Sanctuary does not have adequate parking to accommodate RVs, and many of the roads are narrow and unimproved. Because maneuvering an RV longer than 21 feet is difficult on our narrow roads and in our parking areas, we strongly suggest that RVers rent or bring a separate vehicle to the Sanctuary.
Is there a place to eat at the Sanctuary?
The Angel Village café offers a vegan box-lunch for $5 per person every day from 11:30 a.m. to 1 p.m.
Can I bring my own pets with me into the animal areas?
For everyone's safety, personal pets are not allowed in any of the animal areas. Also, personal pets are not allowed to be left unattended in vehicles.
How can I schedule a Sanctuary tour?
Note: If you are only interested in scheduling a Sanctuary tour, please click here to learn more about available tours and schedule online; or, you can contact our welcome center staff at 435-644-2001, ext. 4537. Grand Sanctuary Tours are offered daily at 8:30 a.m., 10 a.m., 1 p.m. and 2:30 p.m. and reservations are strongly recommended.
Traveling to the Sanctuary and lodging information
Detailed information on traveling to the Sanctuary is available here. Please note that Utah is on Mountain time, so if you're flying into Las Vegas and driving to Kanab, remember that Las Vegas is on Pacific time (a difference of one hour). For information about lodging at the Sanctuary (cottages, cabins, RV sites) or accommodations in Kanab (five miles from the Sanctuary), click here.
More questions?
Please email us at groups@bestfriends.org or call us at 435-644-2001, ext. 4464. We are available from 8 a.m. to 5 p.m., Mountain time. We will return your message within 24-48 hours.