Why kittens need us more than ever
The kittens are coming, so get ready now for 2022 kitten season.
By Emily Douglas
Kittens yawning. Kittens hiding in cereal boxes. Kittens watching TV. Kittens playing peekaboo. Kittens pouncing on your craft supplies. Kittens sleeping in your shoe. Kittens bouncing sideways through your dining room.
This is the kind of kitten content that many of us look for and love online. But with more than two million cats entering America's shelters in 2021 and many of those cats being killed, there's one thing that kittens really need right now, and it's not cereal boxes to hide in. It's you. Even if it's just for a few weeks.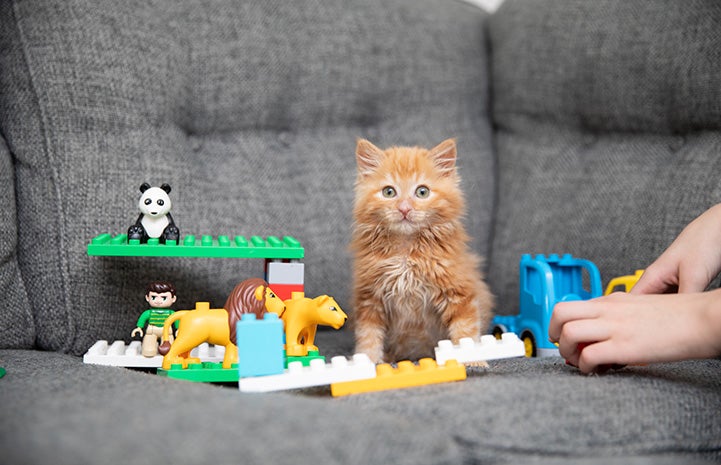 Three ways to save kittens
We know the numbers. We talk about them all the time. In 2020, about 347,000 dogs and cats were killed in America's animal shelters. Nearly 70% of those animals were cats, and in many states, such as California and North Carolina, that percentage was even higher. We also know that many of the cats killed in shelters are community cats, and effective programs like trap-neuter-vaccinate-return (TNVR) can save them.
What we don't talk about often enough, though, is how and why most people learn about TNVR in the first place. "Most people find out about TNVR because they have found some kittens," explains Leah Long, national embed program specialist for Best Friends. Leah specializes in informing people about the three-pronged approach to cat lifesaving and showing them where and how they fit into that picture.
It's three-pronged because community-based efforts to save kittens and cats have three critical pieces: community cat programs that use TNVR, kitten intake prevention strategies and kitten foster programs.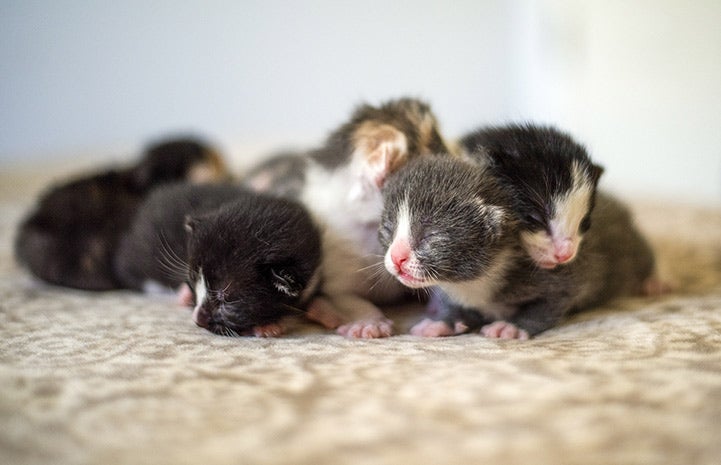 Keeping kittens out of shelters
While TNVR reduces the number of kittens being born in the first place, as well as the overall number of community cats, kitten intake prevention and kitten fostering both focus on keeping kittens from entering shelters that lack the resources to save them. For all three pieces, the common threads are easing the burden on local animal shelters and inviting community members to be part of the solution.
"For so long, we were training people to just come to the shelter with cats and kittens they found," says Leah. "But we're shifting that narrative now. People are part of the solution and they need to feel like it. Who doesn't want to be part of saving kittens?"
Getting people involved in their local lifesaving process isn't just about being inclusive; it's a necessity. Because of unprecedented staffing shortages around the country and lack of resources to care for newborn kittens, for many animal shelters, their best hope for saving kittens is to divert them away from their doors and into foster homes.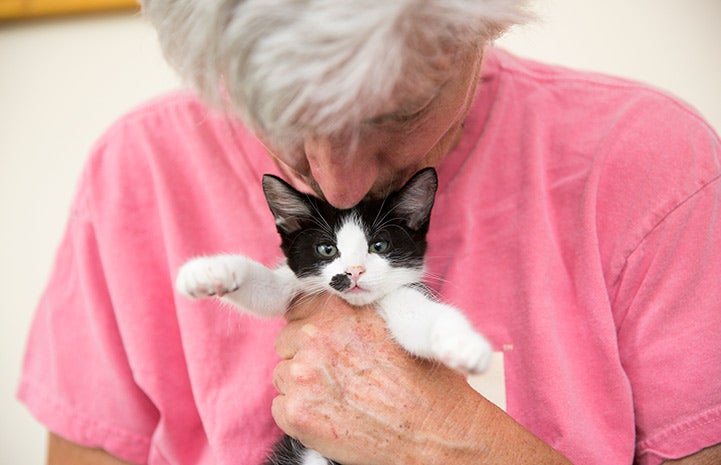 [One kitty's transformation from scaredy-cat to queen of her castle]
Marc Peralta, chief program officer for Best Friends, explains: "After the last year or two with the pandemic, lots of people are exhausted, burned out and quitting. Shelters are closing on days they wouldn't normally in the past because of staffing shortages. And that means they're closed for adoptions, but still taking in new animals."
Marc and Leah are also quick to emphasize that as much as we like to talk about "kitten season" (the summer months, when a peak number of kittens are born and therefore inundating shelters), the kitten problem and the need for trained foster volunteers is year-round. "We've tended to be reactionary when we talk about kitten season," notes Marc. "Typically, we're already in the middle of the season when we start talking to people about it, when it's already too late. And with shelters not having the staff they need right now, this year will be a perfect storm if we don't get ahead of it."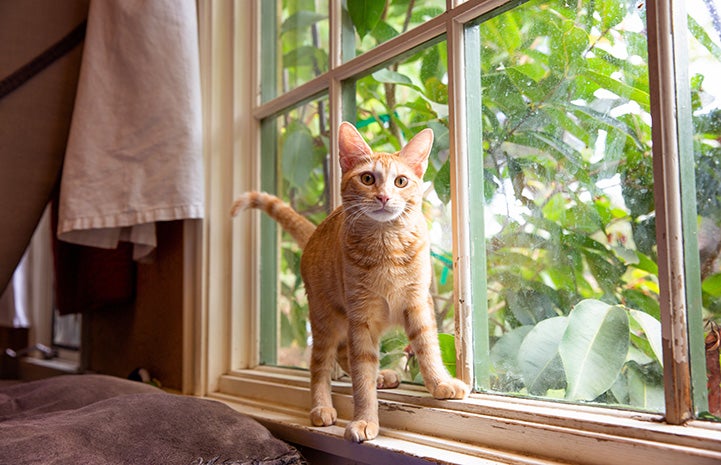 An abundance of resources to help you with kittens
The proactive versus the reactive mindset is exactly what has been driving creative problem-solving in the kitten department over the last few years. Shelters and other lifesaving organizations are doing everything they can to keep kittens off their doorsteps by making it as easy as possible for community members to jump into the kitten game.
The sheltering community has created its own kitten care university system, providing information on everything from what to do if you find kittens outside to how to foster them successfully in your home. And its main library is stacked with expert knowledge and practical tips that will give you the warm fuzzies, literally.
Best Friends' cat and kitten care resources include short instructional videos featuring kitten experts like Leah, as well as a detailed kitten foster care manual. Hannah Shaw, better known as the Kitten Lady, provides a wealth of content on her website (kittenlady.org) regarding caring for kittens of all ages. Organizations like the National Kitten Coalition, Stray Cat Alliance and American Pets Alive provide a range of newsletters, infographics and other resources to convert even the most inexperienced volunteer into the ultimate kitten hero.
[Collaboration helps a colony of cats and their caregiver, too]
"Every shelter and cat-focused group should have a dedicated kitten page with a 'what to do if' flowchart," says Leah. "Dallas Animal Services is a great example. I love their kitten programming." In addition to providing a user-friendly flowchart on their website detailing exactly what to do if you find kittens outside, Dallas Animal Services has a number to which you can simply text the word "Kitten" in order to have step-by-step guidance sent directly to your phone.
In Florida, Jacksonville Humane Society and Peggy Adams Animal Rescue League feature Don't Kit-Nap Kitten campaigns and Orange County Animal Services has been educating the community and keeping the most vulnerable kittens (those under eight weeks of age) out of the shelter through their Wait 'Til 8 program.
Of course, with every single one of these resources, there's one essential message: Kittens need you to foster them and we'll support you along the way.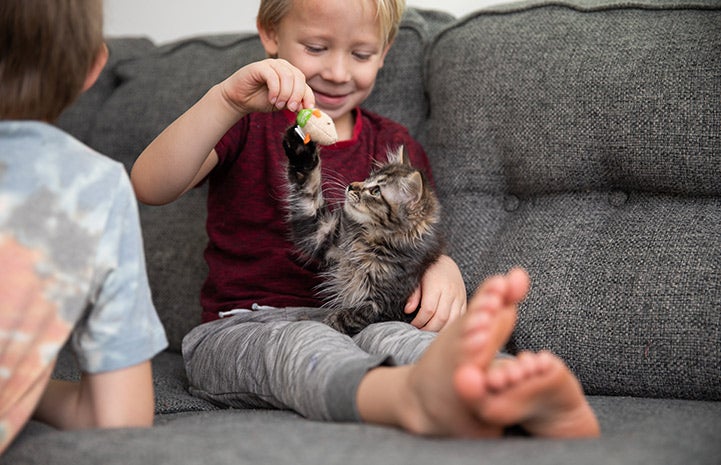 Kitten party at your place
Fostering kittens until they're ready for adoption can be anywhere from a three- to an eight-week commitment, depending on the age of the kittens. And in that time frame lies an incredible diversity of developmental stages, experiences and cuddly joy.
"We laugh every single day," notes Liisa Turunen, who has been fostering kittens for Peggy Adams Animal Rescue League for almost a decade with her husband, Jaani. "We fostered a litter of eight who took over our bedroom and left us covered in kittens when we woke up in the morning. And once they all start eating on their own, it cracks me up when they just stand in their plate of food."
Typically, there are two initial worries that prevent people from fostering kittens, both of which, experienced foster caregivers will tell you, are not a problem at all. One is concern about the level of care that kittens require, and the other is the fear of falling in love with your foster kittens and then having to let them go. "People are shocked when we tell them we've never kept a single one," says Liisa. "I tell people it's OK to fall in love with them because it makes it so rewarding to give these little babies a chance and change their whole world for the better."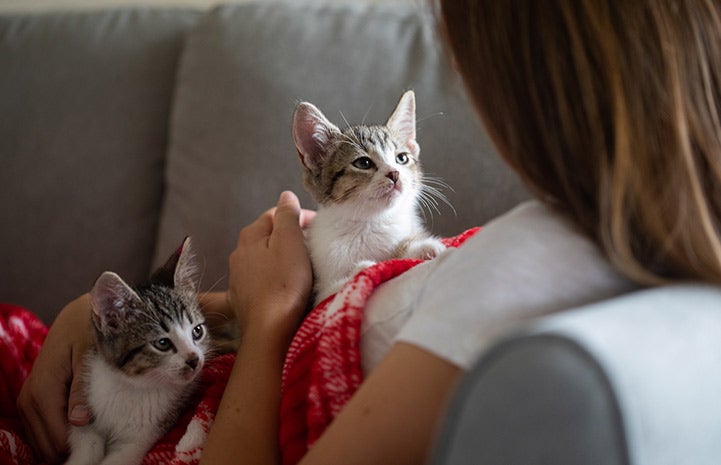 [Fast action saves two kittens on the brink]
Elizabeth Oreck, Best Friends national manager of puppy mill initiatives, has been fostering pets for more than 20 years. And like Liisa, Elizabeth says the perceived fear of parting with her foster kittens pales in comparison to the reward of successfully sending them on their way. "I know the moment they leave my care, they're on to their next big adventure and they're not going to miss me," she explains. "They're ready to thrive."
Elizabeth gravitates toward kitten and cat fostering because it's so easy to do and that's where the biggest need always seems to be. "Personally, I just find cats and kittens more conducive to work and home life," she says. And with so many shelters now providing expert support and training for new foster caregivers (such as home delivery of premade "kitten kits" that include all the necessary food and supplies and guidance via kitten care mentors and kitten hotlines), it's the perfect volunteer entry point for anyone interested in making a difference for homeless pets.
"The biggest thing keeping the country from achieving no-kill is kitten season," says Holly Sizemore, Best Friends chief mission officer. "If we can get people to reach out to their shelters right now and give fostering a try, we can flatten that summer spike and officially turn that tide."
So, when you make a "to do" list for your day or week, be sure to add this: Call shelter and ask about fostering kittens. And maybe even put a reminder on your phone. It could very well lead to kittens yawning. Kittens hiding in cereal boxes. Kittens watching TV. Kittens playing peekaboo. Kittens pouncing on your craft supplies. Kittens sleeping in your shoe. Kittens bouncing sideways through your dining room.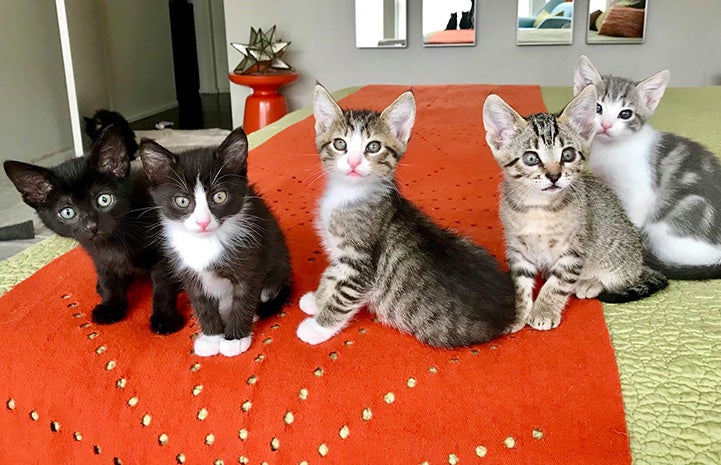 You can save kittens' lives this kitten season
We've made it easy to sign up now to foster kittens for a shelter or rescue group near you this spring.
Learn more about fostering kittens
Read more
Volunteer teaches foster cats to "talk"
Adopted cat lands a job and a life worthy of a storybook ending
Kindness rules: 5 stories of people helping pets in amazing ways
This article originally appeared in Best Friends magazine. You can subscribe to the magazine by becoming a Best Friends member.
Photos by Sarah Kichas, Elizabeth Oreck, Molly Wald