Adopted cat lands a job and lives a life worthy of a storybook ending
Malcolm, a three-year-old tuxedo cat, gets a new career in a beachside bookstore patrolling for cuddles from customers (and also for rodents)
By Diane Barber
There's been a changing of the guard at Small World Books in Venice, California. Malcolm, a friendly, affectionate and streetwise tuxedo cat adopted from Best Friends' NKLA Pet Adoption Center in West Los Angeles, has assumed the prestigious, multifaceted role as the bookstore's chief security officer, hospitality director and resident cuddler ― a job he seems to relish.
Throughout most of this independent bookstore's 52-year-history, cats have been part of the mix. It's a symbiotic relationship that arose from a practical consideration: Mice are attracted to books and cats deter mice. Over the past five decades, Small World Books has consistently "employed" feline staff members to perform this critical role, and as you might imagine, the years-long parade of cats at Small World Books is a big part of the store's identity.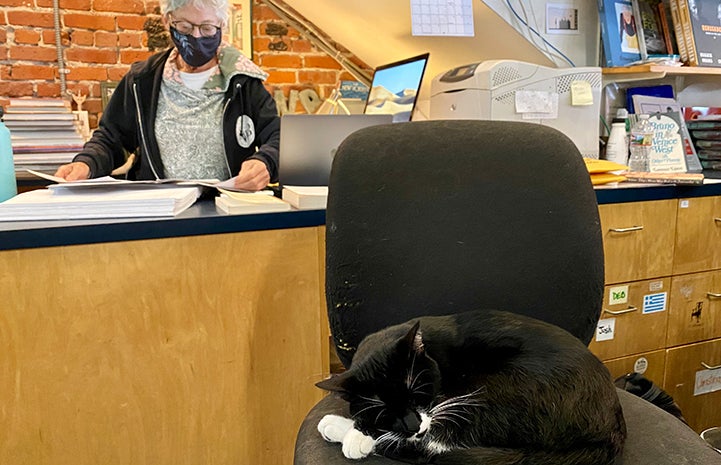 It's all about the cats
"People come in and don't look at one book. They just visit the cat." says store owner Mary Goodfader. "Shortly after we opened, we hired a cat to control the mice and we've had one ever since. They came here to work and then they became more popular than the store. I had no idea customers would come just to see the cat!"
[A most extraordinary mama cat's love knows no bounds]
"(People) remember the cats too," says bookstore manager Adam Lipman. "That's the amazing thing to me, that they remember the names of the cats." All but two of Small World's cats have been named after J.D. Salinger characters. There was Phoebe from Catcher in the Rye, Esmé from the short story For Esmé, with Love and Squalor, and outlier Conan the Librarian who broke from the Salinger theme because the name just fit. The cats typically spend a few years on the job and then move on to a leisurely retirement in the home of a bookstore patron or friend.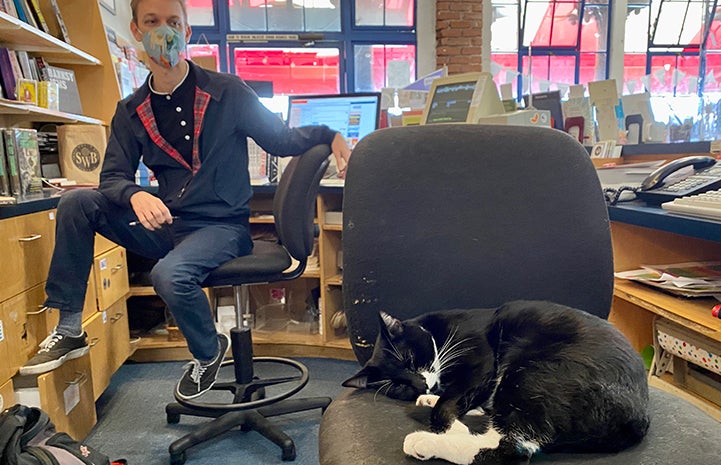 Malcolm's big break
Malcolm's immediate predecessor was Franny, a gentle calico and fellow Best Friends alumna named after a character in the Salinger novella Franny and Zooey. Franny retired and moved in with a Small World staff member during the bookstore's COVID-related shutdown. And when the store reopened, there was an opening for Malcolm (the handsome three-year-old, black-and-white stray named in honor of author Janet Malcolm) to strut right out of shelter life and into the high-profile role as the beachfront bookstore's resident cat.
An admitted dog person, Mary handpicked Malcolm during a visit to Best Friends in July. "I selected this one and I am very proud of myself," exclaims Mary. "He is just great! He's very cuddly and wonderful."
[Shy cat finds her perfect match after months of medical ups and downs]
Customers seem to agree. "He's definitely the most popular staff member," says Adam. "Malcolm, more than any other cat since I've been here, will seek out customers to say hello and get pets. It works out well because we have work to do. We can't just pet him all day. So, he's getting a raise! It's salmon from now on."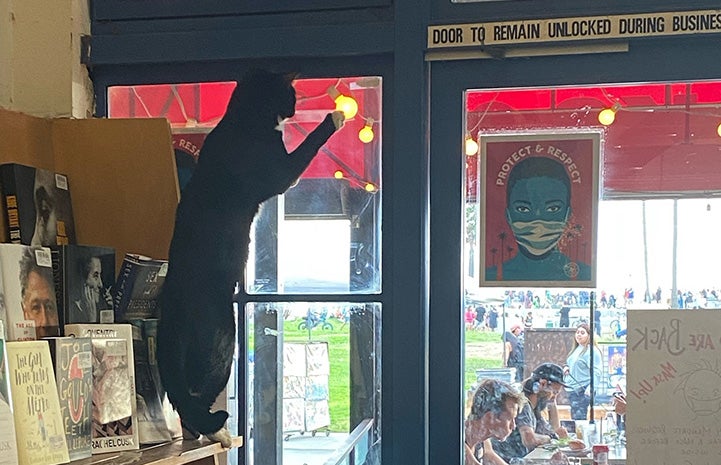 A day in the life of a bookstore cat
Since assuming his post in July, Malcolm has settled into a rhythm. "He's really rambunctious in the mornings when we come in. We have to run up and down the aisles with him," says Mary.
He's also somewhat of a clumsy climber with a fondness for scaling the bookshelves, often knocking books to the floor as he goes. In typical cat fashion, Malcolm also takes the liberty of walking across the computers throughout the day or perching on a chair behind the counter for a midday nap. On occasion, he'll visit diners at the adjacent Sidewalk Café and Bar, also owned by Small World Books, and he's been known to spend hours hanging out with customers in the back of the store, soaking in all the love and attention they have to offer. At night, Malcolm is on patrol keeping the store's inventory safe from rodent visitors in search of a midnight snack.
All in all, the move from street life to shelter life to beach bookstore life has been great for Malcolm. It's also been great for Small World Books. "I just want to have a good bookstore with a nice cat. If we don't have one, people are not happy," says Mary. There's no doubt that in addition to doing the job he was hired to perform really well, charming little Malcolm makes people very, very happy. And that's a perfect storybook ending.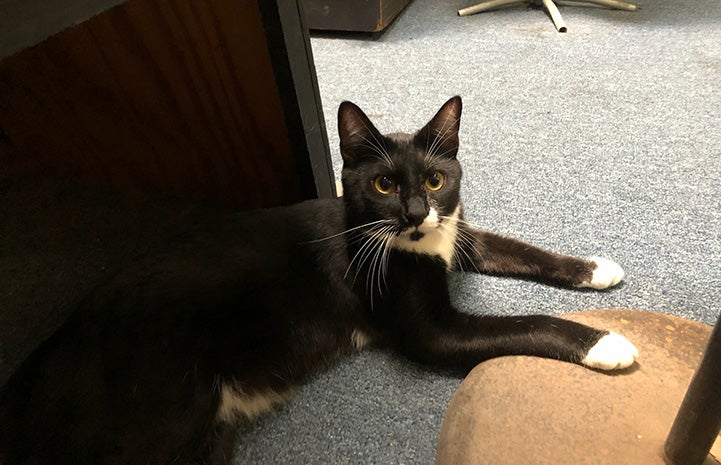 Give an animal a storybook ending
There's a cat or dog out there waiting for a happily-ever-after with you.
Read more
Out of more than 100 foster pets, volunteer adopts the blind senior dachshund
The 20-pound cat with 1,000 nicknames
5 pet stories that are 100% guaranteed to make you smile
Photos courtesy of Kathy Hicker and Diane Barber