Almost two years after Hurricane Harvey, one amazing organization is still helping pets in Houston
Rachel Ray Save Them All Grant awarded to Austin Pets Alive helps organization save special needs pets, like FeLV-positive kittens and parvo puppies.
By Nicole Hamilton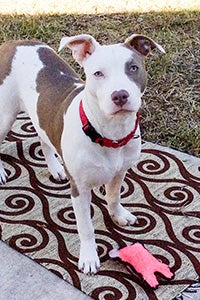 Somewhere in Austin, Texas, a young dog named Bari and a little gray tabby cat named Nefertiti are living the good life with their families. But not too long ago, a future as happy pets in loving homes seemed nearly impossible.
That was back when Bari and Nefertiti ended up at separate, large Houston municipal shelters after being displaced by Hurricane Harvey. But they were far from alone. At that time, Houston shelters were filled to capacity with cats and dogs who lost their homes, which put both Bari and Nefertiti at a disadvantage.
To make matters worse, Bari, who then was just a puppy, tested positive for parvovirus, a highly contagious and often fatal disease. And Nefertiti tested positive for feline leukemia (FeLV), which, like parvovirus, is very contagious and can shorten a cat's lifespan. But there was hope for Bari and Nefertiti after all, and it came from Austin Pets Alive (APA) and a 2018 Rachael Ray Save Them All Grant from Best Friends. The grant helped continue a commitment made in 2017 to help Houston shelters recover from Hurricane Harvey.
It all goes into helping the Lone Star State reach a goal big enough to make any Texan proud. "We led the charge to make Austin the largest no-kill city in the nation," says Dr. Ellen Jefferson, APA executive director. "And now we want to see all of Texas achieve no-kill."
A lifesaving grant for pets with special needs
While APA rescued thousands of pets in the wake of Hurricane Harvey, the 2018 Rachael Ray Save Them All Grant allowed it to save even more by giving Houston shelters access to APA's specialized programs for their most vulnerable pets, including puppies with parvovirus and cats with FeLV.
"These are animals who need help beyond what shelters can give them," explains Lee Ann Shenefiel, south central regional director for Best Friends. She says the help APA provides to shelters is critical, so they can instead focus on finding adopters, rescue groups and transports for other animals in their care.
Thanks to the grant, APA helped nearly 400 additional pets from Houston in 2018. And in the past two years, Rachael Ray Save Them All Grants have made it possible for Best Friends Network partners to help more than 44,000 pets across the country.
Because the Best Friends approach to increasing lifesaving in Texas incorporates the same strategies, Lee Ann says partnering with APA — which has the expertise, experience and a shared vision on how to save lives in Texas — makes a lot of sense.
It also makes sense when you consider that out of all the pets killed in shelters each year, half of them are in just five states, and Texas is at the top of the list.
Austin group gives Houston pets a second chance
For pets like Bari and Nefertiti, the grant provided the funding to transport them to APA for their medical treatment. Luckily for Bari, APA operates a shelter parvo program (the first of its kind in the nation and the only one in Texas with the ability to take in dogs from around the state) that was able to save her life.
While the puppy was receiving treatment for parvo, APA discovered Bari also had a heart murmur (which would possibly require surgery), so they raised the funds to consult a cardiac surgeon, who diagnosed her condition as pulmonic stenosis.
Fortunately, the surgeon determined that Bari's condition could be managed with medication and she did not need surgery. Today, that heart murmur hasn't dampened Bari's playful spirit or diminished her activity level one bit.
More about the Best Friends Network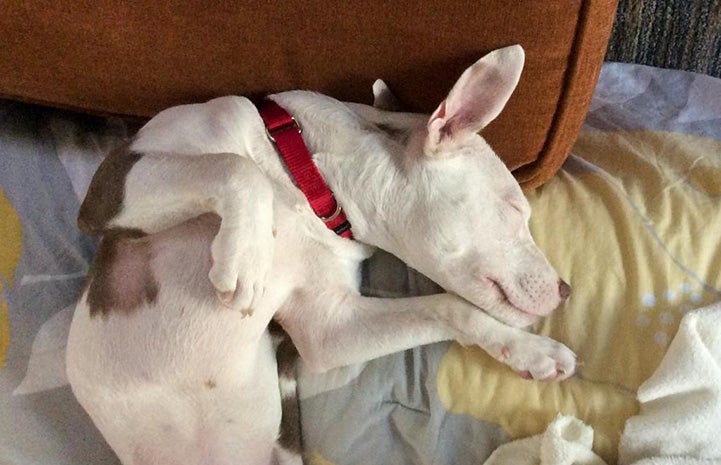 An adoption center just for FeLV-positive cats
Like Bari, Nefertiti was at risk of losing her life after testing positive for FeLV. "Because feline leukemia is contagious, and assumptions abound that people won't adopt cats with FeLV, most traditional shelters resort to euthanasia," says Natascha Hamman, feline leukemia program coordinator for APA. "But although cats with FeLV might have shorter lifespans, they can enjoy normal, healthy lives for many years."
The Rachael Ray Save Them All Grant made it possible for Nefertiti to come to APA, which operates the nation's first Feline Leukemia Adoption Center. "Through this program, APA has found that cats FeLV cats have no problem attracting adopters, proving that these cats are wanted as four-legged family members," says Natascha.
At the adoption center, Nefertiti was able to play, lounge around, and enjoy the company of other cats. It didn't take long for her to find her forever home.
Feline leukemia misconceptions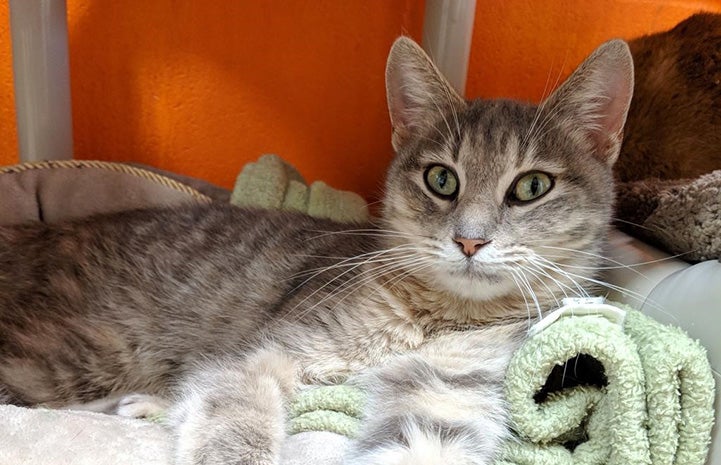 Partnering to save Texas's homeless pets
Today, thanks in part to a 2019 Rachael Ray Save Them All Grant, APA continues the lifesaving work in Houston that began in 2017 following Hurricane Harvey. But APA is far from finished, and has begun helping shelters in other parts of Texas as well.
As for Bari? "She fit right in with her new family," says an APA adoption counselor. "She's proof that if given the chance, dogs with parvo can survive the virus and get adopted." And Nefertiti? She's happy in her forever home, too.
Find a Best Friends Network partner near you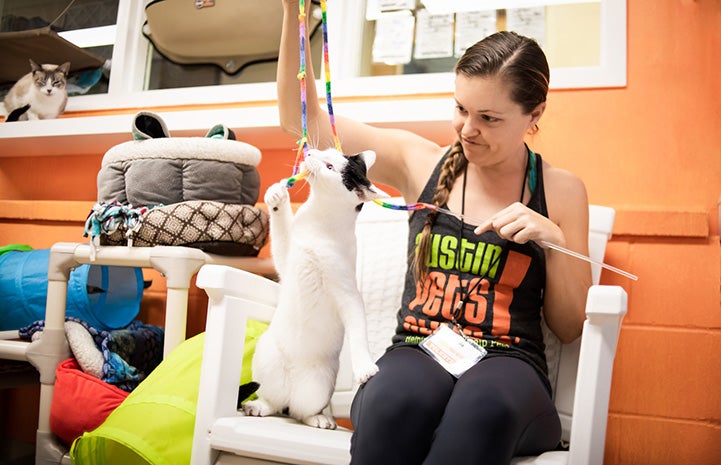 Photos courtesy of Austin Pets Alive!