The animal shelter that's not a shelter at all 
Best Friends Pet Resource Center in Northwest Arkansas, coming in 2022, is a first of its kind
By Best Friends staff
Imagine an animal shelter where dogs romp in spacious play yards and cats climb condos in enrichment rooms — a shelter where families stroll bright and welcoming halls, ready to meet their next best friend or to get resources for their pets at home.
Sounds great, right? Well, it will soon be reality.
Construction is well underway on the Best Friends Pet Resource Center in Northwest Arkansas. Located in Bentonville, the center will be an innovative space that re-imagines how Best Friends Animal Society and communities nationwide save lives. It's not a place for dogs and cats to stay in cages until adopted. Instead, the center will be a place to showcase adoptable pets staying in foster homes, engage community members and foster volunteers, and provide a variety of resources that help keep pets in their homes.
"Things are changing for the better in animal welfare and the pet resource center will embrace the mindset that dogs and cats don't belong in shelters at all," says Jackie Roach, executive director of Best Friends in Northwest Arkansas. Animal sheltering stayed the same for most of the past 150 years when the concept of picking up free-roaming dogs and cats first began. Because of it, a shelter was the last stop for countless pets who could have lived happy lives in homes.
We've come a long way from when it was estimated that 17 million dogs and cats were killed each year in America's shelters. Today, thanks to new and better ways of approaching pet homelessness, that number is down to around 347,000.
There's still work to be done, and that's why Best Friends has teamed up with the Builders Initiative to change the face of animal sheltering. Through this partnership, the pet resource center will not serve as a holding place for dogs and cats, but instead will be a true resource to keep local pets in their homes and serve as a home base for programs that save pets throughout the region.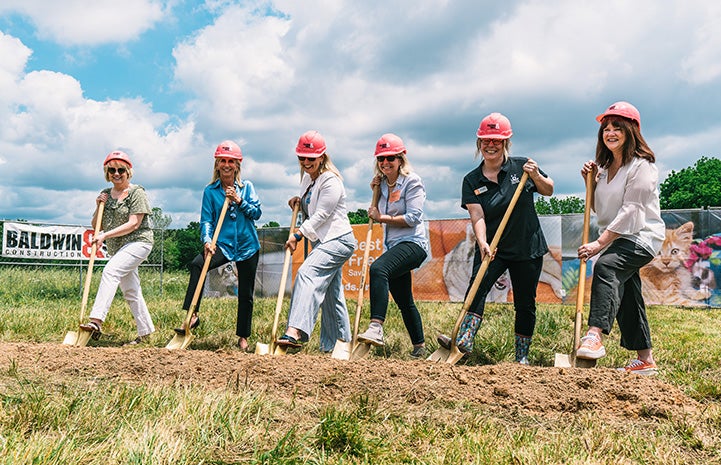 Far from a traditional animal shelter
The resource center is designed around what pets really need to keep them healthy and in homes. That includes a low-cost spay/neuter and veterinary clinic, a self-service grooming room and a community pantry with pet food and supplies. The space will anchor the local lifesaving programs of Best Friends and our partners, including trap-neuter-return (TNR) for community cats and a foster home network.
There will be large spaces for pets staying in foster homes to meet potential adopters. Imagine how much better life will be for dogs to stay in a foster home overnight and then come to a fun, welcoming space during the day until they get adopted. The center's plans also include a café, cat enrichment area, community rooms and comfy spaces for people to sit and stay awhile.
If you're wondering why Northwest Arkansas, the answer is that it is a unique opportunity to build a pet resource center from the ground up that will help animals locally, regionally, and nationally. Home to Fortune 500 companies such as Walmart and J.B. Hunt Transport Services, the region is a place of imagination, innovation and modern progress. But it's missing a full-service center for pets.
Several shelters in Northwest Arkansas only handle dogs, and there are limited services for cats. In a few communities, there are no animal services at all. The Best Friends Pet Resource Center will not only help local pets from Benton and Washington Counties, but it will also support lifesaving across Arkansas, as well as in Texas and Louisiana. The neighboring states rank No. 1 and No. 5, respectively, for the most cats and dogs killed in shelters each year.
"For some communities, the pet resource center will be a total game-changer. It will be somewhere to turn for advice and assistance where there was none before," says Justine Lentz, superintendent, Fayetteville Animal Services. "I hope it unifies workers in the animal services field around a common goal of saving as many lives as possible."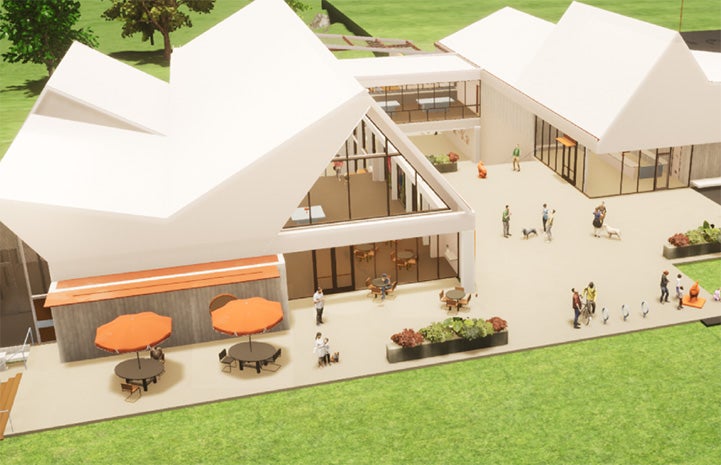 Support for pets and people in Northwest Arkansas
Construction on the pet resource center began this summer, and the plan is for it to open at the end of 2022. It will be located within a 100-acre community green space project in the heart of Bentonville. The land was generously donated as part of the project, anchoring one end of the green space for people to gather.
We can't wait to move into the new space, but we're not waiting for it. Best Friends already has a team in Northwest Arkansas operating out of a temporary lifesaving center. Adoptions, assisting shelters in the area and community cat support are already part of our work in the region, and we're eager to do much more once the pet resource center is up and running.
This inclusive and sustainable model brings together shelters, supporting organizations and community members to save lives and keep pets in the loving homes they already have. Brick-and-mortar facilities can do more than house pets. They can become community resource centers that provide support for those at both ends of the leash.
"This is truly a transformative moment in the history of animal sheltering," says Julie Castle, Best Friends CEO. "This project is coming to life after years of collaboration and hard work alongside a coalition of animal welfare organizations and community leaders, and thanks to people's generous support. The pet resource center will reflect the incredible value dogs and cats have in our lives."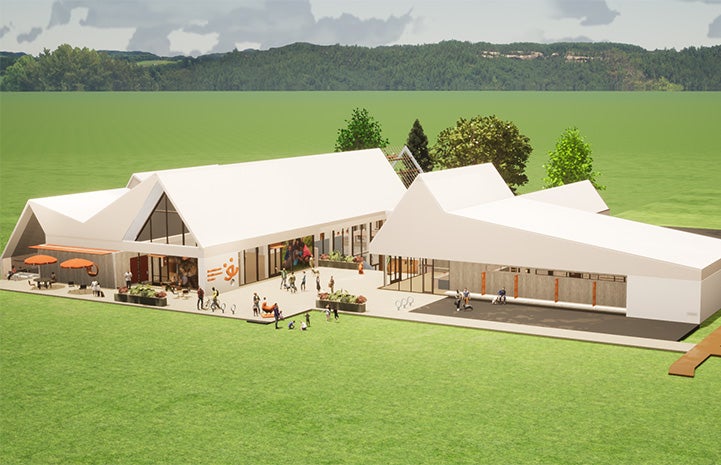 Stay in the loop on the Best Friends Pet Resource Center
Learn more about the exciting plans for this one-of-a-kind space that will make it possible to save more dogs and cats than ever before.
Read more
New volunteer discovers purring, love of cats
Injured, abandoned dog loses her leg but not her spirit