Big love for homeless pets at the first Best Friends Super Adoption in Houston
Best Friends holds Super Adoption at NRG Arena in Houston, where 300 dogs and cats are adopted from Best Friends and 15 other shelters and rescues.
By Nicole Hamilton
The Houston community came together at NRG Arena last weekend in a big Texas way to give nearly 300 cats and dogs homes at the Best Friends Super Adoption, sponsored by Petco Foundation. Around 2,500 people attended Best Friends' first super adoption in Houston — a sign that Houston is making huge strides to becoming a no-kill community. And to think, Best Friends is just getting started in Texas.
More about Best Friends in Houston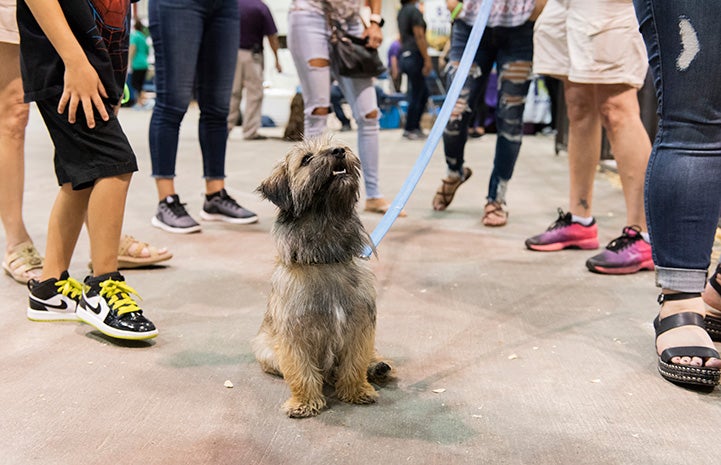 Collaboration was key to the success of the event, the first of its kind for many of the 15 participating network partner shelters and rescue groups. The night before the event, for example, the team from Montgomery County Animal Shelter brought in dogs early, then turned around and picked up dogs and cats from Fort Bend County Animal Services, so they could come to the event, too.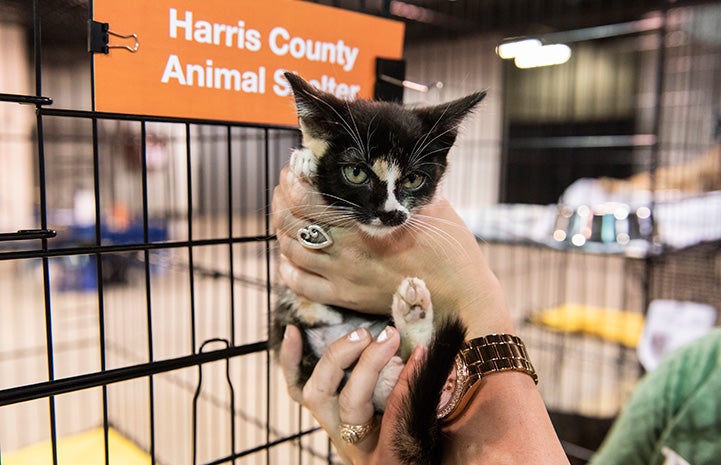 The super adoption also got a big boost from Best Friends' recent Pay It Forward campaign, which inspired participating shelters and rescue groups to lower adoption fees or even waive them entirely, in part because of a $25 reimbursement for every animal adopted, thanks to generous Pay it Forward donors across the country.
For dogs like Loki, the super adoption was lifesaving. Loki had been at the Harris County Animal Shelter long enough that he was on the euthanasia list. Instead, he was brought to NRG Arena and found a home with a wonderful family that later returned to the event so a grandmother could adopt a dog, too.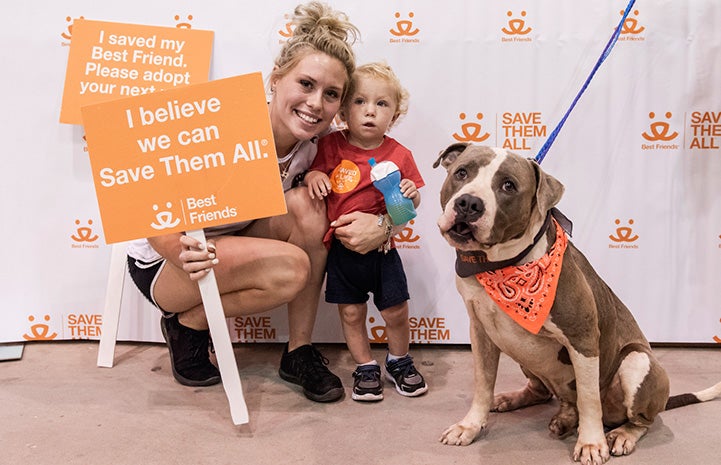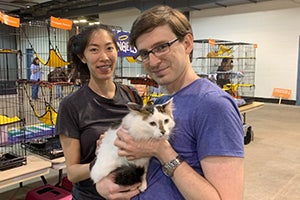 It was a great weekend for cats, too. Neopawlitan, for example, came to the Harris County Animal Shelter Saturday, and by Sunday afternoon she'd found a home at the super adoption through K-9 Angels.
A big part of the weekend's success was due to the more than 125 volunteers who worked before, during and after the event. For many of them, it was their first time volunteering at a large adoption event, but you wouldn't have known it by the way they stepped up and took charge.
Kim McDaniel, senior manager of regional marketing, has worked on at least 10 Best Friends super adoption events and knows firsthand the importance of volunteers to achieving success. "The volunteers did an amazing job," she says. "The entire Best Friends staff was blown away by their hard work, dedication and willingness to do anything and everything to help."
One volunteer brought more than 90 dog bowls home to wash on Sunday night, while another took home piles of cat blankets for washing. A third volunteer proposed to his girlfriend, who was also volunteering. She said yes.
Best Friends' history of helping save lives in Houston started with Hurricane Harvey— something the team was reminded of after the following the vent. Most the supplies — such as kennels and dog beds — were donated after the hurricane and put to good use at the event.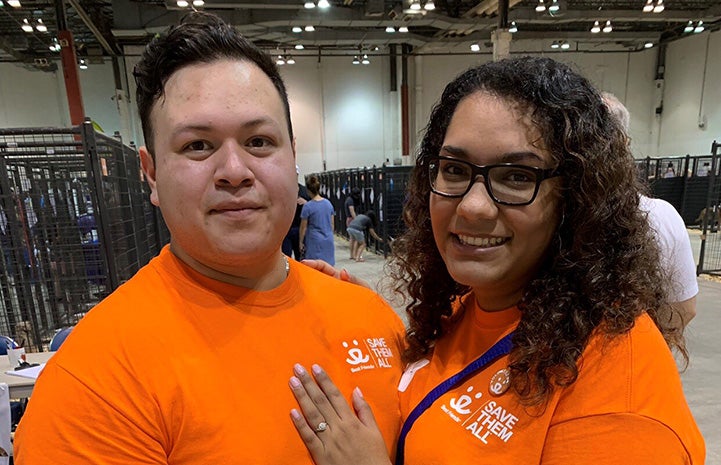 While taking down dog beds after the event, a note from a volunteer they turned one over to find a note written by a Hurricane Harvey volunteer for a dog at the Best Friends base of operations in NRG Arena. It's a reminder of how far shelters and rescue groups have come since the storm and how coming together for events like the super adoption helps forge a better future for Houston's homeless pets.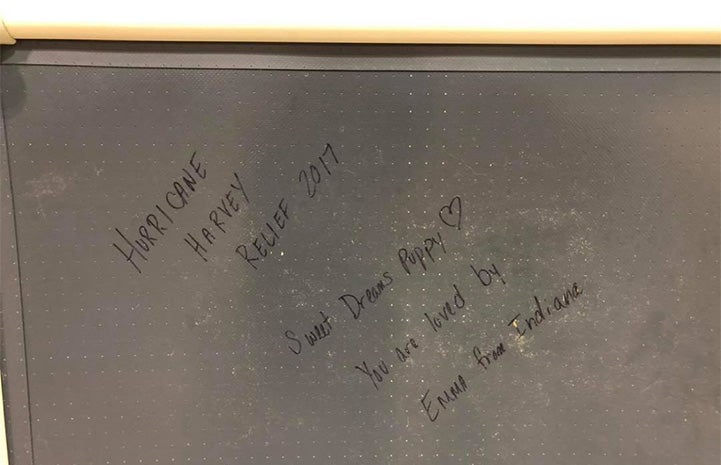 Best Friends in Houston works collaboratively with city shelters, local animal welfare organizations and passionate individuals to save the lives of pets in shelters in Houston and the surrounding areas. To help Houston become a no-kill city for cats and dogs, Best Friends launched the Coalition to Save Houston's Pets in April of 2018, followed by a community cat program, foster programs for dogs and cats, local adoption programs and an out-of-state transport program. Currently, Best Friends has full-time staff embedded at the Harris County Animal Shelter, one of Houston's largest shelters. Together, we will Save Them All.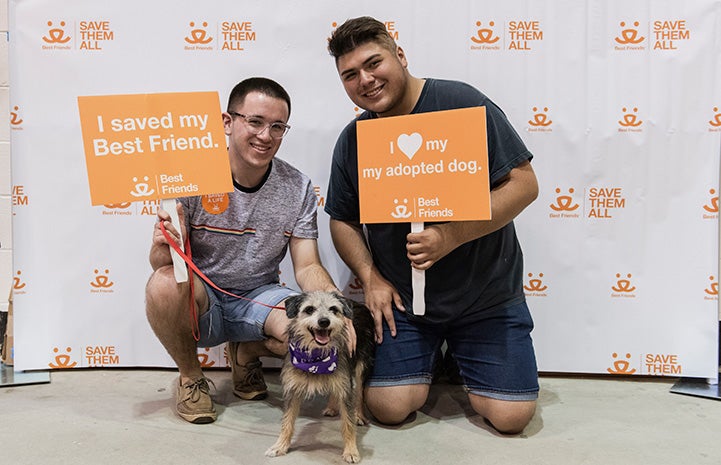 Photos by Sonya Sellers and courtesy of courtesy of Best Friends in Houston