Connecting Florida cats with families across the eastern U.S.
More than 200 cats from Polk County including an injured cat named Russell have found homes in the eastern U.S with the help of Best Friends and its network partners.
By Nicole Hamilton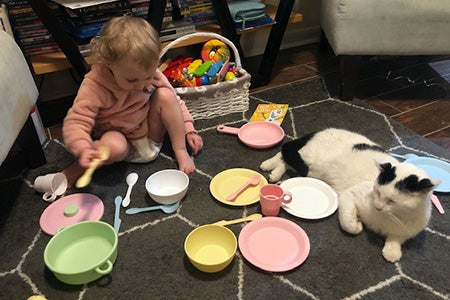 Russell is a huge fan of belly rubs, enjoys a good game of fetch and (for that matter) loves the company of toddlers and people of all ages. The three-year-old cat is also a well-behaved gent at tea parties, which would make him an ideal guest at Downton Abbey, although he prefers catnip in his cup over a spot of Earl Gray.
Considering Russell's past, you have to wonder what stories he'd share at the table if he could. You see, back before Russell was basking in belly rubs and indulging in teatime with a toddler in his foster home, he was at Polk County Animal Services in Florida, where he arrived with an injured eye that required medical attention.
Luckily for Russell, he was just in time to join fellow cats catching a ride out of the shelter on the "cat bus" with Best Friends. The cat bus is really just a van, but the program is playing a key role in saving cats — 200 so far, and counting — by bringing them to Best Friends in Atlanta, New York City and our network partners in between.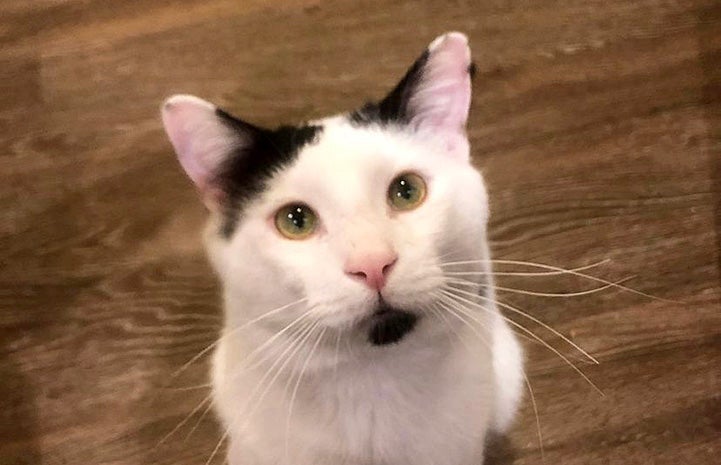 Country shows its love for Florida's cats
Back in November of 2019, Best Friends began collaborating with Polk County Animal Services on monthly transports of cats from the shelter to network partners in the Northeast region and to Best Friends locations in New York City and Atlanta.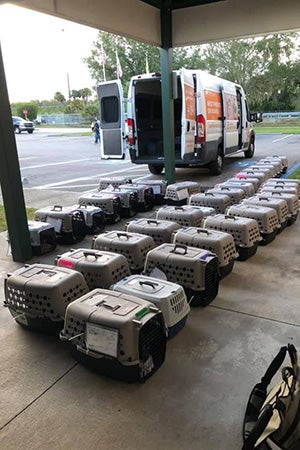 The transports, which include 50-70 cats at a time, are designed to give Polk County greater capacity to help more pets in need from the community. For example, the most recent trip helped create more room and resources so that the shelter could take in and care for more kittens during kitten season.
[Florida sheriff steps up as 'professional cat wrangler']
So far, thanks in part to a grant from PetSmart Charities®, the cat bus has transported more than 200 cats to Best Friends and our network partners. And Tiffany Deaton, Best Friends strategist for the Northeast region, says the transports simply wouldn't be possible without the help of network partner shelters, including the MSPCA in Massachusetts, which most recently was able to take every cat from the monthly transport, enabling Best Friends to help even more pets.
Other network partners such as the Fredericksburg SPCA, which has been on board since day one, have stepped up to provide a place for the cats to rest overnight during their journey from Florida to the New York area.
[Skoolie cat: Monroe lives large in family's converted school bus]
"It is just remarkable seeing all of the rescue and shelter partners who have been a part of the infamous cat bus since its inception last fall," says Tiffany. "Their willingness to open their doors to these Florida cats has made a huge impact at the shelter and given us an opportunity to look at other ways we can increase lifesaving within the community."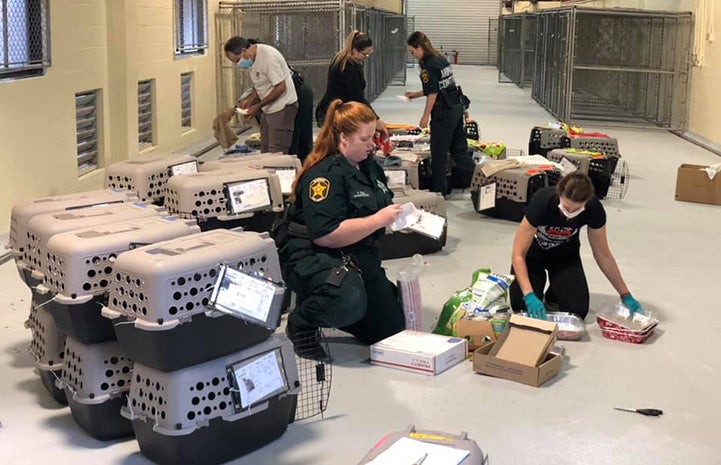 From shelter to loving home, but first: teatime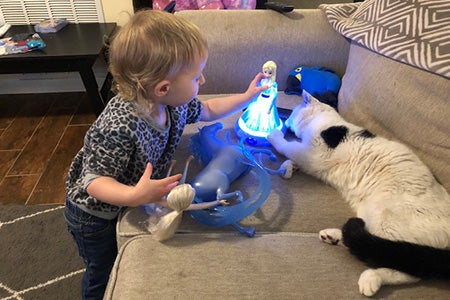 When Russell arrived at Best Friends in Atlanta, he received medical care for his injured eye, but in no time he was on the mend. He eventually went to a foster home with Michelle Boldin and her family, which included her two-year-old daughter who loves teatime.
The Boldins helped Russell heal from his wounds, and he became fast friends with the toddler, who sought out his company as soon as she got home from day care. Not that Russell minded: In fact, he ended up following her around for the rest of the day.
"They played 'baby,' where my daughter would tuck him in with blankets or feed him play food or bring him toys for the two of them to play with," says Michelle. "He always cooperated and enjoyed it. He thought she was so interesting, and he'd always follow her to see what game they'd play next."
While Russell enjoyed tea and cuddles with the Boldins, Karlea was looking for a kitten to adopt. She changed her mind one evening when she learned about Russell after visiting a Facebook page with posts about pets in Atlanta foster homes. After reading about his journey from Florida to Atlanta and seeing the adorable photos of him in his foster home, she contacted Best Friends.
A couple of days later, Karlea saw Russell in real time when she joined a video chat with him and his foster family. That was all it took. "I got to see how he'll come up to you and let you hold him like a baby," she says. "The family told me he wanted to go everywhere with them. I just loved his personality."
She also learned that she and Russell are from the very same place in Polk County — the small town of Mulberry. "What are the chances of that?" says Karlea. Call it coincidence or kismet, but the fact that Russell is a hometown guy convinced Karlea that life with him was meant to be.
Just a couple of days after that video call, Russell was finally in his new home and he wasted no time settling into his new digs. "He's very playful, active and social," says Karlea. "He'll approach anyone."
These days, whether Russell is lounging about with Karlea on the couch or charming the pants off a new friend, he does it with an undeniable purr. That's when Karlea gets the sense that Russell is grateful. And she's grateful, too.
"I may have wanted a kitten, but Russell changed my mind," she says. "How could I not want to take him in? I can tell he used to be someone's cat, and I want to give him another chance at a great life."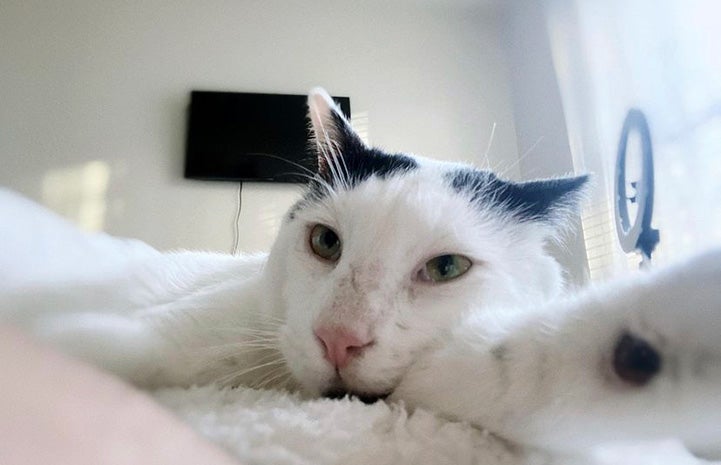 Have a little time to spare?
Even just a few hours a week spent with pets at your local shelter can make a huge difference in their lives — and in your life, too.
Read more
Visiting pooches a big hit at Navy base
Insight on pets of the Navajo Nation
New digs, new diet help cat manage chronic belly troubles
Photos courtesy of Tiffany Deaton, Michelle Boldin and Karlea Boswell Edwards