Dog with incontinence, heartworm proves that love always wins
Chrissy traveled a long way to get to Best Friends in New York, and after receiving loving care from her foster family during heartworm treatment, she was adopted.
By Andrea Pitts
"The third time's the charm." Everyone hoped this age-old saying would ring true for Chrissy when she arrived at Best Friends in New York. The seven-year-old German shepherd mix had just made her third state-to-state move in a matter of months.
At first, Chrissy's life in the big city wasn't exactly a walk in Central Park. But with help from many people (including a foster family that took the big dog into their small New York City apartment ready to do whatever it took to help her get adopted), Chrissy is now thriving in the Big Apple.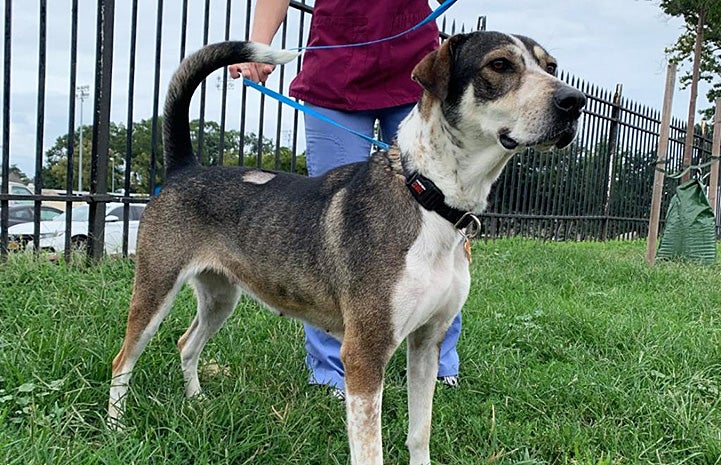 Well-traveled dog is ready for Manhattan
Chrissy's journey began when she landed at a shelter in Mississippi with her 11 puppies. From there, the family of 12 was brought to Last Chance Animal Rescue in Maryland and were soon adopted. Meanwhile, Chrissy took a load off after the long journey (and caring for 11 little ones, no less) before moving on to Best Friends in New York.
Soon after arriving at Best Friends, veterinarians discovered that Chrissy had heartworm. She was placed on a strict treatment regimen of oral antibiotics and injections. And because dogs undergoing heartworm treatment need to stay rested and limit physical activity, Chrissy stayed at Best Friends for a while and made plenty of friends. "Chrissy is so cute," says Emily DeFelice, Best Friends supervisor. "She is a large dog with little ears, which exaggerates her goofy and playful personality."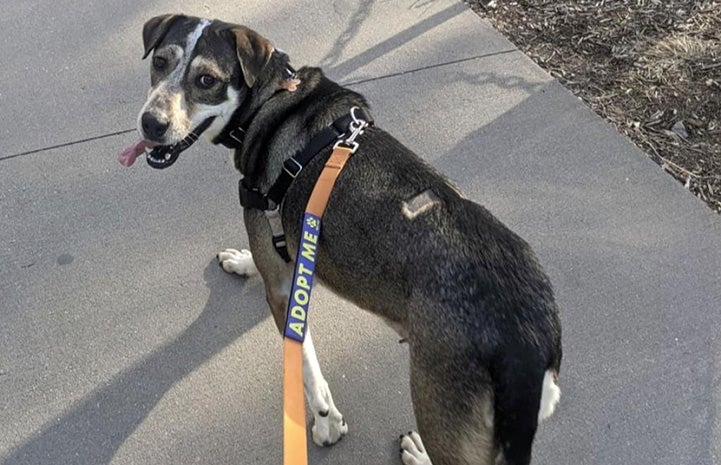 Finding peace with a patient foster family
When she was ready, Chrissy moved on to multiple short-term foster homes. Each family she stayed with loved her, but through no fault of her own, none of them were able to commit to keeping her for long. But that was before Best Friends foster volunteers Anjali Vijay Kumar and Wes Johnson learned about Chrissy. Her sweet face and one raving review from a previous foster family helped seal the deal for Anjali and Wes. Chrissy was the girl they wanted to help. So, they threw their hats in the ring and began preparing their New York City apartment for a 65-pound houseguest.
Anjali described the moment she and Wes first met Chrissy: "She (Chrissy) was so freaked out when she got out of the van. She was pulling a lot and was reacting to the downtown noises." Noticing her fearful body language, they quickly brought her up to their apartment, where she immediately claimed her spot on the couch and fell asleep.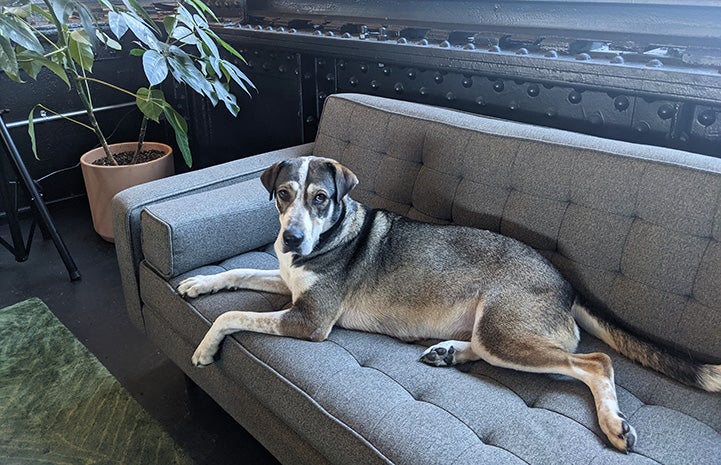 Incontinence no match for patience and compassion
Chrissy had just graduated to the final phase of her heartworm treatment when she came to stay with Anjali and Wes. As a part of her treatment, she was given an oral steroid for four weeks to help reduce internal inflammation. As with humans, steroid use can also cause some unpleasant side effects in dogs.
[Parvo is no match for Maltese-mix puppy]
Chrissy was thirsty all the time. At first, Anjali and Wes let her drink as much as she wanted, until they realized that she was consuming four liters a day. The excessive liquid caused her to have accidents indoors. The poor girl just couldn't hold it. Of course, her big body let out much more than a tiny puddle. So, each time an accident happened, it was a bit of a showstopper for everyone. Fortunately, her new foster family was very patient. They knew the accidents were beyond Chrissy's control and did their best to help her overcome the unpleasant problem.
The first plan of action was to closely monitor Chrissy's drinking habits and spread her opportunities for water throughout the day. This helped reduce the number of accidents she had in the house. But there was still work to do. Anjali and Wes began taking Chrissy out to relieve herself every hour. Since they live in an apartment in the middle of New York City, taking her out was everything but an effortless process. She had to be leashed up, walked down to the lobby of the building and escorted outside to do her business. Going through the motions 10 or more times a day required a lot of commitment, but Anjali and Wes knew it had to be done to help Chrissy feel better. Once they began to see success with the new schedule, they gradually increased the time between tips outside and she slowly regained normal bladder control.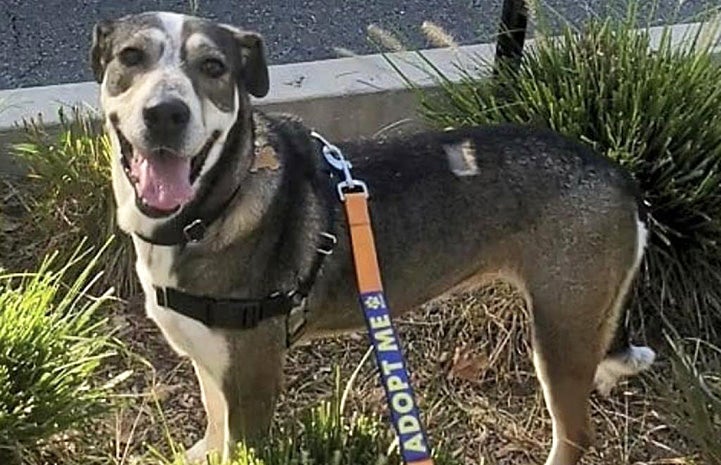 Getting ready for the next part of the journey home
Anjali and Wes also took an active role helping Chrissy get adopted by sharing lots of photos and details of her on their Instagram page, which is dedicated to their fostering efforts. After weeks of posting pictures of Chrissy online, one promising adopter showed interest.
The initial meet-and-greet went well. She got along with the potential adopter's other dog, and everyone was optimistic that it was a good match. They all agreed to go ahead with the adoption, but soon after she arrived at her new home, Chrissy had an accident in the house.
Fearing that Chrissy's incontinence issue couldn't be resolved, the adopter felt it was best to return her to Best Friends. But when that door to an adopted home closed, another one opened. And it was that Chrissy had walked through many times before.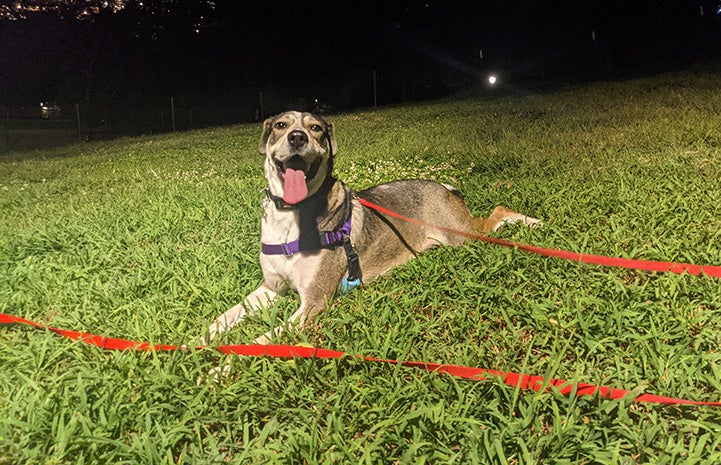 Dedicated foster family welcomes a familiar face
When Anjali and Wes heard that Chrissy was returned to Best Friends, they immediately called and asked to foster her again. Once Chrissy was back in the familiar apartment with people she knew, she ran to her bed and slept for an entire day.
[Animal stories to fill you with hope]
Not long after her return, Chrissy started having accidents in the apartment again. Since she had finished steroid therapy weeks before, the Best Friends team suggested that she be seen by a vet. Chrissy was thrown another curve ball when tests showed she had a urinary tract infection (UTI). The poor dog just couldn't catch a break. Still, there was good reason to be happy, because with medication and a little time, Chrissy's UTI could be cured. So, Anjali and Wes went back to the drawing board and began taking her out every hour. Before long, the UTI cleared up and Chrissy's incontinence issues became a thing of the past.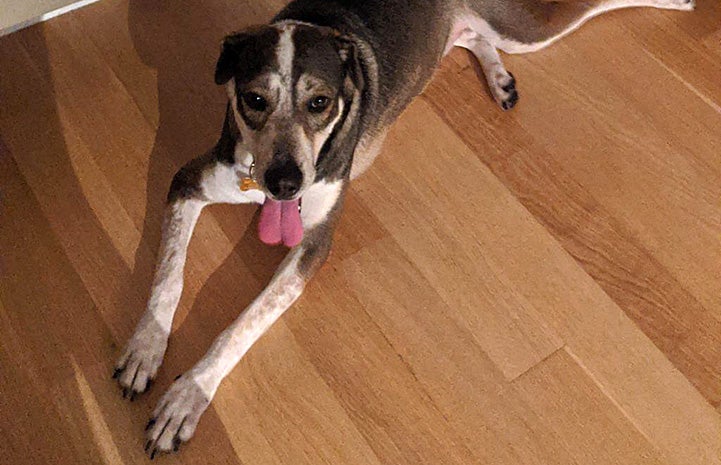 Mom dog is finally home
The visible relief on Chrissy's face since returning to life with Anjali and Wes was hard to ignore. Though they hadn't planned to keep Chrissy, her relaxed personality and constant affection toward them was a clear sign she had other plans. So, when they called to report she was no longer having accidents in the house, they also said Chrissy was there to stay. They made the adoption official.
These days, Chrissy is well-known around her apartment building. She greets the door man each time she and her family go out for a walk around the city. Now that her activity restrictions have been lifted, Chrissy loves to run full speed in the park and chase after tennis balls.
Anjali says of Chrissy: "We love her. We are very happy she chose us." They've even made it Instagram-official. Chrissy's Instagram has been updated with a special message from Anjali: "Chrissy has been adopted. My first foster fail."  Chrissy would likely say meeting her forever family was her greatest foster win.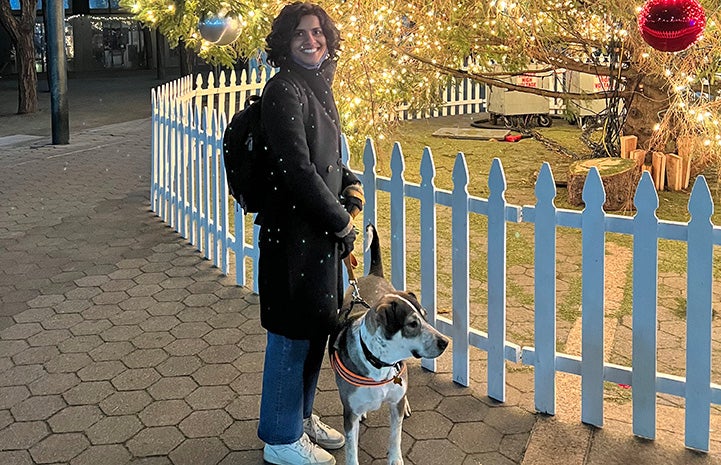 Fostering saves lives
Got a little time to spare? Fostering pets makes an incredible difference in their lives, no matter how much time you have to give.
Read more
Six unexpected benefits to fostering a pet during heartworm treatment
Heartworm positive pit bull finds love
Senior dog with heart of gold now has new home
Photos courtesy of Anjali Vijay Kumar and Shelterluv