Senior dog with a heart of gold now has a new home
A big, black senior dog named Patch needed heartworm treatment and a new home, and eventually he got both
By Best Friends staff
When it comes to adoption, the odds were stacked against eight-year-old Patch. He wasn't young or flashy, and he had heartworm disease that required months of treatment. But Patch also had something very significant going for him ― his heart of gold.
Patch arrived at Best Friends in Houston following an adoption event where he wasn't chosen. Rather than return him to the shelter, Best Friends placed him in a foster home. It's hard to say what his life was like before he landed in a shelter, but even though he had a few medical challenges, he remained a sweet, low-key dog deserving of a soft landing and a great new home. It took several months, but eventually he got both.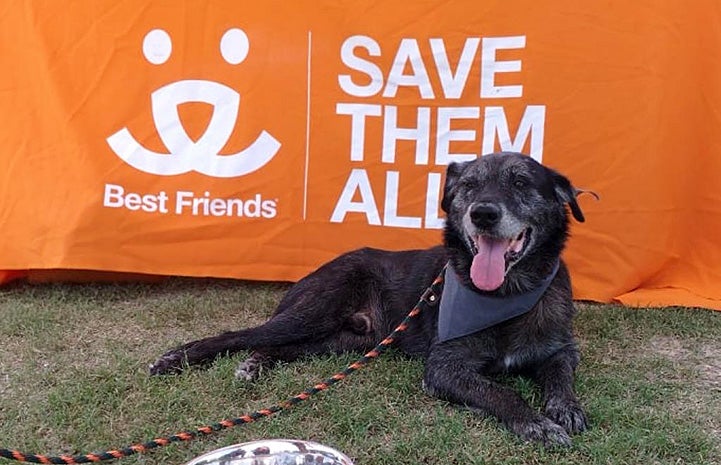 Heartworm treatment for senior dogs
Patch's initial vet check uncovered the heartworm condition, which is very common in Texas, according to Deyra Galvan, a community outreach coordinator for Best Friends. "This is something that can sound so scary but is easily treatable and preventable."
Patch was moved into a foster home, underwent neuter surgery and began treatment for heartworm. The regimen included daily medication, heartworm preventatives to kill off immature worms and then a series of two injections to kill off adult heartworms. Patch handled it just like he seemed to handle everything ― like a total rock star.
The process of recovering from heartworm requires that dogs be kept in a calm state during treatment because the process of adult worms dying off and entering the bloodstream can sometimes cause a dangerous spike in heart rate. Luckily, staying relaxed is Patch's forte and that made his recovery easier because his foster family didn't have to try and convince him to stay calm. He just needed a comfortable place to lie down, plus his daily medication and lots of love.
Once Patch had made it through his heartworm treatment, it was time to find him a permanent home. And while everyone who met him found him to be a sweet and gentle soul, finding that home proved to be a bit of a challenge.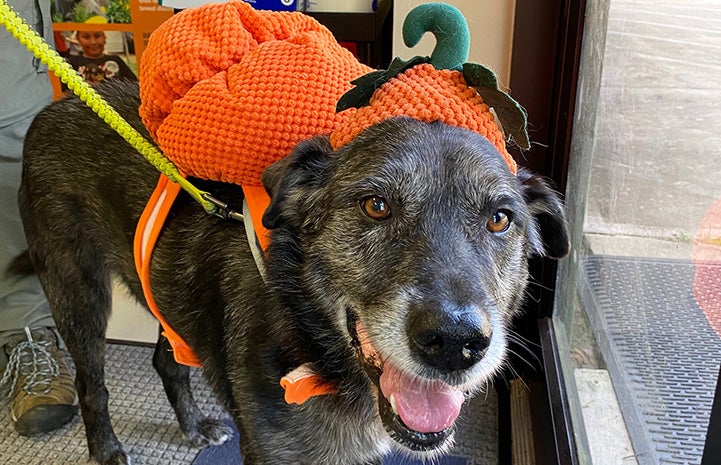 Adopting an older dog
In many ways, Patch is the perfect dog ― great with people, other dogs and even cats. But he's older and his frosty face makes him look especially senior. And though these qualities are adored by many, it took a while before someone who's in the market for another dog heard about Patch. And that wasn't until weeks later when a Best Friends staff person put in a call to a friend in Austin, Texas.
Sydne Kleespies was searching for another dog and Patch checked all her boxes. He was a senior, weighed more than 40 pounds and was great with other dogs. She was undeterred by the fact that he'd just been through heartworm treatment because having worked at a vet clinic, she was familiar with that process. She decided to go for it and adopted Patch.
Sydne had to drive three hours from Austin to Houston in order to meet Patch in person, and she's so glad she did. She appreciates that Patch enjoys relaxing on the couch just as much as she does, and that he fits so well into her home. That's the thing about older pets: They typically already know about things like house training, what's OK to chew on and what's not, and they tend to be calmer. That's certainly the case with Patch, whose brilliance might not have been that bright when he was down on his luck, but with a little love and care, today it's shining through stronger than ever.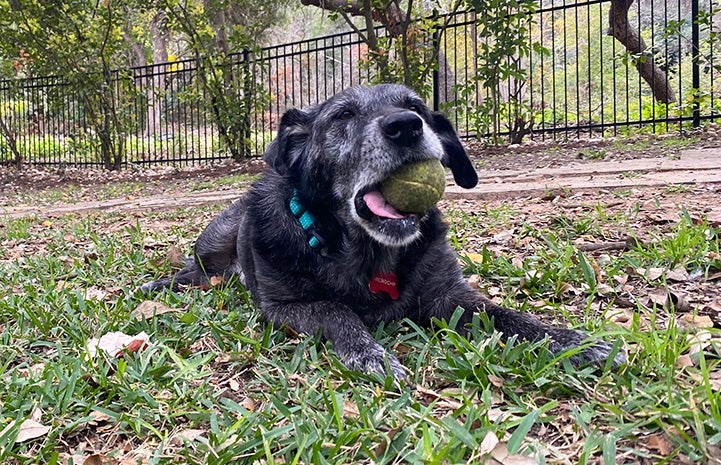 Foster a pet and save a life
Consider opening your home to give Patch and pets like him a way out of the shelter and into permanent homes. Fostering saves lives and every little bit helps. Even taking a pet home over a weekend can make a difference.
Learn more about fostering pets
Read more
Scruffy dog has trouble walking, lands his perfect home
Slow-to-trust dog finds kindred spirit in patient adopter