Parvo is no match for Maltese-mix puppy
Bella was just a month old when she came down with parvovirus but with quick action from the shelter and Best Friends, she's now healthy and in a new home.
By Nicole Hamilton
At just two months old, Bella has already had the fight of her life ― and won. Today, the tiny Maltese-mix puppy loves cuddling up with her adopters, and she's even mastered a couple of commands including "sit" and "paw." That's pretty impressive, especially when you consider that not long ago, she could barely lift a paw because she was so weak and tired.
When Bella arrived at a Los Angeles Animal Services shelter about a month ago, it was clear she wasn't feeling well. She wasn't eating or drinking and was very lethargic.
The shelter team ran some tests and soon learned why she was feeling so bad. She had parvovirus, a serious illness that put in danger a life that had only just begun. But there was good reason to be hopeful. With the teams at the shelter and at Best Friends in Los Angeles (where she arrived mere hours after being diagnosed with parvo), the young puppy was in (many) capable hands.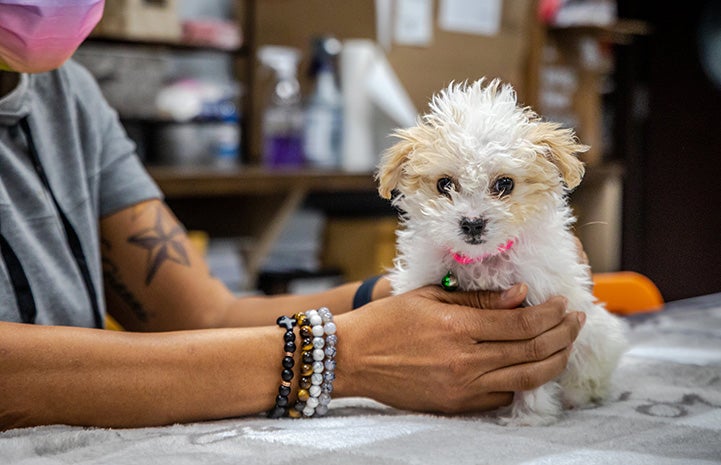 Swift help for a puppy with parvo
Samantha Brekke, a manager at Best Friends in Los Angeles, remembers seeing Bella when she first arrived. "She was thin and dehydrated. It was clear she wasn't feeling well, but her spirits were still up," she says.
The medical team moved quickly to help Bella by starting her on a series of medications and giving her IV fluids. She was also closely monitored to make sure she felt a little better every day.
[Matted, scared Pekingese gets a makeover, and then a home]
The treatment was intense and lasted for two weeks, but after just four days, Bella was already showing signs of improvement. By the end of the two weeks, it was clear she had turned a corner. When the team was confident that parvo was in her past, it was decided the best place for her would be a foster home, where she could continue to grow stronger and get on to the serious business of being a puppy. Turns out, they didn't have to look very long for someone who couldn't wait to meet her and bring her home.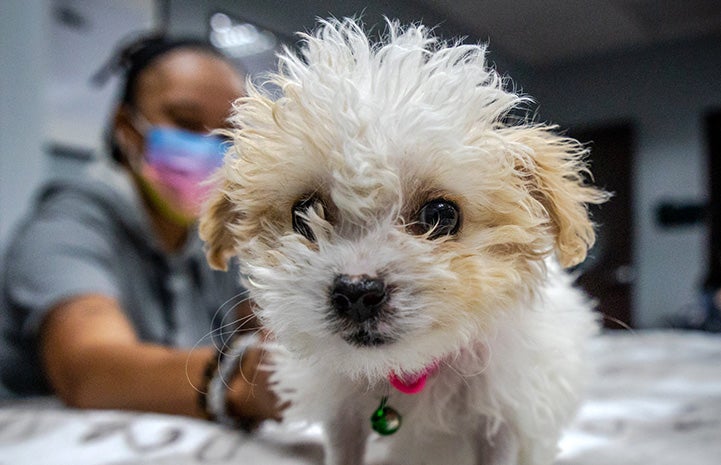 Puppy love at first sight
Ever since Tammie Sadler's 17-year-old Maltese passed away in February, life felt empty for Tammie and her son, Noah. Their little dog had brought a huge amount of joy to their home for a long time, and without it something was missing. So, when Tammie learned that Bella needed a foster home, she visited Best Friends to meet her right away.
[Five inspiring stories of animal loving-kindness]
Todd Roisman, a volunteer photographer for Best Friends, was there to capture the sweet moment when Tammie met Bella for the first time. It's one she will never forget. "It was love at first sight," she says. "She was so tiny and beautiful. It's like she already knew me. When I sat down with her for the first time, she wanted to cuddle. I knew that she had been sick and I didn't think that she would be so active and playful."
Tammie brought Bella home that day. The plan was to foster her until she got the all- clear from the medical team, but the truth is Bella was already home for good. Tammie knew that in her heart the moment she held her.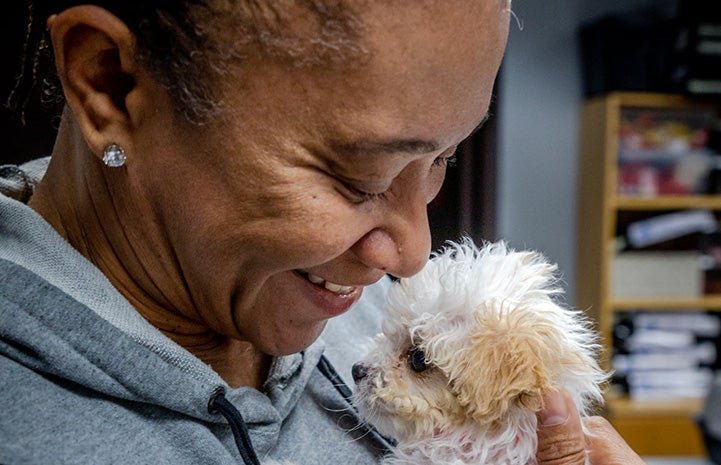 An adopter's sound advice
It's hard to believe that Bella is the same dog brought to a Los Angeles shelter so weak she could hardly stand. Today, she runs around the house at full speed and wags her tail when she sees anything that sparks joy (which for a puppy is just about everything).
Right now, feet are her favorite things, says Tammie. "At her size, I guess feet are her toys so she's always playing with our feet as we are walking. She even loves to sleep by my feet when I'm working from home."
Bella has also formed a deep connection with Noah. "She's his new best friend and she helps me wake him up every morning before school by licking his face," says Tammie. "I was a little worried about her (small) size at first, but my son is really gentle with her. They even went 'camping' in his room. I walked in and they were both lying in his tent watching his iPad."
Tammie has some advice for anyone thinking of adopting a puppy. She suggests going the foster volunteer route first. "For someone that's fostering you get a chance for you and the pet to make sure you fit together," she says. "I love that they let me foster first, even though I knew Bella and I were meant to be."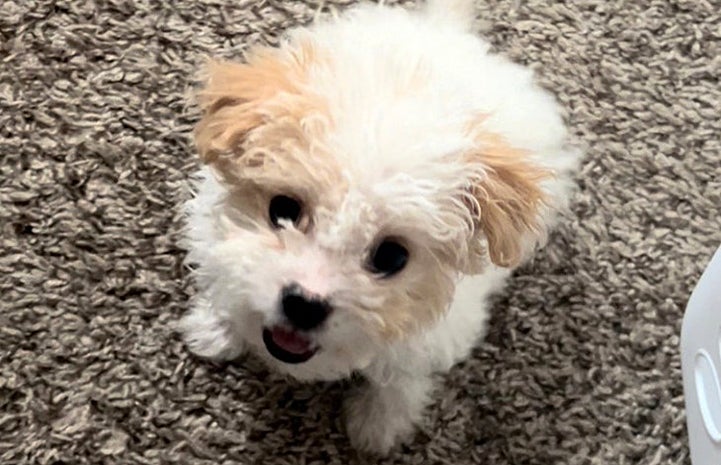 Have fun, save lives
Sign up to be a foster volunteer and make a lifetime of difference for a dog or cat from your local shelter.
Read more
How a challenged Newark animal shelter reached no-kill
Animal stories to fill you with hope
Ailing kitten gets help when he needs it, and a kitten friend, too
Photos by Tammie Sadler and Todd Roisman