Equine odd couple goes home
Ever since they met at the Sanctuary, Chuck and Speedy have done everything together, including getting adopted and going home.
By Sarah Thornton
A mammoth donkey and a stray horse, Speedy and Chuck have been a perfectly matched odd couple since they first met at Best Friends Animal Sanctuary. Chuck arrived first ― a mustang found wandering dangerously close to the highway in Arizona. He wasn't initially comfortable with people, but with help from his caregivers and trainers, he was soon one of the happiest trail horses in the canyon.
Then came Speedy, who had lived his first 17 years as a breeding stud, and after being surrendered by his people the Sanctuary became his home-between-homes. He was not used to being led on a halter, and was so strong that when he needed to go on regular walks to recover from his gelding (neutering) surgery, caregivers had to bring in a John Deere Gator to have any chance of getting him to move.
When Chuck and Speedy were introduced, they became fast friends. Playing, dozing off in the sun or looking for treats, they did everything together. And now, the pair has gone off to a new home together, too.
Patience paid off in an unexpected way
Lauri Williams had tried for some time to adopt burros from the Bureau of Land Management. But when the COVID-19 pandemic began, adoptions had to be temporarily closed. Lauri kept in contact and continued to check in, but when adoptions did open up again, she kept missing them because potential adoptees were gone as quickly as they became available.
It was around this time that one of Lauri's neighbors mentioned a donkey she met and fell in love with while volunteering at the Sanctuary, though circumstances didn't allow her to adopt him. She suggested that Lauri go meet him and see if he might be right for her family. "It just all kind of fell into place," Lauri recalls. "The timing worked out perfectly."
[Pint-size equines living large]
The donkey, of course, was Speedy. Since arriving at the Sanctuary, he had become quite the charmer alongside his trusty friend, Chuck. He's in countless visitor photos with his larger-than-life furry ears and sweet face. The pair had a way of winning over every staff member, visitor and volunteer who met them. Lauri was no exception.
"My daughter and I went the following weekend to check out Chuck and Speedy and just fell in love," she says. She hadn't planned to get a donkey and a horse, but in another way, Chuck and Speedy were just who she was looking for. When she brought them home, she says, it was like they completed the family.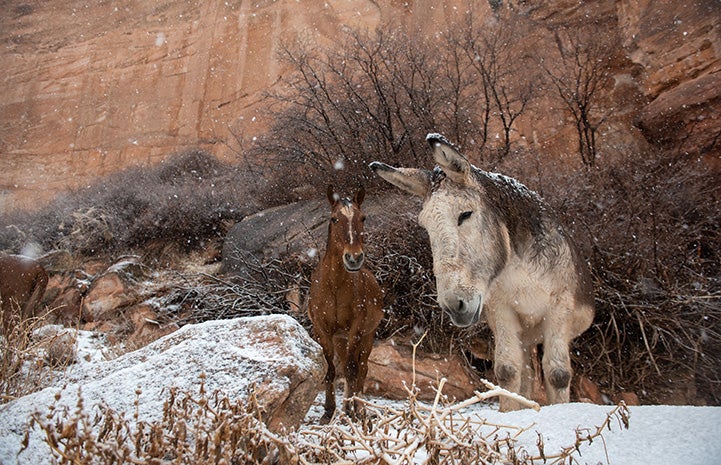 Horsing around and hanging out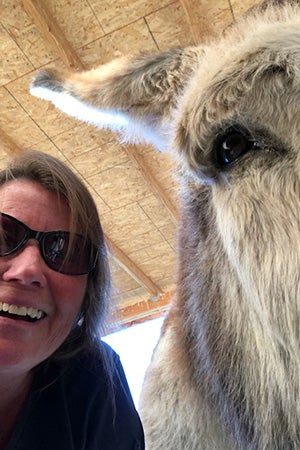 The pair settled into their new home quickly, got used to the routine and thoroughly enjoyed their new pasture ― a whole pasture, just for the two of them, full of grass to roll in and graze on, plus plenty of space to chase each other around in when they're feeling playful.
"It's so funny to watch them play," Lauri says with a laugh. "Chuck is a beautiful mustang. And horses, when they run, are just beautiful and graceful. Then there's Speedy … He runs with his head down and it's just funny because he's not graceful like Chuck at all. And he's definitely not as fast, that's for sure."
[How retraining helped a formerly wild mustang and an introverted horse find their niche in life]
Speedy still keeps up with his younger, more agile companion ― until he gets tired, at least. Then he's ready for some brushing and petting from his people. Chuck, the more reserved of the two, prefers to keep his own brushing sessions short before he backs away to wait for his friend.
Their play may be a little mismatched and silly to watch, but outside of playtime Lauri says that Chuck and Speedy are perfect gentlemen. Their stalls and water trough are always tidy and easy to clean up. They take treats gently, and when their smaller canine family members come sniffing around their feet for dropped morsels, Speedy and Chuck just watch them curiously.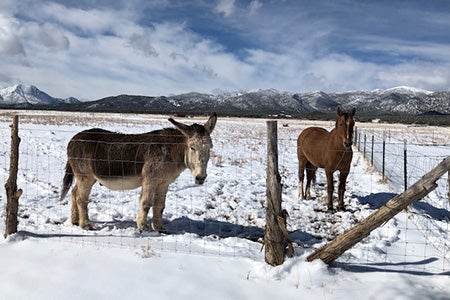 The inseparable pair certainly seem to be enjoying their quiet life together with their new family. And just as Speedy and Chuck are the perfect match for each other, they are the perfect match for Lauri, as well. "It's fun to get out in the early mornings again and feed and hang out at the barn," she says. "I just love them. They complete our little family here. I think there was a reason why the timing for the other burros just never worked out. That's what it feels like: It was just perfect."
Looking for a friend or two?
Solo pets and pets with friends are all looking for a home to call their own. Could that home be yours?
Read more:
Back in the saddle with adopted Arabian, mustang
The subtle art of retraining a horse for riding
How to tame a wild horse with the right doses of love and expertise
Photos by Molly Wald and courtesy of Lauri Williams