Finding love for a special cat
Image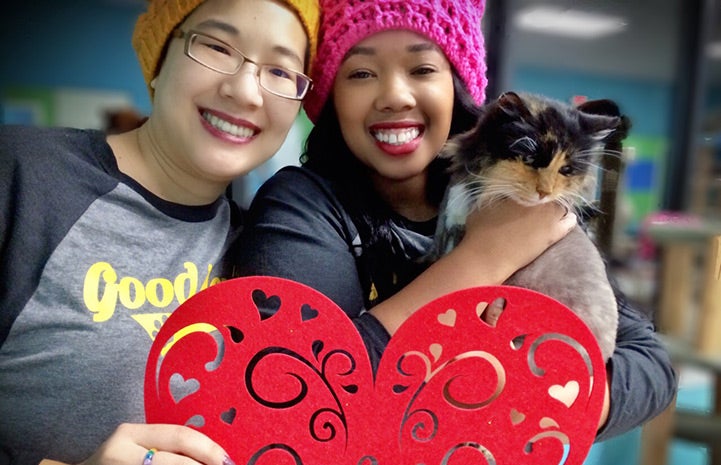 FIV-positive cat from Good Mews rescue group in Marietta, Georgia, is adopted into a home as a result of Best Friends Give Love promotion.
By Nicole Hamilton
About a year ago, the Good Mews Animal Foundation, a Best Friends No More Homeless Pets Network partner located in Marietta, Georgia, got a call from an animal control agency in a rural area. A beautiful calico cat had been surrendered to the shelter, but because she had feline immunodeficiency virus (FIV), a rescue group would have to take her or she'd be at risk of being killed.
Good Mews gladly made room for the cat, who they named Bay Bay. Taking in at-risk pets from shelters is a big part of helping a community move closer to no-kill. And it would help Bay Bay get closer to something pretty amazing, too: the home she deserved.
Get involved. Find a network partner near you.
Love for a cat with FIV
When Bay Bay arrived at Good Mews she was malnourished and tired. But the Good Mews team quickly saw that while she had a tiny body, she had a huge heart. After helping Bay Bay gain strength and get healthy, they moved her into the adoption area, and that's when they saw just how much of a love bug she really is.
If there was a lap available, Bay Bay would claim it. If there was an open heart around, Bay Bay would claim that, too. It seemed as if everyone who met Bay Bay at the adoption center fell in love with her. But despite her sweet personality and gorgeous looks, Bay Bay hadn't been adopted.
So why was this great cat still at Good Mews almost a year later? Was it because she has FIV? Possibly. Although cats with FIV can live long, healthy lives, people are still sometimes hesitant to adopt them. She's also nine years old and is in the beginning stages of kidney disease.
All Bay Bay needed was just one family to see her conditions not as liabilities, but as more reasons to give her love. And when Good Mews learned about the Best Friends Give Love promotion, sponsored by BOBS from Skechers®, the feeling was that this would be the opportunity Bay Bay needed to find her very own family.
The Give Love promotion
The Give Love promotion turned out to be one of Best Friends' most successful adoption promotions to date. More than 8,400 homeless cats and dogs were adopted as 221 participating No More Homeless Pets Network partner rescue organizations offered reduced or waived adoption fees. At Good Mews, 29 cats found homes thanks to the promotion, and one of the those cats happened to be Bay Bay.
View pets featured in the Give Love Promotion photo contest
Bay Bay goes home
Erin Barbee and Nancy Chen weren't planning on adding a cat to the family when they arrived for a Good Mews brunch event, held in conjunction with the Best Friends promotion. After all, they already had three dogs at home. Plus, they didn't consider themselves "cat people" ― that is, until they saw Bay Bay and decided to keep her company.
With each pet they gave and every purr they received in return, Erin and Nancy were becoming cat lovers after all. And when they learned more about the sweet calico and how she'd been passed over for adoption, they decided that day to help give Bay Bay a better life.
"She was our gift to one another," says Erin. "And it was a gift for Bay Bay, too."
The best gift ever: love
It turned out that Bay Bay was what Erin and Nancy really needed at that moment, because they'd recently lost their beloved 13-year-old Pomeranian, and still felt hollow inside because of it. "While I grieved, (Bay Bay) laid on my chest at night," says Erin. "She is so loving."
It's this kind of love that Erin and Nancy are giving back to Bay Bay. "I know her time is limited, but I'll go to the ends of the earth to make sure she's happy," Erin says.
Today, Bay Bay is deaf, toothless, and her kidney disease is progressing, but Erin and Nancy say having her in their life is one of the best gifts they've ever received. Bay Bay has even inspired them to buy cat T-shirts, cat mugs and to plaster their Facebook pages with Bay Bay pictures.
Erin says that if Bay Bay has taught her anything, it's to not be afraid of adopting a cat with FIV. "She is more than deserving of our love."
Help pets like Bay Bay find love. Join Best Friends.
Photos courtesy of Erin Barbee and Rebecca Pruett